A round-up of openings, closings, and other news about West Hartford businesses.
By Ronni Newton
Happy New Year!!
It's hard to believe the holidays are over. My tree is still standing (with most of its needles still intact despite the number that fell when we finally decorated it), and as usual we will be among the houses that waits for the second week of tree pick-up.
I always like to do a year in review, and I'm always amazed at how much has happened over the course of a year. I'm really proud of what We-Ha.com has achieved during 2017, and hope you will read this recap of the year's top stories (which took me hours to put together) if you haven't already done so!
We have now entered my least favorite season – the doldrums of winter. Even those who kind of like winter may find it hard to like the arctic weather we have been facing for the past week – and will be facing for the next week or so. My husband gave me a great Vineyard Vines vest for Christmas that is navy fleece on one side and quilted black watch plaid on the other side. I've pretty much worn it every day since then (good thing it has two sides), including inside the house and as a layer under my down jacket along with footwear that includes fleece slippers (inside) and my favorite gray fleece-lined boots if I have to leave the house.
I tried to take as much time off as possible during the week between Christmas and New Year's (other than writing the "top stories of 2017" recap), and thankfully there wasn't too much breaking news to interrupt that. It was a great week that included plenty of family time and a quick trip to visit my in-laws in Nantucket where it was almost as cold as it was in West Hartford. I have been there many times in December and we can usually get in a short beach walk, but this year we lasted about 30 seconds – no exaggeration. It was so cold that the harbor was frozen. The restroom plumbing froze on the ferry on our way out there and on the way back the spray immediately froze on the windows outside the passenger cabin of the ferry and we couldn't even see outside.
The one family member I didn't get to visit was my dad, who now lives in southern Florida. I need to visit very, very soon.
We returned to a weekend of car shopping with our daughter. Her 2004 Ford Escape that she bought in 2011 had served its purpose well and after the last time we brought it in for an oil change and the shop said it wasn't worth even putting that much money into it, we knew it was time. After about 20 hours of shopping, test driving, negotiation, deliberation, trying to unfreeze credit frozen after the Equifax breach, and getting in touch with the insurance company on New Year's Day, she has her first ever new car.
This week was fairly quiet business-wise in West Hartford, but there's still some buzz to share!
If you have tips about businesses opening or closing, or doing something worth sharing, please provide that information in the comments or email Ronni Newton at [email protected].
Here's this week's Buzz: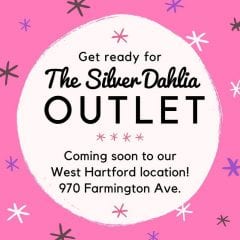 Silver Dahlia in West Hartford Center is undergoing a transition – to an outlet location! Owner Kim Reid said Tuesday that while a small selection of popular lines will still be offered at full price, the majority of the 970 Farmington Ave. store will be marked down for sale. There are three Silver Dahlia stores in the area (the others are in Glastonbury and Simsbury), and Reid said that she thought it would be better to have all of the sale merchandise – from lines like 

Vera Bradley, Vineyard Vines, Scout Bags, Spartina, Alex + Ani, and more –

 in one location. West Hartford, which is centrally located between the other Silver Dahlia locations and has been open for six years, was a natural choice, Reid said. In addition, she said, "With the mall right there, people keep coming in looking for a sale," especially since Vineyard Vines opened at Westfarms. "We needed a little edge. We want to lure people back to us," Reid said. "We'll have a nice statement in West Hartford." The store's transition begins Wednesday and should be completed by the end of the month. Reid said that Silver Dahlia will remain open throughout the merchandise transition.
A decades-old West Hartford Center business is in the midst of a re-branding. West Hartford Professional Barber Shop is now called Patsy's Barber Shoppe, and has new signage, including the awning. The new sign has actually been up since late October, and I'm embarrassed to admit that I had not realized it earlier. Ownership has not changed, but the owner has named the West Hartford in honor of his father, Patsy Cecchini, who passed away at age 78 on Dec. 5, 2013. He is also in the process of rebranding his barber shops in Wethersfield and Glastonbury, so that all three will be under the Patsy's Barber Shoppe name. For more information, visit the website.
Lucky 7 Tattoo & Piercing Studio has just opened at 248 South Quaker Ln. (just north of the intersection with Park Road) where Chameleon Salon was formerly located. I just heard about it late Tuesday night (thanks, Jeff Lovanio!) so don't have any more information. They do have a website and Facebook page which provides some details about the business.
Hartford Business Journal is reporting that West Hartford-based BlumShapiro merged with Premier Accounting Group of Marlborough as of Jan. 1, bringing the total staff of the combined company to more than 500. Click here to read the story by Patricia Daddona. More details to come once they are available!

West Hartford Center based

YHB Investment Advisors, Inc.

 is an regular and enthusiastic supporter of 

West Hartford's The Town That Cares Fund, and gave generously to the

 m

itten drive

again this year. Jessica Kott, senior portfolio manager and coordinator of YHB's internal mitten drive, was pleased to deliver quality mittens and gloves, along with a generous check from YHB that represented employee and employer contributions. "Suzanne Oslander and Barbara Roberts [of West Hartford Social Services] were absolutely delighted and so grateful for YHB's office donation. 

We recognize that community service not only helps our local neighbors, but also builds camaraderie in our office," Kott said in a press release.

Cook and the Bear co-owner Tyler Anderson is definitely a top chef in our eyes, but sadly was eliminated as a contestant from the Bravo show "Top Chef" on last week's episode. Anderson was on top after the first episode, winning the Elimination Challenge by nailing the meat and potatoes dish with his combination of 

crispy potatoes with sweet potato puree, smoked pork gravy, and charred scallion aioli. However, Anderson was told to "pack up his knives" after his "heritage dish" that combined his Californian and Swedish roots (a tri-tip Swedish meatball salad) was deemed "disjointed" and put him in last place for concept and execution.

This week's closing: According to a post on Facebook (from a very reputable source!) Burger King at Westfarms closed as of Sunday night. I saw the post late Tuesday, and the only fact-checking I could do at that point was try to call, and since the recording said the number was not in service I am fairly confident reporting this as fact.
ICYMI: If you like the concept of a pub crawl you won't want to miss this one! Right here in West Hartford, the inaugural Culinary Corner Pub Crawl, which is also a fundraiser for End Hunger Connecticut, is on Jan. 20 in Blue Back Square. Click here for details.
Remember, if you have any business news to share, add it in the comments section below or email Ronni Newton at [email protected].
Like what you see here? Click here to subscribe to We-Ha's newsletter so you'll always be in the know about what's happening in West Hartford!