A round-up of openings, closings, and other news about West Hartford businesses. 
By Ronni Newton
We've got another rare Wednesday edition of Business Buzz since Monday was a federal holiday, and I hope everyone has had a wonderful holiday season and celebration of New Year's, and is looking forward to 2023.
This is a very sad time for our family. I mentioned in last week's column that my father-in-law and I had both tested positive (unrelated cases) for COVID-19, and while I'm fully recovered, unfortunately my father-in-law, at age 91 and with pre-existing heart conditions, died last week of complications from COVID. After getting a call that no one ever wants to receive, we were thankful that we were able to make the middle-of-the-night drive and get there in time to see him in the hospital in Boston. The family – including grandchildren – was with him until the very end last Wednesday morning.
Ted and I traveled to Nantucket for the weekend to spend some time with his mom, who has been living in a skilled nursing facility since the summer, and to begin the difficult task of cleaning out his dad's home and making other final arrangements. No matter how old someone is, losing a parent is devastating. I've known Ted's dad since I was 20, and when we moved to West Hartford in 1998 – until they moved to Nantucket full time in 2009 – they lived about a mile and a half from us. They have been such a part of all of our lives, and we are blessed to have many happy memories.
The rest of our holidays were certainly subdued, but when we were in West Hartford many of our family members did have dinner together at Rosa Mexicano (which was delicious – see photos below).
Even Millie was out of sorts and could sense our concern and then our sadness. She did rally once she had a chance to run on the beach in her happy place, and Ted and I did enjoy a wonderful dinner together at Island Kitchen in Nantucket on New Year's Eve. (Those photos are below as well.)
There were 43 positive reported cases of COVID-19 in West Hartford over the past seven days (as of Tuesday), and a positivity rate of 14%, up a bit from last week. It's also the season of respiratory viruses, and this year many more people seem to be sick with a variety of viruses. (Click here for more information from the West Hartford-Bloomfield Health District about the symptoms of various viruses and how to protect yourself.) Public health officials also suggested wearing masks in crowded indoor spaces while gathering this holiday season. Cases seem to be rising again, and while one day I hope to be able to delete this paragraph that time has not yet come. In the meantime, please continue to have patience since not everyone has the same level of comfort, continue to look out for each other, support our local businesses – and stay safe and healthy.
If you're looking for news about West Hartford in print please note that many stories from We-Ha.com, as well as other local news, is published in the twice-monthly issues of the West Hartford Press.
If you have information to share about local businesses, please provide details in the comments or email Ronni Newton at [email protected].
**************************************************
See your business name and ad below. Let us know if you're interested in sponsoring Business Buzz by emailing [email protected]!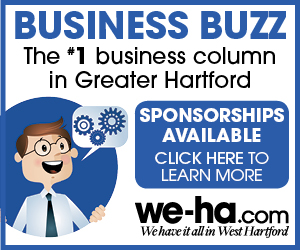 Here's this week's Buzz:
West Hartford resident Sara Huber reignited her love of photography and about six years as a hobby began taking photos of rescue dogs. She didn't like seeing photos of the dogs looking frightened, behind the bars of cages, and used her own style and lighting to help the dogs look happier, and find forever homes. She loved doing it so much that she's expanded and rebranded that side hustle – and in late 2022 officially formed Paw Print Studio. While she still photographs rescues, and said "that's the seed, the heart of my business," she now does many more private photo sessions at the studio she has created in her garage at 21 Blue Ridge Lane in West Hartford. "Dogs play a special role in our lives. They are family members (sometimes our favorite family member!) and they are with us for such a short time. I create heartwarming, engaging and often funny portraits of your four-legged family members to have in your home forever," she said. She uses her own brand of magic to help the dogs feel at ease, gets down on the floor with them, and brings out their personalities. "They're beautifully lit, it's like a fashion shoot," she said, although that doesn't mean the pups are expected to be on their best formal behavior. "There's no such thing as bad behavior," she said with a laugh. "I have a lot of tricks, a lot of expertise." Huber is thankful for the support of other local businesses, and has just launched a partnership with Courtney Daley of Daley Pawz. She is also thankful for the mentorship of Cara Pauik of Face Forward Headshots. While she loves having the use of her garage where dogs are free to sniff around (and backyard for breaks), during the cold weather Huber said she has leased space at Arbor Street Studio in Hartford. Sessions can be booked on her website (www.pawprintstudioct.com) and you can also follow her on Facebook and Instagram: (@pawprintstudioct). The rescues she continues to support include The Woof Gang Rescue, One More Dog Rescue, Fetching Hearts, and a rescue organization in Canada, where her husband is from.
Portobello Pizza Restaurant took advantage of a quiet week for the soft opening of the new restaurant at 132 Park Road in West Hartford, and they are now fully open and ready to welcome guests for lunch and dinner, seven days a week (11 a.m.-10 p.m. Monday through Thursday, 11 a.m.-11 p.m. Friday and Saturday, and 11 a.m.-9 p.m. Sunday), with a menu that includes not only brick-oven prepared thin-crust pizzas (medium and large sizes), but also an assortment of scratch-made traditional Italian foods. There are pastas like penne alla vodka, eggplant lasagna, fettuccine Alfredo, and lobster ravioli; chicken or veal parm and piccata; shrimp scampi and shrimp or calimari fr diavolo; scrod piccata; appetizers like garlic knots, calamari (fried and sautéed New York style), and stuffed mushrooms; a variety of salads; and cups or bowls of pasta fagioli. There are also wings, paninis and sandwiches; and even calzones. "Everything is handmade daily," said owner Seyo Cecunjanin. "Everything is from scratch. You can taste the ingredients." The dough for the bread is also made in house, and the desserts are daily specials also made by the pastry chef. The wine is imported from Italy, and most of the selections are organic and sulfite free, and can't be found in local stores. They also serve beer by the bottle or on draft. While this is Cecunjanin's first restaurant in West Hartford, he knows the town well because he is already a West Hartford business owner (The Laundry Room on the Ave, 772 Farmington Ave.), and his family owns other area restaurants including Portofino in Kensington and Fiore II Ristorante in Middletown. He also does construction work – and personally did the renovation work transforming the former Williams Shoes into Portobello. There is seating for 30 inside the restaurant, and currently an igloo on the patio that has a portable heater and can seat six. For more information or to order takeout, call 860-519-5536, or follow them on Instagram (@portobellosct).
Club Pilates has announced they are opening the week of Feb. 27. The boutique Pilates studio, located at 1445 New Britain Ave. in the Corbin Collection. The local franchise is a family-owned business, managed by Brooke Strobino with her sister, Taylor Strobino, as the lead instructor. The space, which is roughly 1,700 square feet, will have 12 Pilates Reformer machines, and will offer 50-minute group classes as well as private training. Free (shorter) introductory classes will also be offered for those who would like to test out the workout before committing. Paige Karban (who is the owner of the business as well as the mother of Brooke and Taylor Strobino), noted that each of the 12 stations will have not only a Reformer, but also all of the other equipment (mat, Bosu ball, etc.) so that participants don't need to move around the facility to complete their workout. The studio will be open from 6 a.m. until 8 p.m., and they will also have a small retail space offering Alo, Freepeople, and Lululemon attire and merchandise. Follow on Facebook for updates or visit their website for more information.
West Hartford resident Daniel J. Friedman has been named to the Advisory Board of The Miracle League of CT. He is the CEO of WMGNA and has supported the important work of The Miracle League for over 10 years.
Sad news about a longtime West Hartford retailer. Back in May 2019, Pamela Rosin announced her plans to retire from Philip David, the business started by her parents, and where she had worked for more than four decades. At the time she said she would close the store if she couldn't find a buyer who shared her vision and passion for hand-crafted jewelry, but then Kymrie Zaslow, a longtime customer, purchased Philip David (968 Farmington Ave.) from Rosin in January 2020, and Rosin continued to work in the store. The following notice was posted on Philip David's Facebook page late last week.
Some more sad news confirmed this week, although I suspected this was coming since there had been no updates for months on the reopening of Sunrise Country Kitchen, which had closed in July for renovation, and which coincidentally had its original opening in the iconic diner building at 526 New Park Ave. announced in this column exactly a year ago. Owner Bob Dignoti posted on Facebook a few days ago that he had decided not to reopen.
Remember, if you have any business news to share, add it in the comments section below or email Ronni Newton at [email protected].
Like what you see here? Click here to subscribe to We-Ha's newsletter so you'll always be in the know about what's happening in West Hartford! Click the blue button below to become a supporter of We-Ha.com and our efforts to continue producing quality journalism.