A round-up of openings, closings, and other news about West Hartford businesses.
By Ronni Newton
It's down to the wire now, and by this time next week the years of planning (one of those was a COVID "bonus") for Katie and Matt's wedding will be history and I will officially have a son-in-law! I'm looking forward to being happy (with a side of exhaustion) that the day has finally arrived after a 10-year relationship and three-year engagement, and I don't want it to go by too fast but instead take place in slow motion so I can savor every moment.
Ted and I had a casual, yummy dinner on the patio at Elbow Room on Saturday night (see photos below), celebrating that it was finally not raining or ridiculously hot and humid. Then we watched "Father of the Bride" – which was appropriate in the same way when we watched "Contagion" and "Outbreak" in the early days of the COVID-19 pandemic.
While it was great to get away to the beach and relax a bit over the Fourth of July, being in town for only a few days last week (and some of that was filled with dress fittings and other wedding-related tasks including getting ready for the dog- and house -sitter) was intense. I'm thankful it's the middle of the summer when there aren't too many events happening.
Thanks to all who have put up with my wedding-related anxiety – including Gov. Ned Lamont's spokesperson Max Reiss who responded to my "extra" questions last spring as we were trying to decide whether or not to postpone!
I'll be off the grid from noon Wednesday through Friday afternoon, and I'm hoping West Hartford stays quiet during that time. The We-Ha.com site will be in the able hands of Lily Guberman and Ted Glanzer during that time, and thanks in advance to both of them!
Please continue to support our local businesses, wear your masks indoors if you are not vaccinated – and even if you are when required – and stay safe and healthy.
If you have information to share about local businesses, please provide details in the comments or email Ronni Newton at [email protected].
Here's this week's Buzz:
Women's clothing boutique Ooh La La closed its doors at 55 Isham Rd. in Blue Back Square exactly a month ago, but a new lease for the space is already in place and within the next few months The Pharmacy at Blue Back Square will be opening there. "We're a full service pharmacy, and we specialize in customer service," owner Ariel Zaurov said. Zaurov is already the owner of Downtown Pharmacy, which has locations in Jersey City, NJ, as well as New York City, and the West Hartford location will be a similar operation – looking to become a community hub and tailoring its operations to meet the needs of the community and focusing on good quality products which are not laden with chemicals. "Our concentration since we launched 20 years ago has been to be at the forefront of organics," Zaurov said. Like the other locations, there will be a concentration of products for children, including the needs of families with newborns and very young children. Some of the brands they carry include, according to the website, "Babyganics, Honest Company, California Baby, and other high-quality product lines ideal for those who want to choose the best for their kids." They will also rent hospital-grade Medela breast pumps from the West Hartford shop. When asked why he chose West Hartford for his next expansion, Zaurov said, "It's recognized as a great town to live in, to raise a family, to open a business." He said he also values the town's "Old World attitude" about supporting local businesses. Zaurov has already hired a pharmacy manager, and is working with the builder to finalize interior plans in preparation for applying for permits from the town within the next few weeks. He anticipates three to four months of build-out. "We are thinking of launching early winter," Zaurov said.
The long-vacant space that was occupied by Sedgwick Cleaners for many years, and then briefly (for less than a year) by Victoria Cleaners in 2017, will once again be home to a dry cleaning business. Best Cleaners has signed a lease for the storefront at 17 Sedgwick Rd., and has just filed an application for a sign permit as well as permits for build-out with the town. Best Cleaners, owned by Shawn McCann, is family-owned and has been a Connecticut-based business for more than 65 years. According to their website they have 12 other locations, offer delivery, same-day service, and utilize the "environmentally-friendly GreenEarth cleaning method." Updates to come when I find out more about the opening plans.
Cake Gypsy is aiming to open its location at 1123 New Britain Ave. in Elmwood in August, owner Deanna Damen said recently. She's also opening a new space in Canton this month, and is currently hiring staff for both the Canton and West Hartford locations.
While we don't mention individual businesses holding sales in this column, Center Summer Sale Days – which were put on hiatus for 2020 due to COVID-19 – are an occasion involveing many businesses in West Hartford Center as well as Blue Back Square. Center Sale Days return for 2021, and will be held Thursday, July 15 through Saturday, July 17, as participating Center small businesses clear their inventory for next season. "We love the West Hartford Summer Sidewalk Event. We need to make room for fall so we have a huge sale. So many of our clients come annually for the sale, and it is always fun to catch up with everyone! Especially this year!" said Kimberly Moster of Kimberly Boutique and Kimberly GIFT. Participating merchants include: Kimberly Boutique – Inside sidewalk sale 30-80% off; Daswani Clothiers – Summer clearance sales event up to 40% store wide; Kaoud Rugs – July clearance aale – Up to 50% off storewide; Fleet Feet – apparel discounted up to 70%; The Medspa – free gift with $50 purchase of skincare products; Ten Thousand Villages – extra 20% off already reduced clearance items storewide; J.McLoughlin – extra 30% off sale prices; Hope & Stetson – additional discount off sale items; BK & Co – Discounts throughout the store and up to 70% off under the tent; Mosaic Sun – Outdoor tent sale; Good Cause Gifts – Up to 75% off select merchandise, special gift with purchases of $100 and more.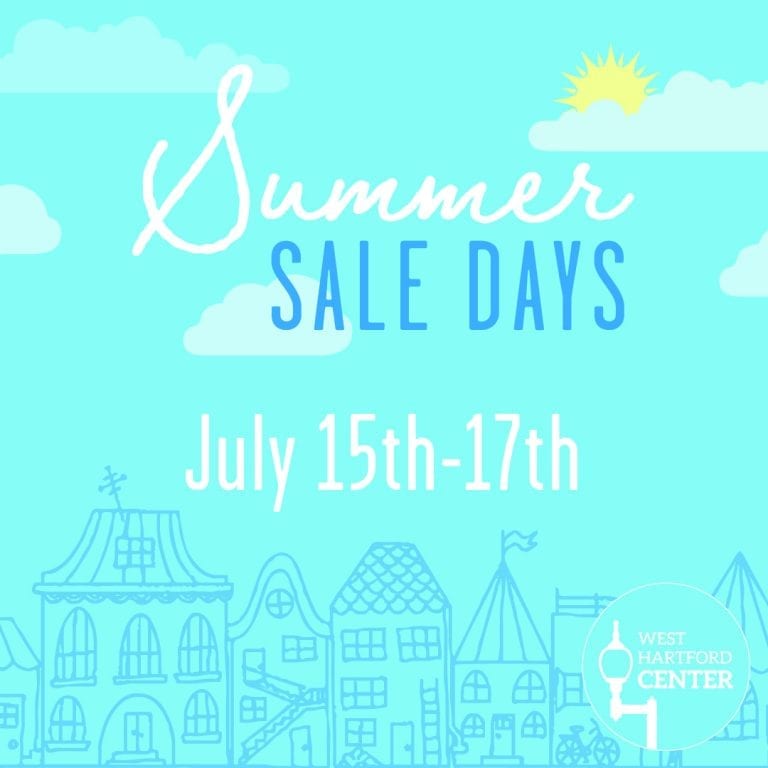 Max

Cares

Foundation, a nonprofit charitable organization, announced last week the awarding of 13 scholarships – its most ever – to recent high school graduates and currently enrolled college students that are pursuing an education in the fields of culinary arts and hospitality management, the Foundation said in a news release.The total amount of scholarships distributed to students drawn from the Greater Hartford and Springfield areas is $20,000. Two of the recipients are West Hartford residents: Branden Kaufmann and Lauren Torla, bot students at Johnson & Wales University. "It is heartening after the year that restaurants and hotels just experienced for the foundation to receive so many great applicants. It makes me excited for the future of our industry as we begin our recovery and I'm delighted we can help these students get started on their professional journey," said 

Max

Cares

Foundation Board President Rich Rosenthal. Carol McCabe, chairperson of the Scholarship Committee for the

Max

Cares

Foundation, stated, "This is an impressive group of applicants and we feel this will be an impactful contribution to these students and their families especially considering the circumstances brought about by the pandemic over the past year." Applications for the Culinary Arts Scholarships for the next school year will be announced in Spring 2022. More information can be found at MaxCaresFoundation.org.
West Hartford native and Hall High School graduate (Class of 2013) Rachel Lyons is the executive director of Space for Humanity, the Colorado-based nonprofit which was announced Sunday by Virgin Atlantic founder Richard Branson as the recipient of proceeds from a sweepstakes – which runs through Aug. 31 – where two winners will receive the opportunity to be passengers on a journey to space. Bransen made the announcement Sunday after touching down from his own trip to space. Space for Humanity's mission is to make space more accessible for citizen astronauts of diverse racial, economic and disciplinary backgrounds. "We all share this planet together. And we need to take care of it and we need to take care of each other," Lyons told USA Today. "By giving people around the world access to this experience and this perspective, we can begin to shift our relationship on a collective level with each other and with our planet."  Click here for more information or to enter the sweepstakes.
Best wishes to Gina Marino, retiring this week after 33 years of service to the Town of West Hartford, most recently as the director of the West Hartford Senior Center. Marino will be taking a position as director of the Rocky Hill Senior Center.
Congratulations to Michael Campitelli, a West Hartford resident who attends Entech Advanced Energy Training in Crowell, CT and is one of the 2021 Dave Nelsen Scholarship recipients from the National Association of Oil and Energy Service Professionals (OESP). Campitelli's scholarship co-sponsored by SCPEA and the OESP New Haven Chapter. The Dave Nelsen Scholarship was established in 1999 as a way to remember and recognize the commitment to education made by OESP member Dave Nelsen, the organization said in a news release. The scholarship is awarded to students or technicians who are currently or planning to attend a technical college or trade school, pursuing a career in the oil & energy industry. "We are extremely proud of the 2021 Dave Nelsen Scholarship recipients," OESP President Scott Vadino said. "These individuals are the best of the best applicants and we are confident that they will continue the legacy of Dave Nelsen. We are very thankful to our corporate, association and OESP chapter sponsors, who, along with OESP, co-sponsor the scholarships each year," Vadino added.
Remember, if you have any business news to share, add it in the comments section below or email Ronni Newton at [email protected].
Like what you see here? Click here to subscribe to We-Ha's newsletter so you'll always be in the know about what's happening in West Hartford! Click the blue button below to become a supporter of We-Ha.com and our efforts to continue producing quality journalism.