A round-up of openings, closings, and other news about West Hartford businesses.
By Ronni Newton
We have certainly reached the dog days of summer – in more ways than one at my house!
I can't not mention the heat. It was hot as Hades this weekend, and oppressively humid. We were at a graduation party on Saturday afternoon, much of which was outside, and we saw many people we hadn't seen in quite a while. Early greetings included a hug with an apology for being sweaty, but later in the day no one even bothered to say a thing when swapping sweat with old friends because we were all equally sweaty.
Because I complain about the cold, I really don't let myself complain about the heat, and even though the humidity was a major factor in the uncomfortableness of the weather the past few days, I don't buy the excuse that "it's not just the heat it's the humidity."
Hot is hot.
I've been to Arizona in August, and 112 degrees with low humidity is HOT. It's sticking-your-head-in-the-oven hot.
When my daughter was a few months old (she's now 24, but I have not forgotten this), just a few weeks after I had returned to work after maternity leave, I needed to visit a client in Phoenix – in August. My co-worker (a guy, about my age) and I had a few hours to spare after our meeting and before dinner with our client, and he decided that running up to the top of Squaw Peak was a good way to spend the afternoon. It was 112ºF – in the shade.
He said, not so subtly,  that I probably wasn't in good enough shape to handle even walking up to the top (I'd been there before, although not in the summer) – which of course I took as a challenge. I decided to walk, not run, and I brought water. My co-worker (I haven't been in touch with him for years, but just in case I will leave out his name) probably would have needed immediate medical intervention after that run had I not reached the top just a few minutes later (running up a mountain when the temperature exceeds 100 isn't all that much faster than hiking) armed with a big bottle of water.
While I was was hiking up Squaw Peak that day, when the dark-colored rocks along the trail were so hot I couldn't even touch them, I was thinking that I was now a mother and was stupidly risking getting heatstroke – risking my life just to prove myself to an obnoxious coworker.
We both lived through the experience – even though we were both still sweating hours later when we met our client for dinner.
And never again will I believe that dry heat is not really that hot!
And as for the dog days, life with a puppy has created quite a change to our empty-nester-with-a-college-kid-home-for-summer routine. We have realized our house is (was) not very puppy-proof. The first few nights did not include much sleep.
We have relocated books and other chewable objects within reach. We've watched as "steal the dishtowel" has become a really fun game. We already know that shoes cannot be left unattended for even a moment.
But puppies, like babies of all types, are full of unadulterated joy and wonder for each new experience. They see everything in the world through brand new eyes. They don't come with prejudices, or preconceived notions about what is good and bad. They just experience.
It's up to us to teach Millie the rules, how to live in our world.
Sitting at the family room table and typing this, I look down, where this adorable little creature, who already seems to love me unconditionally and trust that I will take care of her, is lying at my feet. And I'm laughing because her back paws are sticking up in the air as she sleeps. And she's so cute. And even though training her will be a lot of work, she is already bringing us so much joy.
If you have tips about businesses opening or closing, or doing something worth sharing, please provide that information in the comments or email Ronni Newton at [email protected].
Here's this week's Buzz: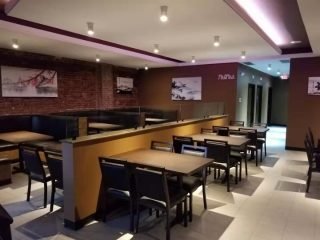 It's the middle of the summer, when there are generally few news stories, but that hasn't stopped business news in West Hartford. It was hard to decide what to feature this week, but Mr. Chow Asian Fusion is getting the top billing. The sign is up at 179 Park Rd. (former ChengDu location), most of the construction is complete, and owner Hecheng Chen (who also owns Ichiro on Farmington Avenue and Chosen 1 just over the line on Park Street in Hartford) said that the restaurant is due to have a final inspection this Thursday and should have a soft opening as soon as the certificate of occupancy is received. Mr. Chow Asian Fusion – as the name implies – will include dishes from a variety of Asian cuisines. A full menu includes salads, soups, hot and cold appetizers, noodle dishes, entrees, and a page full of specials featuring seafood, chicken, meat, and vegetables. I'll report back with more specifics about the menu as soon as the restaurant opens!
I don't like to tease, but this is a big deal and although I don't have quite all of the information yet I'm really excited to share what I do know. West Hartford will soon have it's own transport system! You will be able to see WeHa Wheels driving around at the end of the week, and those who attend the Taste of Blue Back Square on  Wednesday, July 31 will be able to climb aboard West Hartford's FREE shuttle. WeHa Wheels will begin running on Aug. 1 following a ribbon cutting at Harvest, and will operate every Thursday through Saturday from 4:30-11:30 p.m. WeHa Wheels, driven by Premier Limo and sponsored by numerous local businesses, will be free to users who can reserve a ride (online or by phone) into the Center or Blue Back during the hours of 4:30-7:30 p.m., utilize the public loop between 7:30-9:30 p.m., or catch a ride hope between 9:30-11:30 p.m. The vehicle, an executive luxury coach which holds up to 12 people and has high-back leather seats, is the first town transit service of its kind in Connecticut, said Tom Hickey of WHMedia, who has been working with a committee of people for months to bring this plan to fruition. Additional renderings of the vehicle can be found below. Look for a complete story with many more details to follow in the next week.
Tuesday night the Town Council approved the town planner's administrative approval of a minor change to the windows on the second floor of 1445 New Britain Ave., the main building at The Corbin Collection, for a new tenant – Industrious – which will be West Hartford's third co-working space. Although the development is a Special Development District, the changes requested by Seritage SRC Finance are minor and the town planner has the authority to approve certain architectural changes without requiring consideration by the Town Council. According to Economic Development Specialist Kristen Gorski, Industrious has executed a lease for the space, and is currently working on plan concepts and will be applying for building permits now that they have had the change in the windows approved. Industrious currently has more than 75 locations in 40 cities throughout the country according to their website.
The lease is not yet signed, but Crab du Jour has indicated on their website that they plan to open a location at Westfarms. Harry Dong, a representative of Crab du Jour, said Wednesday that they are getting ready to sign a lease for the former Ruby Tuesday space at Westfarms, and hope to open the Cajun boiled seafood restaurant there within about five months – part of the company's aggressive expansion plan to open a restaurant every three to four weeks. There is currently a location in Levittown, PA, and locations planned for Connecticut include Manchester (opening very soon) and Newington (opening after Westfarms), said Dong, who said he and the business owners have extensive restaurant experience. To view the menu for Crab du Jour, click here.
Salons by JC West Hartford (333 North Main St. in Bishops Corner) is thrilled to announce the grand opening of For the Love of Color. Salon owner Vanessa LeMay has been in the beauty industry for 11 years, most recently in New Britain. She was an educator for three years teaching stylists throughout New England, and in addition she was a prime assistant to Rodney Cutler in New York City for New York Fashion Week. LeMay specializes in color, color corrections, blondes, precision cutting and updos. "My mission as a studio salon proprietor is to make the guest experience as relaxing and enjoyable as possible while helping create the best version of you!" she said. She can be reached for an appointment by call or text to 860-944-4819. Samples of her beautiful work can be found by visiting her Instagram page @vtlemay.
This is just outside of West Hartford, but I interviewed Jacques Pépin at his Madison home for a feature story years ago and have been a fan ever since so I wanted to be sure people knew about this event. The internationally-renowned chef will co-host a cocktail hour, auction, and book signing to support Billings Forge Community Works (BFCW) on Aug. 3 at 5:30 p.m., at Firebox in Hartford. According to a news release, "BFCW runs a culinary training program which provides training, internships, and job opportunities for more than 50 youth and adults each year in their KITCHEN cafes. This program is in keeping with the Jacques Pépin Foundation's mission to support free culinary and life-skills training through community-based organizations." Tickets to this event start at $150 per person. "We are excited to be partnering with the Jacques Pépin Foundation," BFCW Executive Director Cary Wheaton said. "Our missions are aligned. And, as a former Restaurateur, I'm admittedly thrilled to have Jacques Pépin at Firebox. It is a great honor!" The menu, created by Firebox executive Chef Chris Addley, will include "exquisite, French-inspired appetizers with the farm-fresh Firebox twist that the restaurant is so well-known for. Seacoast mushroom duxelle with whipped chive crostini; Salmon tartare, horseradish yogurt, cucumber; seared hanger steak, bone marrow bleu cheese are just a few of the innovative hors devours that guests can look forward to." He said, "It will be an honor to have Chef Pépin join us. We want to be sure that our menu reflects our appreciation for  his presence. As many Hartfordites know we have supported Billings Forge Community Works for over a decade, and we are thrilled to see it receive this special attention from a world-renowned culinary icon." Firebox can be found online at www.fireboxrestaurant.com, on Instagram at @firebox_restaurant, or at 860-246-1222.
Another upcoming event that may interest readers is the "Wine and Roses" dinner at the Delamar, planned for the Artisan garden (weather permitting) on Aug. 7. The event will include a three-course dinner, each course accompanied by a paired wine, and while dining florist Lane and Lenge will provide a demonstration creating a beautiful wrapped bouquet which everyone attending will be able to take home. Table design by Lux Bond and Green, featuring Baccarat Crystal. Click here to for more information or tickets.
1003 Farmington Ave., home to S.K. Lavery, Fleet Feet Sports, and Tribe, as well as other tenants, was sold June 24 for $8 million. The Hartford Business Journal reported that the 40,000 square foot property was purchased by investors Michael Stone and Michael Fleischmann, through their Stone Point Properties LLC unit. West Hartford Merchants Partnership was the previous owner. Read more here in The Hartford Business Journal article.
People's United Bank, which recently purchased Farmington Bank and closed multiple locations, announced last week its plans to acquire United Bank (United Financial Bancorp), which has a West Hartford location on LaSalle Road. Click here to read the full press release.
Although one door is getting set to open (Mr. Chow Asian Fusion), another is getting set to close. This week's sad news is the closing July 27 of Icy Rolls, the Thai stir-fried ice cream shop which opened just two years ago in August 2017 at 56 LaSalle Rd. Restaurateur Hecheng Chen, who is the owner of the soon-to-0pen Mr. Chow, is also a partner in Icy Rolls. Chen said the economics of running the ice cream shop in the Center just didn't work out, and expressed his thanks to the landlord for flexibility with an exit agreement. Rumor, as yet unconfirmed, is that an AT&T store will be opening in the space.
Big news coming tomorrow, with Ideanomics revealing their complete plans that will be submitted to the town for Fintech Village, the global center for innovation the company intends to build on the 58-acre former UConn West Hartford campus. I'll be at the press conference, and will have the story – with a link to the video flyover – published as soon as possible after the press conference Monday. Click here to read what's been released thus far.
ICYMI, congrats to new Mandell JCC Board Chair Peter Fishman. He was officially appointed at the organization's recent annual meeting, which also honored outgoing president and current Board Chair Gayle Temkin. Read the full story here.
Remember, if you have any business news to share, add it in the comments section below or email Ronni Newton at [email protected].
Like what you see here? Click here to subscribe to We-Ha's newsletter so you'll always be in the know about what's happening in West Hartford!