A round-up of openings, closings, and other news about West Hartford businesses.
By Ronni Newton
Happy Father's Day to all the dads (and father figures) out there! I hope you had a wonderful day on Sunday!
Happy first full day of summer, too! Of course I celebrate the arrival of summer on June 1, but the summer solstice officially took place at 11:32 p.m. Sunday so today is technically the first full day.
I want to savor every moment of this summer, but I'm already afraid it's zooming by too quickly.
This past week was a whirlwind of events, including Conard and Hall graduations, a ribbon cutting, and numerous in-person meetings including a business lunch at Max's Oyster Bar (see bonus food photos at the end of the column). Thursday was Ted's and my wedding anniversary and we enjoyed our traditional – and delicious – dinner on the patio at Bricco!
The weekend was packed with Juneteenth activities, but I did manage to fit in my annual 7-mile "run to the roses" at Elizabeth Park on Sunday morning with my friend Laurie – whom I hadn't run with since September 2019. (She was injured, and then … the pandemic happened.)
We are less than four weeks from the wedding (yikes!) and there are many final details to complete so I'm hoping things stay somewhat quiet in West Hartford over the next few weeks.
I want to extend a huge thank you to my interns, Lily Guberman and Sophie Christensen, for the incredible reporting and photographing they have done over the past week. Beginning with the Hall car parade last Sunday, the two have also covered – either on their own, together, or with me – Hall graduation, Ben Bronz Academy graduation, an event at Jonathan's Dream, and Saturday's three Juneteenth events! I could not have made it through the past few days without them. And thank you also to freelancer Kristina Vakhman for writing the Conard graduation story while I took the photos.
Please continue to support our local businesses, wear your masks indoors if you are not vaccinated – and even if you are when required – and stay safe and healthy.
If you have information to share about local businesses, please provide details in the comments or email Ronni Newton at [email protected].
Here's this week's Buzz:
The West Hartford Chamber of Commerce and town officials officially welcomed NBT Bank's Connecticut Regional Headquarters as well as a retail banking branch to Corporate Center West, 433 South Main St., with a ribbon cutting ceremony on June 16. "I'm very proud and very happy to be able to plant our flag and serve the community," said Connecticut Regional President (and West Hartford resident) Andreas Kapetanopoulos, as he presented checks for $2,500 each to four local nonprofits: the Aurora Foundation, Playhouse on Park, the West Hartford Food Pantry, and the Miracle League of CT. The check presentation photos are below, and some photos of the office are at the end of the column.
I was driving around the Park Road neighborhood one day last week, and stopped to take a photo of the progress at Fuego Picante (see below) when I noticed a sign in the window of the former Fuller Yoga Pilates studio at 276 Park Rd. indicating that 0 Degree Thai Ice Cream is planning to open at that location! The rolled ice cream store had previously been located where BIRDCODE is now, and then announced last summer that they planned to reopen in the space next to Parkview Wine and Spirits at 227 Park Rd. On Sunday I spoke to an employee in the Middletown location (same owner) who confirmed that they will be opening at 276 Park Rd., and are aiming for this summer. Updates to follow!
I couldn't see the inside, but work is progressing on the Fuego Picante restaurant at 280 Park Rd., owned by the same family that operates the immensely popular Fuego Picante Food Truck. They are taking over the former Pachanga Empanada space, and according to their Facebook page will be opening very soon.
Hartford Baking Company is taking over the spot formerly occupied by Truffles on Route 4 (767 Farmington Ave.) near the center of Farmington! The lease is signed and they plan to open on Sept. 1, 2021. While HBC recently rebranded its New Park Avenue location to Citizen Chicken & Donuts, they will definitely be keeping the West Hartford Center location, as well as the Glastonbury location open and unchanged, and all three HBC locations will offer the same menu. Freshly-baked bread by the loaf will be sold at the new Farmington location – all scratch-baked the night before at the same HBC commissary in Bloomfield that currently provides bread for the other two cafes. "We are thrilled that we are going to be able to continue the tradition of having a bakery at this location in Farmington Village," company President Scott Kluger said. "Truffles was in business for over 20 years, so it will be great to have the opportunity to give people a spot for breakfast, coffee, sandwiches, and more – all scratch baked of course." More information can be found on the HBC website.
Plans are progressing for the Bear Fair, and the sponsors and nonprofits have now been paired up with artists. (Note that Corey Pane, who created the MLK39 Racial Equity Mural now on the side of the library in the Center, is one of the artists!) As soon as I find out when and where the bears will be on display, I'll provide much more information. They still need to be painted before that happens.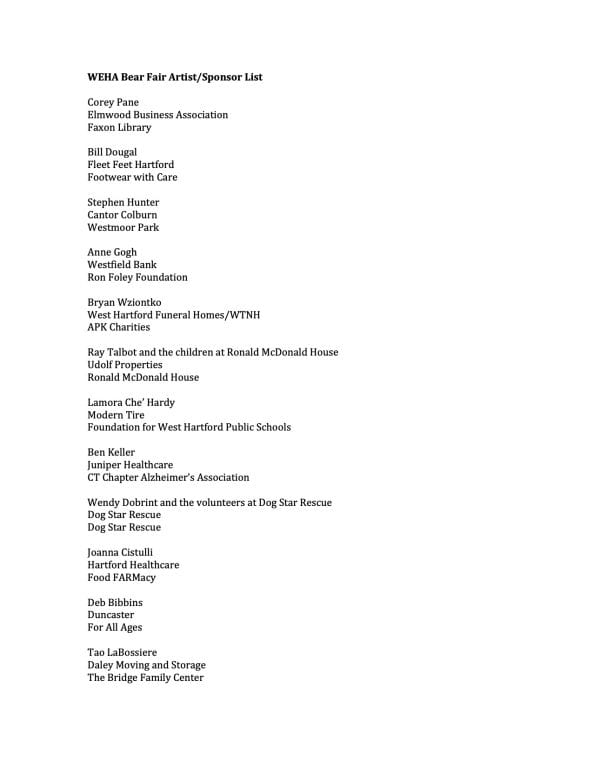 The Bridge Family Center proudly welcomes Kristen Cool, a West Hartford resident and early childhood educator at Charter Oak International Academy in West Hartford, to serve a three-year term on its Board of Directors. Cool is a graduate of Clark University and Saint Joseph College (now University of Saint Joseph), with dual certification in elementary and special education. She is a specialist in early literacy instruction and is a tireless advocate for equitable opportunities for her students. Cool was recently selected to represent West Hartford teachers as essential workers in an upcoming photo display at the Noah Webster House. Prior to her work in West Hartford, Cool also served as a special education preschool teacher and a Birth-to-Three interventionist. "The Bridge is very excited to welcome Kristen to the Board. Her commitment to children and families has been evident throughout her career and her advocacy efforts have helped numerous students receive the education they need and deserve. Kristen's expertise in early childhood education will be an asset to the organization as we strive to meet the needs of our community," stated Margaret Hann, Executive Director of the Bridge Family Center.
Last week we announced that Board of Education member and UConn professor and director of the Asian and Asian American Studies Institute Jason Chang had been named by Gov. Ned Lamont to newly-formed Connecticut Hate Crimes Advisory Council. That information came from UConn Today, and my apologies that I left out other residents named to the organization, including Michael Bloom, director of Jewish Federation Association of Connecticut (JFACT). "The time is now for advocates, law enforcement, clergy and others to sit at a table to discuss how we can prevent these types of crimes from happening," Bloom said of his appointment. Jon Slifka of West Hartford has also been appointed to the Connecticut Hate Crimes Advisory Council.
West Hartford's Community Speaks Out was awarded a $10,000 donation from West Hartford-based 

Bouvier

Insurance

. 

Community Speaks Out is a local organization dedicated to improving the community by providing support and opportunities to individuals and families access to recovery. According to a news release, the organization plans to use the $10,000 to "provide up to 50 people with sober living housing, along with therapy assistance, recovery coaching, discovery mentorship, expenses for travel and a stay at a treatment facility. The funds will also be utilized to further the educational commitments to the community and youth programs." Ashley Wallace, account manager at Bouvier Insurance, originally received a $5,000 donation for Community Speaks Out thanks to a submission process with Liberty Mutual and Safeco Insurance through their 2021 Make More Happen Awards, but after Bouvier Insurance posted a story of the partnership on their official Make More Happen microsite, www.agentgiving.com/Bouvier-Insurance they raised an additional sum to reach the $10,000 threshold.
Wheeler advised in a news release that they have received a $25,000 grant from the West Hartford-based Maximilian E. & Marion O. Hoffman Foundation, Inc., to purchase Chromebook laptops for students, and laptops for teachers and paraeducators at Northwest Village School (NVS), the organization's K-12 therapeutic day school. The computers will help students in the special education program to participate in virtual, in-classroom and other learning experiences, and for teachers to be able to provide instruction both when classes are at school and through distance learning. "We are extremely grateful for the Foundation's support, which will ensure that our students have access to high-quality educational services, whether they are learning in the classroom or from their homes," said Sabrina Trocchi, PhD, MPA, president and chief executive officer, Wheeler. "During the last year, especially, we have learned about the value of flexible learning environments, but moreover, the importance of providing reliable technology to support and meet students' learning goals." The new technology will be used by students during the upcoming school year.
ICYMI, the West Hartford Chamber of Commerce will hold its annual meeting and awards dinner a week from today, on Monday, June 28, from 5:30-8 p.m. at the Farmington Polo Grounds. Dr. Rick Liftig will receive the Noah Webster Award, and others from the community will be honored as well. Click here for the details.
Major news that was announced on Friday afternoon: the financing has been finalized and One Park Road is about to get underway. Details can be found here.
Click on the name of the topic to read coverage of the weekend's Juneteenth activities includes: Witness Stones, procession and Town Hall bazaar and celebration, MLK39 Racial Equity Mural unveiling, dedication of Unity Green.
Remember, if you have any business news to share, add it in the comments section below or email Ronni Newton at [email protected].
Like what you see here? Click here to subscribe to We-Ha's newsletter so you'll always be in the know about what's happening in West Hartford! Click the blue button below to become a supporter of We-Ha.com and our efforts to continue producing quality journalism.