A round-up of openings, closings, and other news about West Hartford businesses.
By Ronni Newton
Summertime weather is certainly here, and I'm kicking myself that I never got around to pursuing the installation of air conditioning in my house. It looks like one more summer of noisy window units – and task no. 1 on Monday is installing the rest of them.
Along with the transition to summer, it seems like the world has come alive again, and I think I've had more non-work obligations and social activities in the past few days than I've had in the past year. Some of those surround my daughter's wedding, which is really happening this year, plus it was my birthday last week – and between birthday celebrations, a wedding dress fitting, and Katie's bridal shower, it was quite the whirlwind few days.
I got to see my brother-in-law and sister-in-law this weekend for the first time since last August (they live in Fairfield County, but through the fall and winter we only visited through Zoom or FaceTime), was able to hug many friends I haven't seen in months (and haven't hugged in more than a year), and Katie and her college friends – who hadn't seen each other as a group in at least 18 months – were so excited to get together at the shower.
This week's West Hartford dining experience took place Friday, when my sister took me to Vinted for a birthday lunch. She "insisted" that we have wine, too, and of course I didn't want to disappoint her. My spinach bacon salad with goat cheese was delicious!
Please continue to support our local businesses, wear your masks indoors if you are not vaccinated – and even if you are when required – and stay safe and healthy.
If you have information to share about local businesses, please provide details in the comments or email Ronni Newton at [email protected].
Here's this week's Buzz:
A new business will be opening on South Main Street, and I believe it's going to be a win-win on so many levels. West Hartford Public Schools has signed a lease for the former Omaha Steaks storefront at 13 South Main St. – and this summer or early fall, a used bookstore will be opening there! Not only will it be a bookstore, with broad appeal in a town of avid readers and myriad book clubs, but it will also be a space to train and employ students from the district's post-secondary program. The shop will be called The Next Chapter – a play on words for not only giving new life to old books, but also for providing an opportunity for the students to receive life-skills and vocational training they will be able to use for the next chapter of their lives, said Gretchen Nelson (retiring as director of Pupil Shrives at the end of June), who was instrumental in not only coming up with the concept, but also in choosing the name. Nelson said that during COVID, most of the community sites where post-secondary students (who have completed high school but qualify for services through age 22) obtained vocational training had to be shut down, with the exception of a program at Auerfarm. "We have a commercial culinary kitchen," Nelson said, and other work was brought in for the students, but there was definitely a need for other opportunities. "This idea came about through problem-solving in a different way," she said. The Next Chapter will provide opportunity for students to be involved in many aspects of running the business, including collecting, sorting, cataloguing, and preparing the donated books for sale, as well as with the retail operations – and a used bookstore is something that has been identified as a desired business from the West Hartford community. The town was very helpful to the district in finding the space, and Nelson said that Charlie Kaoud (the Kaoud family owns the building), also loved the idea and is really excited about the business. The Next Chapter is taking donations of gently used books (no textbooks or manuals) for children and adults from the community, and there is a donation box at the Cogswell Building on the American School for the Deaf campus (where the post-secondary program is located) and donation boxes are being set up in school lobbies. There will also be a book swap/donation held at Town Hall on June 12 from 10 a.m.-noon. (See flyer below.) Other community organizations will also likely hold book drives to support the efforts. A manager will be hired to run the store, and the goal is to open The Next Chapter by late summer or early fall at the latest, Nelson said. "We think it's a great plan for how many students can touch this and be part of it," she said. Next year there are going to be 54 students in the post-secondary program. In addition, the high school business clubs will also likely get involved, Nelson said. "We think this will become a real community destination," she said. Assistant Superintendent Andy Morrow said no one has been a bigger advocate for this project and for all of our education projects and opportunities than Nelson has. "All of our team is deeply committed to this project and it's long-term success," said Morrow. "I am looking forward to bringing this vocational opportunity to our students, and I'm also excited our community will benefit from the store and get a chance to see our programs in action. We appreciate the partnerships we have established with the Kaouds, libraries, and book groups in town and will hopefully have the space outfitted and ready to go by the start of the new school year."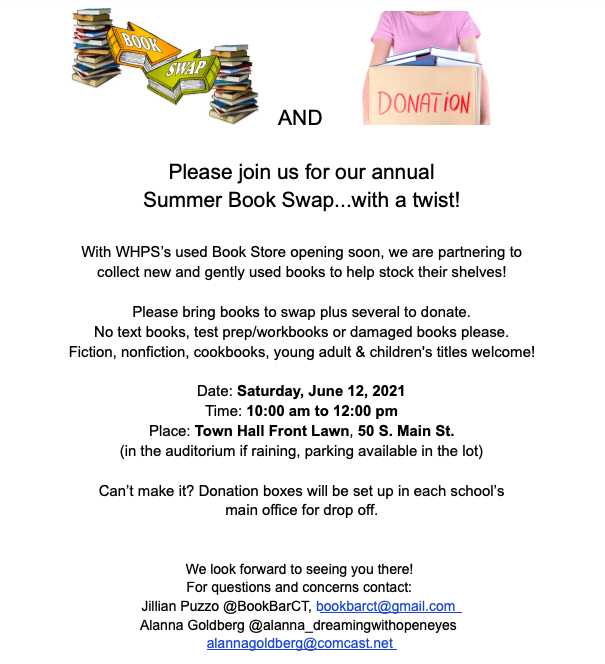 After being closed for well over a year, Tribe is getting ready to reopen its indoor cycling studio in the new location at 635 New Park Ave., Unit 4D. Tribe was formerly located at 1001 Farmington Ave., but began the process of relocation while being closed due to COVID-19 last spring, and it's taken longer than expected for the build-out. According to West Hartford Economic Development Coordinator Kristen Gorski, the studio should be open by July.
Another project that's taking longer than expected is the opening of the indoor space at GastroPark – but that's really close to being ready. Owner Tate Norden gave me a tour last week, and said the final inspection is scheduled for this week. There will be a commercial kitchen (likely serving some of the items that Norden's Iron & Grain food truck serves now) and a bar with 12 tap lines (eight for beers, one for wine, and three for cocktails), and several vendors such as Small State Provisions and a coffee business also located inside the space, which will be open mornings as well as the current lunch through evening hours. "I'm just excited to see people sitting in here," Norden said. GastroPark is already extremely popular when the weather is nice, but having the indoor space will greatly enhance the flexibility for patrons in all types of weather, and between the inside and outside the facility can accommodate 125 seats.
The West Hartford Chamber of Commerce has resumed holding ribbon cuttings, and on June 1 officially welcomed New Image Dental, which had purchased the practice of Dr. Richard Fairbrother at 69 South Main St. in March 2020. "Dr. Fairbrother tragically passed away in December 2019," said Ray Belisle of New Image Dental. "His legacy of quality patient care greatly impacted the community he served. He was also very active in giving back to West Hartford for many years. New Image Dental has vowed to continue his legacy of excellent care and community involvement. For example, they are sponsoring an Octoberfest-like talent show to benefit veterans in 2021. The office is a full service general dentistry practice with the latest technology such as lasers and digital impression scanners. New Image Dental is accepting new patients," Belisle said, and can be reached at 860-232-2000.
Last week I met with Blue Back Square General Manager Robyn Rifkin and Image Marketing Consultants, the marketing company that is representing the new owners of Blue Back Square and they shared some general information about plans to "activate the center," including holding more concerts, kids activities, and additional art installations. The goal is also to reinvigorate the shopping center from a leasing perspective, adding more diversity to the tenant mix based on the types of businesses the community wants to see. "They want a vibe," Rifkin said. The ownership change is is just a few weeks old, and many details are still being finalized, but in late June, Blue Back will launch a "Summertime in the Square" kids activity that will take place each week, landscaping will be updated, a "drag brunch" event is coming to World of Beer, and in addition to the MLK39 mural that will be unveiled on Juneteenth, there will be additional murals. The West Hartford Art League already has a new installation in place for June in the space at the corner of Memorial and Isham.
Cake Gypsy is getting close to opening at 1123 New Britain Ave. Much more information to come!
Plans for the Bear Fair are moving along, and the following list of sponsors and nonprofit beneficiaries has been announced: Cantor Colburn and WTNH-8 sponsoring Westmoor Park; Daley Moving & Storage sponsoring The Bridge Family Center; Dogstar Rescue sponsoring the Dogstar Rescue; Duncaster sponsoring For All Ages; Elmwood Business Association, Jerry's Artarama, Dr. Rick Liftig, and Webster Bank sponsoring the Faxon Library; Fleet Feet of West Hartford sponsoring Footwear with Care; Hartford Healthcare Sponsoring Food FARMacy; Juniper Homecare sponsoring the CT Chapter of Alzheimer's Association; Modern Tire sponsoring the Foundation for West Hartford Public Schools; Udolf Properties sponsoring the Ronald McDonald House; Westfield Bank sponsoring the Ron Foley Foundation; and West Hartford Funeral Homes (Sheehan Hilborn Breen, Molloy, Hebrew Funeral) sponsoring APK Charities. "Special thanks to our partners at Daley Moving and Storage, Tao LaBoissiere, Hodges Landscaping and the West Hartford Chamber of Commerce. Media partners include Jewish Ledger, WeHa CAL, we-ha.com and West Hartford Magazine," 2020 Media said in an announcement.
Friday was "National Donut Day," and U.S. Sen. Richard Blumenthal took the opportunity to visit with Chef Van Hurd at Citizen Chicken & Donuts (625 New Park Ave.). Hurd said business was brisk all morning for the $1 doughnuts – and things have been going well since the restaurant opened earlier this year, with patrons enjoying the taste of the south that Hurd has brought to West Hartford with the fried chicken and southern sides. As for the doughnuts, the maple bacon and fruity Pebbles are the community favorites.
West Hartford resident Melissa Porter, an independent organizing professional, has recently launched NEAT Method in the Hartford area. The company, founded in San Francisco in 2010, is "committed to providing more luxurious and smartly appointed living spaces," Porter said. has expanded to Hartford Area. "NEAT Method is more than professional organizing; it's a lifestyle service that produces a more well arranged and comfortable living environment. By designing customized solutions, NEAT Method creates a new level of comfort and style in the home, office and beyond," Porter said in an announcement. "With a unique and personalized service, NEAT clients range from the busy mom balancing all the elements of her life to the high-powered professional with limited time to maintain a smartly appointed living space. NEAT provides customized pre-packing, unpacking moves and relocations.
With over 80 locations in the US and Canada it was time for the Hartford area to experience the NEAT life.
For more information, please visit www.neatmethod.com or contact Melissa Porter at 860-214-1223."
Tina Boske, owner of 

Budget

Blinds

of West Hartford, said they have closed the showroom on New Park Avenue, "but we are going stronger than ever. We've realized with the pandemic that the showroom was not necessary and this affords us more time to spend with our customers. We carry everything in our van and bring the showroom with us." For more information, visit the website or call 860-222-9799.
A few other closings to report this week include the retail operation of Pep Boys at 1000 New Britain Ave. The auto repair operation will remain open, and according to a store employee, it's not just the West Hartford location that's closing the retail side, but also Berlin, Hamden, and Orange locations. Waterbury and Manchester retail operations will remain open, he said. The closing will likely be taking place in July, and currently everything is 50% off.
Liberty Bank is closing multiple branch locations, including the branch at 1232 Farmington Ave. The West Hartford location at 970 Farmington Ave. will remain open.
ICYMI, the Chamber of Commerce, town's Economic Development Department, and West Hartford Community Interactive have collaborated to launch the new website, WHyWestHartford. Click here for the complete story.
Mark your calendar for Juneteenth (June 19th), with a day full of celebratory activities. Details can be found here.
Remember, if you have any business news to share, add it in the comments section below or email Ronni Newton at [email protected].
Like what you see here? Click here to subscribe to We-Ha's newsletter so you'll always be in the know about what's happening in West Hartford! Click the blue button below to become a supporter of We-Ha.com and our efforts to continue producing quality journalism.