A round-up of openings, closings, and other news about West Hartford businesses. 
Business Buzz is sponsored by NBT Bank, and we are very thankful for their support!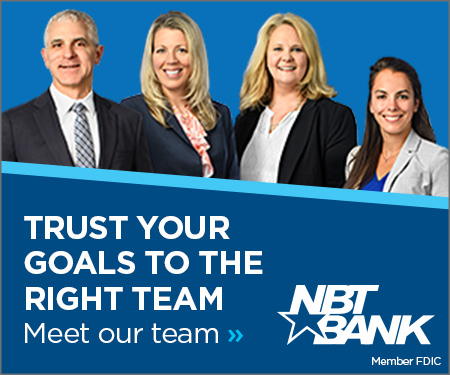 By Ronni Newton
Happy 25th Birthday to my son, Sam!! While we aren't able to celebrate with him in person today I want to be sure he knows how proud we are of him as well as everything he has accomplished over the past year – completing his master's, getting a great job in Boston doing work he really enjoys, and moving to a fabulous apartment with his girlfriend. We look forward to sharing cake and candles in the next few weeks.
Anyone else feeling like they're getting moldy. We need some warm sunshine!
I said the same thing exactly a year ago: 'tis the season for fundraisers! This past week Ted and I attended the Friends of Feeney "Ukraine 2 WeHa" event at New Park Brewing on Friday night – a casual jeans /beer and pizza event with great live music – and Saturday night we were at the elegant Bridge Family Center's annual Children's Charity Ball at Hartford Golf Club. Coming up this week we're attending the retirement event for Essie Labrot which is a fundraiser for West Hartford Community Interactive (WHCi), the Journey Home "Fiesta," and the Noah Webster House's "War of the Words." We-Ha.com is also a media sponsor of Ron's Run for the Roses, but it's at the same time as War of the Words and Tom Hickey will be representing us at that event. We're also going to the Playhouse on Park "Encore" fundraiser the following weekend.
I'm so glad that after those few years of cancellations and virtual fundraising we continue to have these in-person events – each of which is not only very different and so much fun, but also a great opportunity to support local nonprofits.
I didn't have nearly as many restaurant experiences last week as I did the week before, but We-Ha.com Sales Director Kaushik Makati and I did have dinner on at Halfway on Wednesday night – the night it opened in the former Wurst Haus space! We enjoyed some frosty beers, Wisconsin cheese curds, and I had tuna tacos while Kaushik tried out the truffle burger and fries – with a thumb's up all the way around. There are multiple arcade games to play in the restaurant – and there will be live music, too.
West Hartford had popped back onto the COVID-19 map when I checked one day last week – with a handful of positive reported cases and a very low positivity rate – but as of Sunday the town is back to having too few cases to report! A notation included with the map published by the state (data.ct.gov) states: "To protect confidentially, the data in towns with fewer than five (5) cases or five (5) positive NAAT tests in the past seven (7) days are suppressed." I'll still keep the tab open and check weekly at least for a while.
If you're looking for news about West Hartford in print please note that many stories from We-Ha.com, as well as other local news, is published in the twice-monthly issues of the West Hartford Press.
If you have information to share about local businesses, please provide details in the comments or email Ronni Newton at [email protected].
**************************************************
Here's this week's Buzz:
Muse Paintbar will be relocating, and expanding into a much larger footprint! They have outgrown the current storefront at 69 Memorial Road where they have been located for nearly 10 years, and will be moving within Blue Back Square to 77 Isham Road (former Charming Charlie space) by September, CEO Reese Pippins said. The current space is 1,822 square feet, and the new location will be 3,120 square feet, she said, which will give them them a larger main space as well as two private rooms. "West Hartford has always been such a successful space," Pippins said, with sell-outs and a waiting list every weekend. The larger footprint will not only allow for more to attend paint sessions, but will also enable them to increase the number of time slots. "It's great for all ages," Pippins said, from birthday parties for children ages 5 and up (they've even done parties for 4-year-olds) as well as their parents, grandparents, and everyone in between with sessions scheduled seven days a week. There is beer and wine available, but she emphasized that the business is really family friendly. "It's so much fun to do, and we're constantly creating new paintings," she said. They've applied for permits, and hope to start the build-out this month. The new space will have hand-painted murals inside and out for an "Instagrammable" experience. "We are so excited," Pippins said.  The female-led business launched in 2012, and now includes 23 locations in New England and the Mid-Atlantic, and Pippins said they hope to open two more this year.
West Hartford has its first drive-through Starbucks! The new coffee shop opened Friday at 25 Kane Street in what was formerly a D'Angelos. I went inside to get my coffee when I stopped by on Sunday to check it out (even though it was raining) because I wanted to see the inside – which is nice and spacious, and has a big table for a large group to gather. The drive-through is definitely something that many will appreciate.
Speaking of drive-throughs, last June I reported in this column that a rebuilding was planned for the Wendy's restaurant at 331 South Road, opposite Westfarms, and while the "ambitious" goal of beginning last summer did not materialize, the project has taken a step forward with a submission submitted for informal review about 10 days ago by the Design Review Advisory Committee (DRAC). It was a favorable study session, Town Planner Todd Dumais said, and he expects a submission for amendment to the existing Special Development District soon. The plans are for the construction of a 2,675 square foot building with a drive-through, and improvements to the parking and driveway areas. The property is partially in West Hartford and partially in Farmington, and Farmington's Conservation and Inlands Water Committee has approved the project.
Elmwood Bark and Stone has recently opened at 69 Talcott Road. As the name implies, the business sells landscaping supplies such as mulch and stone, and more details can be found on the website.
While you may see a number of barriers currently in place inside Westfarms, there's a lot of activity going on behind them. "It's an exciting time at Westfarms," spokesperson Amanda Sirica said. "We are currently under construction with four new retailers that are all opening this year, including the new to market additions of Alo Yoga, Intimissimi, Arhaus, and Jordan's Furniture. Additionally, Impossible Kicks reopened an expansion into a larger space just last week. It's a great time to come see what's new, shop spring collections, and get ready for Mother's Day at Westfarms," she said.
Congratulations to Choice Pet, which recently celebrated their grand opening in Corbin's Corner with a ribbon-cutting with the West Hartford Chamber of Commerce and town officials.
Right down the street from Corbin's Corner (I believe it's technically in New Britain), a Goodwill store and donation center is getting set to open in the former Connecticut Beverage Mart space.
Jessica Fritz-Peters, the owner of

Pilates Defined

(1143 New Britain Avenue) said she is excited to finally have a spring open house again post-COVID. The event will be Saturday, May 6, from 9 a.m. until noon and will include free classes, prizes, and giveaways. She shared the following schedule: 9-9:45 a.m. Mixed level Mat class; 10-10:15 a.m. Easy Exercises to Free your Feet!; 10:15-10:45 a.m. Intro to the Reformer; 11-11:15 a.m. Release your Neck and Shoulders; and 11:15-11:45 a.m. Mixed Level Reformer. Pink Flamingo Party Co. will be supplying decorations and there will be healthy snacks, and a raffle with 100% of the proceeds going to Interval House in Hartford. Items including privates classes, pilates props, and local cookbook author Terry Walters new cookbook, Fritz-Peters said.  Registration is required through the website

www.pilates-defined.com

, by email at

[email protected]

, or by calling 860-899-1515.
PeoplesBank has announced several appointments in their West Hartford banking center, including the appointment of Colchester resident Peter R. Sulick as mortgage sales manager. Sulick will manage residential mortgage production as well a team of mortgage loan consultants. He has over 35 years of mortgage and banking experience. "At a time when consumers need it the most, Peter brings an unparalleled level of experience to the mortgage market," stated James Sherbo, senior vice president Consumer Lending at PeoplesBank. "There is really no one else in the regional market who possesses Peter's depth of experience. He has seen it all – the ups and downs – and clearly knows what it takes to finance new home dreams no matter what is going on in the market." In addition, Jennifer W. Yergeau has been appointed as vice president of Commercial and Institutional Banking. Yergeau manages a commercial portfolio consisting of clients located in the state of Connecticut and across all sectors, including government and nonprofits. She actively consults with clients regarding their cash management needs around all facets of their business. Yergeau, a Suffield resident, has 18 years of banking experience, with 13 years dedicated to Cash Management. "Jennifer is on the front lines of helping businesses become more efficient and effective while staying safe from fraud," stated Frank Crinella, executive vice president and chief lender and chief credit officer at PeoplesBank. "Her depth of experience alone makes her a valued and unique resource in the marketplace."

Throughout Mental Health Awareness Month in May, Mental Health Connecticut (MHC) is partnering with WTNH News 8, presenting the stories of Connecticut residents who will share the unique ways stigma has impacted them and how they found ways to heal and move forward. MHC is also raising funds to support the expansion of its arts and wellness programming into Hartford through a new partnership with the Hispanic Health Council. West Hartford-based public relations firm Express Strategies is proud to sponsor weekly interview segments on News 8, aimed at increasing awareness and understanding of the challenges and triumphs, progress and potential, of individuals across Connecticut's communities. New interview segments will be telecast each Monday morning in May during Good Morning Connecticut on News 8, which airs from 10-11 a.m. Four Connecticut residents who are a part of MHC's Let's Face It campaign will be featured. Among the featured guests will be Luis Pérez, president and CEO, and Suzi Craig, chief strategy officer, Mental Health Connecticut, along with residents of Connecticut who have confronted mental health challenges. Two of the guests will be Dawn Ennis, the first transgender journalist in the U.S. to come out in network TV news, and Kenny Mercer, the creator of hip hop festival Tour for Life. "It is a privilege to support the efforts of Mental Health Connecticut, and the impact their meaningful initiatives have on individual lives," said Express Strategies Managing Principal Bernard Kavaler. "Their dedication to make a difference is inspiring, and reflects a determination that is unwavering." 

Observing Brain Tumor Awareness Month this May, the Connecticut Brain Tumor Alliance (CTBTA) is hosting their 10th annual Path of Hope event on Saturday, May 6 at Elizabeth Park in West Hartford to raise funds and awareness for their organization who provides hope and support to brain tumor patients and caregivers. One of CTBTA's local supporters, West Hartford-based Shimkus, Murphy & Lemkuil, Inc., will be volunteering their time at this event while simultaneously kicking off a month-long fundraising campaign for the organization. CTBTA has already been awarded a $5,000 donation from Shimkus, Murphy & Lemkuil and they have a chance to double it with help from the local community! With a simple vote online, the nonprofit can achieve a $10,000. Starting Monday, May 1, Shimkus, Murphy & Lemkuil and CTBTA's Agent Giving story will be highlighted on the official "Make More Happen" microsite at www.agentgiving.com/Shimkus-Murphy-Lemkuil where supporters can vote to help the team reach their donation goal. If the featured story receives a mix of at least 500 votes and comments, the $5,000 donation will be raised to $10,000. "The CTBTA is making a difference by providing hope, support, and community for patients and their caregivers in Connecticut," said Susan Lemkuil, executive vice president of Shimkus, Murphy & Lemkuil, Inc. "We are grateful to Liberty Mutual and Safeco for providing much-needed funds to continue their impactful work and thrilled at the opportunity to double the donation just by calling on the community to show their support." The agency began their support for CTBTA following Lemkuil's brain tumor diagnosis in 2007 where she has since endured four successful brain surgeries and a year of chemotherapy with the support of the organization. Joining CTBTA's Board of Directors with her husband, the Lemkuil's daily involvement and passion for the cause have helped in advancing brain tumor awareness, quality of care and brain tumor research across their community.
An event will be held beginning at noon on Saturday, May 6 at New Park Brewing in West Hartford, celebrating the launch of a new book by Jaime Green – a science writer, essayist, editor, teacher, and series editor of The Best American Science and Nature Writing. She received her MFA in Creative Nonfiction from Columbia, and her writing has appeared in Slate, Popular Science, The New York Times Book Review, American Theatre, Catapult, Astrobites, and elsewhere. She is the author of "The Possibility of Life," a dazzling cultural and scientific exploration of alien life and the cosmos, examining how the possibility of life on other planets shapes our understanding of humanity, for fans of Leslie Jamison, Carl Zimmer and Carlo Rovelli. River Bend Bookshop in West Hartford is thrilled to host Jaime Green for this book launch celebration at New Park Brewing, a local brewery known for its delicious craft beers and welcoming atmosphere. The brewery features a rotating selection of beers, including IPAs, stouts, and lagers, as well as a menu of delicious food options. The event will include an afternoon of craft beer, great food, and lively conversation with Jaime Green as she discusses her new book "The Possibility of Life." River Bend Bookshop will be selling copies of the book, and Jaime will be available to sign copies after the discussion.

Verogy

, a West Hartford-based solar energy developer dedicated to delivering industry-leading renewable energy solutions and services, has been named a recipient of a 2022 Outstanding Project Award from the Connecticut Green Bank. Will Herchel, CEO of

Verogy

provided the following statement: "

Verogy

is honored to have been selected as a recipient of a 2022 Outstanding Project Award from the Connecticut Green Bank for our solar development at Mystic Aquarium in Mystic, Connecticut. The entire

Verogy

team worked hard to make this project a reality and it is incredibly rewarding to see our efforts recognized in this way.  This award is not only a reflection of our commitment to growing clean energy, but also the importance of collaboration in achieving a more sustainable future. It was a strong partnership between

Verogy

, the Connecticut Green Bank, ESC, and Mystic Aquarium that made this project a success. We appreciate this special recognition and look forward to continuing our work to deliver clean, renewable solar energy across Connecticut and the nation."
West Hartford resident Andy Fleischmann, president and CEO of Big Brothers Big Sisters ofConnecticut

, recently accepted a donation from Savings Bank of Danbury

for the outstanding work the state's preeminent youth mentoring organization has done over the years to make a difference in the lives of underserved children and their families in local communities. In recognition of this, a $1,000 community grant and a certificate of appreciation was presented to Big Brothers Big Sisters. At the presentation ceremony were, from left in the photo below, West Hartford resident Andy Fleischmann, President & CEO of Big Brothers Big Sisters of Connecticut; Farid V. Cabrera, Assistant Vice President, Savings Bank of Danbury; and Ralph N. Richard, First Vice President, Savings Bank of Danbury. Learn more about Big Brothers Big Sisters of Connecticut at: www.ctbigs.org. Find out more about Savings Bank of Danbury at: www.SBDanbury.com.
Remember, if you have any business news to share, add it in the comments section below or email Ronni Newton at [email protected].
Like what you see here? Click here to subscribe to We-Ha's newsletter so you'll always be in the know about what's happening in West Hartford! Click the blue button below to become a supporter of We-Ha.com and our efforts to continue producing quality journalism.