A round-up of openings, closings, and other news about West Hartford businesses. 
Business Buzz is sponsored by NBT Bank, and we are very thankful for their support!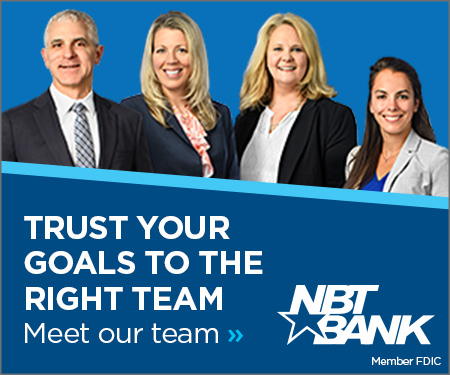 By Ronni Newton
As I write this column on Sunday afternoon, I was getting set to remark, sadly, that all of the football teams I was rooting for this weekend had "snatched defeat from the hands of victory" – a phrase (one that my dad, a lifelong Jets fan, had often used) my sister uttered on Saturday when UConn systematically managed to blow what was a comfortable lead. Then it was Duke – which was leading Florida State Saturday night until Florida State managed to score 21 unanswered points in the fourth quarter.
And then we were watching the Patriots on Sunday, leading Buffalo. Our son Sam and his girlfriend were at the game, and Sam texted us "So far, so good" just before halftime … jinxing it, we feared, as the Pats then managed to see their lead evaporate. Sam's actually good luck though – and it's rare that one of his teams loses when he's in attendance (he actually did a statistical analysis of the records when he either worked at or attended UConn men's and women's basketball games and had a remarkable winning percentage) – and the Patriots pulled out the miracle.
There was one good thing about the UConn football game – a spectacular sunset!
There was lots of business news this past week – with a full year's worth of economic development highlighted by Economic Development Coordinator Kristen Gorski during the Chamber of Commerce's annual Economic Development luncheon at the Pond House. You can find the complete story by clicking on this link now, or from the mention in the bullet points below.
Ted and I attended the "Dueling Paella Cook-Off" at Barcelona on Thursday evening, and you can find more about that in the bullet points below as well.
Post-football, Saturday night's dinner was a casual and delicious meal, including margaritas, at Toro Mexican Street Food on Raymond Road.
Sunday's activity – in addition to football and writing this column – was attending the Halloween Stroll! There were so many cute kids and I really enjoyed meeting so many families and taking tons of photos (that you can see here)!
If you're looking for news about West Hartford in print please note that many stories from We-Ha.com, as well as other local news, is published in the twice-monthly issues of the West Hartford Press.
If you have information to share about local businesses, please provide details in the comments or email Ronni Newton at [email protected].
**************************************************
Here's this week's Buzz:
Tina Kiniry has worked as an agent for models and actors since the mid-1980s, and as of this month she has now relocated her business, Tina Kiniry Management, to West Hartford Center. "I really love the area, and we really love the building," Kiniry said of the space her agency now occupies on the second floor of 998 Farmington Avenue, a suite of offices that was formerly occupied by the building's previous owner. With some new furniture, accessories, and paint, she has transformed the office into a striking and appropriately beautiful space overlooking the Center where she and her staff are able to meet with successful and/or aspiring models and actors. "West Hartford wasn't even on my radar," said Kiniry, who previously had an office in Rocky Hill. While a lot of her business is done electronically, her diverse clients come from all over. "We're proud to represent men, women, children – all shapes, all sizes, and all types," Kiniry said. She represents models for everything from commercials, to social media, to bridal, to high fashion and has recently done some national commercials for well-known brands. "We want people to know that we can do it all" – including help casting TV shows, movies, fashion shows, etc. She has several clients who are special needs as well. And she notes that having an acting background can help with modeling, too. In today's world, models "are not just another pretty face," Kiniry said, but rather the trend is for more of a unique look, and personality is equally important. "We like to see that they have a genuine excitement about the business," she said. Kiniry said some of her models are local – including Nybol and her mom, Achol, who are from West Hartford, as is Flynn Lantz. Some of the clients come to her, and others are people she has discovered over the years. Clients include long-time client Kristen Taekman, a member of the cast of the "Real Housewives of New York City," and Sports Illustrated swimsuit model Adaora. Kiniry was born and raised in Connecticut, and got her start in the business when her mom signed her up for modeling classes. She ended up working for the company, and her decades in the business includes an important role as a "mother agent," discovering, developing, and representing talented individuals whom she connects with major agencies throughout the world. Kiniry does some of the photography work herself, and some will be onsite, but most is outsourced, and she also works with local makeup artists and stylists.She loves the new central location, and immediately joined the West Hartford Chamber of Commerce (she even dressed up for the Chamber's Halloween party last week), and looks forward to getting to know her neighbors. Below and at at the end of the column are photos of some of Kiniry's clients.
Arhaus is now open at Westfarms and I stopped by to visit the store on Saturday. Wow, is it ever beautiful, and it makes me want to completely refurnish my house! Leonard Gonzalez is the general manager. A news release announcing the opening of the company's second location in Connecticut (there's one in the SoNo Collection in Norwalk) noted that the 11,155 square foot showroom "will offer greater Hartford area residents an inspiring destination for high-quality furniture and décor alongside the center's merchandising mix of unique to market lifestyle, apparel, and restaurant brands. … As with all Arhaus showrooms nationwide, the Westfarms location offers complimentary design services to assist customers with home projects of any size. Whether customizing a unique piece, refreshing a single space, or outfitting an entire room, Arhaus' expert team of design consultants are available both in person and online to offer guidance through every step of the design process. For more information or to connect with a local designer, visit Arhaus.com/DesignServices." This is not a discount furniture store, but rather a place where you can find heirloom, artisan-designed pieces that are sustainably sourced and manufactured. "In celebration of the Westfarms showroom opening, Arhaus will donate $10,000 to American Forests, the oldest nonprofit conservation organization in the country focused on creating healthy and resilient forests from coast to coast. As a brand founded on sustainable beliefs, and as part of its ongoing Green Initiative, Arhaus is honored to continue supporting American Forests and its mission. To learn more about American Forests, visit AmericanForests.org," the news release states.
In addition to Tina Kiniry Management, another business that has relocated to 998-1000 Farmington Avenue is Hair Noir. The barber shop had been located in a room at Sola Salons in Blue Back Square, but has recently expanded into their own space. For more information about their services, or to make an appointment, visit the website.
Work is continuing on the build-out of a deli and burger place at 76 LaSalle Road. It was originally going to be called Royal Burger, but at the Economic Development Update on Tuesday, Economic Development Coordinator Kristen Gorski said the business will now be called NY Deli. It's owned by Faisal Nasher, owner of Qais Convenience Store, which is located in the space next door. at 76 LaSalle Road, who is partnering with the owner of New York Deli in Hartford. They will have breakfast, lunch, dinner, and coffee, and while the restaurant will be mostly takeout, there will be seating for less than a dozen people. No announcement yet of the opening date.
Last week the Connecticut Restaurant Association (CRA) announced the award winners and finalists for the 2023 CRAZIES Awards Gala presented by Sysco, LLC, which recognize the exceptional ability and talent of Connecticut's hospitality community each year. On Monday, Dec. 4, hospitality owners, operators, chefs, servers, and vendors from across the state will come together at Foxwoods Resort Casino to celebrate the success of their industry and honor winners across more than 20 award categories. Congratulations to Tony Pham and Rich Reyes of Mecha Noodle Bar – which has a West Hartford location – for being chosen as Restaurateurs of the Year! Last year's CRAZIES gala brought more than 1,200 guests together and generated more than 20,000 online public votes for award winners. The public can now vote by CLICKING HERE through the end of November for each category: Chef of the Year, Baker of the Year, Bartender of the Year, Server of the Year, Caterer of the Year, People's Choice, Restaurant Newcomer, County Restaurants of the Year and Overall Restaurant of the Year. Winners will be selected from not only the public vote, but also from our nominating panel members. West Hartford restaurants appear in several categories where you can vote to support them, including Cafe Louise (Caterer of the Year), Macarena Ludena of Coracora (Chef of the Year), and Coracora and Union Kitchen (Hartford County Restaurant of the Year). Hindsight BBQ, which is in the running for New Haven Restaurant of the Year, also has a resident food truck at GastroPark in West Hartford. "Connecticut's restaurant and hospitality industry are a key driver of our state economy, and the CRAZIES awards are designed to tell the stories of the many incredible individuals who make Connecticut one of the most diverse and impressive culinary landscapes in the world," said Connecticut Restaurant Association President & CEO Scott Dolch in a news release. "This year's gala is positioned to be our best yet, and we can't wait to bring everyone together on December 4. Congratulations to our 2023 award honorees and finalists, plus a special thank you to the efforts of our nominating panel who provided incredible insight throughout the process. We look forward to celebrating the growth of this spectacular event as we honor five years since the launch of the CRAZIES."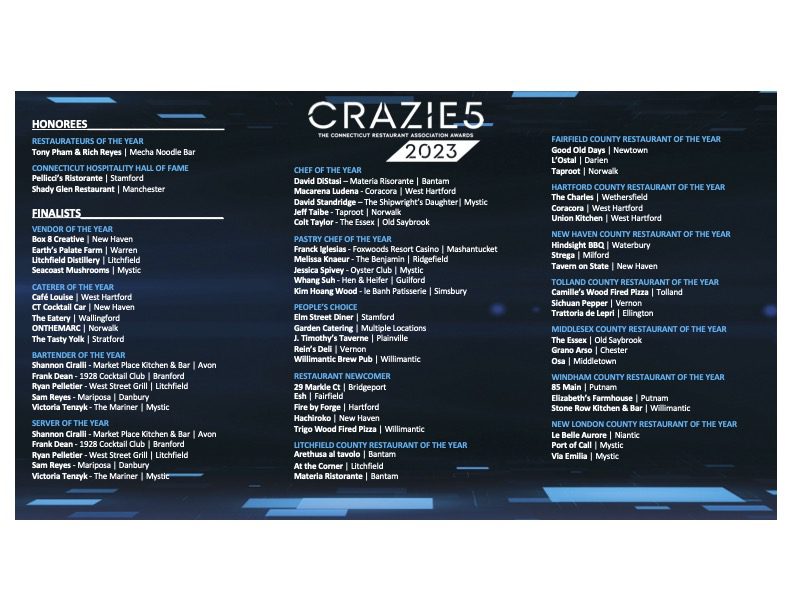 I was delighted to attend the "Paella Cook-Off" at Barcelona in West Hartford on Thursday night where Nick Souza, the executive chef of the West Hartford location, and Misha Ryklin, the executive chef of Barcelona in Norwalk, engaged in a "dueling paella cook-off" with the one-[very large] pan meal prepared on the patio where guests could observe.  Everyone in attendance enjoyed delicious tapas and specially-paired wines before getting to sample and vote on the winner. Chef Nick's paella included squid ink, pulpo salad, clams, peppers, and fennel, which chef Misha's paella included braised lamb, honeynut squash, leeks, and black garlic. It was close, but by a vote of 33-26 Misha's paella was named the winner, Area Director Rob Atkinson announced. Further competition is likely, Atkinson said.
Congratulations to West Hartford resident Carl Lantz, a Realtor with Coldwell Banker in West Hartford, who was named this month as 2023 state REALTOR of the Year. The statewide award annually recognizes a Realtor for outstanding effort and service to the community, the real estate industry and the Realtor organization. "It is an amazing honor to be state Realtor of the Year. To be picked by my peers as being someone who is respected and dedicated to our profession is humbling," Lantz said in a statement. "I always strive to do my best for my clients and colleagues, and to give back to the Realtor community." Lantz serves on the CT Realtors 2023 Executive Committee as President-elect and will be the 2024 CT Realtors president. He also serves on the National Association of Realtors Member Communications Committee and will be vice chair of the committee in 2024. Lantz is past president of the Greater Hartford Association of Realtors and was honored as the Greater Hartford Association of Realtors 2019 local Realtor of the Year. 2023 CT Realtors President David Gallitto said, "Carl embodies what it means to achieve balance between his commitment to the Realtor industry, his family and his community. He shows that working hard leads to great things. I am fortunate to have him on my leadership team this year and look forward to his many future accomplishments." Lantz will be recognized at the organization's annual conference in November. Lantz, a lifelong resident of the Greater Hartford area, is a second-generation Realtor, and lives in West Hartford with his wife, two teenage children, and two dogs.
Congratulations to Leonard Epps of West Hartford, one of five local leaders to receive the Ebenezer D. Bassett Humanitarian Award from Central Connecticut State University. Epps received the Alumnus Award. Ebenezer Bassett was the first African American to attend and graduate from the State Normal School (now Central) in 1853. Bassett went on to become a noted educator, a prominent leader in the abolitionist movement, and the nation's first African American diplomat as the Minister Resident to Haiti. "Mr. Bassett's level of achievement and influence sets a high bar for us all," said Central Connecticut State University President Zulma R. Toro at the awards ceremony on Oct. 17. "I'm sure those of you being honored tonight will not only continue to follow his example but also inspire others to do the same. I thank you for all that you do to enrich our communities."
Congratulations to West Hartford resident Roxanna Booth, who has joined

Operation

Fuel

as its chief advancement and communications officer. In this new position, Booth manages all of

Operation

Fuel

's development and marketing functions. Her responsibilities include overseeing fundraising, philanthropic support, communications, public relations, marketing and social media. "As

Operation

Fuel

continues to grow and evolve, Roxanna will provide the necessary leadership to successfully create new funding opportunities and to develop and implement an integrated communication and resource development strategy," said

Operation

Fuel

CEO Brenda Watson in a statement. Booth, a graduate of Wheaton College in Norton, MA, most recently served as chief philanthropy officer and co-executive director of Hartford Youth Scholars.
YHB Investment Advisors, Inc. and their employees generously responded to the West Hartford Food Pantry's recent request for help in stocking their shelves. Senior Portfolio Manager Jessica Kott invited employees to answer the call and work together to contribute peanut butter for our less fortunate community members. Many peanut butter jars were collected and delivered, and YHB also made a generous financial contribution to the Food Pantry. We are grateful to be part of this amazing West Hartford community and enjoy helping others.
ICYMI, Economic Development Coordinator Kristen Gorski presented a comprehensive look of what's been happening in West Hartford's business community over the past year at the Chamber of Commerce's Economic Development Update luncheon on Tuesday at the Pond House. Click here to read the complete story.
The wetlands application by West Hartford 1 LLC for Oakwood Park on the former UConn campus was originally scheduled to have a public hearing with the Town Plan and Zoning Commission (TPZ) tonight at 7 p.m., but it is being continued to Nov. 6 because of the time required to review the vast amount of information submitted just last week. Details can be found here.
The state has adopted "Make it Here" as a new slogan and launched a new marketing/branding campaign. Read all about it here.
Remember, if you have any business news to share, add it in the comments section below or email Ronni Newton at [email protected].
Like what you see here? Click here to subscribe to We-Ha's newsletter so you'll always be in the know about what's happening in West Hartford! Click the blue button below to become a supporter of We-Ha.com and our efforts to continue producing quality journalism.