A round-up of openings, closings, and other news about West Hartford businesses. 
Business Buzz is sponsored by NBT Bank, and we are very thankful for their support!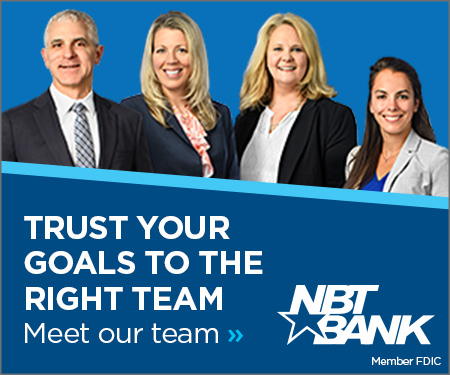 By Ronni Newton
I had to double-check the calendar to make sure that Monday is really Oct. 30 – especially since Saturday definitely did not feel like October weather, let alone late-October weather. (Sunday of course is back to the seemingly omnipresent weekend rain and it's more than 30 degrees colder than it was on Saturday.)
Ted and I had not found the right time for our annual fall hike to Heublein Tower yet this season, but my ankle is feeling better and we had a window of opportunity Saturday morning which turned out to be perfect!
The forecast for Halloween looks favorable for the trick-or-treaters even if it's going to be a bit chilly. Looking through my Facebook memories at this time of year I'm always reminded of the awful weather events we had in 2011 and 2012. After 10 days without power in 2011, I still have PTSD whenever the lights flicker or when it's excessively windy, and I still have the outage map as one of my "favorites" so I can find it quickly.
Last week was jam-packed with activities, and if I added them up I probably took well over 1,000 photos. (That included covering the Conard vs. Hall girls soccer game, and covering sports under the lights is a bit of a challenge which meant lots of photos to get enough good ones.)
I took my first-ever Jazzercise class (see below), and also ate a lot of meals at local restaurants (although on Tuesday I started off with a bowl of oatmeal and didn't have a single other true meal after that due to the timing of events and a very long Town Council meeting that I attended in person and in its entirety).
Restaurants visited included Birdie Lounge (see photos under lead bullet point below), Boqueria briefly for the grand opening party before Town Council (no food photos from the event, but you can find plenty in the full feature story), Le Mazet, and Americana.
The warm weather was perfect for enjoying some late season outdoor dining, and Jeannette Dardenne of INGroup Creative and I had a great lunch on the patio of Le Mazet on Friday, and then Ted and I had a delicious dinner on the patio of Americana on Saturday night!
If you're looking for news about West Hartford in print please note that many stories from We-Ha.com, as well as other local news, is published in the twice-monthly issues of the West Hartford Press.
If you have information to share about local businesses, please provide details in the comments or email Ronni Newton at [email protected].
**************************************************
Here's this week's Buzz:
The transformation is complete, and without any real downtime Birdie Lounge by Rooster Co. opened on Oct. 24 at 45 Raymond Road, where Flora was previously located. Chef KC Ward, and his wife Jamie, decided to transition their business to build off of and expand upon their already successful Rooster Co. concept in Newington. After six years in the 45 Raymond Road location that had been the meeting hall for American Legion Hayes-Velhage Post 96 (which owns the building), there just wasn't a large enough customer base to sustain the largely vegan and plant-based Flora concept in the large space. The Birdie Lounge menu has retained several of the most popular Flora dishes (like wheat parm, buffalo cauliflower, gado gado salad, artichoke crab cakes, and Buddha bowl), it's greatly expanded to include meat and fish dishes as well with a strong emphasis on locally-sourced and sustainable ingredients. "It was a great challenge to find a local seafood option," Ward said of the miso baked local cod, which is served with roasted potatoes, caramelized onions, and spinach in a pine nut/raisin/caper sauce. Rooster Co. is naturally known for its chicken – perfectly-roasted and served with a choice of sauces – but the sides are also standouts. The base of the polenta in the street corn polenta is flint corn, an ancient heirloom lineage that Ward sources from Young Farms in East Granby. It's one of the prized crops grown by Dale Young, who Ward says "is like family to me. He grows it, dries it there, and it take about a year to dry it out, and then he mills it." On Monday, when Ward hosted a friends and family/soft opening a day before the official opening, he said he had been to Rogers Orchards in Southington earlier in the morning for the apples used in one of the salads as well as other dishes. "I try to get as much locally as I can," Ward said. That includes the calamari (which comes from Rhode Island), ice cream from Canton Creamery, and beef from a local farm. Ward said he completely respects the opinion of those who bemoaned the closing of Flora in West Hartford (he said he may revive Flora elsewhere in the future), but the brand just wasn't working in that space. "It wasn't successful. We have to adapt and grow," he said. And just like Flora's menu always included some viable fauna, Birdie Lounge's menu retains many plant-based items (noted with a "P") as well as a large selection of gluten-free selections. Also, there is a great cocktail menu created by bar manager and mixologist Chelsea Solkowski, and a funky and eclectic vibe and equally eclectic soundtrack of music – all on vinyl – to complete the experience. Birdie Lounge is open Monday through Saturday for lunch (noon-3 p.m.) and dinner (3-10 p.m. with a Friday and Saturday late-night menu until midnight). Sunday brunch is from 10:30 a.m.-2:30 p.m., and Sunday dinner is from 3-8 p.m. For more information, visit the website, call 860-216-5992, or follow on social media (@birdieloungect).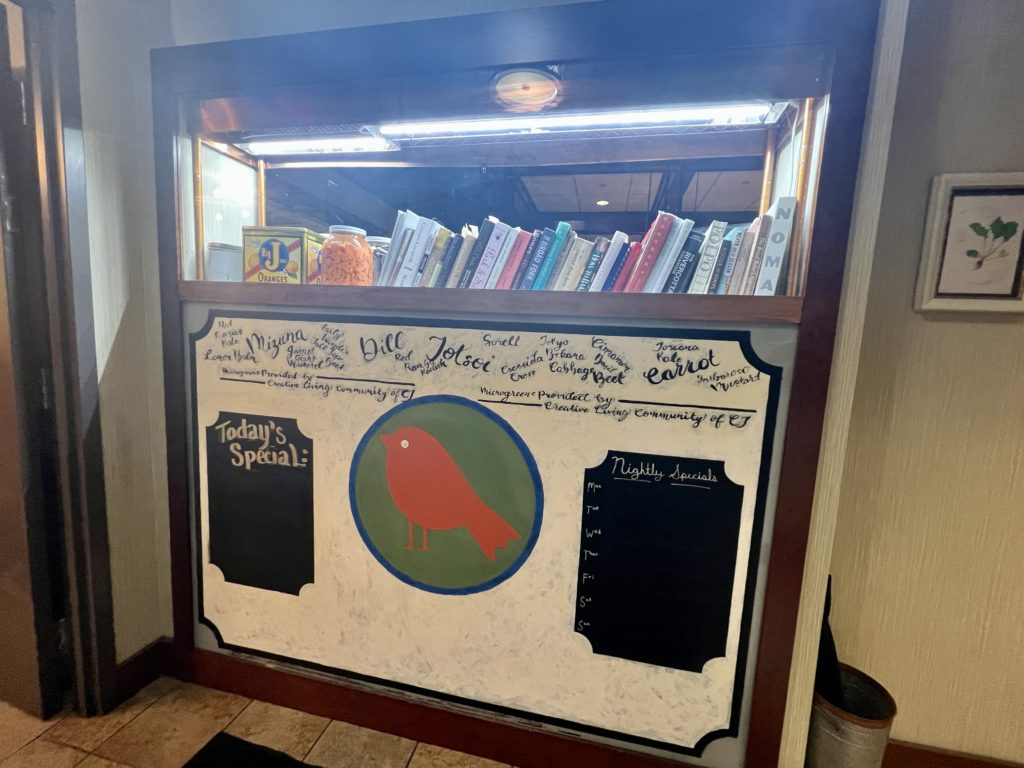 NBT

Bank (which is also the sponsor of this column) has announced plans to open a new branch in West Hartford at 68 South Main Street.

NBT

Bank opened their doors in 2021, and under the leadership of Regional President Andreas Kapetanopoulos (also a West Hartford resident), they have offered personal banking services in West Hartford from their Connecticut Regional Headquarters located in Corporate Center West at 433 South Main Street. Renovations to 68 South Main Street are now underway, however, and the new branch, which is scheduled to open in early 2024, pending regulatory approval, will make

NBT

's personal and business banking services much more visible and accessible to customers and the community. "We are excited to be opening this new branch office that will include drive-up and walk-up services as well as 24-hour ATM access," said Retail Market Manager Deb Oakliff. The 

NBT

Bank Connecticut Regional Headquarters will continue to be located at Corporate Center West in Suite 224. In August,

NBT

announced the completion of its merger with Salisbury Bank and Trust Company – which added 13 banking offices to the

NBT

franchise in complementary markets, including northwestern Connecticut, the Hudson Valley region of New York and southwestern Massachusetts. "It has been an exciting year for

NBT

in Connecticut, and we look forward to continuing this momentum," said Kapetanopoulos.
West Hartford native Bonnie Wilder has launched a new business, Running The

Extra

Miles

, which offers virtual physical therapy for runners, athletes, and active adults looking to receive advice, rehabilitation, and general help for their injuries. An accomplished athlete herself, Wilder ran at Sacred Heart University and has completed three of the world's top six marathons thus far, with a PR of 3:05 in Boston. She attended Watkinson School from grades 6-12, and received her BS in exercise science before earning her Doctorate in Physical Therapy from the University of Hartford and also offers in-person physical therapy at

The Performance Lab

in West Hartford (635 New Park Avenue) where her patients include runners, as well as other types of athletes and active adults. "Injury is the No. 1 reason why runners stop running," she told me – not knowing in advance that I am personally rehabbing a running-related injury! "I love when people can run injury-free," she said, and aside from physical therapy, Wilder said 

Running

The

Extra

Miles offers 1-on-1 personalized

run

coaching, strength coaching, or both!. "I make customized

running

and strength training plans to help people achieve their goals. I also offer online

running

and strength training programs. My

running

programs are for beginner, intermediate, or advanced runners. I offer plans ranging from 5K to Marathon. I also offer a monthly strength training subscription program that targets exercises and muscles used by runners to help get stronger and stay injury-free. I can curate strength training programs for those who aren't runners who just want to get stronger upon request." More information can be found on the website 

runningtheextramiles.com

and Wilder said she still has limited spots available for her coaching program and always offers a 20-minute free consultation call to understand the client's goals, history, and see if the relationship would be a good fit.
Hailey Handzel, a 15-year resident of West Hartford, is now the owner and operator of Gotcha Covered of West Hartford, the newest location in Connecticut of Gotcha Covered, a franchise-based business that provides custom window treatment consultation in the U.S. and Canada. A news release from the business notes that "with an emphasis on end-to-end consultations, Gotcha Covered of West Hartford will provide the best in soft and hard window treatments to homeowners in West Hartford, the Farmington Valley, Glastonbury and surrounding areas by offering a variety of blinds, draperies, smart solutions and much more." Handzel started the business because of her love of working with people one-on-one and helping people bring beauty into their spaces. "There's something very special about getting to help someone solve a problem, and with Gotcha Covered, it means improving a client's most treasured assets – their home and business," said Handzel, who previously worked as a registered dietitian in Hartford as well as Springfield, MA. "With Gotcha Covered, I get to work with people in a consultative manner. I learn about their goals and challenges, help craft their vision and manage each step to bring it all to life," Handzel said. "Homes are personal. How a space is used, the feelings it invokes and the way it functions are unique to each person and each room. I genuinely love the opportunity to transform clients' homes and workspaces making them more functional, comfortable and beautiful. … I had been in search of creative fulfillment in my work life and knew that building up a business of my own while creating something I could be proud of and put my personal touches on was exactly what I needed. I am excited to bring Gotcha Covered to West Hartford and the surrounding areas and help create beautiful spaces in my clients' homes and businesses." Gotcha Covered now has 155 franchises (40 were added in 2022). "We wanted to expand our footprint in Connecticut, and we believed the Greater Hartford area presented the perfect opportunity for growth," said Paul Linenberg, president of Gotcha Covered, in the news release. "We are confident that Hailey (Handzel) will provide the West Hartford community and surrounding areas with a great customer experience that will make Gotcha Covered of West Hartford a tremendous asset to the community." For more information, or to schedule an appointment, visit the website.
I mentioned in the intro above that I had taken Jazzercise last week, and wanted to share the information about Jazzercise of West Hartford because I don't know how many people realize it exists – and it's so much fun! Tricia Raiti said she was already familiar with Jazzercise (which has been around since 1969) when she moved to West Hartford, and started taking classes at the nearest location, which was in Canton. Raiti, whose background is in career coaching and higher education, has kids who attend Duffy Elementary School and Sedgwick Middle School, became a certified Jazzercise instructor in 2017 and recognizing the local need, she opened Jazzercise of WH in May 2022, renting space from Lisa Matias Dance Studio in building 2 of 635 New Park Avenue. "We started with three classes per week and zero members, and a team of one … we have grown to nearly 80 active members, offering classes every day of the week, and a team of five awesome instructors who are all busy moms," Raiti said. The age range of member is 12-76 years old, and there are lots of mom/daughter duos, she said. "We have raised money for Alzheimer's Association, Multiple Myeloma research, Healing Meals Community, and now Breast Cancer Research Foundation," said Raiti, noting that several members are breast cancer survivors and she held a fundraiser last week that raised at least $500, which will also be matched. Raiti's enthusiasm shines through in her instruction (I can't wait to go back, especially when my ankle is fully healed so I don't have to do the class as low impact), and said she is "so very passionate about making fitness fun and accessible to all."
Also on the topic of enthusiasm and positive energy, I read a post on the Neighbors & Friends Facebook page from West Hartford resident Shuli Elisheva, a barrister at the newly-opened Starbucks at 25 Kane Street, who said one day she decided to try something new, and asked all of the customers who came through the drive-through if they were excited for their Starbucks. "If I could bottle up the energy from the smiles and laughs and sheer excitement and delight in their faces, it would power the universe," she wrote in the Facebook post which provided much more details about the powerful and heartwarming reactions she received. I had to meet Shuli, and when I stopped by last week I was rewarded not only with my delicious coffee, but with a great dose of positivity and a smile that made my day!
Congratulations to Michael Cantor, husband of West Hartford Mayor Shari Cantor, who received the Distinguished Graduate Award from the UConn School of Law Alumni Association last week. According to the write-up of the award, Cantor, who received his undergrad degree fro UConn in 1980 and his JD in 1983, "leads one of the country's largest and most productive intellectual property law firms. After graduating from UConn with a BS with honors in Chemical Engineering / Materials Engineering and then earning a JD from UConn Law, Cantor joined a two-attorney patent law firm. Forty years later, Cantor Colburn has grown exponentially to 100 attorneys and patent agents, with offices in Hartford, Washington, Atlanta, Houston and Detroit. Clients include Fortune 100 companies, select high-tech startups, universities, research centers and numerous mid-size companies in the United States and throughout the globe. Cantor has represented businesses from a broad range of industries, including manufacturing, high technology, entertainment, and consumer products. He is also active in supporting economic development and innovation and chairs the board of directors of Connecticut Innovations. UConn has remained important in Cantor's life since graduation. His wife, Shari, is a UConn trustee, and two of their four sons are UConn graduates." Another local resident who was honored was retired Connecticut Supreme Court Justice Christine Keller (mother of Connecticut House Speaker Matt Ritter) who graduated UConn Law in 1977.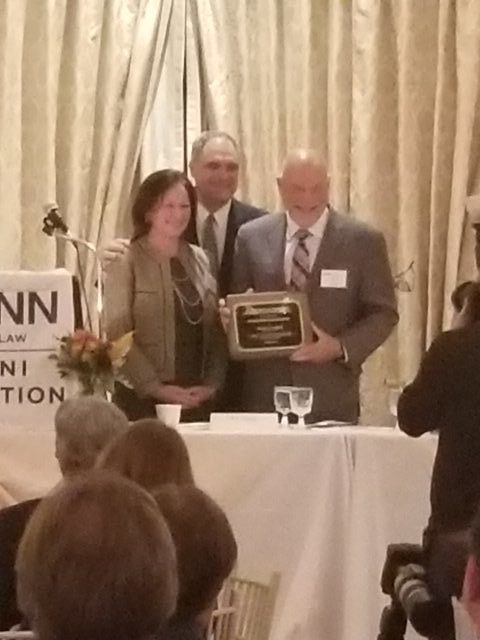 Christine Keller (left) and Michael Cantor (right) are honored by the UConn Law Alumni Association. Courtesy photo
Boxes to Boots is getting ready for their Nov. 18 Operation Cares event to ship 1,200 care packages to our military serving overseas. Help is needed in the form of donations of food and hygiene products. Donations can be dropped off at the West Hartford Xfinity store at 1253 New Britain Ave., or at one of Comcast's nine other Xfinity Stores in Connecticut, until Nov. 9. Items being collected include individually wrapped nonperishable foods and snacks, protein powder packs, bug spray/wipes, sunscreen, and travel games/frisbees. More details about the collection efforts and Boxes to Boot's Operations Cares project can be found here.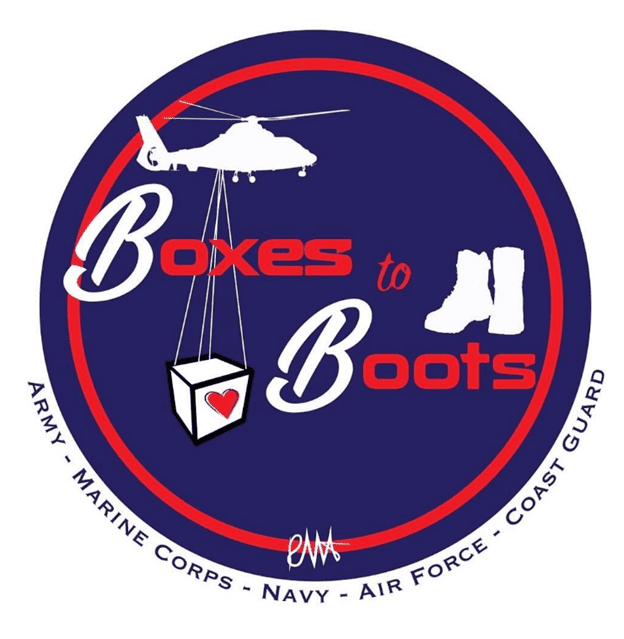 Connecticut's current and future leaders in science, technology, engineering, and mathematics – and their contributions to innovation and breakthroughs, career opportunities and advancement, economic growth and the state's future – were highlighted at the 18th annual Women of Innovation awards last week, held at Souther Connecticut State University and presented by the Connecticut Technology Council. Several women who either live or work in West Hartford are among the nine winners (chosen from 34 finalists) in the seven categories of Women of Innovation. They include Laurie Caines (associate professor of medicine at UConn Health Center and West Hartford resident), Elise Courtois (director of the Single Cell Biology Lab at the Jackson Laboratories and West Hartford resident), Ivana Milanovic (professor of mechanical, aerospace, and acoustical engineering at the University of Hartford), and Nancy Miller (director of Project Engineering at West Hartford-based Triumph Group). Congrats to all!

Sadly, we do have a few closings to mention this week, including Walgreens, which will be closing its location at 940 South Quaker Lane in Elmwood on Nov. 13. After a good bit of opposition from residents, the Walgreens store opened in 2006 I'm what was formerly the Elm Theater, retaining the iconic marquee. I reached out to Walgreens spokesperson Karen May, the senior manager of U.S. Healthcare/Issues Management Communications for Walgreens Co., a member of Walgreens Boot Alliance, with some very specific questions about prescription transfer and employee relocation and the following was her response: "With Walgreens goal to be the independent partner of choice, not just in pharmacy but also in healthcare services where we can improve healthcare, lower costs, and help patients, we are creating the right network of stores in the right locations. When faced with the difficult decision to close a location, several factors are taken into account, including our existing footprint of stores, dynamics of the local market, and changes in the buying habits of our patients and customers, among other reasons. Typically, when a store closes our pharmacy patients do not have to take any action. Prescription files automatically transfer to the nearest Walgreens (or Duane Reade). Patients receive notice about the transfer through mail and other means to provide details about continued access to their prescriptions and health and wellness services. And, we make every effort to retain impacted team members at other nearby locations." There are two remaining Walgreens in West Hartford – 668 Farmington Avenue and 324 North Main Street. As for my question about the fate of the building, which is owned by Walgreens, May did not respond either to my initial request or my follow up for more details. I will share any additional information I receive.
Also closing is the McDonalds at 2434 Albany Avenue in Bishops Corner. I stopped by over the weekend to try to find out more details (resisted their French fries which I have not had in probably a few years but they smelled amazing), and an employee confirmed the closing is as of the end of the day Tuesday. Employees are supposed to be offered transfers to other locations, but have not been advised of any details yet, she told me. There are now no McDonalds locations actually in West Hartford – but there is one on the Hartford side of Prospect near Kane Street, and another just down New Britain Avenue from Westfarms (never sure exactly what town that is).
One more closing: Overflow, a smoothie and juice bar owned by three former teachers which opened in December 2020 at 2527 Albany Avenue in Bishops Corner, closed a week ago. "This chapter has closed for us! But be sure to follow our pages to follow what is next!!!!" the business posted on their Instagram (@overflowct).
ICMYI, the West Hartford Town Council voted 8-1 to approve an application by Trout Brook Realty Advisors to covert the long-vacant Agudas Achim synagogue property at 1244 North Main Street into The Elle, which will provide 49 units of housing (39 of which will be affordable at various levels). I attended the entire public hearing and meeting Tuesday night, and you can read the complete story here.
Like what you see here? Click here to subscribe to We-Ha's newsletter so you'll always be in the know about what's happening in West Hartford! Click the blue button below to become a supporter of We-Ha.com and our efforts to continue producing quality journalism.