A round-up of openings, closings, and other news about West Hartford businesses. 
Business Buzz is sponsored by NBT Bank, and we are very thankful for their support!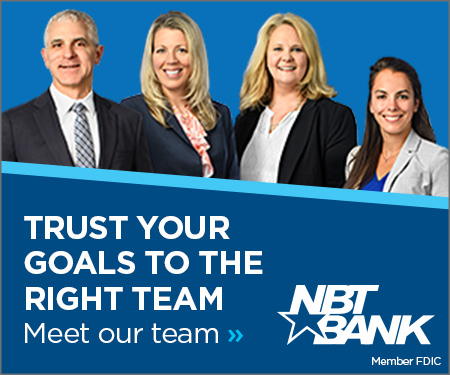 By Ronni Newton
If you've got today off for Indigenous Peoples Day or Columbus Day, I hope you have a chance to enjoy what looks like some fairly nice fall weather!
While schools are closed Monday, and so is Town Hall, there is no trash delay this week. The Yard Waste and Recycling Center on Brixton Street is open from 8 a.m. until 4 p.m. If you're looking for some activities on Monday, Veterans Memorial Skating Rink will have public skating from 11:30 a.m.-1 p.m. and adult skating 9:15-11:15 a.m., Cornerstone Aquatics Center is open (view the pool schedule or call the front desk at 860-561-8270), and Westmoor Park farm hours are 9 a.m.-4 p.m. with trails and grounds open from 8 a.m. to dusk.
Also on Monday, at 4 p.m., there will be a rally for the people of Israel in the West Hartford Town Hall parking lot, being organized by the Jewish Federation of Greater Hartford. "Israel is undergoing the worst attack in its history," said Mayor Shari Cantor in a message Sunday afternoon. "These are ongoing terrorist attacks which as of this writing have cost the lives of over 600 Israelis mostly civilian deaths and injuries. These are brutal and depraved attacks and the taking of many hostages of children, elderly and the infirm. This is all very hard to fathom. It has a big impact on our own community with many connections to Israel. We are coming together as a community in support of the people of Israel in this frightening and dire time."
I've been away for the weekend as Ted and I hosted his cousin, wife, and aunt for a visit with his mom. No West Hartford restaurant photos from this week, but I did take one of Millie in her happy place.
In last week's column I shared some photos I took while serving as a judge for the Blue Back Burger Bash, and this past week I had the chance to judge apple desserts at the Coldwell Banker fall fest at their office at 992 Farmington Avenue – which also served as a collection for the West Hartford Food Pantry. Other judges were West Hartford Town Manager Rick Ledwith, Barb Roberts, volunteer coordinator from the town's Social Services Department, and Donut Crazy owner Irene Luaices.
It was hard to choose from among the six delicious desserts – but Coldwell Banker Senior VP Brendan Grady cast the tiebreaker vote for Sherri Schwartz's salted caramel apple pie bars!
If you're looking for news about West Hartford in print please note that many stories from We-Ha.com, as well as other local news, is published in the twice-monthly issues of the West Hartford Press.
If you have information to share about local businesses, please provide details in the comments or email Ronni Newton at [email protected].
**************************************************
Here's this week's Buzz:
I've been following up for the past few weeks and am excited to report that West Hartford's buybuy Baby – which closed at the end of July in the Corbin Collection – will indeed be reopening. The intellectual property was purchased this summer by Dream on Me, which also now controls 11 of the store leases (including the one in West Hartford) and while I have not been able to obtain an official statement from the company with the date, staff has been in the store in preparation for what they indicated was an opening later this month. (My apologies that a few of the photos are somewhat blurry. Not sure how that happened!)
I've been getting a lot of questions about Gran Gusto, including many rumors that the restaurant which opened in the spring in the former Rizzuto's space at 111 Memorial Road in Blue Back Square had closed. And while it was closed briefly and is in the midst of a transformation, new staff has been hired and the restaurant has reopened. I spoke to executive chef Chris Austin, who's originally from Mystic and has extensive experience in kitchens throughout New England, and who said the story is rather complicated. He confirmed that the restaurant's name will be changing, but due to some ongoing litigation the new name can't yet be announced and the website is not able to be updated. The format of the restaurant has already been transformed, and it's no longer Italian. "We are really going to focus on fresh ingredients, good technique, clean food," he told me. Dishes include pastas, steak, chicken, and salads, all made from scratch. He shared a preliminary menu with me, and highlights include a beet salad; appetizers like tuna nachos, steak and cheese empanada, fried artichokes, and Brussels sprouts, and entrees including veal saltimbocca and salmon with kabocha squash puree. There's also a great selection of craft cocktails with names like "Dirty Thirty," "Wicked Sunset," and "Pineapple Ghost," as well as beer and wine. Hours are currently 4 to 9 p.m., and Austin told me that they plan to reopen for lunch soon.
GastroPark is adding another resident food truck – Tyler Anderson and Ta-Que! The Ta-Que truck, which was located at Millwright's throughout the summer and into early September, will take up residence at GastroPark four days a week, beginning Oct. 16, and will remain through Dec. 17. Hours will be Friday from 4-9 p.m., Saturday from noon-9 p.m., Sunday from noon-7 p.m., and Monday from noon-9 p.m. Hindsight BBQ and Lobster Tales remain as resident food trucks as GastroPark, and additional trucks will continue to rotate in as well, GastroPark owner Tate Norden said.
The former New York Sports Club space in Blue Back Square is still in the process of being renovated for office use, and one of the businesses that is going to be opening there is insurance company Beazley Group, which will be relocating its Connecticut headquarters to town as first reported in the Hartford Business Journal last week as part of an article about in-demand office space in West Hartford. Beazley is currently located in Batterson Park in Farmington, but will be leasing roughly 19,000 square feet on the third floor of the Rutherford Building at 65 Memorial Road in Blue Back Square. Permits for the build-out are in progress, according to the town's website. And although not everyone is in the office five days a week, the more than 200 people currently working in Farmington will be relocated to West Hartford.
J.René Coffee Roasters is excited to share the news that roasting apprentice Dana Borque – previously of Firefly Brewing in Bristol – took home first place at the U.S. Roasters Competition Preliminary Round last weekend in Kansas City, MO. "Dana's accomplishment is a triumph for the entire J.René Coffee Roasters team. To prepare for the competition, Dana relied on the talents of the company's specialty coffee professionals including Marie Engel, Anne Mercer, Taki Tanaka, and Allan Flores, as well as Rob Rybick, President of Geissler's Supermarkets and professional Q-grader, for roasting feedback, sensory perceptions, and competition advice," the company said in an announcement. "J.René Coffee Roasters has been a cornerstone of specialty coffee in the region for nearly two decades. This award not only highlights Dana's talent but also reinforces J.René Coffee Roasters' unwavering passion for specialty coffee in Connecticut and beyond. It marks a moment of great pride for the entire J.René Coffee Roasters family and the coffee community in Connecticut."
Congratulations to Karen Connal, who has been named development director for the Children's Museum Group in West Hartford. Most recently, Connal served as marketing and communications manager for the Boys & Girls Clubs of Hartford, and previously held senior positions focused on helping establish and run inner-city/tuition-free independent schools such as Covenant Preparatory School and Trinity Academy, Hartford, and also worked closely with Grace Academy. Connell previously was president and co-owner of Legend Productions, a sports, entertainment and marketing company with broad national and international reach. From 2007-2011 she was co-director and Founder of The Grounds Teen Center in West Hartford and President and co-chair of the West Hartford Mayor's Charity Ball. "With her extensive educational, business and development background, Karen is a great addition to the Children's Museum Group," said Mike Werle, the Museum Group's executive director. "We feel that with her strong development, fundraising, marketing, communications and leadership roles, she can make a difference throughout the Hartford area as well as Connecticut."
Congratulations to Mike Jaworowski, who has been promoted to director of Security, Life Safety and AV Technology for Environmental Systems Co. (ESC), a Fidelity Building Services Group company and leading provider of building technology solutions throughout Connecticut that is located at 18 Jansen Court in West Hartford. According to a news release, Jaworowski joined ESC in 2022 and has consistently demonstrated exemplary leadership. With 30 years of experience in sales management in some of the largest security companies in North America, Jaworowski brings valuable contributions to the management and growth of ESC's technology groups. In his new role as Director of Security, Life Safety and AV Technology, Jaworowski will lead a team of talented professionals offering integrated solutions to K-12, Commercial, Healthcare, Industrial markets and more. "We are thrilled to promote Mike to the position of Director for Security, Life Safety and Av," said Michael Amedeo, Vice President of Sales. "Mike has shown tremendous expertise and unwavering commitment and we have confidence he will excel in this new role."
Kahan Kerensky Capossela, LLP ("KKC") a 16-attorney law firm in Vernon, CT, has announced that they have hired Attorney Wendy Estela, a West Hartford resident, as a Partner in its Business & Corporate Department. Attorney Estela has 25 years of in-house and law firm experience, managing a wide range of matters including business formation, mergers and acquisitions, complex contract drafting and negotiations, partnership disputes, procurement and supply chain matters, and insurance and alternative risk management. Estela's practice focuses on small and medium-sized businesses, many of which are owned by minorities, women, and veterans; as well as physicians and healthcare providers, nonprofits, and individuals. "I enjoy helping people build relationships with their business partners, negotiating contracts, and advocating for my clients," says Attorney Estela. "Since our personal and business lives are very much intertwined, I also like assisting clients on more personal legal issues, like negotiating job offers and severance agreements." Estela speaks Spanish and holds LL.M.s in Environmental and Insurance Law. She lives in West Hartford, where she is deeply involved with a variety of nonprofit organizations in the community.
Remember, if you have any business news to share, add it in the comments section below or email Ronni Newton at [email protected].
Like what you see here? Click here to subscribe to We-Ha's newsletter so you'll always be in the know about what's happening in West Hartford! Click the blue button below to become a supporter of We-Ha.com and our efforts to continue producing quality journalism.