The spring fashion show, featuring 'fit fashion' and more, is free to the public and will be held in the showmobile on the corner of Farmington Avenue and LaSalle Road.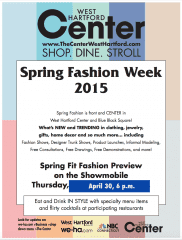 By Ronni Newton
Stride on over to the West Hartford showmobile in West Hartford Center on Thursday, April 30, at 6 p.m. for a free fashion show presented by Fleet Feet Sports.
The event was postponed due to last Thursday's weather (remember the sleet?), and will highlight and bring to life the "fit fashions" for the season as seen in the latest issue of West Hartford Magazine.
Stephanie Blozy and Michelle Kurnik from Fleet Feet Sports in West Hartford Center are the fashion stylists, and will show off some options that will help you look good while inspiring more successful workouts. Studies show that you can get much more out of your exercise routine when your attitude, and fashions, start out on a positive note!
Other highlights of the show will include fashionable small dog clothing – courtesy of Toy Dog Accessories.
Lyn Evans Potpourri Designs will feature spring fashion favorites, and Ten Thousand Villages will spotlight beautiful scarves.
About one dozen mannequins will be fashionably styled in the latest spring outfits by local merchants, like BK&Co.
The spring fashion show is free and open to the public, and brought to you by the West Hartford Center Business Association, West Hartford Magazine and We-Ha.com.