The West Hartford Chamber of Commerce's 'Tech Turn In' will be held Nov. 5.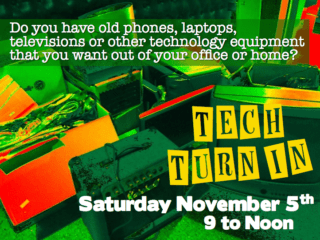 By Ronni Newton
Unused, outdated, or inoperable electronic equipment can be safely disposed of on Saturday, Nov. 5, 2016, at the West Hartford Chamber of Commerce's "Tech Turn In" scheduled for 9 a.m. – noon in the parking lot of AAA, 815 Farmington Ave., West Hartford.
The event is being organized by the Chamber's Technology Committee.
According to the Chamber of Commerce, items eligible for recycling at the Tech Turn include cellphones, computers, televisions, monitors, printers, faxes, stereos, video game consoles, iPods and other music players, modems, telephones, and server racks. All types of media, toner and ink cartridges, and wiring will also be accepted.
Items will be turned in to Green Monster Recycling – which has a "zero-landfill policy" and will safely dispose of the materials. Hard drive and media shredding services will also be available to ensure security.
Like what you see here? Click here to subscribe to We-Ha's newsletter so you'll always be in the know about what's happening in West Hartford!