In recognition of Black History Month, West Hartford Community Conversations will focus on the renaming of Unity Green and a look at how the 1619 Project informs our understanding of disparities in healthcare.
Submitted
The Noah Webster House & West Hartford Historical Society is pleased to collaborate with other West Hartford organizations to offer two virtual programs that honor Black History Month by paying tribute to the generations of African Americans who struggled with adversity to achieve full citizenship in American society.
Unity Green
On Wednesday, Feb. 10, 2021, from 6:30-8 p.m., a virtual West Hartford Community Conversation will be held: "Where Do We Go From Here? The Transformation of Unity Green."
The West Hartford Community Conversations series is designed to provide an outlet for residents to discuss and consider the history of slavery and racial bias in town. The goal is to create a safe space for community discussion, provide a historical context for modern problems, and generate ideas for action steps we all can take to create a more fair and just community.
In January 2021, First Church West Hartford, the owners of the West Hartford town green, announced that they were changing the name of this space in the middle of South Main Street just south of Farmington Avenue from "Goodman Green" to "Unity Green." The "Goodman" came from Timothy Goodman, the man who had originally donated the land to serve as a parade ground for the community and also a man who enslaved Africans like a man named George.
This West Hartford Community Conversation is inspired by Dr. Martin Luther King Jr.'s 1967 speech "Where Do We Go From Here?," which will be discussed in relation to the newly renamed Unity Green. How can this space be transformed into a place for gathering, activism, history, and leadership?
"Where Do We Go From Here? The Transformation of Unity Green" is a free virtual and interactive event moderated by Adrienne Billings-Smith, founder of Concerned Parents of Color West Hartford (CPCWH).
The Community Conversation will provide a chance to talk about the newly renamed Unity Green in small breakout groups as well as to ask questions of specialists. Each breakout group will be facilitated using The University of Connecticut's Dodd Center's program Encounters: Democracy and Dialogues guidelines.
The Foundation for West Hartford Public Schools funded the training of student, teacher, parent, and community partners to be facilitators for these discussions.
Please register in advance to attend this free event at https://bit.ly/3toPpl5. The Zoom meeting link will be emailed to you a day or two prior to the event.
"Where do we go from here? The Transformation of Unity Green" is brought to you through a collaboration between CPCWH, First Church West Hartford, the Noah Webster House & West Hartford Historical Society, West Hartford African American Social and Cultural Organization,West Hartford Community Interactive, West Hartford Public Schools' Equity & Diversity Council, and Witness Stones West Hartford.
The 1619 Project
On Thursday, Feb. 25, 2021 from 6:30-8 p.m., another free virtual event will consider "How The 1619 Project Informs Health Inequity & COVID-19."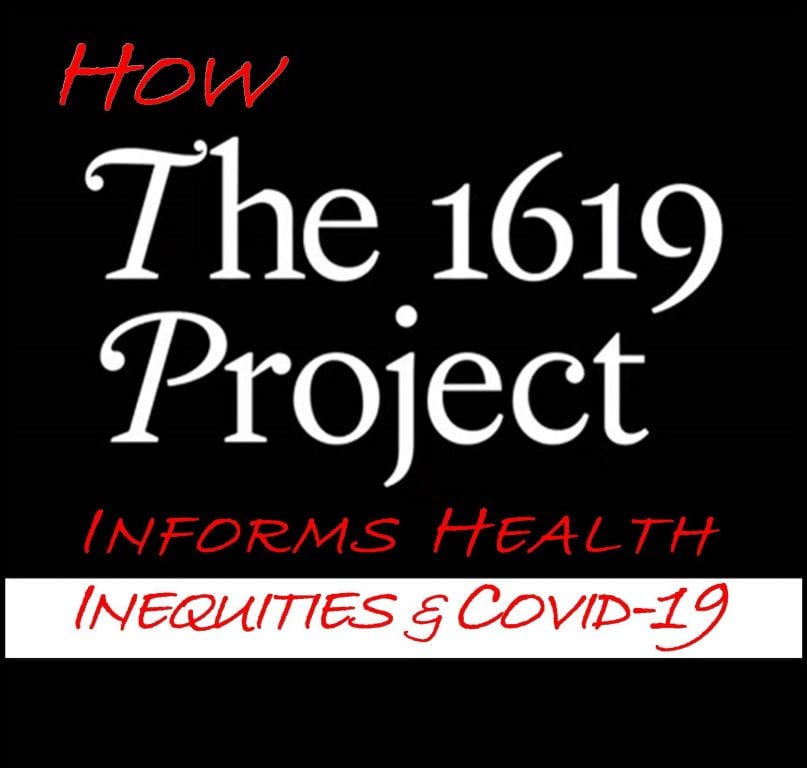 This annual Black History Month event with West Hartford African American Social & Cultural Organization (WHAASCO) and West Hartford Community Interactive will revisit the 1619 Project to examine how disparities in healthcare have roots in the institution of slavery.
The program will begin with a review of the 1619 Project: Episode 4 – How the Bad Blood Started, providing history and insight regarding healthcare and race. There will then be a facilitated discussion about the legacy of racism and its link to the current disparities in healthcare faced by communities of color, the well-founded skepticism toward healthcare systems, various efforts to address the disparities and skepticism, the ways history is reflected in the effects of the current pandemic, and how to navigate healthcare through this pandemic.
This conversation will be moderated by Earl Exum, president of WHAASCO. Panelists will include: Dr. Natalie Achong, Yale University School of Medicine; Dr. Reginald Eadie, CEO, Trinity Health of New England; Dr. Tekisha Everette, executive director, Health Equity Solutions; Greg Jones, vice president, Community Health and Engagement, Hartford Healthcare; and Dr. Lynn Thomas, retired OB-GYN and WHAASCO member.
Please register in advance for this Zoom webinar at https://bit.ly/3azZXFm. There will be an opportunity for Q&A with the speakers.
Participants are encouraged to submit questions in advance of the event and may do so by emailing [email protected]. If you are amenable to asking your question live during the webinar, please let us know in your email! To prepare for this program, please consider listening to Episode 4 – How the Bad Blood Started of  The New York Times' The 1619 Project podcast, available here: https://nyti.ms/3awixyb.
Like what you see here? Click here to subscribe to We-Ha's newsletter so you'll always be in the know about what's happening in West Hartford! Click the blue button below to become a supporter of We-Ha.com and our efforts to continue producing quality journalism.