The Rogers & Hammerstein classic will be performed at Hall High School in West Hartford in November.
Submitted by West Hartford Community Theater
West Hartford Community Theater (WHCT) has announced the creative team, cast, and performance dates for Rodgers & Hammerstein's Carousel which will be presented November 20, 21, and 22 in the theater of Hall High in West Hartford.
Rodgers and Hammerstein's Carousel (1945) is considered a masterwork in the American Musical Theater. It is a vital work which reflects a human experience that is troubled, hopeful – and profoundly American. Ultimately this story is about community.
Of all the shows they collaborated on, Carousel was considered by Richard Rodgers and Oscar Hammerstein to be their personal favorite. Dubbed "the best musical of the 20th Century" by Time Magazine, Carousel features beautiful and vocally demanding music. Well-known songs include "If I Loved You," "June is Bustin' Out all Over," and "You'll Never Walk Alone." The "Carousel Waltz," which opens the production, is considered a tour de force for symphony orchestra. The dancing requirements are extensive – with an iconic ballet in Act II, considered unusual in American musical theater.
"We have engaged a wonderfully talented cast and production team for Carousel. The blending of extraordinary voices will knock your socks off!" said Terry Szymanski, President of WCHT.
This production again features a collaboration between stage director Lesley Gallagher, music director Ed deGroat, and set designer Greg Sommer. The choreographer for this production is Meghan McDermott. Producers are Katie Meagher and Jeffrey Goetz.
The cast, which features more than 40 talented performers from West Hartford and surrounding communities, includes Mike Mezo of Manchester as Billy Bigelow; Katie Meagher of West Hartford as Julie Jordan; Ilona Miller Wilcox of Berlin as Carrie Pipperidge; Joshua Ellenberg of Hartford as Enoch Snow; Kimberley Parsons-Whitaker of West Hartford as Nettie Fowler; Michael McKiernan of East Haven as Jigger Craigin; Patrice Fitzgerald of West Hartford as Mrs. Mullin; Mark Moyle of West Hartford as The Star Keeper and Dr. Seldon; and Alexandra van der Hulst of West Hartford as Louise Bigelow. They are joined by a large singing-dancing ensemble. The cast will also include six children from West Hartford: Francesca Giordano, Zoe Healey, Miriam Callahan, Lucas Pauluk, Russell van der Hulst, and Serena van der Hulst. The complete cast list can be found at whtheater.org.
Dates and Times: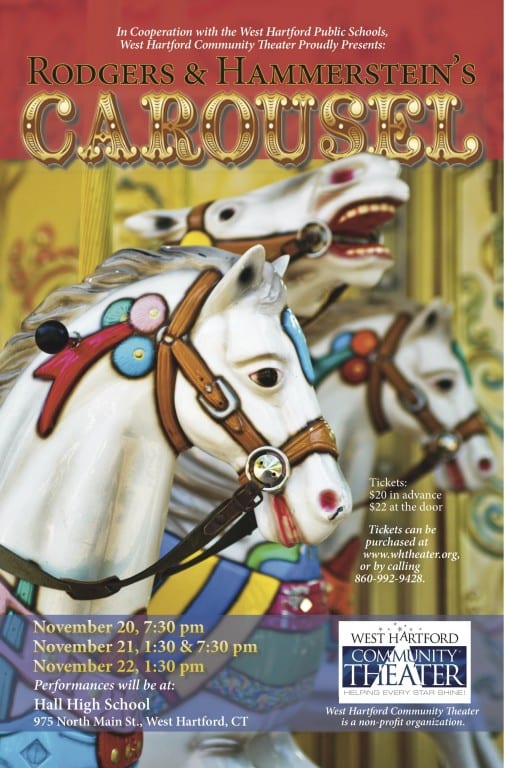 Friday, Nov. 20, 2015 at 7:30 p.m.
Saturday, Nov. 21, 2015 at 1:30 p.m. and 7:30 p.m.
Sunday, Nov. 22, 2015 at 1:30 p.m.
Location: Theater at Hall High, 975 North Main St., West Hartford, CT.
Admission: $20 in advance; $22 at the door; $25 Preferred Seating.
Ticket Information: http://whtheater.org/
Phone: 860-992-9428
Media Contact: Katie Meagher, 860-707-3571, [email protected]
For more information about West Hartford Community Theater, visit WHTheater.org
About West Hartford Community Theater
West Hartford Community Theater, Inc. (WHCT) opened its doors in the fall of 2008 with an eye toward providing the highest quality live musical theater experience for West Hartford residents and the greater Hartford community. The organization was founded by Bruce LaRoche and Maria Librio Judge, both graduates of Conard High School. Their vision has become a reality as year after year, WHCT continues to produce quality productions showcasing the unique and richly diverse talent in the West Hartford community.
WHCT is a 501(c)(3) non-profit organization dedicated to the development of live theater in West Hartford and related educational programs for adults and children. WHCT values diversity and strives to provide an environment where shared goals, performance standards, and common vision guide collaborative creativity. WHCT welcomes membership of all ages, and specifically encourages the participation of minorities, youth, seniors, and the economically disadvantaged.
Short synopsis (credit: Rodgers & Hammerstein Organization)
In a Maine coastal village at the end of the 19th century, the swaggering, carefree carnival barker, Billy Bigelow, captivates and marries the naïve millworker, Julie Jordan. Billy loses his job and finds out that Julie is pregnant and, desperately intent upon providing a decent life for his family, he is coerced into being an accomplice to a robbery. Caught in the act and facing the certainty of prison, he takes his own life and is sent 'up there'. Billy is allowed to return to earth for one day fifteen years later, and he encounters the daughter he never knew. She is a lonely, friendless teenager, her father's reputation as a thief having haunted her throughout her young life. How Billy instills in both the child and her mother a sense of hope and dignity is a dramatic testimony to the power of love.