The four members of West Hartford's legislative delegation are joining the League of Women Voters in hosting a public forum regarding Gov. Dannel P. Malloy's budget proposal.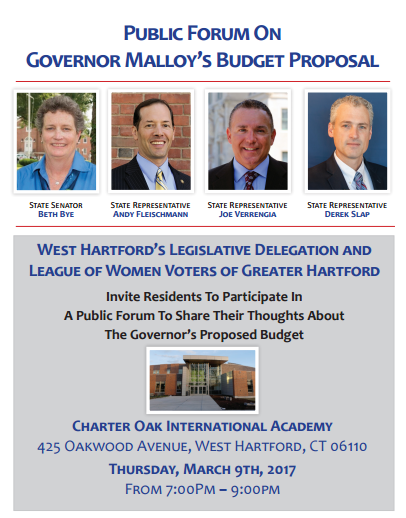 By Ronni Newton
State Sen. Beth Bye will join State Rep. Andy Fleischmann, State Rep. Joe Verrengia, and State Rep. Derek Slap at a public forum on March 9, designed to educate and solicit input from residents regarding the state budget proposed by Gov. Dannel P. Malloy on Feb. 8.
The forum, which will include a short briefing on the budget as well as Q&A, will run from 7-9 p.m. and will be held at Charter Oak International Academy, 425 Oakwood Ave., West Hartford. It is being co-hosted by the League of Women Voters of Greater Hartford.
"As we fight to restore critical state funding for West Hartford, we want to listen to community members' input and ideas," said Bye said Wednesday in a statement announcing the forum.
Slap said in a statement that the forum is one more way to ensure that residents have their voices heard, and is "part of a continuing dialogue my colleagues and I are having with our constituents through emails, phone calls, [and] Facebook posts"
Gov. Malloy's approximately $20 billion proposed FY2018 state budget includes drastic cuts in funding for West Hartford – cuts estimated to exceed $14 million. A significant portion of the cuts are the result of retooling the Educational Cost Sharing (ECS) formula. Changes to the cost-sharing grant estimate for special education and a statewide reallocation of a portion of teachers' pension expenses back to the town will also have major impact.
When the budget was proposed last week, both West Hartford Mayor Shari Cantor and Town Manager Ron Van Winkle called the proposed cuts "unfathomable."
Cantor said the town has already done all of the "right" things like combining administrative functions with the schools and renegotiating collective bargaining agreements to manage healthcare and other employment-related expenses. 
"I'm furious. I feel like I've been punched in the gut," Cantor said last week about the governor's proposal.

Fleischmann said constituents have already expressed concerns with the budget – concerns which he shares – and he hopes many will attend the forum. "I'm hopeful folks will take advantage of this opportunity," he said in a statement.
"The budget process is just beginning so this is the perfect time for the delegation to listen, learn, and then bring that input back to the Capitol in Hartford," added Verrengia.
Van Winkle doesn't think the legislature will pass the governor's proposal as is, but it also won't be finalized until long after the town budget is finalized. "We've done everything right, but we need to do more," he said.
Van Winkle is proposing his budget on March 8 and doesn't know where to begin, what kind of a leap of faith may be viable. "I've been doing this for a lot of years and I have no idea how to create a budget," he said last week. Residents could be looking at a "huge" tax increase, he said.
The Town Council has a budget vote scheduled for April 25.
Like what you see here? Click here to subscribe to We-Ha's newsletter so you'll always be in the know about what's happening in West Hartford!