The prize was for the Jan. 1 'New Year's $1,000,000 Super Draw,' and was finally claimed three weeks later.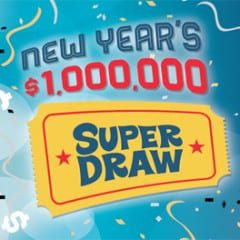 News Release issued by Connecticut Lottery
After 21 days of wondering who the Jan. 1 "New Year's $1,000,000 Super Draw" winner could be, Robert Block of West Hartford put an end to all suspense when he arrived at CT Lottery headquarters in Rocky Hill to claim the game's $1,000,000 top prize. While 2,130 Super Draw ticket holders won prizes on January 1 ranging from $100 to $20,000, Block's ticket number – 144452 – proved to be an exact match to the $1,000,000 top prize winning ticket number.
Block's winning news was also a welcome surprise to Thomas Troy, owner of Troy's Mountain View (Mobil Mart) at 2507 Albany Ave. in West Hartford. One of the "original" retailers from the Lottery's early days, Troy will receive a $10,000 bonus check from the CT Lottery for selling Block his $1,000,000 prize winning ticket.
"Oh my gosh—I'm so excited!" said Troy upon receiving word from Lottery officials. "We have a lot of good customers at our store who will be very excited when they hear about this, too."