West Hartford has 222 positive cases of COVID-19 as of April 23, and Mayor Shari Cantor had a message to share with the community via Everbridge.
By Ronni Newton 
West Hartford Mayor Shari Cantor addressed the community again Thursday in a message via Everbridge – a combination of saying thank you, offering advice, and urging anyone who is experiencing symptoms or has been exposed to COVID-19 to take proper action.
"Thank you again West Hartford for your strength and commitment during this very difficult time," Cantor said in her message. "In the face of real adversity, our community has banded together to protect not just one another, but to help make the jobs of our heroic healthcare workers, first responders and essential workers safer and more manageable. Your responsible actions are making a difference."
Cantor said that while cases of COVID-19, hospitalizations, and deaths continue to rise, particularly in the Hartford area, mitigation efforts have made a difference.
Information released Thursday afternoon by Gov. Ned Lamont indicated that 222 West Hartford residents have had a laboratory-confirmed positive test for COVID-19. There have been 30 reported West Hartford fatalities associated with COVID-19 as of Thursday, according to information released by the state.
In Hartford County, after rising for many days, net hospitalizations actually dropped by five on Thursday, and by 25 statewide.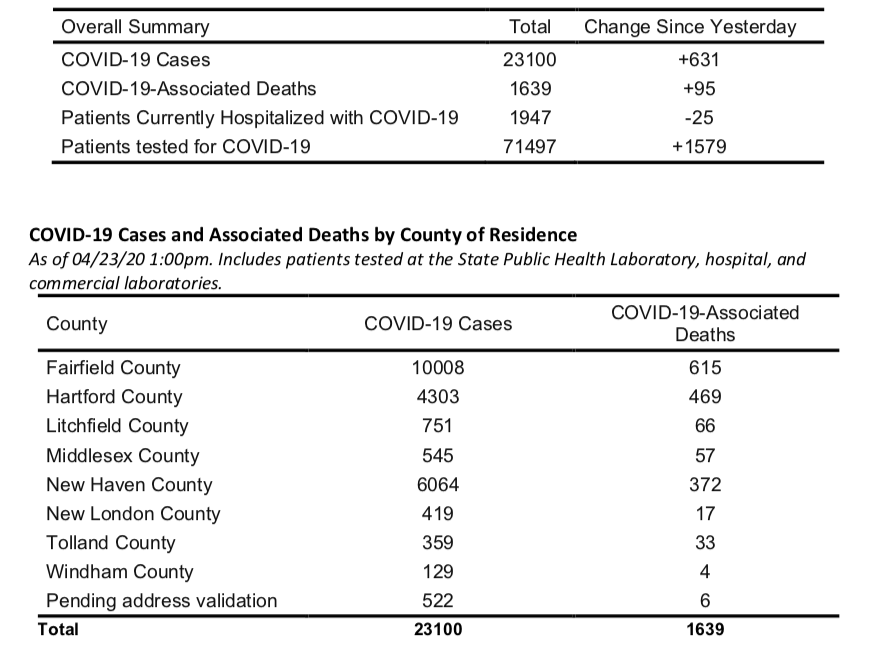 "We can't stop now – we need to stay vigilant," Cantor said in her Everbridge message. "Please, continue to social distance, keep washing your hands frequently, and wear a face covering in public places, both inside and outside."
She also urged the community to be sure to properly place disposable masks and gloves in trash receptacles. Many have complained on social media about finding gloves littering the ground in parking lots and along the sides of roads.
Testing is very important – and a key component in efforts to determine how to reopen businesses and activities that have been shut down by the state.
The town's first large-scale testing event will take place on Sunday, April 26, from 9 a.m.-1 p.m., at PhysicianOne Urgent Care, 12 North Main St.
Cantor told We-Ha.com that the testing operation, like any large-scale testing event, has been carefully reviewed by the West Hartford-Bloomfield Health District, as well as the police and fire departments to ensure the safety of all involved, and to ensure that traffic will not impede any emergency operations.
"We want to ensure the safety of the people being tested as well as the greater community," Cantor said.
Appointments to be tested must be made in advance, and a virtual visit will be required before an appointment time is assigned.
According to information from a spokesperson at PhysicianOne, "All insured patients have visits submitted to their insurance and the cost is dependent upon the contract with those insurance companies. Most payers are waiving patient cost share on COVID-related visits. Patients should be advised to confirm with their insurance companies. Uninsured patients with COVID-related visits do not pay anything and the visit will be billed to National Disaster Medical Service."
Anyone who has any of the symptoms of COVID-19, or who has been exposed to someone with the coronavirus, should contact their healthcare provider about getting tested.
For more information on how to be screened and schedule an appointment, please visit www.p1uc.com or call 855-349-2828. Insurance is accepted and self-pay is also available.
While this is the first large-scale testing in West Hartford, "We look forward to hosting more of the to increase access to as many residents as needed," Cantor said. Testing is critical not just for containing the spread of COVID-19, but also for understanding the impact of the virus on the population.
"We will also continue to provide information and resources on all testing availability," she said, emphasizing that anyone who has symptoms or feels they have been exposed should self-isolate and contact their healthcare provider.
In addition to this one-time drive through event, Cantor said there are several urgent care centers and testing labs that provide COVID testing. More information is available on the town's website westhartfordct.gov/covid. 
In her message Thursday, Cantor also noted that this is National Volunteer Week, and expressed her thanks to all volunteers.
"In fact, I want to give an extra thank you to some fantastic local high school students who are organizing local volunteers to deliver groceries to our elderly residents," Cantor said. Information about We Ha At Your Service and the work they are doing to assist elderly and vulnerable populations in the West Hartford community can be found here.
"Finally, please remember to share a couple of moments of community support by ringing  a bell at 7 p.m. on Friday evening for two minutes as we stand together to honor all of the brave people working on the front lines of this pandemic," Cantor said in her message. The bell-ringing initiative was launched last Friday.
"Thank you for listening. Be well and be safe."
Like what you see here? Click here to subscribe to We-Ha's newsletter so you'll always be in the know about what's happening in West Hartford! Click the blue button below to become a supporter of We-Ha.com and our efforts to continue producing quality journalism.