West Hartford Mayor Shari Cantor issued her 11th Everbridge message Thursday afternoon, with comments about testing and support of businesses as well as arts and cultural organizations.
By Ronni Newton
Gov. Ned Lamont has committed to updates every Thursday from the Reopen Connecticut Advisory  Group, and this week provided some news that many have been anxious to receive: the state will slowly begin reopening –easing restrictions and allowing specific types of businesses to reopen beginning May 20.
More specific protocols and guidelines will follow, Lamont said, and before the first phase of reopening can begin, certain criteria must be met.
Thursday marked the eighth consecutive day of decreased hospitalizations, a decrease of 41 across the state. Declining hospitalizations is one key factor which has put the state on the course toward being able to slowly ease into a reopening of some of the state's service industries – businesses which represent about 10% of the overall Gross Domestic Product (GDP) but 48% of the number of unemployed.
Lamont, and the chairs of the Reopen Connecticut Advisory Group, Indra Nooyi and Dr. Albert Ko provided an outline of the criteria, as well as how the openings might be phased in and how residents can be made to feel comfortable returning to businesses that are able to accommodate adequate social distancing and maintain disinfection standards.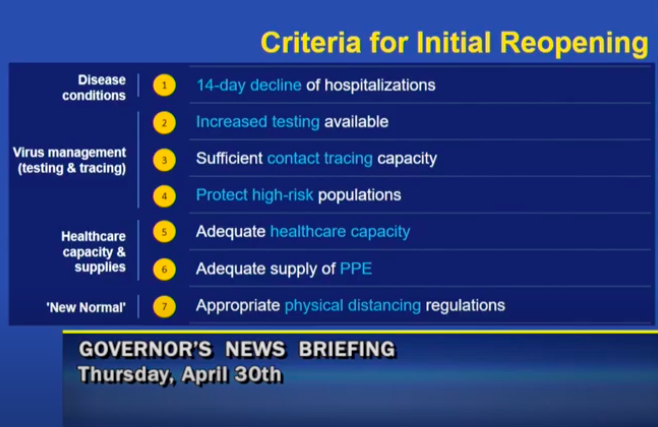 "Main street retail" and restaurants with outdoor seating are among the types of businesses which will be likely be permitted to reopen beginning May 20 – and many West Hartford businesses fall into those categories.
"We treasure our thriving centers throughout town," Mayor Shari Cantor told We-Ha.com following the governor's announcement of the reopening strategy. "We are anxious to support them, with safety as a priority."
"This is great news for many of our struggling businesses," said Chris Conway, executive director of the West Hartford Chamber of Commerce. "With the proper safety protocols, I feel this will be an important first step as we navigate the 'new normal' and begin economic recovery."
Cantor said the town will be prepared to work with business owners to create that new normal, in ways that are "creative, inclusive, engaging, and supportive."
The state's executive branch currently holds the authority to supersede any municipal orders, and Chief of Staff Paul Mounds said the reopening will take place on a consistent basis throughout the state.
"It's one policy for the whole state," Nooyi reiterated.
Lamont and Mounds both said the state may consider allowing municipalities to temporarily relax certain ordinances – for example concerning outdoor dining – so that seats can be spaced further apart and closer to the road or sidewalks, or even closing off some streets to vehicular traffic, to assist the ability of restaurants and other businesses to reopen and operate.
"We're willing and open to embracing the governor's suggestions and ideas," Cantor said.
West Hartford has kept its recreational facilities, other than open fields and paths, closed for the past several weeks. Some of the restrictions have gone beyond what is mandated on the state level.
Cantor said the town has been waiting to see positive trends regarding cases and hospitalizations.
"We're looking forward to gradually opening public recreational facilities, including golf courses, in the near future," Cantor said Thursday night.
West Hartford's total number of confirmed positive cases of COVID-19 is now 311 according to data provided by the state Thursday afternoon. That represents an increase of 11 since Wednesday's report. There have been 50 COVID-related, or presumed-related fatalities in West Hartford, one more since Wednesday.
The state also released data Thursday regarding the number of laboratory-confirmed cases of COVID-19 in nursing homes and assisted living facilities, as well as the number of laboratory-confirmed or probable deaths caused by COVID-19 at those facilities.
The data represented totals as of Wednesday, and indicated that 125 residents of five West Hartford nursing homes had tested positive. That represented 41.7% of the town's total reported cases (which were 300 on Wednesday). There were 38 deaths among nursing home residents, 77.6% of the town's total as of Wednesday.
Only one assisted living facility in West Hartford, Brookdale Chatfield, which has an occupancy of 75, has residents with laboratory-confirmed or probable cases of COVID-19. There are two confirmed cases, and no probable cases or deaths as of Wednesday, according to information released by the state.
As the West Hartford community continues to be impacted by the COVID-19 pandemic, Cantor also spoke to residents through Everbridge on Thursday, with a thank you and some highlights.
In the message, her 11th, she also thanked everyone for their continued commitment to caring for each other.
"You are making a difference by incorporating extended hand washing, physical distancing and wearing face coverings as part of your daily routine," Cantor said.
"Progress is being made. Each day we hear about increased accessibility to testing, therapeutic practices, and aggressive research and innovation. There are now resources and funding available to help our businesses. All of this gives me hope," she said.
Cantor noted that 77 people were tested at Sunday's drive-through COVID-19 testing event, and urged anyone with symptoms, or any essential workers including those who are asymptomatic, to get tested at one of the available facilities listed on the town's website.
"As part of our ongoing effort to continue to flatten the curve of the coronavirus pandemic, the West Hartford-Bloomfield Health District is interviewing every person who has tested positive for the COVID-19 virus from the two towns," Cantor said in her message to the community. "Contact tracing helps identify people who may be have been exposed by the virus. If you have tested positive for COVID-19, please call the Health District at 860-561-7900 for a confidential interview by a public health nurse."
There have been many inspiring and meaningful initiatives taking place in town, to support businesses as well as healthcare workers and those in need, Cantor said.
She specifically mentioned that heart signs are being sold in front of Zohara (991 Farmington Ave.) on Friday and Saturday, from 4-7 p.m. Proceeds from the sale of the signs, which are $15, will be used to fund meals that DORO Restaurant Group is providing for healthcare workers.
In addition, Black Bamboo (844 Farmington Ave.) is selling t-shirts for $15, with the proceeds going to the Town That Cares Fund.
On Thursday, LaSalle Road Partners and the West Hartford Center Business Association announced the "Save Our Center" initiative, a matching program that supports local businesses and healthcare workers through purchase of gift cards.
Cantor said she and town officials would love to know more about these positive programs that are being launched by residents and businesses.
"Also, remember our arts and culture institutions that bring richness to our community," Cantor said in her. message. "A new Facebook page has been created to keep us informed of all the great things they are doing. Visit the Keep WeHa Arts and Culture ALIVE!"
More information will follow regarding CLASP, a community support team being led by a team from the fire department and social services, Cantor said.
"A simple phone call to check-in with these residents brings reassurances that we care. If you or someone you know could benefit from this free service, please call 860-561-6991."
Cantor encouraged residents to go outside on Friday night at 7 p.m., to stand on their front steps, in driveways, on the sidewalk, to ring a bell for two minutes "and show our support for all essential workers, first responders and frontline healthcare heroes," she said. The bell-ringing initiative was launched two weeks ago.
"West Hartford, we are resilient. Please take care by being patient and kind with yourself, and celebrate the small victories each day.  Be well and be safe," Cantor said.
Like what you see here? Click here to subscribe to We-Ha's newsletter so you'll always be in the know about what's happening in West Hartford! Click the blue button below to become a supporter of We-Ha.com and our efforts to continue producing quality journalism.