The West Hartford community is encouraged to join the 'Be The Match' Marrow Registry.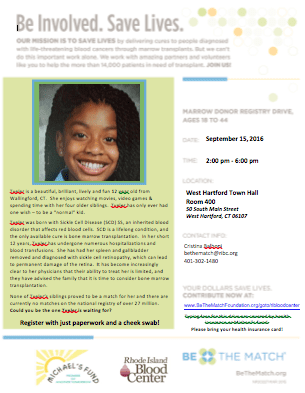 By Ronni Newton
West Hartford Public Schools will sponsor a marrow registration drive on Thursday, Sept. 15, 2016, at Town Hall, and local residents between the ages of 18-44 are encouraged to participate in the quick, simple, painless, and potentially life-saving process of registering as a potential donor.
All that is required for registration is a cheek swab sample from the inside of the mouth and completion of some basic paperwork.
Suzanne Donzello, executive assistant to West Hartford Superintendent of Schools Tom Moore, is helping organize the drive and it's a cause that's very near and dear to her heart. Donzello's daughter was recently diagnosed with leukemia at age 43, and although she is in remission after undergoing chemotherapy, Donzello knows that if a transplant is ultimately required, her daughter, like many patients with leukemia, lymphoma, or other diseases, will need to rely on the donor bank.
Donzello said that 70 percent of patients are not a match with family members, and it's important to grow the registry as much as possible.
"They think it's just about the patient, but in reality this affects the whole family who could potentially lose a loved one," said Donzello. As a mother she only had a 3 percent chance of being a match for her daughter, and statistically her son had a 30 percent match. Both were tested, but neither is a match.
"There are 28 million donors, but you still don't always find matches," said Cristina Balboni of the Rhode Island Blood Center, which is working with West Hartford Public Schools on the marrow registration event. The Rhode Island Blood Center is a donor center for Be The Match, involved in recruiting marrow donors and facilitating donations throughout New England.
There are plenty of examples like 12-year-old Tyeler, who lives in Wallingford. She has sickle cell disease and needs a transplant, but even with the millions in the registry, a match has not yet been found, Balboni said. Every year more than 14,000 patients suffer from a variety of bone marrow functioning diseases, with a transplant as their only hope for survival, she said.
"It's so easy, it's not invasive, and even one person could potentially be a match," said Donzello.
If an individual is found to be a match, in about 75 percent of the cases the donation can be made through an automated blood donation. Weight restrictions, and other factors that might prevent people from donating blood, often don't apply to a marrow donation, Balboni said.
In other cases a donor may need a short surgical procedure to donate, but Donzello said the donor is fully-sedated and experiences only minor discomfort. "For a day of being sore, you save somebody," she said.
The marrow donor registry drive will be held from 2 – 6 p.m., at West Hartford Town Hall, Room 400. Potential donors at the event must be between 18-44 years old and in generally good health. According to Be The Match, donors are most likely to match someone of their own race and ethnicity, and cells from donors in the 18-44 age group provide  better long-term survival for patients after transplant and are most commonly requested by doctors.
There is no cost for joining the registry, and health insurance is not a factor. The cost of approximately $100 to add each potential marrow donor to the registry is being covered by Michael's fund of Fall River, MA.
Donzello is hopeful for a large turnout on Sept. 15 once people understand how simple the process is, but how important their contribution might be to saving a life.
Like what you see here? Click here to subscribe to We-Ha's newsletter so you'll always be in the know about what's happening in West Hartford!
About Be The Match
The Rhode Island Blood Center's Marrow Donor Program is working with West Hartford Public Schools to host this event. The Rhode Island Blood Center is a donor center for Be The Match, involved in recruiting marrow donors and facilitating donations throughout New England. Be The Match is a movement that engages a growing community of people inspired to help patients who need a marrow or umbilical cord blood transplant from an unrelated donor. The National Marrow Donor Program (NMDP), a leader in the field of marrow and cord blood transplantation, created Be The Match to provide opportunities for the public to become involved in saving the lives of people with leukemia, lymphoma and other life-threatening diseases. For more information, visit www.bethematch.org or call 800-283-8385 ext.720.    
About Michael's Fund
Michael's Fund is a non-profit organization whose mission is to help adults & children survive cancer through marrow transplants. The organization was founded by family members of Michael Wrobel who in 1996, at the age of 11, lost his battle with lymphoma when a matching donor could not be found. The organization provides funds that enable the RI Blood Center to add more marrow donors to the Be The Match Registry thus increasing the number of donors available to patients.