'Connecticut by the Numbers' will begin publishing opinion columns each Sunday, sharing perspectives of writers from West Hartford and across the state.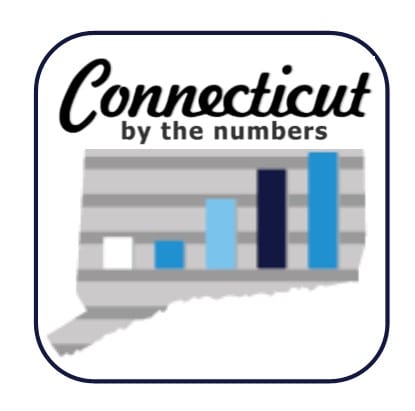 Submitted by Connecticut by the Numbers
Connecticut by the Numbers, the state's leading numbers-driven news website, begins its fifth year of operation with the launch of weekly opinion columns, to run each Sunday, featuring contributing writers from across Connecticut. The articles will offer viewpoints and opinions on a range of issues that impact the state and its residents.
The news site, at www.ctbythenumbers.news, has established a network of contributing writers who will author columns throughout the year. In addition, opinion pieces from state residents will be published on the site's Sunday perspeCTive page.
Among the contributing writers to be featured are Mary Cahalane, nonprofit fundraising consultant; Suzi Craig, Senior Director of Advocacy & Development, Mental Health Connecticut; Endia DeCordova, Dean of Institutional Advancement and Community Engagement, Manchester Community College; Alissa DeJonge, Vice President of Research, Connecticut Economic Resource Center (CERC); Peter F. Eder, retired marketing executive and AARP Connecticut community volunteer; Mary Glassman, Manager, Office for Regional Efficiencies, Capitol Region Education Council; and Richard Hollant and team, CO:LAB, a Hartford-based brand development and design firm.
Contributing writers also include Tim Hollister, land use attorney and author of two books about parenting and safe teen driving; Frances Padilla, President of Universal Health Care Foundation of Connecticut; Kim Sirois Pita, Principal, Kim Pita Peaces; Thomas Phillips and Sandra Rodriguez, Capital Workforce Partners; John Simone, President & CEO, Connecticut Main Street Center; and Richard Sugarman, Executive Director, Hartford Promise and Founding President of The Connecticut Forum.
Additional contributing writers will appear throughout the year, and public submissions will also be considered for publication.
CT by the Numbers is compiled by Bernard Kavaler, who began his career as a broadcast and print journalist, and went on to a career in public affairs and public policy. Kavaler is currently Managing Principal of Express Strategies, a Hartford-based independent communications consulting firm.
The news site provides articles featuring demographic data with a Connecticut focus, and includes news targeting healthcare, education, transportation, finance, business, tourism, public safety, housing, nonprofits and the environment.
"It has become quite evident in the course of developing news stories that there are a great many individuals throughout Connecticut with tremendous expertise, passion, insight and commitment on a range of issues," Kavaler said. "In addition to the news stories that are reported each weekday, the perspective columns will provide another way for people to learn more our state and issues that affect us every day."
On the Connecticut by the Numbers website, year-over-year traffic increased in 8 of 12 months the past two consecutive years, and the site has had nearly 273,000 views since inception. Between 2013 and 2015, the number of annual page views more than doubled. The site also ran public awareness advertising for more than two dozen non-profit organizations at no charge last year.
News stories are posted weekday mornings. News reported on the site has been featured on CT NewsJunkie, CT Capitol Report and various news, business, municipal, organization and association web sites. CT by the Numbers is a member of the Independent Media Network.
For more information, visit www.ctbythenumbers.news, or www.facebook.com/CTbytheNumbers, or follow @CTNumbers on Twitter. To contact CT by the Numbers, email [email protected].
CONTRIBUTING WRITERS
Mary Cahalane is a nonprofit fundraising consultant, and author of the blog Hands-On Fundraising. She has more than 30 years of experience with community-based organizations, major regional theaters and a variety of nonprofit organizations, building successful fundraising programs. As a contributor to "perspeCTive", she will offer insight at a time when nonprofit organizations are under pressure to deliver more services but are finding resources harder to come by.
Suzi Craig is Senior Director of Advocacy & Development, Mental Health Connecticut. Suzi's career has consistently reflected a passion for community development and entrepreneurship, including innovative work at award-winning creative agency Fathom and as the primary strategist for "Words to Give By," a collaboration of WNPR and the Hartford Foundation for Public Giving. Bringing people together to make a difference in the world and for themselves has been an intuitive and intentional ingredient to Suzi's success, and her columns will share that perspeCTive.
Endia DeCordova is the dean of Institutional Advancement and Community Engagement for Manchester Community College, with overall responsibility for the college's development communications, fundraising, public relations and special events management, alumni affairs, major gift solicitation and the MCC Foundation's capital campaign. She is chair of Connecticut American Council on Education (ACE) Women's Network and past president of the Public Relations Society of America, Connecticut Valley Chapter.
Alissa DeJonge is Vice President of Research at the Connecticut Economic Resource Center (CERC) Inc., responsible for business and economic research services, and performs extensive research and analysis concerning state and regional issues. Her work includes industry profiles, regional and fiscal impact analyses, survey research, benchmarking and evaluation.
Peter F. Eder is a retired marketing and public relations executive, AARP CT community volunteer and founding Board member of At Home In Darien, a community aging-in-place organization. A member of the World Future Society for more than three decades, he has written and lectured extensively on the future. Throughout his career, Peter has volunteered his communications skills with local and national organizations focused on supporting acute needs of people in their communities.
Mary Glassman is Manager of the Office for Regional Efficiencies for the Capitol Region Education Council (CREC), working with school districts and municipalities to collaborate in order to achieve cost savings while providing high quality services. She has vast experience in government and public policy, and is a former First Selectman of Simsbury.
Richard Hollant and team at CO:LAB, a Hartford-based brand development and design firm dedicated to social impact. The CO:LAB team cares deeply about motivating people to have meaningful conversations and purposeful actions. In their work with a wide range of community-driven businesses, organizations and individuals, they have the opportunity to examine a variety of social issues and the connections between them. As contributors to "perspeCTive", they will share their insights about building community and opinions about trends that affect Greater Hartford's quality of life.
Tim Hollister practices land use, environmental and municipal law, and handles a wide range of real estate and administrative law problems that arise in the context of land use and environmental matters. Since the death of his 17-year-old son Reid in a car crash in 2006, Hollister has become a public advocate for safer teen driving. He is the author of two books on the subject, and served on the Governor's Teen Safe Driving Task Force to revise and strengthen Connecticut's Graduated Driver Laws.
Frances Padilla has served as President of Universal Health Care Foundation of Connecticut since September 2012 and has held various leadership positions in the organization since 2004. Her career in philanthropy, which began as a program officer at the Hartford Foundation for Public Giving, spans over 30 years. She later held positions at the Community Foundation for Greater New Haven before running her own business, New Paradigms Consulting. Throughout her career she has worked on connecting philanthropy and public policy on key issues, most recently on health care reform.
Thomas Phillips and Sandra Rodriguez, Capital Workforce Partners. As the region's designated Workforce Development Board, Capital Workforce Partners offers a suite of services designed to give North Central Connecticut a competitive advantage as a place to do business, work and live. It's all about jobs for people and people for jobs. In addition to youth programs and services to job seekers and businesses, Capital Workforce Partners oversees programs at the region's American Job Centers and provides pre-employment construction and trades related training at the Jobs Funnel. Thomas Phillips is President and CEO, and Sandra Rodriguez is Communications Director.
Kim Sirois Pita – After working as a press secretary in U.S. Congress, Kim Sirois Pita spent 15 years building The Pita Group, a successful and profitable multi-million dollar marketing agency. She left the agency in 2014 and founded the consultancy, Pita Peaces, where she aligns with industry pioneers and family-owned businesses in transition. She helps transform chaos and uncertainty to harmony and prominence with purposeful operational and marketing strategies. A motivational speaker and mental wellness champion, Kim expects to self-publish her book Split Ends: A Tale of 2 Crazy Sisters in 2016.
John Simone, President & CEO, Connecticut Main Street Center. He is responsible for developing the team of regional and national experts and partners to complement CMSC staff's expertise and provide a wide spectrum of resources and services in downtown revitalization. Under his leadership, the number of member communities has grown from 6 to 76.
Richard Sugarman is Executive Director of Hartford Promise, dedicated to ensuring that every aspiring Hartford student has access to the financial resources and support mechanisms that are essential for college success. He has a varied background including nonprofit leadership, corporate management, investment management, and extensive community engagement work. Previously, he was Founding President of The Connecticut Forum for 23 years, an award winning non-profit organization that brings nationally renowned panelists to Hartford four times a year to discuss a variety of timely and important topics.