The Mandell JCC and Hartford Foundation for Public Giving 'Art in Action: Young Artists' Vision of 2020' traveling exhibit will be on display in West Hartford from May 5 through June 1, 2021.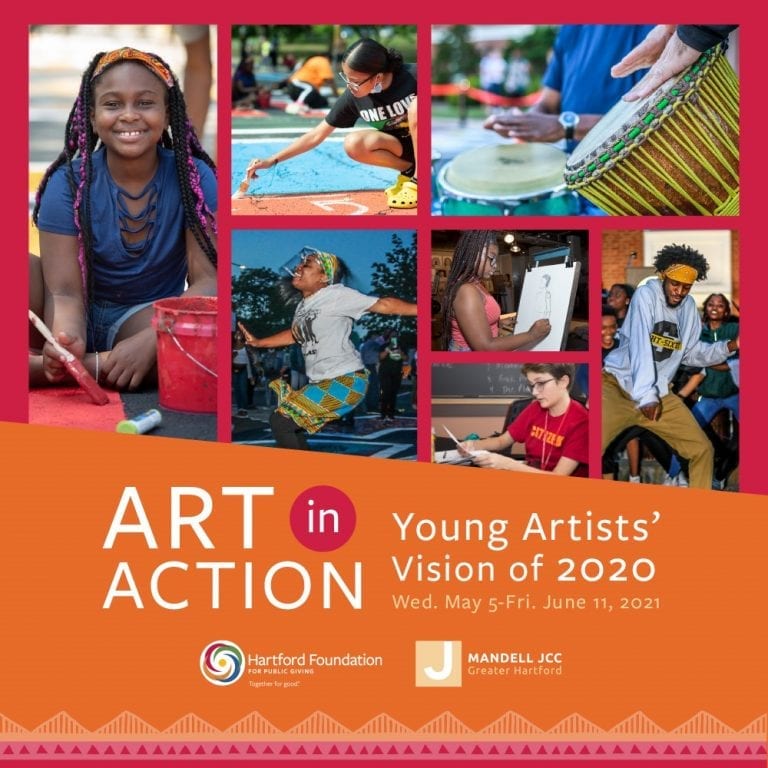 By Ronni Newton
The Hartford Foundation for Public Giving invited teens throughout the region to creatively express their thoughts and emotions about the year 2020, and in collaboration with the Mandell JCC the resulting project – Art in Action: Young Artists' Vision of 2020 – will be showcased in West Hartford from May 5 through June 11, 2021.
"2020 was a particularly disorienting year for youth experiencing remote learning, physical distancing and social unrest. We wanted to hear from them, so in the fall of 2020, we called on teens from across our region to submit creative work that captured their thoughts and emotions in this time of pandemic and protest," the Foundation said in the introduction to the virtual gallery now posted on its website.
Teens who live in the Foundation's 29 towns were invited to submit projects last fall, and more than three dozen pieces of art – including paintings, drawings, sculpture, poetry, and music – were submitted.
West Hartford residents were among those who participated, and Ben Tartaglia, 16, described his work (featured above) as follows: "This is a visual representation of the fact that it may take one event full of tragedy and despair to unite those around us, of all color and ethnicity, for the purpose of bringing justice to where it is needed most."
Cathy Hoang,17, also of West Hartford, submitted "Finger Lakes." In her artist statement, she said, "A re-illustration of the Finger Lakes waterfalls in Ithaca, New York. It was completed during quarantine and is a visual reminder to stay calm during such unpredictable times."
In addition to being showcased in the virtual gallery, the works can be viewed at the Mandell JCC in West Hartford from May 5-June 11, thanks to grant funding which will also allow the exhibit to travel to Canton, Manchester, and Hartford.
"We are incredibly honored and humbled to be sharing these exquisite works of art," Mandell JCL Executive Director David Jacobs said in a statement. "Art allows us to voice, express and examine what it means to be human, and to bring people together. 2020 was a particularly unsettling, lonely and confusing time for teens who missed many key milestones that mark the coming of age. It is truly a privilege to share the work of these young artists at the Mandell JCC."
"We are so pleased with the broad response to our 'Art in Action' initiative and are excited to share this quality creative work in the traveling gallery," Jacqueline Coleman, Hartford Foundation Senior Community Impact Officer, said in a statement. "During these challenging times, it is crucial to lift up art as a method of communication and expression and a path toward healing. The Art in Action traveling gallery also aligns to the Hartford Foundation's interest in supporting diverse young artists."
Like what you see here? Click here to subscribe to We-Ha's newsletter so you'll always be in the know about what's happening in West Hartford! Click the blue button below to become a supporter of We-Ha.com and our efforts to continue producing quality journalism.