The West Hartford Symphony Orchestra will present its 20th season spring classical performance, 'This Is Us: Solos and Sections.'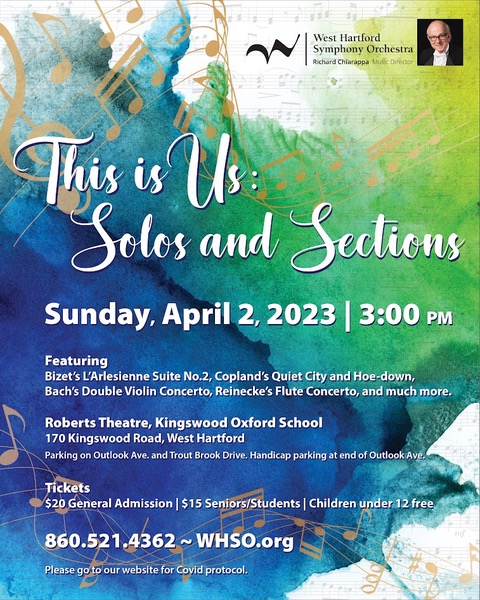 Submitted
The West Hartford Symphony Orchestra, under the direction of Music Director Richard Chiarappa, will present its unique spring classical concert at Roberts Theater on the Kingswood Oxford School campus at 3 p.m. on Sunday, April 2.
This is perhaps the most unusual program that the orchestra has performed because it features six individual soloists who are orchestra members, as well as three separate sections of the orchestra – the brass, strings and percussion.
Concertmaster Carin Joy Hoffman and principal violinist Mirela Panaitisor will perform the famous Bach "Concerto for Two Violins"; principal flutist Tracy Norkun will play the 2nd movement of Reinecke's "Concerto in D Major for Flute"; Nicholas Giamalis will perform "Dialogue for Double Bass and Symphony Orchestra," written for him by his former teacher and conductor Richard Chiarappa; and principal trumpet James Gerrard and principal oboist Jason Limansky along with the string section will play Aaron Copland's "Quiet City." The orchestra's brass section will fill Roberts Theater with the sound of Dukas' "Fanfare from la Peri," and the percussion section will dazzle the audience with Chris Crockerell's "Synergy."
Tickets can be purchased online at https://whso.org, or by calling 860-521-4362, and also on concert day in the lobby of the theater. 
Like what you see here? Click here to subscribe to We-Ha's newsletter so you'll always be in the know about what's happening in West Hartford! Click the blue button below to become a supporter of We-Ha.com and our efforts to continue producing quality journalism.