The 36th Celebrate! West Hartford returns on Saturday, June 10 and Sunday, June 11, and here's a guide to what you need to know. PDFs of the complete festival program as well as a list of vendors can be found below.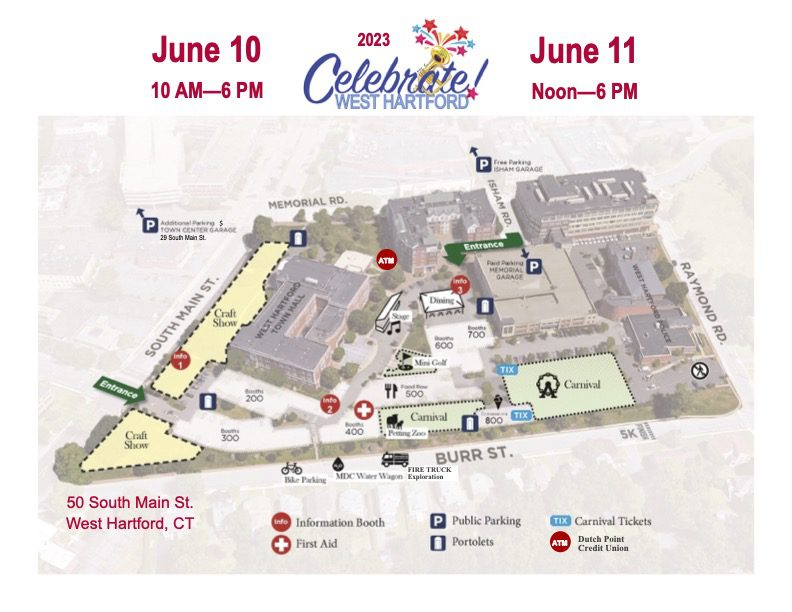 By Ronni Newton
Celebrate! West Hartford has been a not-to-be-missed event in the region since 1987, and has grown from a small town fair to what is now a two-day festival that includes something for everyone.
Now in its 36th year, Celebrate! West Hartford will be held on Saturday, June 10, from 10 a.m. to 6 p.m. and Sunday, June 11, from noon to 6 p.m. on the grounds of Town Hall.
When it began, Celebrate! was a one-day event, but it has now evolved into an award-winning festival that in past years has regularly attracted nearly 40,000 people during the course of its two-day run – town residents, people from throughout Connecticut, and tourists who come to West Hartford specifically to enjoy the great food, fun, music, crafts, and exhibits of civic and community resources that the festival has to offer.
"It will be hard to beat the excitement of returning last year after the COVID shut-down, but this year's event is shaping up to be even bigger and better than ever," said Event Director Linda Geisler. "We have a great lineup of entertainment and artists, sponsors and nonprofit exhibitors who are eager to greet festival goers. Celebrate! is truly a festive tradition for the town and a great way to kick-off the summer season."
Each year the event has something new and different, so even if you have attended in the past, you're guaranteed to find something to spark your interest.
"We're so excited to be co-chairing the Celebrate! West Hartford Committee, and to be supporting the quintessential West Hartford event that brings together our entire community," said Marsha Jacobskind and Elina Tannenbaum.
"On behalf of the Town of West Hartford,, I am delighted to welcome everyone back to town for the 36th annual Celebrate! West Hartford," Mayor Shari Cantor said. "This signature event draws people from all over the region to our town to enjoy the festival and while they are here, to experience first-hand the dynamics that make West Hartford an award-winning place to live. Come and have a great time," she said.
Celebrate! West Hartford is open to the public and is held rain or shine. There is no admission charge and ample parking is available. More information can be found at www.celebratewesthartford.com.
Here's what you can expect to find at this year's Celebrate! West Hartford.
Juried Arts & Crafts Show
Celebrate! West Hartford has developed a national reputation, and master artists and crafters come to Celebrate! West Hartford from all over the country.
This year's show will feature the original works of more than 150 master artists and crafters from all over the country, offering shoppers a diverse variety of fine jewelry, pottery, woodwork, sculpture, textiles, glasswork, art, apparel, and more that can be purchased directly from their creators.
"This year's Arts and Crafts show will bring back longtime favorites as well as welcome new and diverse artists," said Rebecca Holmes, the Arts and Crafts Show Director. "Many of the artists will travel great distances to participate and they look forward to seeing long-time attendees and participating in this popular Connecticut festival. I look forward to my first year as the Arts and Crafts Coordinator and have had several other West Hartford residents who will be first-time vendors."
The Arts and Crafts show will be open on Saturday from 10 a.m. to 6 p.m. and Sunday from noon to 6 p.m. Admission is free.
A list of vendors can be found as a PDF below, has been published on the Celebrate! West Hartford website, and programs listing the artists and crafters, their works, and their locations will be available at Information Booth No. 1 on South Main Street.
Food
Calories don't count at festivals.
Even if you don't start out hungry, the smells coming from the 20-plus food vendors at Celebrate! West Hartford will get your taste buds excited. A selection of yummy dishes range from festival favorites like Grandpa's Kettle Korn, to healthy options, to a variety of desserts and other sweet treats.
Rotary Club will be back grilling hot dogs and hamburgers, as will some other standbys like J's Crab Shack and Harry's Bishops Corner.
West Hartford's Sweet Chili will return with their delicious Pad Thai, fried rice, and other specialties, and will be joined by other local favorites like Hartford Baking Company (giant pretzels) and Fuego Picante.
Come for lunch, stay for dinner. There are more than 100 menu choices in the food court, as well as food like soft serve ice cream and fried dough available within the carnival area! 
Vendors include:
Banh Meee – Pork Banh Mi; Flank Steak Banh Mi; Vietnamese Eggrolls; Wings; Flavored ice tea with boba
Ben & Jerry's – Ice Cream-Dairy & Non-Dairy; Yogurt; Sorbet; Cups & Cones; Toppings
Bromleigh Enterprises – Iced tea and water
Chompers – Fried Two-Bite Balls: Bacon Cheeseburger, Chicken Parm, Taco
Cukoo's Hawaiian Shave Ice – more than 20 flavors and toppings
Flavors – BBQ Jerk Chicken or Pork; Spanish Rice; Fried Sweet Plantains; Corn Fritters; Empanadas
Fuego Picante – Tacos, Quesadillas, Burritos
Futures Inc. – 5 different Iced Teas
Good Ole Boys Lemonade – Fresh Squeezed Drinks: Lemonade, Limeade, Strawberry & Cherry
Grandpa's Kettle Korn – Kettle Korn
Greater Hartford Host Lions Club – French Fries with seasonings; Soda; Water
Harry's Bishops Corner – Cheese, Pepperoni; and Tomato Basil Pizza Slices; Drinks
Hartford Baking Company – Giant Pretzels; Coffee
J's Crab Shack – Lobster Rolls; Fried Clam Strip Rolls; Lobster Mac & Cheese; Poutine
Melt Down on Park – Roast beef sandwiches on bulkie rolls with au jus and toppings
Nothing Bundt Cake – 11 flavors of Bundtlets topped with butter cream cheese frosting
Prime Concessions – Italian Sausage & Cheese Steak; Greek Gyro; Chicken Pita; Chicken Fingers; Footlong Corn Dogs
Rotary Club of West Hartford – Hot Dogs; Hamburgers; Cheeseburgers; Chips
Sultan Kebab LLC – Gyro; Pita; Chicken Gyro; Kebabs
Sweet Chili – BBQ Chicken; Pad Thai; Fried Rice; Spring Roll; Gyoza Dumpling
The Bridge Family Center – Soda and water
The Green Teahouse – Bubble Tea and Iced Tea
U.S. China Chan Cultural Exchange Association – Hot tea
World's Best Sundae, Inc. – Soft Ice Cream Cones & Cups; Cappuccino; Floats
Carnival Rides and Games – plus some fun freebies
Maybe this part should have come before the section about food, but for many young and young-at-heart, the carnival rides are the best part of Celebrate! West Hartford.
The Celebrate Amusement Park includes rides that range from the tame (the ever-popular kiddie cars and swirling tubs) to rides that spin and tilt and whirl for the thrill-seekers and daredevils.
Credit cards will be accepted for purchase of ride tickets.
Young children will enjoy the petting zoo.
Folks of all ages can enjoy the chance to try for a hole-in-one at West Hartford's own 9-hole mini golf course. Each hole of the course replicates a well-known landmark such as the West Hartford Town Hall, the First Church Congregational, Noah Webster House, the Westmoor Park Barn, and a West Hartford fire truck. The course has been spruced up for this year's festival thanks to some local boy scouts and the Old Guard, and it will be lovingly refurbished as part of a larger project prior to next year's Celebrate! West Hartford.
Autism Families CONNECTicut will be back this year with a Sensory Friendly Zone for those on the autism spectrum, or anyone needing a sensory-friendly environment or break from the hustle and bustle of the event.
Many are focused on living a healthy lifestyle – which includes bicycling, and those who choose to cycle to Celebrate! West Hartford can find secure bicycle parking on Burr Street courtesy of Bike West Hartford. There will be no fee, but donations will be welcomed. For more information on Bike West Hartford, visit www.bikewesthartford.org.
Thanks to the West Hartford Firefighters Association who will be back providing first aid for anyone needing medical care. If emergency assistance is required, ask a staff person at any of the three Information Booths to summon help.
Nonprofit and Business Exhibitors
Dozens of nonprofits and other businesses have reserved tent space at Celebrate! West Hartford once again this year. Visitors to the event can stop by the booths to learn more about the organizations.
There are plenty of free activities at the nonprofit and sponsor booths as well, ranging from coloring pages and puzzles, raffles, martial arts challenges, games to win prizes, and loads of giveaways.
The booths are a great vehicle for clubs and other local organizations to engage the community and provide education about the wide range of services available.
"Two different organizations are offering impaired driving simulations," Geisler said. Alliance Highway Safety/CT Highway Safety will have a driving oculus simulator and impaired vision goggles for the public to experience and will also offer a chance to "walk the line" while wearing the goggles. Healthcare Heroes Against Impaired Driving will also have "drunk goggles" at their booth for festival goers to wear while engaging in simple activities such as picking up objects. The public will also be able to wear the goggles while attempting to walk a straight line and in a driving simulation.
Presenting sponsor PeoplesBank will greet festival goers and will be hosting a wandering magician both days.
Berkshire Bike & Board is a new exhibitor for 2023 and will be offering free e-bike test rides.
Other highlights include a Friends of Feeney digital photo booth and LEGO building activities at the NextGen SmartyPants booth. West Hartford Community Interactive will have a live video lab where the public can have their own "green screen" adventure.
Local businesses like School of Rock (which will have a band performing Sunday) and construction companies JD Construction and JP Carroll Construction also have booths at this year's festival.
"The event is a great vehicle for community engagement. People enjoy learning about the wide range of services available to them through nonprofit or business exhibitors," said Geisler. "At the same time, they reconnect with friends from all over town."
The locations of all the activities will be posted on the website and in the Celebrate! West Hartford program that will be available at the Information Booths both days of the festival. 
Music
Music is an important part of Celebrate! West Hartford, and the main stage will feature a variety of entertainment throughout the two-day festival.
On Saturday, the showmobile stage will feature a variety of ensembles from West Hartford's schools, beginning at 10:30 a.m. and lasting through 6 p.m. Sunday's performers include several professional groups offering a wide variety of musical styles.
West Hartford's own School of Rock – a local small business that teaches kids how to play instruments and perform with skill and confidence, will be a key participant in this year's festival.
"School of Rock is thrilled to be part of Celebrate! West Hartford again this year as the Stage Sponsor," said franchise owner Scott Rownin. "School of Rock teaches music through performance, giving our students the experience of playing in a live band on stage. Our house band will be performing on Saturday, from our booth, between each of the local school bands, and again from the main stage on Sunday at 12! Stop by our booth for a free mini-lesson on one of the instruments we teach – vocals, guitar, bass, drums and keyboards, or sign up for a free-trial and be entered in our raffle for a free month at School of Rock!"
The schedule of musical performances (at press time) features:
Saturday, June 10
10:30-11:15 a.m. Sedgwick Middle School Jazz Band
11:30 a.m.-12:15 p.m. King Philip Middle School Jazz Band
12:15 p.m. National Anthem by School of Rock Student Performers
12:30-1:15 p.m. Bristow Middle School Big Band
1:30-2:30 p.m. Northwest Catholic Band and Jazz Singers
2:45-4:15 p.m. Conard High School Jazz Band and Concert Jazz Band
4:30-6 p.m. Hall High School Jazz Band II and Concert Jazz Band
Sunday, June 11
Noon-1 p.m. National Anthem and School of Rock Student Performances
1:30-3:30 p.m. American Honey (New England-based modern country band)
4-6 p.m. Lonesome Eddie and the Bird Dogs (a well known and popular West Hartford-based group of musicians who have built a strong following since they formed in 2007)
Road Races
The FUNd RUNS, which will be held on Sunday morning, June 11, 2023, are part of West Hartford's signature Celebrate! West Hartford two-day outdoor festival – with the named changed from the former "Road Races" during the pandemic to emphasize the charitable nature.
The races traditionally draw great crowds and are one of the most eagerly anticipated parts of the weekend.
Studies continue to find that hitting the road improves your health and well-being, and rain or shine, and more than 1,000 runners are expected to participate in the Celebrate! West Hartford 5K Road Race – one of the most popular competitive races in the area – scheduled for Sunday, June 11. Start time for the 5K is 9 a.m. The 5K is open to runners and walkers of all abilities, ages 6 and up.
Before the 5K, the non-competitive Kids' K for children 10 and under will take place on Sunday at 8 a.m. The course is 1.75 loops around Blue Back Square starting on Raymond Road. Medals will be awarded to all finishers.
Celebrate! West Hartford Event Director Linda Geisler said the 5K attracts many of the region's elite runners vying for a course record as well as others running to break their own person records, kids who have been participating in spring training programs in West Hartford or neighboring towns, people running to support the town's camp scholarship funds, and others just running or walking for fun, to be part of the Celebrate! experience.
Pre-race registration and packet pick-up will be at FUNd Run sponsor Fleet Feet Sports.
More information about Celebrate! West Hartford, as well as online registration for the races, is available at www.CelebrateWestHartford.com. Registration for the 5K is $30 until May 31. Fees increase to $35 on June 1. The Kids'K is $5.
General Information, including Parking, Traffic, and Pets
Key information as well as fun photos will be posted both in advance and throughout the Celebrate weekend on the Facebook page (@celebratewesthartford). Celebrate! West Hartford is also on Twitter with the handle @CelebrateWH and on Instagram (@celebrateweha). Use the hashtag #CelebrateWH with your tweets and photos to keep up with the latest news and information from the 36th anniversary of the event.
Celebrate! West Hartford is open to the public and is held rain or shine. There is no admission charge and ample free parking is available on neighborhood streets and in the Isham Garage (17 Isham Road).
Handicapped parking will be available on Burr Street, and will be monitored by staff.
Due to the large number of people expected to attend Celebrate! West Hartford, event organizers are encouraging through-traffic to avoid the center of town. People coming to the event are asked to consider walking, biking (free bike park on Burr Street), using the bus, or carpooling are suggested.
One final note about your four-legged friends: Although we love dogs of all shapes, colors, and sizes in West Hartford, organizers of Celebrate ask that you please leave them at home.
"Public events are tough on dogs: the hot asphalt (which can cause scalded paws); the hordes of people towering above them; the multiple of smells from the food court, the music and shrieks of delight from the children enjoying the rides, all combine to form an anxiety-producing, sensory overload for your dog," West Hartford Animal Control advised.
Like what you see here? Click here to subscribe to We-Ha's newsletter so you'll always be in the know about what's happening in West Hartford! Click the blue button below to become a supporter of We-Ha.com and our efforts to continue producing quality journalism.