It's a grand night for singing with the West Hartford Women's Chorale!
Submitted
It will be a grand night for singing on Friday, June 9, when the West Hartford Women's Chorale presents their Spring Concert, Universal Song. The concert begins at 7:30 p.m. at the  St James's Episcopal Church, 1018 Farmington Ave., West Hartford. Tickets at the door are $15.
The concert will feature "Song of the Universal" by contemporary composer, Ola Gjeilo. This piece, a musical setting for Ralph Waldo Emerson's poem "Song of the Universe," celebrates the magnificence of the universe. Student musicians from Hall and Conard High schools will provide orchestra accompaniment. Carrying forward the theme of the universality of song, the chorale will also perform classical and gospel pieces along with updated arrangements of well-known favorites.
The West Hartford Women's Chorale is a non-audition chorale for women whose mission is to enhance the community through music performance and education. New singers are welcome to attend two Open Rehearsals in the Fall, on Sept. 5 and 12. For more information about the Chorale, go to www.whwchorale.org. The Chorale can also be found on Facebook and Instagram.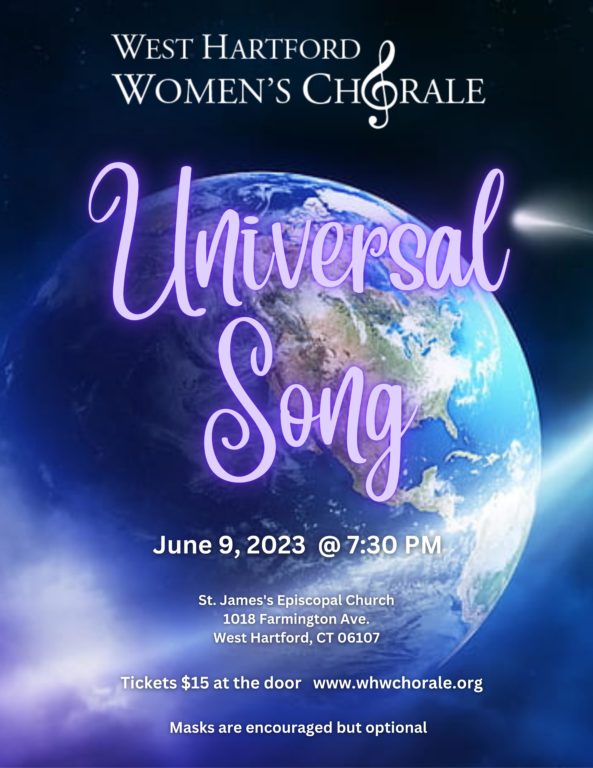 Like what you see here? Click here to subscribe to We-Ha's newsletter so you'll always be in the know about what's happening in West Hartford! Click the blue button below to become a supporter of We-Ha.com and our efforts to continue producing quality journalism.