Test your knowledge of West Hartford history with this 'Thursday Throwback,' courtesy of the Noah Webster House and West Hartford Historical Society.
By Ronni Newton
It's Throwback Thursday (#tbt), and time to take a look back into West Hartford's past to either stir up some memories, reflect on how much things have changed, or both. And if you have no idea, we love the photo captions, too!
I love it when a Throwback Thursday image prompts a lot of comments and reminiscing, and last week's image (at right and in larger size below) certainly did not disappoint!
While many of you thought that this was the Finast in West Hartford Center, those who read the "fine print" on the sign noticed that it said "Elmwood Plaza." And while I personally remember the West Hartford Center Finast (in the spot now occupied by the Town Centre Building that was built in 1990), the Elmwood Finast has been gone for decades.
A few provided details as comments on the story, including Dave Gabriele: "In recent years it has been called the Epstien Plaza – this is across from Gem Jewelry. Where Finast was now houses Pepe's, Subway and the new Elmwood bar [Elmwood Kabab & Bar]. Besides Lee Drug the plaza had Kressges, Modern Hardware, Art's Colthing, a beauty salon, and Elmwood Bakery."
"This is the current strip mall where the Elmwood bakery, Rita's and Pepe's is. In the Finast spot had had also been a sushi restaurant (now a Koreen Bbq) and the Pet store, (now Frank Pepe's)," added MaryKay Balboni.
The comments on made on posts in several Facebook groups are too numerous to post in their entirety, but here are a few highlights: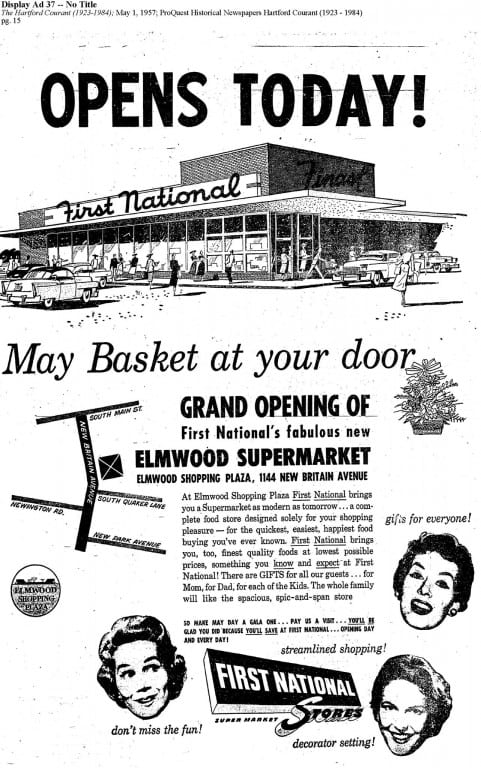 "This was a flagship store. Innovations were the roller system that allowed you to have your groceries delivered right to your car. Also, a live lobster pound, where you could pick out your favorite crustacean to take home. Elmwood was (and is) a hoppin' place!" commented Rick Liftig.
Rick even managed to dig up an ad that appeared in the Hartford Courant about the opening of the Elmwood Finast in 1957!
"Elmwood center where Pepe's Pizza and Subway are New Britain Ave. Remember Lee Drug? We used to walk there to get candy after school at St Brigid School … many moons ago," commented Mary Kate Eanniello.
Liz Blakelock said that when she was a 1-year-old she was in that Finast with her mom on the day in 1963 that John F. Kennedy was shot.
"My brother (Conard class of '59) had his first job at that First National, with the metal bins and tracks. About a dozen years later I worked at the one on Kane Street and then the one in West Hartford Center. We used to shop A&P and First National in Elmwood, then Stop & Shop at Corbins when that opened," commented Eileen Bristow.
Greg Hudak said he played on the "Lee Drug" in Little League Baseball team.
"Elmwood Pastry Shop is still there, as good as ever, too!!" commented Rick Arcand.
Beautyland is also still in the New Britain Avenue plaza, added Jen Dougherty.
Other businesses that some remember in the Elmwood Plaza include Young Set (children's clothing) and Real Prime (Jane Steinmiller recalled their sandwiches and little cups of pudding), Peppermill, and Carvel.
On to this week, with an image (at right and in larger size below) of a West Hartford spot that many of you will surely recall.
Any idea when this photo was taken?
What's in this spot now?
Please share your memories below!
Thank you to the Noah Webster House & West Hartford Historical Society for providing us with the images. For more information about the organization, visit www.noahwebsterhouse.org.
Like what you see here? Click here to subscribe to We-Ha's newsletter so you'll always be in the know about what's happening in West Hartford!