Test your knowledge of West Hartford history with this 'Thursday Throwback,' courtesy of the Noah Webster House and West Hartford Historical Society.
By Ronni Newton
It's Throwback Thursday (#tbt), and time to take a look back into West Hartford's past to either stir up some memories, reflect on how much things have changed, or both. And if you have no idea, we love the photo captions, too!
Last week's photo (at right and in larger size below) was really cool, wasn't it?
This certainly doesn't look like anything that exists in West Hartford today, and although a few people commented on Facebook that they thought this might be a photo of Heublein Tower, it couldn't be because that's not in West Hartford.
Our first comment came from "Newt" (no relation of mine as far as I know!), who had a very good guess: "Air raid watch tower, ww2. Most likely along the rail line in Elmwood near Abbott Ball Bearings."
"This bamboozled me but my husband grew up in Elmwood and got it right off. He said the people on top are 'plane spotting,'" commented Liz Gillette.
Even Rob Rowlson didn't know right off: "Spotting plans for sure…WWII. But where was this…? I've never seen this photo or the structure….WH side of Avon Mt.?"
There were some great guesses on Facebook, too. Lisa Petersen thought it was a fire lookout tower at the Farmington Avenue reservoir. Tom Mahon also thought it was a fire lookout tower at one of the reservoirs.
Jim Rogers thought perhaps a WWII lookout post on top of Talcott Mountain.
John Hogan got the place right, although he was slightly off on the location of the tower. "Vine Hill Farm water tower, used as a spotting point in WW2. Beachland Park area."
Vine Hill Farm was in Elmwood, and although it was owned by the Beach family, the tower was at the corner of New Britain Avenue and South Main Street, in the Brightwood Lane area.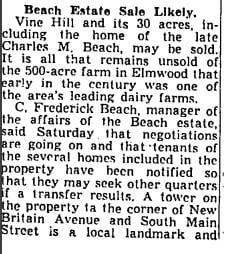 Jeff Murray provided this great newspaper clipping to accompany his comment: "Not sure when it was taken down, but based on this article – July 24, 1948 – it was probably sold off soon after this date and done away with, if not repurposed … Most people are unsure when the farm stopped operating, but there was still farming being done in 1936. It's probably around the mid-1940s that the farm's pasture lands were sold off little by little. I'd wager it was killed off by 1950, since that's when most of the buildings were demolished."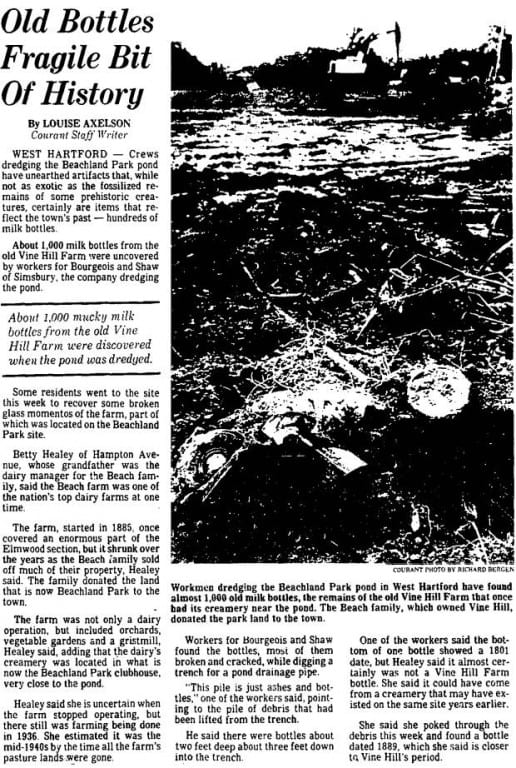 Betty Healey also knew exactly what this was a photo of, because she commented that her grandfather was the farm manager! Jeff, had actually been citing a quote from Betty in his response, and added an image from a Hartford Courant article in 1981 (at left) with those details. The article has been added as a PDF at the end of this column so that people can actually read it.
Rick Liftig, commenting in a different Facebook group, also knew exactly what this was a photo of: "This tower was located on the Vine Hill Farm in Elmwood. It was used during the Second World War as a spotting outpost for enemy planes."
Thank you to all for the insightful comments, and for the clips! I fully intended to go out searching for any remaining foundation of the tower, but it's been either rainy, or really, cold outside, and I never got the opportunity. Plus it may be on private property. Has anyone else found it?
For this week, we have a completely different type of photo (at right and in larger size below). This one is a bit more recent.
Does anyone have firsthand recollections of this fire?
When did this happen?
What was the fate of Sedgwick Foods?
What is in this space now?
Please share your memories below.
Thank you to the Noah Webster House & West Hartford Historical Society for providing us with the images. They are always looking for new images to add to the collection. Visit their website atwww.noahwebsterhouse.org for more information about membership and programs.
Like what you see here? Click here to subscribe to We-Ha's newsletter so you'll always be in the know about what's happening in West Hartford!