Here's a guide to what you need to know about the 32nd Annual Celebrate! West Hartford, the town's signature festival, which will take place on Saturday and Sunday, June 9 and 10, 2018.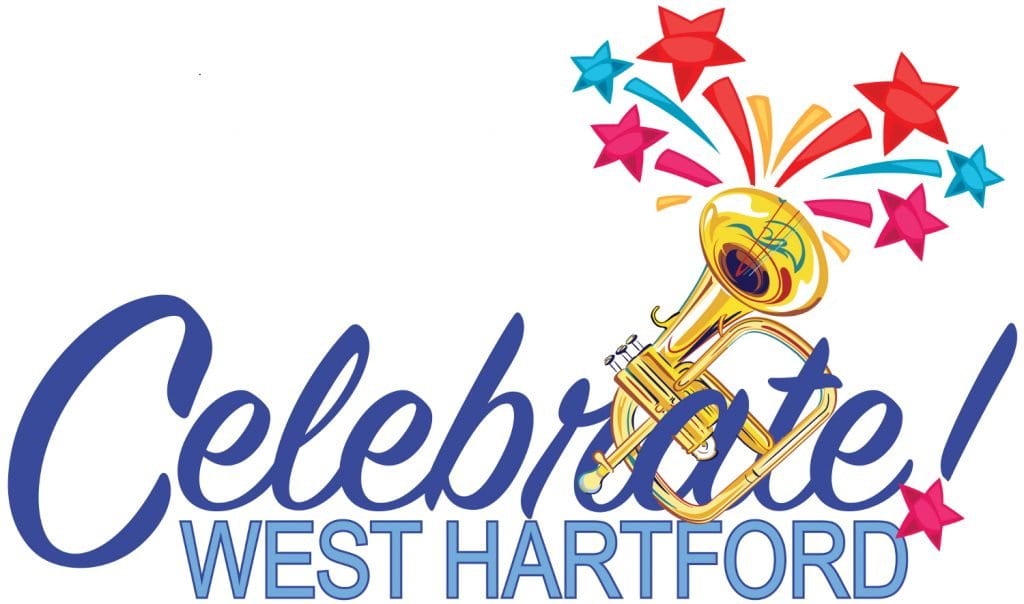 By Ronni Newton
Celebrate! West Hartford has been a not-to-be-missed event in the region since 1987, and has grown from a small town fair to what is now a two-day festival that includes something for everyone.
Now in its 32nd year, Celebrate! West Hartford will be held on Saturday, June 9, from 10 a.m. to 6 p.m. and Sunday, June 10, from noon to 6 p.m.
Celebrate attracts tens of thousands of people during the course of its two-day run – town residents, people from throughout Connecticut, and tourists who come to West Hartford to enjoy the great food, fun, music, crafts, and exhibits of civic and community resources that the festival has to offer.
As event Committee Chair Mary Alexander put it, "Celebrate encourages visitors of all ages and interests to come together to celebrate the quality of life offered in West Hartford."
Event Director Linda Geisler said that even if you have been to Celebrate! West Hartford in past years, you are guaranteed to find something new and different at this year's festival.
"Celebrate! West Hartford captures the essence of this town. We truly have something for everyone," said Geisler. "It is an event families can enjoy year after year and yet have a new experience every time. There is a beautiful synergy that results from bringing together the artists, businesses, non-profits, musicians, great food, and fun activities that makes this festival unique."
Here's a guide, including maps of the site, to what you can expect to find at this year's Celebrate! West Hartford.
Juried Arts & Crafts Show
After 32 years, Celebrate West Hartford has developed a national reputation as one of the top 200 arts and crafts shows, and master artists and crafters come to Celebrate! West Hartford from all over the country. 
"If you're seeking quality gifts for every member of the family, and for friends too, you are sure to find it here," said Barbara Belmont, who supervises the Celebrate! West Hartford Arts Crafts Show. She works hard to ensure a wide variety of offerings and said that all major craft categories are represented among the more than 150 artisans who are part of this year's show.
Award-winning artists and crafters from Connecticut as well as guest exhibitors from several other states will be participating. "We have a wonderful mix of exhibitors who have been with us many years and have developed a strong following, and a great group of new exhibitors who are bringing with them interesting and diverse works," Belmont said.
Many of the crowd favorites continue to return, but at the same time there is fresh talent, with 35 of the vendors new to this year's show.
One of last year's new vendors was "Fresh Start," a Hartford-based training and employment program developed to assist people who have been through a rough patch in their lives and are looking to start over. Participants repurposed pallets into sturdy and distinctive benches, tables, and chairs.
This year, Fresh Start will be back with their garden furniture, but will also be showing off their new product line – "steam punk" lighting and furnishings up-cycled from other discarded items.
Fresh Start's unique offerings will be at the entrance of the Town Hall Auditorium. For more on the program, follow them on Facebook.
New this year will be the Peace Wall, a program of Artists for World Peace, which will be located at the base of the Town Hall Auditorium steps. The 6-inch-by-6-inch paintings that comprise the wall will be for sale, with proceeds supporting the organizations "NATIVE EYES" initiative.
The Arts & Crafts show will be open on Saturday from 10 a.m. to 6 p.m. and Sunday from noon to 6 p.m. Admission is free. Programs listing the artists and crafters, their works and their locations will be available at the Information Booth on South Main Street.
Food
Calories don't count at festivals.
Even if you don't start out hungry, the smells coming from the 24 food vendors at Celebrate! West Hartford will get your taste buds excited. A selection of yummy dishes range from festival favorites like Grandpa's Kettle Korn, to healthy options, to a variety of desserts and other sweet treats.
Rotary Club will be back grilling hot dogs and hamburgers, as will some other standbys like Delicacy Catering, "The Chicken Smells Good," and Harry's Bishops Corner.
West Hartford's Blue Elephant Trail will return with their delicious Pad Thai and other dishes, and new this year are West Hartford businesses Maruichi offering several Japanese selections and NALA's Kitchen with paleo offerings.
Come for lunch, stay for dinner. There are more than 100 menu choices in the food court, as well as food like soft serve ice cream and fried dough available within the carnival area!
Food vendors are:
Banh Meee – Banh Mi Bo, Banh Mi Heo, Bun Thit Nuong, Fried Eggrolls
Ben & Jerry's  Green Monster Cones – Ice Cream, Yogurt, Sorbet, Cups &  Cones
Blue Elephant Trail -Spring Rolls, Chicken Satay, Pad Thai
Bridge Family Center – Stewart Sodas
Chompers – Fried Two-Bite Balls: Bacon Cheeseburger, Chicken Parm, Taco
Delicacy Catering – Pirogies, BBQ Brisket, Pulled Pork and Chicken, Mac & Cheese
F&W Caterers – Sausage & Cheese Steak, Lamb Pita Greek Gyro, Chicken Fingers, Corn Dogs
Good Ole Boys Lemonade – Fresh Squeezed Drinks: Lemonade, Limeade, Strawberry and Cherry
Grandpa's Kettle Korn – Kettle Korn
Greater Hartford Host Lions Club – French Fries and Assorted Drinks
Harry's Bishops Corner – Pizza Slices and Drinks
Hartford Baking Company – Sandwiches, Pastries, Breads, Hot & Iced Coffee
Lorenzo's Italian Ice – Strawberry and Lemon Italian Ice
Maruichi Japanese Food & Deli – Okonomiyaki, Yakisoba, Ramune Soda
Maui Wowi Hawaiian Smoothies & Coffees – Fruit and Coffee Smoothies
NALA's Kitchen – Paleo Asian Tacos, Paleo Green Chili Chi, Paleo Rice Bowl
Qdoba Mexican Eats – Burritos, Burrito Bowls, Nachos
Rotary Club of West Hartford – Hot Dogs, Hamburgers, Chips, Cookies
St. George Armenian Church- Hummos, Stuffed Grapeleaves, Tabuleh, Blinz
The Chicken Smells Good – Chicken Kabob, Bourbon Chicken, Rice, Pasta, Plaintains, Fries, Veggie Rolls
Toasted – Create your own sandwich, cookies
Vinci's Concessions – Fried dough, soda, water
World's Best Sundae – Soft ice cream, cappuccino
Yoshi Kosher Catering – Falafel, hummus, pita, spring rolls
Carnival Rides and Games – plus some fun freebies
Maybe this part should have come before the section about food, but for many young and young-at-heart, the carnival rides are the best part of Celebrate West Hartford.
The Celebrate Amusement Park includes rides that range from the tame (the ever-popular kiddie cars and swirling tubs) to rides that spin and tilt and whirl for the thrill-seekers and daredevils. The traditional ferris wheel provides riders of all ages with a great vista of the Greater Hartford area.
Credit cards will be accepted for purchase of ride tickets.
A favorite with kids and adults, the horse-drawn trolley, sponsored by RE/MAX Premier REALTORS of West Hartford, will offer rides around the site. The trolley begins and ends at the Town Center Garage driveway on South Main Street.
Young children will enjoy the Circle K petting zoo – where they can visit lambs, ducks, and goats.
And speaking of goats, the Yard Goats team mascots – Chompers and Chew Chew – will also be at Celebrate! West Hartford at the Yard Goats booth for photo ops. The booth will also include a blow-up pitching target for people to test their skills.
The Chick-fil-A mascot will help everyone play to win a menu item and Blade, the skating penguin from Veterans Memorial Skating Rink, will show everyone the rink's Zamboni.
Folks of all ages can enjoy the chance to try for a hole-in-one at West Hartford's own 9-hole mini golf course. Each hole of the course replicates a well-known landmark such as the West Hartford Town Hall, the First Church Congregational, Noah Webster House, the Westmoor Park Barn, and a West Hartford fire truck.
The Noah Webster House & West Hartford Historical Society will offer Celebrate! West Hartford visitors a chance to engage in a game of Scrabble – on their giant Scrabble board!
Autism Families CONNECTicut will be back this year with a Sensory Friendly Zone for those on the autism spectrum, or anyone needing a sensory-friendly environment or break from the hustle and bustle of the event. Clinicians and volunteers will be there to suggest a variety of sensory activities that are the cornerstones of their programs, including an area for movement, calming, tactile, and focus.
Hydration is important, and free to bring your own water bottle which can be refilled at the MDC water truck that will be parked on Burr Street, offering free water to everyone. It's also a good option for a quick face wash for your kids – or yourself.
Gold sponsor Cigna will bring its Health Improvement Tour to Celebrate! West Hartford this year! Stop in at the mobile clinic in the sponsor area and obtain a free biometric screening that includes blood pressure, blood sugar, cholesterol, and body mass index (BMI). These key health numbers – the "Core Four" – can help identify risks for major chronic diseases such as diabetes and heart disease. Health coaches will be onsite to help interpret the Core Four numbers and suggest follow-up steps you may want to discuss with your doctor.
Thanks to the West Hartford Firefighters Association who will be back providing first aid for anyone needing medical care. If emergency assistance is required, ask a staff person at any of the three Information Booths to summon help.
Non-Profit and Business Exhibitors
Dozens of non-profits and other businesses have reserved tent space at Celebrate! West Hartford once again this year. Visitors to the event can stop by the to learn more about the organizations.
There are plenty of free activities at the sponsor booths as well, ranging from coloring pages and puzzles, raffles, martial arts challenges, games to win prizes, and loads of give-aways.
The booths are a great vehicle for clubs and other local organizations to engage the community and provide education about the wide range of services available.
The locations of all the activities can be found in the PDF below of the Celebrate! West Hartford program and copies will also available at the Information Booths both days of the festival..
A Challenge
West Hartford's Department of Leisure Services is once again offering the "Step Up to Health" Challenge – with a variety of sponsors at designated booths participating with free, fun, physical activities and a prize to those who complete the challenge.
"This challenge is part of the department's overall 'Step Up to Health' initiative designed to encourage people of all ages to participate in healthy physical activities," said Leisure Services Manager Marc Blanchard.
A map, which will be available all weekend at the Leisure Services tent on the steps of Town Hall, provides a listing of the participating booths.
Meet and Greet with Town Manager and Police Chief
"I'm looking forward to our 32nd annual Celebrate! West Hartford event," said Town Manager Matt Hart. "Celebrate provides a wonderful opportunity for residents of all ages and backgrounds to learn more about our community, and to enjoy great food, crafts, entertainment, music, races, and more! Our new Police Chief Vernon Riddick and I will be greeting people from 2 to 3 p.m. both days. We'll be by the flagpole. Stop by and have a chat!" Hart said.
Music
Music is an important part of Celebrate! West Hartford, and the main stage will feature a variety of entertainment throughout the two-day festival.
On Saturday, the show mobile stage will feature a variety of ensembles from West Hartford's schools, beginning at 10:30 a.m. and lasting through 6 p.m. Sunday's performers include several professional groups offering a wide variety of musical styles. (Descriptions courtesy of Celebrate! West Hartford.)
Saturday, June 9
10:30-11:15 a.m.: Bristow MS Jazz Band
11:25 a.m.-12:10 p.m.: King Philip MS Jazz Band

12:20-1:05 p.m.: Sedgwick MS Jazz Band

1:15-2:15 p.m.: Northwest Catholic HS Big Band & Jazz Singers

2:25-2:55 p.m.: Conard High School Be S#arp

3:05-4:25 p.m.: Conard High School Concert Jazz Ensemble

4:35-5:05 p.m.: Hall High School Jazz Band

5:10-6 p.m.: Hall High School Concert Jazz Ensemble
Sunday, June 10
12:15-1:30 p.m.: GOZA, a seven-piece band featuring two female vocalists. Rhythms include samba, rumba cha-cha, salsa, cumbia, flamenco, tango, bolero, and numbers by Jobim, Tito Puente, Gipsy Kings, Buena Vista, Rollins and Dizzy. The band also plays many originals and arrangements of Beatles, Santana, Stevie Wonder, Van Morrison, Guns & Roses, and more. (http://gozaband.com/)
2-4 p.m.: Jeff Pitchell & the Texas Flood

. 

Jeff Pitchell is a singer/songwriter and guitar player extraordinaire whose sounds blend Stevie Ray Vaughan, BB King, and Jimi Hendrix with his own style. He has won many National and International Awards, and his own song "Eye for an Eye" was recently recorded by the legendary John Mayall. In addition to Jeff on guitar, the band's sax, bass, drums and organ produce a high energy R&B, blues, rock, soul and funk vibe. (

http://www.jeffpitchell.com)
Still Kickin' with the Big City Horns.

This rockin' nine-piece band pays tribute to the great 60s, 70s and 80s horn bands. With a powerhouse rhythm and horn section, they deliver a variety of classic rock, R & B, blues, soul and funk, with a touch of country thrown in to keep the audience moving and grooving. They have performed at "The Big E," and are a favorite at numerous outdoor concerts and music festivals in the region. (

http://stillkickinwithbigcityhorns.com/)
West Hartford Bicycle Advisory Committee Valet Service and Community Bike Ride
The West Hartford Bicycle Advisory Committee (WHBAC) and its grass roots organization Bike West Hartford are teaming up once again this year to offer secure valet bicycle parking on Burr Street throughout Celebrate! West Hartford. There will be no fee for this service, but donations will be accepted.
According to WHBAC committee member Scott Franklin, "The benefits of cycling are significant. By using a bicycle instead of a car, we help to reduce the carbon footprint, reduce traffic congestion and improve personal health." For more information, visit http://www.bikewesthartford.org
New this year, Bike West Hartford also has organized a free bike ride for children and adults that begins at 7:30 a.m. on Sunday.
The bicycle ride will start on Raymond Road in front of the West Hartford Police Station and end on Burr Street. The ride is open to children and adults of all ages, but children age 10 and under must be accompanied by an adult.
The bicycle ride will be on the same 5K route as the running races which take place later in the morning, but will not be a closed course for the ride.
All riders must wear a bicycle helmet. Tricycles and bicycles with training wheels are not permitted.
This is a free ride and there is no registration required. Donations to Bike West Hartford, Inc. are welcome.
Contact [email protected] or visit www.bikewesthartford.org for more information.
Road Races
Studies continue to find that hitting the road improves your health and well-being, and rain or shine, approximately 1,000 runners are expected to participate in the Celebrate! West Hartford 5K Road Race, scheduled for Sunday, June 10, at 9:30 a.m. 
Before the 5K, the ninth annual Kids Fun Run will take place on Sunday at 8:30 a.m., with kids ages 10 and under running a half-mile course from Blue Back Square to Burr Street. Medals will be awarded to all finishers.
Free t-shirts, with a brand new design created by a West Hartford student, will be available to the first 600 runners who register for the 5K. The t-shirt design winner is Taj Newman from Conard High School, and was revealed on Wednesday.
The 5K Road Race is directed by the Hartford Track Club, sanctioned by the RRCA, and certified by the SAT. There are competitive divisions for males and females in age groups starting with ages 10 and under, and ending with ages 80 and up. There is a wheelchair division, and walkers and runners with joggers are welcome. Prizes are awarded.
"The 80-plus division was added [to the 5K] last year because more folks are running longer in life – it's a great, healthy trend," noted Event Director Linda Geisler.
Runners can register online at www.CelebrateWestHartford.com by 11:59 p.m. on June 7, in person at Fleet Feet (1003 Farmington Ave.) on June 8 from 3-6 p.m. and June 9 from 9 a.m.-noon, or on June 10 (race day) at 8 a.m. in the West Hartford Town Hall parking lot.
Day-of-race registration and the post-event celebration and awards will be held in the festival dining tent on Town Hall grounds.
Proceeds from the race will benefit West Hartford's Leisure Services Scholarship Fund, which subsidizes summer camp tuition, swimming lessons, and other year-round recreational programs for children in need.
General Information, including Parking and Traffic
Celebrate West Hartford joined Facebook in 2014, and key information as well as fun photos will be posted both in advance and throughout the Celebrate weekend. To find Celebrate on Facebook, click here. Celebrate West Hartford is also on Twitter with the handle @CelebrateWH and on Instagram (@celebrateweha). Use the hashtag #CelebrateWH with your tweets and photos to keep up with the latest news and information from the 32nd annual Celebrate West Hartford event.
The Town of West Hartford and Celebrate West Hartford continue to promote recycling event-wide. Refuse and recycling barrels are available in pairs throughout the event to make recycling an easy choice. Blue barrels clearly identified as recycling receptacles can be used for all single stream recycling items in addition to the typically-recycled bottles and cans. West Hartford continues to be a leader in recycling in Connecticut.
Celebrate West Hartford is open to the public and is held rain or shine. There is no admission charge and ample free parking is available on neighborhood streets and in the Isham Garage (17 Isham Rd.). Handicapped parking will be available on Burr Street, and will be monitored by staff.
For more information about parking, click here.
As you walk from the garage to Celebrate! West Hartford, consider stopping by the pavilion in Blue Back Square to enjoy performances from the West Hartford Youth Music Showcase, the West Hartford Youth Ballet, the Ballet Theatre Co., and Auburn Mode.
Due to the large number of people expected, event organizers are encouraging through-traffic to avoid the
center of town. Walking, biking, taking the bus, or carpooling are suggested.
Burr Street will be closed to vehicular traffic on both Saturday and Sunday. On Sunday, Raymond Road will be closed between 8:15 a.m. and 10:30 a.m. for the 5K Road Race.
Like what you see here? Click here to subscribe to We-Ha's newsletter so you'll always be in the know about what's happening in West Hartford!