Derek Slap was sworn in Friday as state senator for the 5th District, and Gov. Ned Lamont has set the date for the special election to fill the 19th District State House seat that Slap has vacated.
By Ronni Newton
West Hartford resident Derek Slap, who was victorious in a special election for the 5th State Senate District on Feb. 26, was sworn in Friday afternoon.
"For two decades I've had an interest in public policy and in making life better for people whose concerns might otherwise be overlooked. Today I've taken another huge step in that journey," Slap said at the ceremony.
"I want to thank the residents of 5th District who put their trust in me, and I want to let them know that I'll be working every day with their best interests at heart. I also want to thank my wife and my family for their steadfast support, which makes my legislative work possible."
Slap, who was endorsed by the Democratic party to run for the seat left vacant when Beth Bye was named to head the Office of Early Childhood, will now represent nearly 98,000 residents in the 5th District, which includes all of West Hartford and Burlington, and portions of Farmington and Bloomfield.
Slap formerly served as state representative for the 19th District, which includes portions of West Hartford, Farmington, and Avon. He resigned that seat Friday.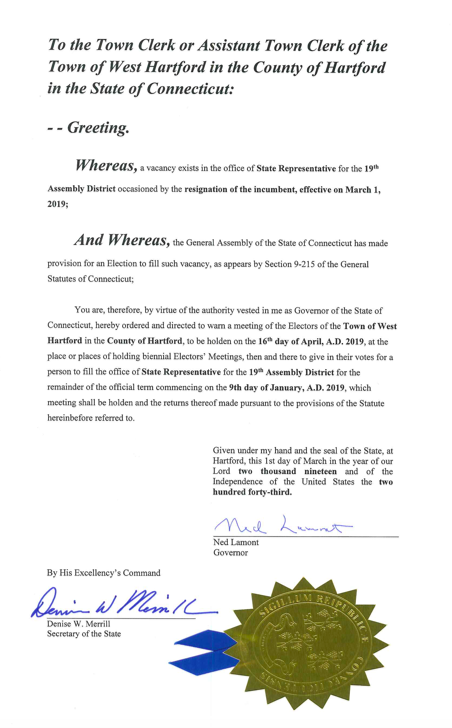 Gov. Ned Lamont on Friday called for a special election in the 19th District, with the date set as Tuesday, April 16, 2019. The governor is required by state law to issue a writ of special election within 10 days of a vacancy in the General Assembly, and the special election must be held exactly 46 days after the date the writ was issued.
West Hartford resident Tammy Exum, a Democrat who formerly served on the West Hartford Board of Education, including as vice chair, has already declared her candidacy for the 19th District seat.
West Hartford Democratic Town Committee Chair Jonathan Slifka said that he is not aware of any other Democrats who plan to pursue the seat.
Dennis Swanton, chair of the West Hartford Republican Town Committee, said Sunday that the party does not yet have a candidate planning to pursue the seat.
Slap, who lives in West Hartford with his wife, Alex, daughters Maggie and Zoe, and son, Charlie, is CEO of the Connecticut Technology Council, an organization that supports the growth of technology activity throughout the state. He is a graduate of Syracuse University and has an MBA from the UConn School of Business.
Like what you see here? Click here to subscribe to We-Ha's newsletter so you'll always be in the know about what's happening in West Hartford!