West Hartford's Hall High School has introduced a new 'Warrior' image.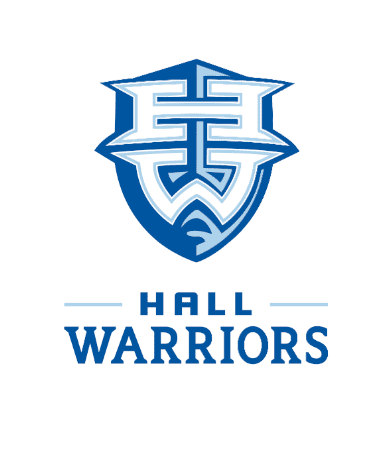 By Ronni Newton
Hall High School unveiled its brand new "Warrior" image last week, following the West Hartford Board of Education's directive that the school officially eliminate all Native American imagery.
"We're really excited about it," Principal Dan Zittoun said. "It represents a lot of hard work by our committee of parents, students, coaches, and teachers."
Zittoun said that the final image was created by Richard Hollant of CO:LAB, with plenty of input from committee members. The process began in May with a brainstorming session that included a discussion of what the committee considered to be "Warrior" values, such as honor and integrity.
The ultimate design, which evolved after many drafts were shared via email, includes the letters "H" and "W" in a strong masked face.
"I'm really excited to personify the ideal of a warrior," Zittoun said. "We're really excited about our mascot."
The new design will serve as the school's mascot, and will become one of three images Hall plans to use on official signage and uniforms. The crest, which appears on the school's exterior sign on North Main Street, will be retained, Zittoun said. The block "H" will also be used for certain items.
Zittoun said that it's likely too late to use the new mascot image on any fall uniforms, but that maintaining existing uniforms would not be a problem because the school had already eliminated its Native American mascot in 2012.
"We're in a good place because we're not trying to replace any Native American imagery," Zittoun said.
The coaches will incorporate the new image onto uniforms as they are replaced in accordance with the normal cycle of obsolescence, he said.
Zittoun said that he got plenty of positive feedback when he first posted the new image on Twitter. Although some people are resistant to the change, he said he likened it to the Hartford Yard Goats which received criticism at first but quickly became popular with merchandise in hot demand.
Zittoun said he expects students to embrace the new image – including the student fan club formerly known as "The Reservation." A new name for the group, which has not operated as an officially-sanctioned club, has not been determined, but Zittoun said that students are on board with changing the name.
There are not yet plans to create a mascot costume for a Hall Warrior based on the new image, but Zittoun said that anything is possible. "Right now our priority is getting the student fan club up and running," he said.
Conard High School has also adopted a new logo, which was unveiled when a new sign was installed at the school on July 29.
Like what you see here? Click here to subscribe to We-Ha's newsletter so you'll always be in the know about what's happening in West Hartford!