West Hartford's Conard High School held its 2022 commencement ceremony on the grounds of the school on June 14, 2022.
By Baylee Krulewitz. Photos by Ronni Newton
Sweaty and a bit weary from the sun, soon-to-be Conard grads reached under their chairs at the instruction of Ramona Puchalski-Piretti, the faculty member selected to give the address to the class. 
There, each of the 363 students found a personalized letter from various Conard staff members, a special celebration for the Class of 2022. This sweet gift capped off a remarkable evening of joy and love for the seniors as they move on to whatever post-secondary life may bring them.
Senior members of Conard's different choirs sang several songs throughout the evening, including the Conard Alma Mater, Alanis Morissette's "You Learn," and the National Anthem. The National Anthem was enhanced this year, as for the first time Conard had students translating the song into American Sign Language while the choir sang. This new development reflected the themes of inclusion and pride discussed in the speeches.
The first speaker was Quinn Moynihan, Conard's class president. Moynihan highlighted the supreme perseverance of this graduating class, saying "More than half of our time in high school has been impacted by the ongoing pandemic. We've all had a unique experience, and we've gone through it together."
She reflected on this past year, grateful for the fact that students experienced at least some degree of normalcy. 
Moynihan's speech ended with a sincere congratulations to all the graduates and a message of praise for all that they've accomplished.
Next to speak was Jamahl Hines, Conard's principal – his first graduation ceremony since getting this job, Hines delivered a speech peppered with personal connections and appreciation for the seniors. 
He noted the importance of parents celebrating their childrens' successes. "I practice what I preach," he said. "I flew my mother, Ms. Haywoodene Hines, here from Rock Hill, South Carolina for this event 'cause I need my momma here too!" 
In an emotional message about uncertainty and growth, Hines recalled the times in the past when he sat on the Conard graduation stage, watching other people giving speeches and being thankful it wasn't him. Now, he said, "Isn't it funny how life responds when we make proclamations like that?" 
He's experienced many personal changes since he sat on that stage in the past. With racial tensions high and a pandemic throwing the world into unpredictability, Hines said he "​​felt emotionally paralyzed." Yet, the class of 2022, with their passion, kind hearts, and activism propelled him back, leading Hines to a trust in courage, inspiration, and togetherness. 
He ended his speech with a message of gratitude to the graduates: "Thank you for your humanity."
Superintendent Tom Moore, speaking for the final time in that capacity as he prepares to depart for a job in the Chicago area, gave a brief but powerful speech about outlook. He started off by asking a simple question to the audience: "Are you someone who counts their blessings or tallies their slights?" 
Moore declared that it's important graduates surround themselves with optimists, with those who count their blessings. He instructed the class of 2022 to choose wisely, and to use their gifts.
Board of Education member Clare Neseralla commended the graduating generation, saying it's one that "accepts the other, celebrates diversity, and not only believes in inclusion but puts it into action." Resilience and problem-solving abilities are qualities that Neseralla applauded in this class – a group that includes the last of the students she taught at Duffy Elementary School. 
Neseralla reminded the audience of a beloved tradition where seniors receive a letter written by their fifth grade selves, remarking just how much they've achieved since then. Finally, she urged graduates to use their voices, with an influential quote from her mother: "I hate it when I don't get what I don't ask for." 
Class commencement speakers featured two graduates who were selected by a committee. 
Agatha Stephany Dias Pinheiro spoke about her early life living in Brazil, and then moving to America in 2010. She told of her Tio and his "quiet way of loving and caring for me." Pinheiro then discussed her difficult move to America after her father's death, with funny quips about the experience like "Even the food was scary; you all eat milk and cereal for breakfast – what a strange thing." 
Pinheiro's eventual empowerment was a key part of the speech, but this empowerment only came after dark times: "I have had incredible moments of heartache that impacted my life a lot but I have chosen to allow them to only help me grow," she said. She used this learning experience to tell the audience that personal wins often come from hardships, and the graduating class has dealt with plenty.
The audience erupted into cheers when Pinheiro announced: "Today I am going to be the first person in my whole family to go to college, as I believe many of you can relate. There have been a lot of firsts in my life." 
Then, she handed it off to Lily Kluskiewicz, the next student speaker. 
With a personal tale of of what she considered an unsatisfactory grade on a first grade report card (a "P"), Kluskiewicz emphasized a theme of not dwelling on what we cannot change. She instead recommends using past missteps or misjudgements to help improve character. While no one can "pick up a clock and magically turn back the time to study more, not argue, be more outgoing, or push yourself harder," Kluskiewicz acknowledged that people can continue to blossom. 
She ended with a simple question to the grads: "So, four years at Conard High School, what are you going to do with it?"
The final speaker was English teacher Puchalski-Piretti, who piloted the letters-under-the-seat idea. In her speech, she reinforced the idea that while graduates are moving on, their time at Conard is certainly fundamental, as her time teaching there has provided useful insight. 
With that, she dove into six critical things people at Conard have taught her – urging members of the Class of 2022 to be enthusiastic, hold on to their childhood wonder, stay steadfast to one's community, trade smiles, stand up for what's right, and have hope. She related all these points back to the tight-knit Conard community, and the potential that each graduating senior has.  
Puchalski-Piretti ended with an ask: "Conard Class of 2022: be good, be kind, be useful, be fearless." This ask was a nod to the fact that these graduates are the future. They are the ones who will lead the world. They are, in Puchalski-Piretti's words, "our embodiment of HOPE."
To end the ceremony, the names were read, the diplomas were handed out, the tassels were flipped, and the caps were tossed. Conard's class of 2022 has officially graduated, and they're off to shake up the world. 
A complete list of the Conard Class of 2022 can be found below the photos.
Congrats to the @ConardCHS Class of 2022!! #WestHartford #WeHa pic.twitter.com/Xl2gqRBPGf

— We-Ha.Com (@WeHartford) June 14, 2022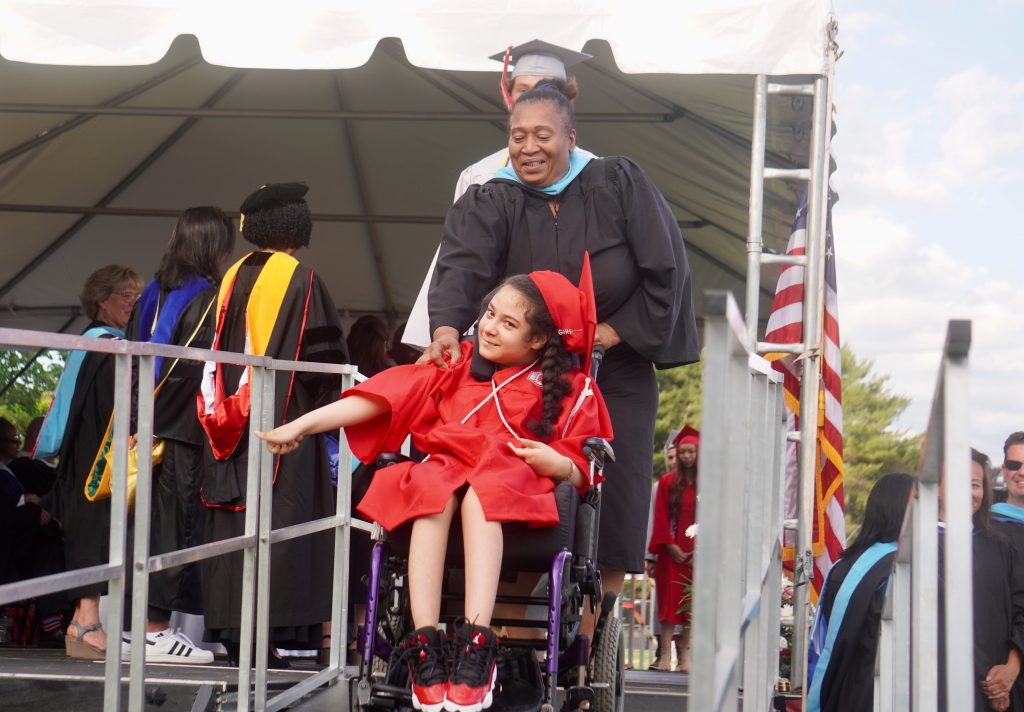 Like what you see here? Click here to subscribe to We-Ha's newsletterso you'll always be in the know about what's happening in West Hartford! Click the blue button below to become a supporter of We-Ha.com and our efforts to continue producing quality journalism.
Conard High School Class of 2022:
Rasheed Rahmir Abdullateef
Lily M Agosta
Lucas C Agosta
Usman  Ahmed
Daniel Gennaro Aliberti
Cameron Nicholas Almodovar
Jayden Luis Alvarez
Sebastian Alexander Antepaz
Emma Grace Aponte
Harrison James Arcand
Joy Callie Armstrong
Jude Glynn Ashworth
Caroline Grace Austin
Chandika Deveena Bachan
Beau Karaban Bacon
Hugh Bryce Baldwin
William Anthony Ball Jr
Erik J Baronian
Matthew Robert Bates
Grace Ann Beazoglou
Neil Haresh Beckles
Evan Jonathan Belabe
Leonne  Benita
Rebecca  Bereta Reis Gomes
Alexandra Kai Bernstein-Naples
Samantha Quinn Bernstein-Naples
Jazira  Betts
Aashni Samir Bhatt
Chinmay  Bhatt
Nicole Maria Bienasz
Dustin Rey Mayol Binalla
Henry Charles Bissonnette
Cheili Honorah Bond
Daequan Tyrell Boomer
Gabriela E Boucher
Grace Fernand Boulton
Abdul Marvin Boynes Jr
Madeline Grace Brennan
Sophia Pearl Brites
Bridget McCormick Bronsdon
Molly Elizabeth Brown
Owen Alexander Brown
Theodore Johanson Brown
Mia Katherine Burns
Aidan Josef Buyak
Kimberly Victoria Cabello
Maria  Angela Capati
Alysha Kristal Caraballo
Christopher  Cardona
Victoria  Cardoso De Freitas
Maximillian J Carney
Josephine Wei Carreras
Alexander Rivera Castillo
Emily G Castillo
Ismael Amir Castillo
Nicholas Cristian Cernatescu
Jasmine  Chanthavong
Andrew Patrick Chen
Eric  Chen
Ethel  Chen
Manuela  Chiele Daumling
Natalie Val Chin
Lucas John Chmela
Trevon Lequan Collins
Jack Dennis Correia
Arelys  Cosme
Jillian Rose da Costa Pinto
Jacqueline Thi Dam
Aaryan Naresh Daswani
Benjamin Staige Davis
Niyah Najei Davis
Jaydin Javier De Jesus
Shelby Noel Deep
Kaleb  Dejesus
Elizabeth Matthews Delaney
Sybella Elizabeth DeMeo
Thomas Hayes DeMeo
Tyler Aaron Denault
Rachel Elizabeth Deren
Andrey  Dermendzhiev
Julia Madeline Descy
Brian Joti Dhandili
Klara Aliqi Dhandili
Agatha Stephany  Dias Pinheiro
Holly Jean Dillon
Walker Fredrick Disque
Margaret Ellen Dollar
Morgan Taylor Dorsey
Brian Christopher Fehl
Nona Marie Ferney
Francisco Pedro Ferreira
Daniel  Ferreira Teixeira
Daniel Andres Ferrer
Kaleb Jarell Ferris
Katherine Marie Flaherty
Kathryn Rose Flowers
Grace Catherine Flynn
Joseph Flanagan Foley
Sara Madelyn Fritz
Joshua Robert Frost II
Daniel Joseph Gallagher
Sarah Catherine Gallagher
Nathan James Gallo
Havyn Gabrielle Ganci
Alessandro Gomin Gaudio
Lauren Nanami Gauvin
Natalie Jean Gavalis
Bridget Shannon Gearty
Dwayne Antonio Genus
Rebecca Catherine Gerard
Jacob Jay Gerrier
CC Elizabeth Gfeller
Clare Murphy Gillis
Abigail Barbara Gionfriddo
Kent Peterson Goerner
Andrei Baker Golli
Christina Puja Gomes
Anibell Rose Goncalves
John Anthony Gonzalez Molina
Brayden James Grainger
Lydia Canales Griffin
Kallie Lucinda Elena Guerraz
Bodhi  Gurung
Jack Thomas Gustafson
Zachary David Haimes
Jalen Lebron Hamblin
Jonathan Gilbert Hanse
Ethan William Hardesty
Julian James Hart
Sophie A Hart
John Ivar Haslun
Katharine Rhodes Haslun
Warda M Hassan
Oliver  Held
Sam James Heller
Brayden M Hendsey
Christopher David Hill
Dawson Dequan Hill
Julia Rose Hosek
Cameron Dewalt Hoskins
Neil Sager Hoskins
Jack Richard Hoye III
Jeffrey David Hubbard
Emma Elizabeth Hursey-Durant
Luke Thomas Hyland
Carlos Enrique Irula
Mikolas Ignas Jalinskas
Ava Elizabeth Jarvis
Melanie  Javier
Jonathan  Jimenez Jr
Akshat  Juneja
Daniel Abraham Kamin
Zahava  Kandel
Nicholas Andrew Kane
Gurleen  Kaur
Jack Ryan Kennedy
Andrew John Killoran Jr
Kevin Ryan Kirklin
Lily Jane Kluskiewicz
Bruci Marcelle Knight
Samantha Carrie Kramer
William Winfield Kuhnly
Sophia Maria Kuoch
Andrea Olivier Laborde
Landon Reed Lagana
Peter Gilman Langevin
Emonie Fatimah Laurent
Cathy V Le
Kyle Tuandat Le
Lara Eduarda Lessa
Charles Mercer Lewis
Sally  Lin
Andrea Flavia Loftus
Marina Angela Loftus
Israel Jacob Lopez
Annie Bymell Lopez-Lopez
Dez'Ray Aleidy Lugo
Sophia Joan Lynch
Xavier Joel Madera
Andrew David Maglio
Safal  Mahat Chhetri
Jack David Majewski
Cristiandel  Maldonado
Amelia Melania Mallach
Hannah Rae Mallinson
Maggie Elizabeth Mancini
Hannah Elliana Mark
Shirah Simcha Mark
Nicolas Javier Martin
Trinity C Martin
Janelle Maria Martinez
Maya  Martinez
Steven Anthony Mascolo
Kaitlyn Helena Mayuri
Tyler Lee Pereira McCabe
Julia Beaudry McCue
William Freedman McPherson
Andrew James Messina
Taylon Cabral Miller
Nith  Mony
Bridget Anneliese Mooney
Angelina  Morales
Martin William Cooligan Moran
Adam Charles Morhardt
Allyson Ruth Morozuk
Gustavo Angel Moya Tavarez
Samara LoRae Moyer
Allison Lynn Moynihan
Anna Quinn Moynihan
John Joseph Mozonski
Cielo Mia Munoz
Lidyana Rose Nadeau
Syed Mohammad A Naqvi
Daniella  Nascimento
Deven F Nastri
Samyukta Ramani Natarajan
Amelia F Neal
Darius Derek Negron
Leah Carolin Nelson
Mackenzie Lynne Neville
Brandon  Nguyen
Cynthia Tam Nguyen
Duy Hao  Nguyen
Juliette Elyse Nguyen
Kevin H Nguyen
Nam Hoai Nguyen
Ryan  Nguyen
Anthony Jude Nicholson-Gauvin
Pamela Masiel Nolasco Serrano
Ryan Timothy Norcia
Charlize  Ntiamoah-Larbi
Uzodinma Okechukuu Nwachuku
Griffin Andrew O'Connell
Taaliah Cecelia Ogountola
Sarah Christine O'Leary
Ibukunoluwa Esther Oluwasina
Jairilyn Cindy Ortiz
Lauren Elizabeth Palaia
Maya Prafulla Palanki
Michael Arthur Parizo
Mikel Raymond Parizo
Nyssa D Park
Casden Dean Parker
Krish Pritesh Kumar Patel
Krishna Raju Patel
Ava Seaver Patrissi
Griffin Thomas Paulus
Sophia Evelyn Pegolo
Thales  Pereira Dos Santos
Maxmilian Gabriel Petropoulos
Maya Elizabeth Petterson
Evan Mcleod Sayers Phillips
Lila Helen Pierce
Isabella Clare Pincince
Katherine Elizabeth Powers
Peter William Priester
Kaitlyn Rose Puleo
Carly Anya Rabinovich
Connor Joseph Reardon
Nora Catherine Reardon
Christian G Requenes
Megan Catherine Richards
Ashley Marie Rivera
Elijah Emanuel Rivera
Emily  Rivera
Joshua Alexandre Rivera
Ricardo Gabriel Rivera
Kevin Chandler Roach
Matthew Soo Bin Roach
Harrison Gray Roberts
Lowen Jaye Roberts
Isabel Grace Robertson
James Marin Robinson
Bailey Eliza Robson
Alex  Rodriguez
Gustavo  Rodriguez
Marvin Joel Romero Sanchez
Jocelyn  Rosa
Samuel Luc Rosa
Alexander Quinn Rosenthal
Maximilian Simon Rothfarb
Aidan John Roy
Carlos Manuel Ruiz
Jake Thomas Samela
Matthew Trudell Sampt
Taylor M Santana
Emilia Lee Santiago
Rebecca Jensen Santos
Isabella Catherine Sardilli
Emma  Sasonov
Helaine Elizabeth Sauter
Andrew Justin Savage
Connor Patrick Schulken
John Philip Schulz
James Thomas Scully
Kevin Brian Selph
Graydon Tyler Selstad
Aiden John Shaughnessy
Victoria Ann-Marie Shaw
Callum Elliot Sherry
Gavin Patrick Sherry
Kevin Andrew Shreenauth
Rijesh  Shrestha
Alejandro Eliasib Sical
Beatrice Malena Sierra
Eliana Michal Singer
Molly Rose Singer
Margaret Adams Slap
Connor Francis Smith
Declan Harry Smith
Julius Ali Smith
Zigmond William Sokolowski Jr
Ethan Francisco Soler
Maria  Sotomayor
Ellie Jackson Soucy
Mekhi David Spence
Emily Katherine Steadman
Grace Anne Sullivan
Mia Rose Sullivan
Alyson Veronica Sutliff
Harrison Michael Sweeney
Emma Sophia Sweeney
Ella Marie Tanis
Benjamin Daniel Tartaglia
Thomas Andrew Tarutin
Luisa  Tavares Temponi
William Hampton Teed
Laila  Temraoui
Elizabeth Mary Thibault
Vivian Dorothea Thompson
Chanel Maylina Thorpe
Ethan  Tirado
Ellie Foy Toland
William Peter Tonkinson
William Eric Tousignant
Eli Patrick Towey
Loc My Tran
Tia Gia Trang
Madison Concetta Valdez
Abner Abdiel Vega
Ella Noga Veiner
Ralph Richard Velasco
Eziah Daniel Velazquez
Rohan  Venkatesh
Emma Antoinette Vernile
Xavier  Vesci-Williams
David Richard Virgo
Jordan Joseph Virola
Jason Thomas Vitelli
Phuong Nghi Vo
Luke Henry Wadsworth
William Joseph Walsh
Michael Gehrig Weiss
John Henry Wenz
Ryan Daniel West
Kaili Jayne Whitmer
Allison Helen Wilcox
Cecilia Louise Williams
Kimberly Faith Williams
Zoe Marie Wojciechowski
Colin John Wright
Kiley Anne Yepes
Kellie Teresa Yezza
Lauren Victoria Zaborowski