The West Hartford Center and Blue Back Square Holiday Stroll is Thursday, Dec. 5, from 5 to 8 p.m.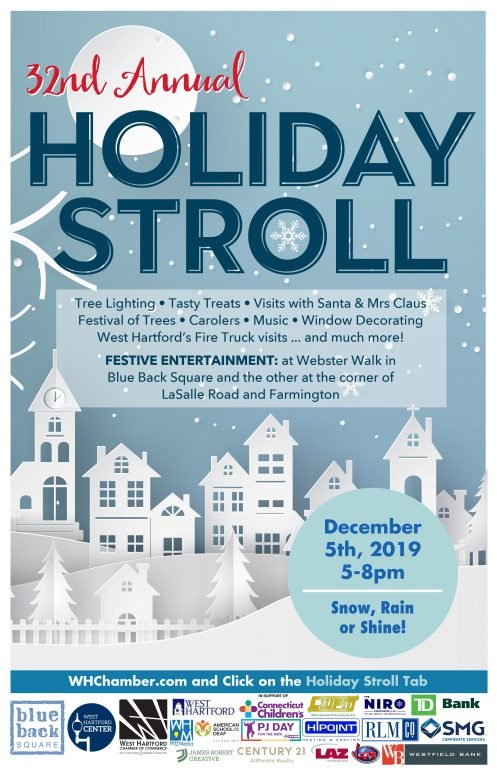 By Ronni Newton
The holiday season is upon us and the 32nd annual Holiday Stroll in West Hartford Center and Blue Back Square will return Dec. 5, bringing that festive magic to town with a classic New England-style festival that includes a tree lighting, tasty treats, horse drawn carriage rides, visits with Santa, a tree festival, carolers, music, and even a chance to climb inside a fire truck.
"In collaboration with Blue Back Square, The West Hartford Center Business Association and the town, the West Hartford Chamber of Commerce is proud to be one of the organizations that brings this wonderful community celebration to West Hartford Center. The 32nd annual Holiday Stroll is sure create fond memories that will last for years to come," said Jessie Bouclier, member services coordinator for the Chamber and one of this year's event organizers.
Entertainment for people of all ages will be showcased on stages at Webster Walk in Blue Back Square as well as the showmobile at the corner of Farmington Avenue and LaSalle Road.
Performing at Blue Back Square will be Conard High School's a capella group Be S#arp, L'Shir A Capella, Urban Hope Refuge, Ballet Hartford, and Sweetest Key. 
Strollers will be entertained in the Center by the Schechter Singers Choir, Ballet Theatre Company, Trinity Trintones, Farmington Avenue Music Academy, and a sneak-peak of "Merrilee Mannerly" by Playhouse on Park. ASL translators will be at select performances, a service that will be provided by the American School for the Deaf.
Mascots from local sports teams will also be strolling, and posing for photos with fans.
Other highlights include the Festival of Trees at First Church West Hartford, 12 South Main St., where an eclectic display of trees has been decorated by local businesses, organizations, and individuals.
A menagerie of animals from the Children's Museum will be temporarily taking up residence at Kaoud Oriental Rugs (17 South Main St.), and would love to be visited by strolling guests.
The Center and Blue Back Square merchants will be fully decked out in holiday style, with beautiful and creative window displays.
Isham Road in Blue Back Square will be closed off to vehicles, and instead stroll-goers can board a horse drawn wagon for a ride throughout the area.
Connecticut Children's will be sponsoring activities including caricatures by Bonnie Sullivan and face painting by Jenna Rodriguez, the Face Painting Mama. Representatives will also provide information about Connecticut Children's "PJ Day for the Kids," a fundraising opportunity for students and business partners across the state to support patients.
The 32nd annual Holiday Stroll is appropriate for people of all ages, and is made possible by by the West Hartford Chamber of Commerce, Blue Back Square, West Hartford Center Business Association, WH Media, and the Town of West Hartford.
Generous support has also been provided by the following sponsors: American School for the Deaf, Century 21 All Points Realty, Connecticut Children's, CWPM Waste Removal & Recycling Services, Hipoint Heating & Cooling, James Robert Creative, LAZ Parking, The Niro Companies LLC, RLM Co., SMG Corporate Services, TD Bank, Turnpike Motors Autobody, and Westfield Bank. 
For up-to-date information, visit the West Hartford Chamber's website and click on the "Holiday Stroll" tab.
Like what you see here? Click here to subscribe to We-Ha's newsletter so you'll always be in the know about what's happening in West Hartford!