Mayor Shari Cantor, in her annual address at a sold-out West Hartford Chamber of Commerce luncheon Tuesday, reflected on the town's past and provided an optimistic outlook for the future of the town and the region.
By Ronni Newton
West Hartford Mayor Shari Cantor took a creative journey through West Hartford's past set to some theme songs from the past decade, as she lauded accomplishments and spoke optimistically about what the future should hold in a town that is a "star among Connecticut towns."
Addressing an audience of more than 200 – a sell-out crowd – at at the Chamber of Commerce's annual State of the Town luncheon Tuesday at the Delamar West Hartford Hotel, Cantor provided the business community with her vision for the town's future as well as a look back not just at the past year, but at how the town has changed over the past decade and the past century.
Goyte's "Somebody That I Used to Know" played in the background as Cantor noted that "2020 always seemed so futuristic to me."
The turning of a new decade "gives us pause," Cantor said, and she also took the opportunity to look back at the past century "to remember all those who made improvements that we all enjoy today," and to highlight how much the town has changed in the course of 100 years.
In 1920, West Hartford had a population of 8,854; today the population is seven times that.
The mill rate was 15 – but by the following year was 18 – and is 41.80 today.
The town budget in 1920 was $410,791; this fiscal year it was $296.5 million.
The education budget in 1920 was $122,495; this fiscal year it was $168.8 million.
The grand list was $21.4 million, and today it is more than $6.3 billion.
In 1920 there were three police officers in the newly-formed West Hartford Police Department, which will celebrate its centennial this year. West Hartford's town manager also served as at the police commissioner.
West Hartford was the first town in Connecticut to adopt the Council/Manager form of government, and back in 1920 there were 15 councilors. Today there are nine.
Principal industries included milk; tobacco farming; manufacturing of brick, bent pipe, steel tempering, ball bearings, and hardware novelties; and ice stored for outside market.
"Roar" by Katy Perry played as Cantor noted the start of prohibition in 1920. "One hundred years later, the alcohol and hospitality industry is worth $100 billion and an important part of West Hartford's vibrancy and success," Cantor said, getting a laugh when she added, "Right, Ben?" and looked out at one of her sons who was in the audience.
"We have a lot to thank of our 'Soul Sisters' from the 1920s," Cantor said as Train's "Hey, Soul Sister" played in the background – noting the passage of the 19th amendment in 1920 giving women the right to vote. "My mother was 8 years old when were allowed to vote and she has never missed an election," Cantor said.
Set to "Rolling in the Deep" by Adele, Cantor provided a look back at life a decade ago, when the iPhone 4 was first introduced, when Twitter and Facebook were only four and six years old respectively, and SnapChat, Instagram, and TikTok had not been invented.
Now we're looking ahead to the launch of the iPhone 12 with a quad camera and 5G capability, and social media has taken taken over our lives and changed our world.
"Socrates warned, 'The written word creates forgetfulness in the learners' souls because they will not use their memories,'" Cantor said. "Socrates was nervous about the written word …  imagine what he would say today."
While events over the past decade have "startled us and changed the way we live," Cantor said, at the same time people now consume the news they want to consume. News outlets are now beholden to social media, and at the same time that has led to a decline in subscriptions and financial support of news outlets.
Ironically, "Toy Story 3" was one of the top movies a decade ago, and its sequel, "Toy Story 4," is in that position now, she said.
Taking a look specifically at West Hartford, "I was surprised when I did a cost comparison of taxes paid in 2010 compared to today. But now I'm a 'Believer,'" Cantor said. A slide showed a random sampling of homes across town, and Cantor said based on the value of the home and the current mill rate, taxes decreased.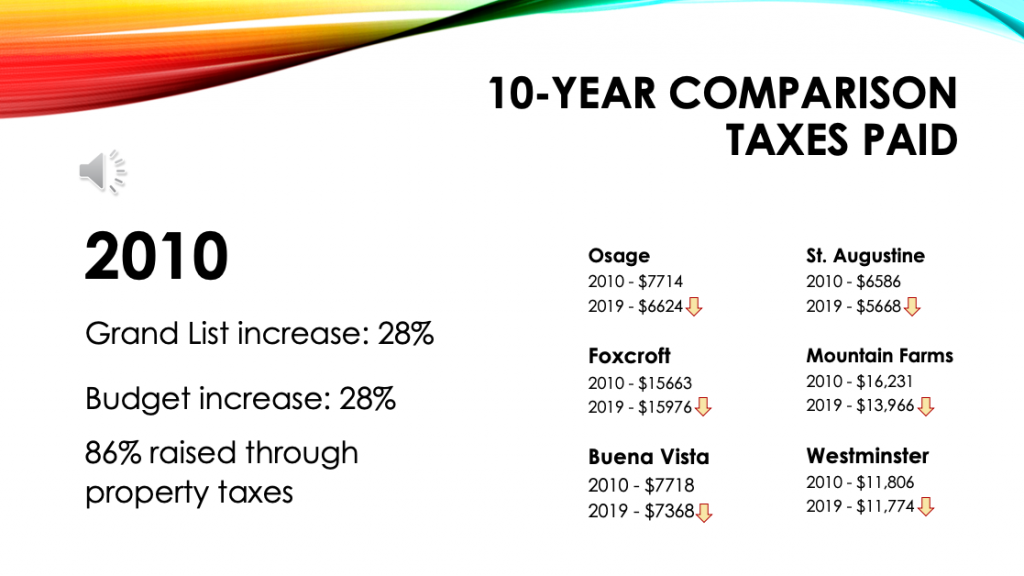 "Connecticut has some challenges along with some really positive 'Uptown Funk' [song by Bruno Mars] indicators," Cantor said, sharing some details about business trends across the state.
Strong defense and financial sectors and an unemployment rate of 3.5 percent are positives, while the stagnant population statewide and in lead cities and a mismatch between worker skillsets and employer needs are negatives.
"What is also positive in cities is our higher education institutions," Cantor said. "A real strength of our region is that we have 297 colleges within 100 miles of Hartford and numerous institutions in the Greater Hartford region."
Targeted industries for the region include finance and insurance – where the region already has three times the average density in the U.S.; life sciences and bio sciences; advanced manufacturing, aerospace, and defense – already at five times the density; and technology and software.
Along with healthcare, those industries continue to be the fastest growing sectors.
The region is experiencing an influx of start-ups from around the world through local tech accelerators and incubators, and that benefits West Hartford as well and is essential for the state's economic growth. As part of Stanley Black and Decker's Tech Stars, a 3D printing company from Ireland has brought its operations to the area. "The two founders from Ireland are living and loving West Hartford," she said.
Right across the town line in Hartford, there are exciting plans to transform the Parkville area, which is an opportunity zone, into a "vibrant advanced manufacturing ecosystem."
The most recent market outlook, according to real estate company CBRE, is positive, Cantor said, with growth rates anticipated of 1.5-2%, unemployment at a 60-year low, a rebound in housing prices, and record occupancy rates in hotels.
Highlighted in the market outlook were two West Hartford items: "The investment sale of the S.K Lavery Building [1003 Farmington Ave.] to Stone Point Investment at $8 million, or $213 per square foot, was noted as the highest per square foot sale price in the Hartford market in 2019."
In addition, the outlook noted Akin Gump's decision to lease of 8,000 square feet in Blue Back Square rather than Hartford due to its "vibrant mixed use setting and walkable business area."
"Our challenge will be to continue to increase the desirability of living and working in Greater Hartford," Cantor said.
A Brooklyn-based financial planning firm, Fabric, rated the Hartford-East Hartford-West Hartford market as the fourth best-paying locale in the country for Millennials. "That's pretty sweet … like sugar," Cantor said [cue Maroon 5's "Sugar"].
Millennials with full-time jobs in the area earn an unadjusted median income of $50,000, Cantor said, which is about $10,000 more than the national average. It's much tougher to afford to live in places like Boston.
Another fact that some may find surprising, Cantor said: "Connecticut's ratio of total government expenditures to state GDP ranked second lowest of the 50 states. Only New Hampshire spends less on government relative to GDP than Connecticut."
While the government sector has been shrinking, Cantor said, "unfunded pension plans remain a significant challenge."
Cantor provided some more good news about the state from CERC – the Connecticut Economic Resource Center. The state has high rankings nationally (top four) on factors such as an innovative economy, bioscience patents, private R&D investment, and internet connectivity.
As for how West Hartford measures up, the town is "a star," Cantor said. "Our indicators are really impressive," and the town continues to see grand list growth.
The crowd applauded as Cantor announced that on Monday, Moody's reaffirmed the town's stable and AAA Bond rating. Later in the day Standard & Poors did the same.
Less than 1% of all municipalities nationwide earn those highest-possible ratings from Moody's and Standard & Poors, she said.
CRCOG, the Capitol Region Council of Governments, just released its 2019 "Community Well-being Index," a study of social progress, economic opportunity, and population well-being for the 38 towns in the area. "We were ranked number one in every single category, which is really, really amazing … and we continue to rise while the statistics show that we are becoming increasingly diverse in ethnicity, income, and age."
UConn's fight song played in the background, as Cantor – a UConn graduate and member of the Board of Trustees – also noted the impact of the state's flagship university on the town. West Hartford has the most UConn alumni in the state, the second-highest number of residents employed by the University, and the second-most in-state students.
"West Hartford Public Schools is truly one of the jewels in our crown," Cantor said, as Fun's "We Are Young" played in the background.
The school population is 22% non-native English-speaking, 74 languages are represented, 43% of students are minority, and 25% qualify for free or reduced lunch. The district is currently 107th in per pupil spending, and if we spent the same as our "comparable" districts – which include much less diverse communities like Glastonbury, Simsbury, Farmington, Avon, Greenwich, and Fairfield – "our spending would be about $10 million higher," Cantor said.
"We continue to be the only town in Connecticut, and one of the only municipalities in the country with less than 1 million residents, with two Gold Medal winning high schools by U.S. News & World Report," Cantor added, in the top 3% of all American high schools.
As she spoke about public safety (to the tune of Bruno Mars' "Grenade"), Cantor said we have a very safe community with highly-qualify public safety professionals and resources – and "they would take a grenade for us."
She quoted Chief Vernon Riddick: "Although we are safe, we do not live in a utopia. We are all partners – police department with the town manager, and Council, and Board of Education, and most of all with our residents and businesses."
Violent crime is down 31% over the previous year, she said, but car break-ins continue to be a problem as they are throughout the state, and this month there were several car-jackings. "So what did our police do? The day that a car jacking was reported our police chief started an auto theft task force, committing resources to put a stop to that dynamic. Arrests were made the very next day."
The task force is working with business owners to add their security cameras to a registry, and Cantor also praised the work of the police, in collaboration with the FBI, to raise awareness and provide best practices for faith-based institutions in town.
"Fireball" by Pitbull led to a discussion of the fire department, which has instituted an EMS response model that is "far improved from what we had before," Cantor said.
Fire crews responded just this week to two structure fires, and in one case the entire force of 21 was deployed.
The town has engaged in an efficiency and effectiveness study of the fire department's operations, and will continue to look for improvement and the ability to provide the best service in the most efficient way, she said.
"Old Town Road" by Little Was X and Billy Rae Cyrus highlighted a segment about Public Works.
"The Public Works mission hasn't changed from the past decade; we still maintain our 'Old Town's Roads,' its transportation system, parks, and the town's fleet," said Cantor.
The town is using smarter and more advanced equipment and better technologies, and West Hartford is a leading community in the area of waste management.
At Rockledge Grille, which is owned by the town, more than 7,000 pounds of food scraps were diverted in 2019. Throughout the school district, 29 tons were diverted in 2019 – enough to offset the emissions from 1,657 gallons of gasoline.
"I Like It" by Cardi B set the tone for a discussion of the West Hartford Libraries, voted the No. 1 library in the region. There has been an increase in downloadable materials of 1000% in the past decade, and "West Hartford Reads" with Chimamanda Ngozi Adichie late last year drew more than 600 people.
"Our libraries are amazing, and I call them the kitchen of our community," Cantor said. Goals include exploring new services as well as increasing public awareness through branded marketing and increasing community partnerships.
"Leisure Services' mission is to provide opportunities for a healthy body and mind so you can 'Move Like Jagger' [Maroon 5]," Cantor said.
West Hartford's lack of a centralized park system makes the town somewhat unique. The various parks spread throughout town are "the little jewels of our community," Cantor said.
Highlights of Leisure Services programs included the National 10-Minute Walk initiative and the continued success of Celebrate West Hartford and Rockledge Golf Club.
Accessibility has been increased at town parks and facilities, which is really important, Cantor said. The future will feature more public-private partnerships like "Friends of Fernridge Park."
"Need You Now" by Lady Antebellum played as Cantor noted that more and more residents are in need of social services.
In the past decade the number of food bags distributed has increased by 75%, the back-to-school program has increased 67.3%, and participation in the town's Thanksgiving and children's holiday party events has increased more than 100%.
Jason Jakubowski, Foodshare's CEO and a West Hartford resident, reported that in 2019 the organization distributed more than 250,000 meals in West Hartford. At the same time, "West Hartford residents donated more than $523,000 to Foodshare in 2019, by far the top town in our entire service area … we have incredible generosity and increased needs," she said.
West Hartford lapel pins, bearing the town's new logo, were sold at the event for $2 each, a donation to the Town That Cares. Pins are available at Town Hall.
Town Clerk Essie Labrot is a big Backstreet Boys fan, and while "We've Got it Going On" was actually from 1997 and not the past decade, it was the theme music for noting her accomplishments in expanding technology, earning Master Municipal Clerk status, and providing better service to the community.
"Work" from Rhianna, featuring Drake, preceded a mention that 2021 will be a revaluation year. Outreach has already been done to 3,200 residents who are 65 or older to provide them with information regarding the town's Elderly Tax Relief program, Cantor said.
Plant and Facilities has been able to reduce energy consumption by 20%, is continuing to have solar arrays installed wherever possible, and expects by the end of 2020 to have all municipal electricity coming from renewable sources.
"Energy is an area that West Hartford feels is important to lead by example," Cantor said.
The Information Technology Department has made great strides in the past decade, and will continue to focus on cyber-security, Cantor said.
The town's build-out of its own municipal fiber-optic network saves about $400,000 a year, she said.
"Soon you will be 'Counting Stars' [One Republic]," said Cantor, as the Community Development network focuses on helping businesses prosper.
"We want your business to succeed and prosper in West Hartford, and as the proud mayor of West Hartford, one of the best communities in the state and country, I understand the need to be creative and innovative and keep moving forward. You have heard me say this before: If you stand still, or even go slow, you lose the race," Cantor said.
Cantor is chairing a new Town Council committee on planning and economic development, and will focus on opportunities for development and redevelopment with the goal of growing the grand list.
Processes – including for obtaining approvals – will be streamlined, and the town will work to enhance customer service and encourage "sustainability, transit-oriented development, fostering public arts and culture activities, and build on the vibrancy and community engagement that make West Hartford so special."
At the Council meeting Tuesday night, a public hearing will be scheduled for an ordinance allowing entertainment in commercial districts, which will help attract businesses that offer creative uses for retail space.
The 10-year Plan of Conservation and Development is in its final stages of being adopted, Cantor said.
In terms of growth, "we have welcomed 87 new businesses in 2019, including 15 retail, 21 restaurants, and 51 commercial." Forty-three of those were in the last quarter, she said.
Accolades, the the tune of Lady Gaga's "Applause," continue to flow in, and are listed on the town's website. Among the recent ones are Newsweek's rating of Conard and Hall among the Best STEM High Schools in America, and WalletHub's rating of the town as among the 2019 Best Small Cities in America.
As she spoke about the next decade, to the tune of Pharell Williams' "Happy," Cantor said, "As we move forward, it is important to reflect on who we are and how we can be better. What makes a community great? What are the key ingredients to success? What makes one place special?"
Leadership – particularly when leaders share a common vision of success – are key to community success, she said, citing a list of the top 10 elements of a great city from "The Global Investor's Perspective on True City Competitiveness."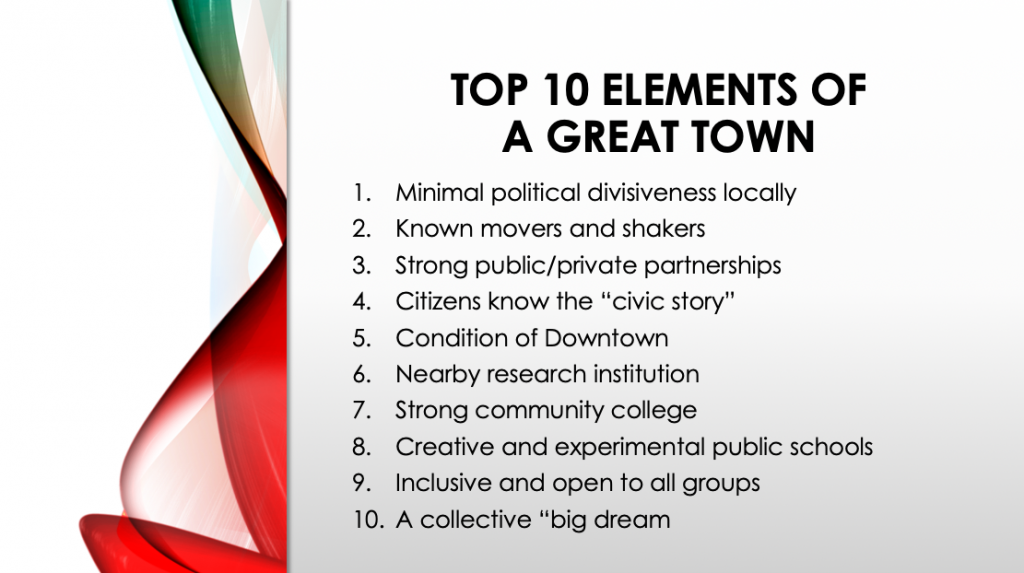 "People and businesses are drawn to communities that invest in themselves," said Cantor. "Communities that are successful have positive government involvement and a track record of public and public-private partnership investments."
Creativity in the schools is important, and "a vibrant downtown is the heart and soul of the community. Why would a business invest in your community if you are not investing in it yourself?" she said.
The list includes, as a bonus item, a "great craft brew industry." That's something we are working on, she said.
"We are blessed to have these elements and we are excited to build on our strong successes," Cantor said.
Cantor thanked the audience (to the tune of The Wanted's "Glad You Came"), and before receiving a standing ovation, ending with this message: "Laugh when you can, apologize when you should, let go of what you can't change."
This year's Chamber of Commerce luncheon was presented by sponsor TDBank, and Cantor was introduced by Regional Vice President Steve Litchfield, a longtime West Hartford resident.
Chamber of Commerce Executive Director Chris Conway and Chamber Board Chair Bob Kulakowski also spoke to the audience, welcoming everyone to the annual event.
Like what you see here? Click here to subscribe to We-Ha's newsletter so you'll always be in the know about what's happening in West Hartford!