The Noah Webster House & West Hartford Historical Society will host the fourth annual Holiday Market for three days, beginning Dec. 1, 2023.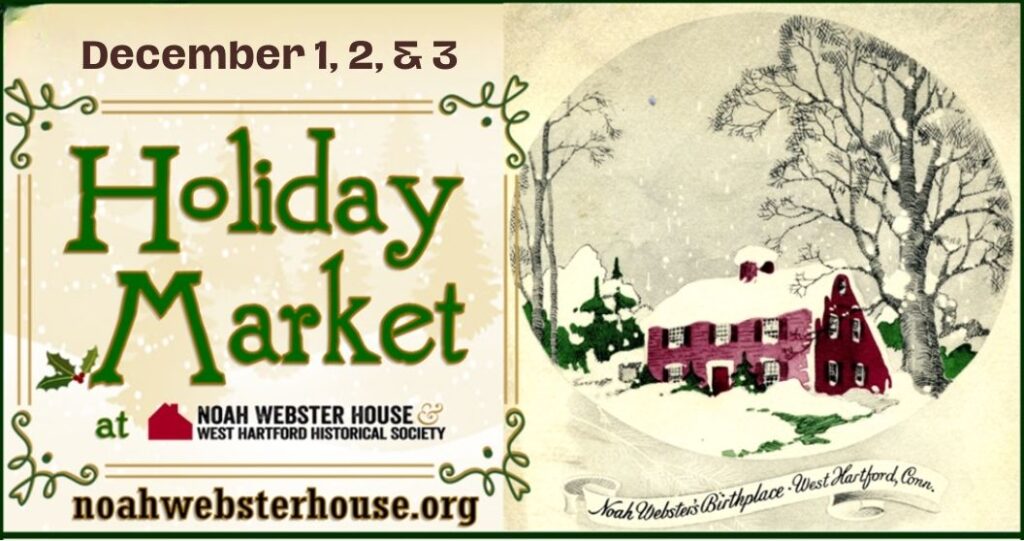 By Ronni Newton
A wide variety of arts and crafts, food, and handmade or locally-made good will be available for purchase at the Noah Webster House's fourth annual Holiday Market, which will be held at the Noah Webster House & West Hartford Historical Society on Dec. 1, 2 and 3, 2023.
This year's Holiday Market has been expanded to three days, and is an expansion of the efforts that have been underway throughout the year by the social enterprise mission, the West Hartford Gift Shop, located within the museum, to develop relationships in support of local artists and makers.
The West Hartford Gift Shop will be the anchor vendor for the Holiday Market, which will also showcase the products of more than 20 local vendors offering unique art, crafts, and handmade gift items.
The West Hartford Gift Shop also has many new products available such as cozy "West Hartford" and "Connecticut" sweaters and scarves, and other available items include Julia Gash merchandise that features whimsical illustrations of iconic locations throughout town, as well as literary-themed items, including scarves, notecards, and drink ware.
Also available for purchase will be the 2023 limited-edition West Hartford Collectible holiday ornament, which this year features the gazebo in the Helen S. Kaman Rose Garden located in Elizabeth Park. A limited number of ornaments are available, so pre-ordering at westhartfordgiftshop.com is recommended with pick-up available at the Holiday Market.
Other available items that will be offered for sale by local artisans include jewelry, candles, ornaments, pottery, notecards, woodworking pieces, fiber arts, and more. Vendors includes WeHa Candle Co., Vivid Cottage, Bloom Worthy Floral and Taylor Martone Pottery and many more. A full listing of vendors can be found on the Noah Webster House & West Hartford Historical Society website or Facebook event page.
Holiday Market hours are Friday, Dec. 1, from 5 to 8 p.m. and Saturday and Sunday, Dec. 2 and 3, from 10 a.m. to 2 p.m. Registration to attend the market is not required, but the museum will be accepting donations upon entry, with $5 the suggested amount to help support educational initiatives.
Many of the businesses that are participating in the Holiday Market are recently launched and do not have their own brick and mortar locations. Showcasing their products gives those businesses exposure to the community, and a portion of their proceeds are also donated to support the Noah Webster House & West Hartford Historical Society. The Noah Webster House is thankful for the support of the Mangs family, which is once again sponsoring the event.
Like what you see here? Click here to subscribe to We-Ha's newsletter so you'll always be in the know about what's happening in West Hartford! Click the blue button below to become a supporter of We-Ha.com and our efforts to continue producing quality journalism.