A round-up of openings, closings, and other news about West Hartford businesses.
By Ronni Newton
I'm writing this column on Sunday afternoon with plans to finish early so I can fully enjoy the celebration of my son Sam's 24th birthday! While the past two years took some turns he didn't expect, starting with completing his senior year of college remotely, followed by deciding to go to graduate school, the future is looking very bright! In just a week, Sam will graduate (in person this time) from UConn with his master's degree in public policy. His internship with the Department of Economic and Community Development's State Historic Preservation Office will finish up at the end of May, and he is very excited about launching his career.
'Tis the season for fundraisers, and suddenly our calendar is very full with events three Saturday nights in a row plus a few in the middle of the week. This past Saturday was the Children's Charity Ball, and after a few years of virtual events it was wonderful to get dressed up and be back at an in-person gala. Events coming up over the next few weeks include the Ron Foley Foundation's "Ron's Run for the Roses," the Noah Webster House's "War of the Words," Rotary Club's "Vines of May," Playhouse on Park's "Encore," and Journey Home's "Home is Where the Heart Is."
Saturday night fundraisers do conflict with our usual dining out night, and Ted has been (and will be) doing some traveling which will interfere with dining out on other nights, but I did have a delicious lunch with my friend Kristen Fritz at Blue Plate Kitchen during the week. Looking at the difference in the photos of our food (see below) makes me realize even more than I already had that it's about time I upgrade my phone to one that has portrait mode.
Last week I noted that I eliminated my standard paragraph about mask mandates in this column since they have been lifted virtually everywhere except in most health care settings, but COVID-19 has not gone away, and West Hartford has been back in the red alert zone for the past three weeks. Please have patience with each other and our choices, continue to look out for each other, support our local businesses – and stay safe and healthy (especially as the infection rate appears to be climbing again).
If you have information to share about local businesses, please provide details in the comments or email Ronni Newton at [email protected].
**************************************************
Here's this week's Buzz:
I've previously mentioned in this column that the small museum shop inside the Noah Webster House and West Hartford Historical Society is an "undiscovered gem," with all sorts of great West Hartford-related merchandise, and now it's about to become much bigger, better, and hopefully discovered! The museum has just announced that the Hartford Foundation for Public Giving will be supporting efforts, through its Social Enterprise Accelerator, to establish the West Hartford Gift Shop. The Noah Webster House is one of six nonprofits selected for the Foundation's most recent program, and will be working over the next 30 days with consultants from No Margin, No Mission on a plan to convert the venture into a business that will not only further the museum's mission but will also diversity its revenue – which has suffered during the pandemic due to the lack of field trips and overall decline in visitation as well as at times during the pandemic being unable to hold in-person fundraisers. The existing retail space inside the museum will be expanded and transformed into a one-stop shop for anything "West Hartford." The West Hartford Gift Shop, which will specialize in town-focused products such as the existing Julia Gash collection and WeHa Candle Company items, "will offer a unique assortment of merchandise that affirms town pride and supports the work of local artisans and small businesses. It will also carry tourist-friendly items, Noah Webster House-branded souvenirs, and, in keeping with Webster's legacy, literary-themed products," Director Jennifer DiCola Matos said. The range of products – available at a variety of price points – will include apparel, home goods, accessories, and stationery. There will be an expanded e-commerce site, and pop-up shops at museum and town events. "As the birthplace of an American founding father, the museum is a destination for tourists from across the state, the country, and the world. As the most recognizable landmark in West Hartford, Connecticut, The West Hartford Gift Shop at the Noah Webster House is uniquely situated to be THE place for both residents and visitors to find town-branded merchandise and souvenirs. The creation of a one-stop shop for these types of items will help solidify town pride, drive tourism to the town, and further enhance the town's reputation," the Noah Webster House said in an announcement. Revenue will support the Noah Webster House's mission to "preserve, interpret, and champion history, offer educational programming for children, families, and adults that educate and enrich, and build a robust organizational foundation to ensure sustainability." Capital is currently being raised for the project, and the Hartford Foundation is providing a matching challenge as part of the Social Enterprise Accelerator Initiative, to match dollar-for-dollar any donations made through June 8, up to $20,000. To donate, visit the website and click on "Support WH GIFT SHOP." To view the exiting e-commerce site, click here.
I recently saw that J.René Coffee Roasters had applied for a liquor license, and have learned that they are in the early stages of planning an expansion in operations. Owner Jose Rene Martinez "has always wanted to expand the business," said Anne Mercer, who handles the marketing and communications for J.René and is also a co-owner of Victus Coffee, the socially-responsible brand which is featured at the shop. There had been a discussion about an expansion prior to COVID, she said, but the pandemic allowed them a chance to pause and think about the plans – which will include an expanded menu and more coffee-related products. They will be open later several evenings, and plan to offer beer and wine as well as "a great line-up of decaf coffee," Mercer said. "Right now we're laying the foundation. It's in the very beginning stages with no opening set," she said. Bringing music back to the shop is also a possibility, she said. In the meantime there are already a few new and exciting things at J.René, Mercer said, including a new espresso machine and a manual espresso maker.
This is still in the stage of informal review with the town's Design Review and Advisory Committee (DRAC), but there are plans for a drive-through Starbucks and a 12,000 square foot expansion of the existing Hartford HealthCare building at the Corporate Center West property (433-445 South Main Street, the corner of New Britain Avenue). Refinements to the design will be reviewed by DRAC in another informal study session this month, before the project is formally submitted to the town, but it sounds pretty likely that plans will move forward.
"Our Halotherapy Salt Room was supposed to open shortly after we opened in January 2020 however, the events of the world had other plans for us (you all know that story) it's because of you that we're still here and able to grow <3," Float Forty-One announced in an email last week. Float Forty-One is located at 345 North Main Street in Bishops Corner, and is now offering pre-launch gift certificates for the salt room. More details can be found on the Float Forty-One website.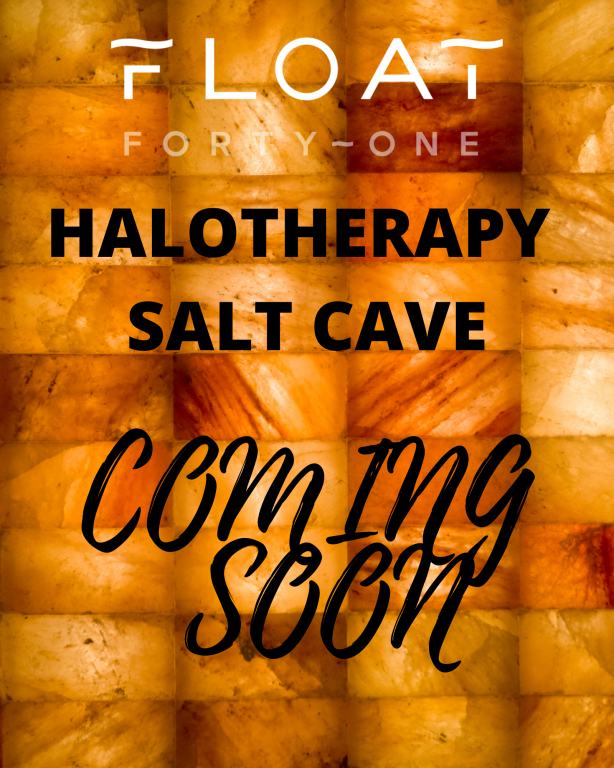 The new-to-market brand Torrid will be opening soon at Westfarms, spokesperson Amanda Sirica confirmed last week. Torrid, which offers women's clothing and accessories "to celebrate your curves," in sizes 10 to 30, will be located in space E106, according to the website.
Art will once again be popping-up at GastroPark (637 New Park Ave.) beginning May 7. Stefanie Marco Lantz of the WeHa Artists Emporium provided the below schedule. The pop-ups will be from noon-5 p.m. on Saturdays.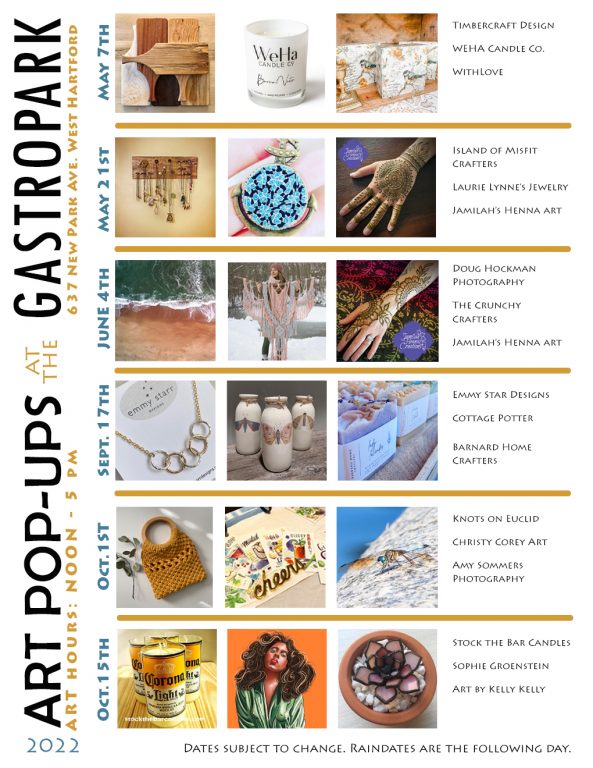 There's a "coming soon" banner hanging outside, and Longmeadow, Massachusetts-based Oksana Salon and Spa will be expanding into the space in West Hartford currently occupied by Fringe Hairworks at 7 North Main Street. "We have some exciting news to share!! We are expanding our services to West Hartford, Connecticut!! Keep your eyes peeled for more exciting information (and contests!!!) as we expand!" stated a post on the Oksana Facebook page last week. The salon is owned by Oksana Villenueve. I was not able to get through to anyone at Fringe to find out the status of their business.
The West Hartford Economic Development Center and the Connecticut Small Business Development Center (CTSBDC) are pleased to announce a return to in-person free, confidential, and one-on-one advising to entrepreneurs in every stage of business and all industry sectors in West Hartford. The advising will be located at the West Hartford Town Hall at 50 South Main Street, West Hartford. CTSBDC Business Advisor Denise Whitford is available at this location, and she comments, "I am pleased that our West Hartford office is located at the West Hartford Town Hall. The office puts us directly into the path of serving new and existing businesses in the West Hartford area, which is our primary purpose. This location also gives us an opportunity to facilitate economic growth and business retention in the area." Office hours will be by appointment only on Mondays from 9:00 a.m. – 4:00 p.m beginning Monday, May 9. Denise can be reached at 860-576-5135 or visit www.ctsbdc.uconn.edu and register for business advising. "With 355,596 small businesses [according to the U.S. Small Business Administration] located in the state of Connecticut, it is important to be embedded within the communities we serve," said Joe Ercolano, State Director of the CTSBDC. "This is why we are available in 169 towns. Existing locally helps us to better understand the unique needs required of West Hartford small business owners and therefore provide customized, beneficial business advising services to help increase economic development in this area." Mayor Shari Cantor said, "This beneficial affiliation ensures that West Hartford's small businesses have access to necessary resources ready to assist the entrepreneurs. Entrepreneurs will also have access to economic development, planning and zoning, and various other town staff within Town Hall, creating one-stop shop to better suite their needs." To become a CTSBDC client, visit www.ctsbdc.uconn.edu and register for business advising. The registration link can be found at the top right side of the home page or by clicking here.

Congratulations to Betsey C. Smith of West Hartford, senior associate dean of the School of Health Sciences at Quinnipiac University, who was named to the American Occupational Therapy Association's Roster of Fellows at its annual conference April 3 in San Antonio. Smith was recognized for being a philanthropist, servant leader, dedicated educator, scholar, and mentor.  She is the seventh member of the Quinnipiac occupational therapy faculty to receive this prestigious honor. "I am so honored to be recognized as a fellow of AOTA for my achievements as a leader and occupational therapy educator and mentor," Smith said. "I am especially grateful to those in the Quinnipiac community who have provided support and inspiration for my work."
West Hartford-based Environmental Systems Corporation (ESC), a leading provider of building technology solutions throughout Connecticut, announced in a news release that it has hired Jeff Garnelis as Safety/Risk Manager. "There are a lot of things ESC has had to do as our company has grown over the past fifty years," says chief operating officer Michael Mullin. "The safety and risk position is another example of this. At our size, it was important for us to bring in an experienced individual to improve our safety performance." As Safety/Risk Manager, Jeff will be tapping into his experience conducting claims analyses and determining loss trends to enhance ESC's overall safety program by promoting and maintaining a company-wide safety culture. Jeff will coordinate with human resources, operations, and other department managers to develop and roll out safety initiatives, policies, programs and training. Prior to joining ESC, Jeff worked for Travelers Insurance as a Risk Control Consultant conducting claims analyses to determine loss trends while collaborating with clients to determine methods to limit future losses. He also worked for AIG Insurance as a Loss Prevention Associate where he was responsible for surveying energy and commercial facilities, focusing on fire safety and overall facility efficiency. "We already knew and respected Jeff because he was the risk representative for our property and casualty insurance carrier, Travelers," says Mullin. "We couldn't be more excited that we were able to work this out and bring Jeff on-board. I believe we will look back at this as one of the most important changes ESC has made in their safety/risk effort in many, many years." Jeff's main goal is to ensure everyone goes home safe at the end of the day, he and looks forward to working with ESC to build on an already impressive culture. "Safety excites me because we are constantly striving toward continuous improvement," says Jeff. "Fifty years ago, we did not have nearly as many controls and tools as we have now. As a result, many people suffered preventable injuries. In a world where technology and knowledge are increasing at exponential rates, we can always find ways to be better."
Today's sad news: Argelia Novias Bridal (602 New Park Ave.) has closed permanently. Back in February, owner Ody Sosa said he was contemplating the closure. His brother Oscar Sosa closed the other building on the same parcel, Oscar's Tux, and recently moved to Florida.
ICYMI, Toro Loco and Toro Mexican Street Food are supporting the local Relay for Life (Farmington Valley, which is now merged with West Hartford). Click here for the details.
The Town of West Hartford and West Hartford Chamber of Commerce will once again be hosting a job and resource fair. Details can be found here.
Elmwood will be blooming again, and is the Elmwood Business Association is looking for support for its planters. Click here for more information.
Remember, if you have any business news to share, add it in the comments section below or email Ronni Newton at [email protected].
Like what you see here? Click here to subscribe to We-Ha's newsletter so you'll always be in the know about what's happening in West Hartford! Click the blue button below to become a supporter of We-Ha.com and our efforts to continue producing quality journalism.