A round-up of openings, closings, and other news about West Hartford businesses. 
Business Buzz is sponsored by NBT Bank, and we are very thankful for their support!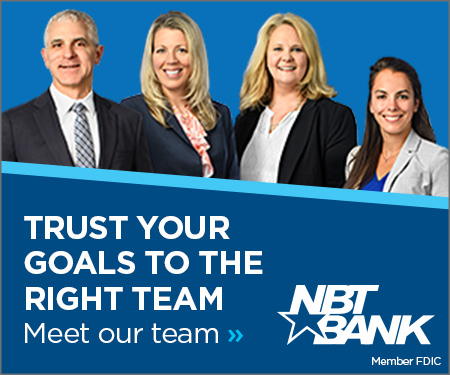 By Ronni Newton
Years from now residents will probably remember the record-setting temperatures this past week, and I will admit I feel a bit left out because we headed out of town for a few days on Wednesday morning and totally missed the heat. We were on Nantucket paying a visit to my mother-in-law and while it was warmer than average for April out there, the highest temperature I saw was 71 degrees. It was definitely nice enough for barefoot beach walks – and Millie did run through the surf which she greatly enjoyed – but it was nowhere near warm enough for sitting on the beach, at least during the time of day when we weren't working and got a chance to be outside. Also, the daffodils were spectacular.
The two days that I was in town last week were rather busy, in particular with the severing of the tail of Conny the whale, the changeover of LaSalle Road back to two-way traffic, and several actions by the Town Council.
There was plenty of engagement and discussion on Facebook after the plans to save just Conny's tail were made public, and the actual removal and relocation took place, but there were many people who were apparently taken by surprise by the news, and had no idea there had been a GoFundMe established, etc. I have written probably 10 stories in the past 16 months about the Children's Museum's imminent move and the uncertainty regarding the fate of Conny, and the attempt by the Cetacean Society International to raise enough money to move the entire whale statue and if that was going to be possible, and if a good permanent home could be secured. It cost about $40,000 to remove and relocate the tail to its temporary space (paid for by Continental Properties, which now owns the property and is developing luxury apartments on the site), and there will be tens of thousands of additional costs to move it to its future home along the Trout Brook greenway. As of last week the GoFundMe had raised just under $12,000 of the estimated $200,000/$250,000-plus cost to move all of Conny.
Regardless of your opinion about what took place, the following comment made by one of our readers on the Neighbors & Friends Facebook page really resonated with me: "Anyone complaining about this that wasn't at the town hall meetings or writing letters to their reps needs to take a minute and remember that West Hartford doesn't look the same as it did 40 years ago. The needs and wants of the community change. If you want things to go a certain way, posting about it on Facebook after the fact does nothing but fuel anger. Instead, take a page out of Ronni Zimbler Newton's book and stay involved and up to date on current affairs in our local government."
Local news impacts your day-to-day life. It may not be as sexy as foreign affairs and being able to intelligently discuss national politics or the latest move by the Federal Reserve may make for better cocktail party conversation, but what's happening in your own town impacts your pocketbook and other important aspects of your daily life. If you want to have impact, please pay attention and share your ideas with our town leaders and elected officials before it's too late.
Since I wasn't in town over the weekend I wasn't able to eat at one of our local restaurants, but I did have a great casual dinner out on Nantucket at the famed Brotherhood of Thieves. The long-standing restaurant changed hands recently (it's now owned by the same people who own Cisco Brewers) and brought the Brotherhood back to its original roots as a place for burgers and other casual fare. The burger did not disappoint!
There were 11 positive reported cases of COVID-19 in West Hartford over the past seven days (as of Saturday) and a positivity rate of 9.5%. It's about the same as last week. West Hartford is one of only about 20 municipalities in the state with a measurable number of positive tests (any town with fewer than five doesn't appear on the report), and New Haven still has the largest number. I'm still hoping to be able to delete this paragraph soon. In the meantime, please continue to have patience since not everyone has the same level of comfort, continue to look out for each other, support our local businesses – and stay safe and healthy.
If you're looking for news about West Hartford in print please note that many stories from We-Ha.com, as well as other local news, is published in the twice-monthly issues of the West Hartford Press.
If you have information to share about local businesses, please provide details in the comments or email Ronni Newton at [email protected].
**************************************************
Here's this week's Buzz:
Wurst Haus has closed, and while I don't typically lead this column with a closing I am making an exception this time because the 37 LaSalle Road space will be reopening in just 10 days as a new concept. Danielle Veronesi, the marketing manager for Bean Restaurant Group (which owns Wurst Haus as well as Union Kitchen in West Hartford) has shared the news that BRG is launching a new brand in West Hartford. The restaurant will be reopening on April 27 under the name Halfway with a completely revamped menu from Wurst Haus' German fare (although a giant pretzel does remain on the menu). "We are switching fire toward American comfort casual, more family friendly but also with nightlife," Veronesi said. "We will have a warm welcoming atmosphere with something for everyone, and at night we will still have the nightlife," including live music on weekends. The restaurant will be open for lunch and dinner, and you'll be able to grab a burger, sandwich, rice bowl, salad, or hot dog, and there will be a kid's menu (chicken tenders, burgers, grilled cheese), but later in the evening the vibe will change with a focus for the crowd that has frequented Wurst Haus for the night life. There will touch tone devices so guests can have impact on the music being played, and will also be video/arcade games in the main dining room – for the kids old and young to play. Games will include Big Buck Hunter Reloaded, NBA Jam, Golden Tee PGA, and 60 in 1 Retro Games, she said. The menu will include numerous gluten-free and dairy-free options as well as vegetarian and vegan fare. The beverage program will have a new look as well, with a focus on spirits and plenty of draft/canned/and bottled beer options. "Our goal with rebranding was to have something for everyone. We want to be able create an environment that everyone in West Hartford can come to and feel comfortable. Our beverage menu will have inviting classics like our house made frose as well as a locally centric draft program," said Nathan Yee, a member of the third generation of BRG's Yee family and the director of hospitality for the company, who will be directly involved in Halfway. Veronesi said this concept has been developed specifically for West Hartford (although they might expand it elsewhere) after looking at "what we do well" in the organization's 13 other brick and mortar restaurants (plus three spaces at the Big E).  Halfway intends to meet guests "halfway," to be versatile, to be a place to go halfway through the work week, etc. Veronesi said they are also planning to renovate the back room – which hasn't been open for years – and transform it into event space. "Our goal is to be part of the West Hartford community and we feel this brand is a good fit," Veronesi said. New staff is being brought in (they're hiring if you're looking), and Brett Belanger, who has extensive local experience and personally is always seeking out a good place he can take his family, is the new general manager, Veronesi said. Vish Badami, the general manager for Union Kitchen next door, will also be overseeing day-to-day operations at Halfway.
I'll have much more information to share later in the week and probably in next week's column (or as a feature story), but here's the news that many have been waiting for: Chopt Creative Salad Co. is opening this week! On Wednesday, April 19 there is a special event, Chopt Gives, which will give customers a preview look at the the fast casual eatery and will also support Connecticut Foodshare – which will receive 100% of sales that day between the hours of 11:30 a.m.-2 p.m. and 5-7:30 p.m.. More details about Chopt Gives can be found here. Chopt, which is located at 333 North Main Street in Bishops Corner, will officially open on Thursday, April 20. Chopt features a menu of classic and "light" salads, more than two-dozen dressing options (some also sold by the bottle), warm bowls, and the opportunity to also customize salads with an extensive choice of greens, fruits and veggies, cheese and dairy, crunch, and other toppings.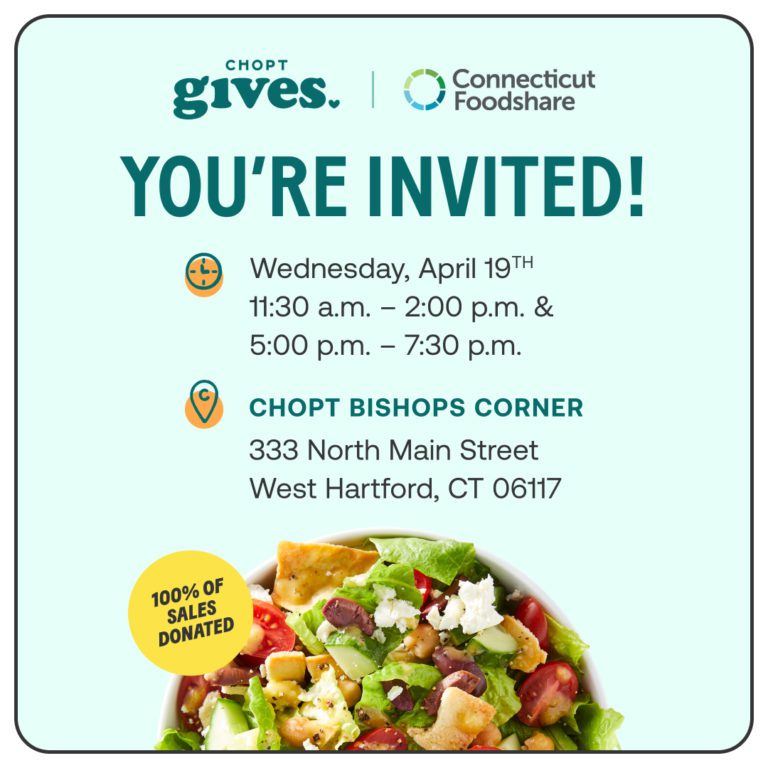 The space at 526 New Park Avenue that was well known as East-West Grille – and most recently, very briefly and on and off, was home to Sunrise County Kitchen, is now in operation again with the soft opening of Julius. I was driving by last week and saw the "open" flags flying and pulled into a nearby parking lot so I could turn around and check it out. The owner wasn't present, but someone who was waiting tables told me that they are working on getting their sign, and serve lunch and dinner. According to a Facebook page I found, Cevicheria Julius serves Peruvian cuisine featuring fish and seafood, and is open daily from 11 a.m. to 9 p.m. Reservations can be made at 860-519-0432.
I touched base over the weekend with Blue Back Square spokesperson Kate Terricciano of Image Marketing after hearing that Oath Pizza had closed. (See the bullet point below for those details because closings belong at the end of this column if there is not an immediate new tenant involved.) But I asked her about some other spaces as well, and although she couldn't provide any specific details yet, she said in response to my other questions, "There is exciting news that will be announced in the next few weeks." Although she couldn't comment, I have heard from a trusted source that there is a lease in place for the former SPoT Coffee location on Memorial Road. That was one of my favorite meeting spots – very convenient to Town Hall – and I will definitely share any news as soon as it's confirmed.
Ten Thousand Villages (967C Farmington Avenue, West Hartford Center) will be holding a fundraiser for the Clean Water Fund on Sunday April 23, from noon-5 p.m. (open to close) in honor of Earth Day, Store Manager Teri Osborne said in an email. "Clean Water Fund is a fellow nonprofit working for community betterment. Clean Water focuses on environmental justice and clean water access. You can support them while supporting us on Sunday, April 23rd by saying 'I support Clean Water' at checkout, and 15% of your purchase will go to them at no cost to you!" Osborne shared the following description: "Since 1974, Clean Water Fund has helped people campaign successfully for cleaner and safer water, cleaner air, and protection from toxic pollution in our homes, neighborhoods, and workplaces. Clean Water Fund brings together diverse constituencies, supports coalition efforts for a healthier environment, and develops grassroots environmental leadership, community by community. Clean Water Fund's programs build on and complement those of Clean Water Action, a one million member national organization which has helped develop, pass, strengthen and defend the nation's major water and toxics laws such as the Clean Water Act, Safe Drinking Water Act, Superfund, and others." More information about Clean Water Fund can be found on their website. The state director, Anne Hulick, will be stopping in at the store on Sunday to share more information about state initiatives, Osborne said.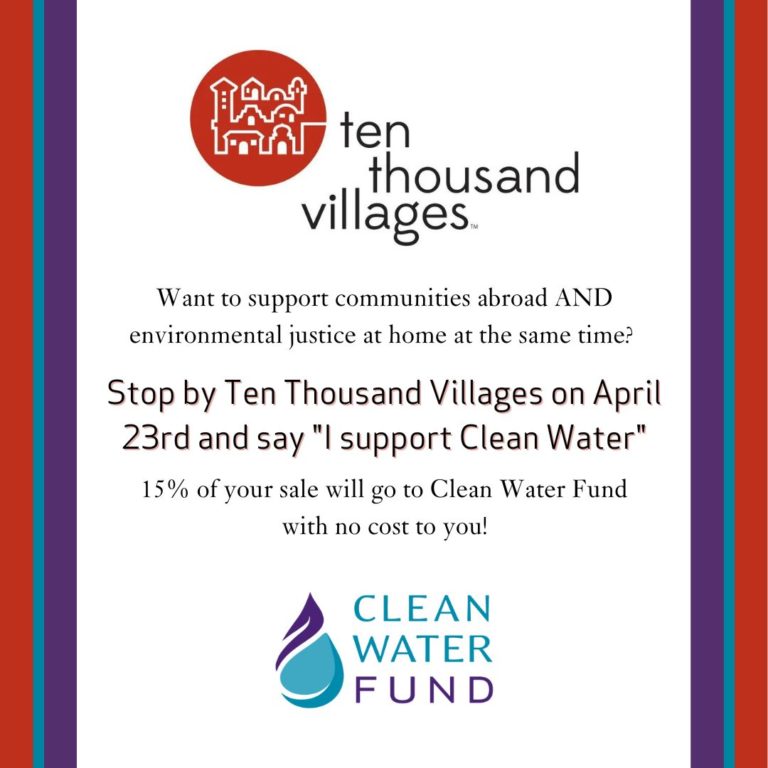 Interesting transformation of 312 North Main Street that is in the works. The Town Plan and Zoning Commission received and application from "K. Tofflemire, requesting approval of a Special Use Permit to operate an out-patient veterinary ophthalmology clinic." Other than the sign, there are no changes proposed to the interior or exterior of the building which is just south of the shopping center where the Bishops Corner Whole Foods is located and has been the site of a home health care business. The proposal submitted by Kyle Tofflemire, DVM, DACVO, states:"The business will function with a veterinary ophthalmologist and 2 full-time staff members. Hours of operation will be Monday through Friday, 8:00am to 6:00pm. No emergency services will be offered." TPZ will hold a public hearing on the application on May 1.
My apologies to the owners of Kilwins because I totally forgot to include a photo of their ribbon cutting in the column the Monday after it took place. On March 27, Kilwins franchise owners Kathleen and Joe Allen, members of the West Hartford Chamber of the Commerce, Mayor Shari Cantor, and other officials attended a ribbon cutting for the chocolate, confections, and ice cream shop that opened in February. More details about Kilwins can be found here.
Since 1990, Teresa Pojawis has worked as a Certified Nursing Assistant at Saint Mary Home in West Hartford.  Deemed "The Angel at Night" by her residents, Pojawis is credited with being conscientious, focused, flexible, and attentive to those she cares for during her overnight shifts.  On March 31, she received her second "Caring Hands Award" from WFSB Television's Scot Haney at the annual LeadingAge Caregiver Awards Luncheon, a spokesperson for Trinity Health Senior Communities shared. According to the award nomination: "Regardless of the assignment, she is a team player, and her colleagues are genuinely appreciative of her partnership.  Her knowledge and comfort within our community is an asset in welcoming and orienting new team members." The nomination also underscored the confidence Pojawis inspires among those entrusted to her for care. "Her residents often comment that she always remembers their care preferences day to day, she talks to them about the care she is about to give and asks them to participate, and when she says 'I will be right back,' she always returns."
Congratulations to Leon Davidoff, who was officially sworn in by Mayor Shari Cantor as West Hartford's town clerk on April 10, succeeding Essie Labrot who officially retired as of April 7. "The Town Clerk is the front door to this town," Cantor said. "The need of a professional person who brings all of the intelligence and the heart to this position – I'm just so grateful that Leon has stepped up to do this job. He will do such a great job and I'm tremendously grateful to him and I'm honored to be able to swear him in today," she said. Davidoff said he is appreciative of the trust and confidence. "I am so looking forward to continuing my service to this town," he said, thanking Cantor, Labrot, and his family and friends. "I'm very excited to work with what I would say is the best staff in a town clerk's office anywhere." It's a new chapter of his life, the longtime Town Council member said.
Able Made, which is located at Westfarms and owned by West Hartford resident Suzanne McKenzie, has a new collaboration with Burberry (click here for details). Proceeds from the sale of the products – which repurpose the leftover Burberry fabric – help support the local UcalMcKenzie Breakaway Foundation Hartford Camp and represents sustainable fashion made responsibly in NYC. Also according to McKenzie, West Hartford's Swaby (Hall alumni Chantelle and Allyson) sisters, who play for the Jamaica Women's National Soccer Team and in France, will be wearing Able Made soon.
A few people advised me late last week that Oath Pizza was closing as of Friday. "We can't comment on individual tenant matters," Blue Back Square spokesperson Kate Terricciano said of the closing, but as soon as I got back Sunday I checked it out personally and confirmed the restaurant is indeed closed, and the windows are papered over. As for the reason Oath, which just opened its doors in July 2022, has closed, Blue Back Capital Partners LLC filed a lawsuit on April 10 against Oath Blue Back Square LLC due to non-payment of rent dating back to February. According to one of the exhibits included in the online legal filings, Next Level Pizza, which was the lessee for the space, sold their assets to New Oath Pizza LLC, as of Jan. 21, 2023 and requested termination of the lease – but according to documents Blue Back Square has questions about the status of the new entity (which has not provided details of the financial transaction) and which is not the lessee and did not transfer and/or assign the rights under the existing lease, and is not authorized to terminate what was a 10-year lease executed in December 2021.
Remember, if you have any business news to share, add it in the comments section below or email Ronni Newton at [email protected].
Like what you see here? Click here to subscribe to We-Ha's newsletter so you'll always be in the know about what's happening in West Hartford! Click the blue button below to become a supporter of We-Ha.com and our efforts to continue producing quality journalism.