A round-up of openings, closings, and other news about West Hartford businesses. [Updated]
By Keith Griffin
As some of you may recall from last week's Business Buzz, We-Ha.com editor Ronni Newton was on vacation. She did a pretty good job staying offline with not too many texts and emails coming my way.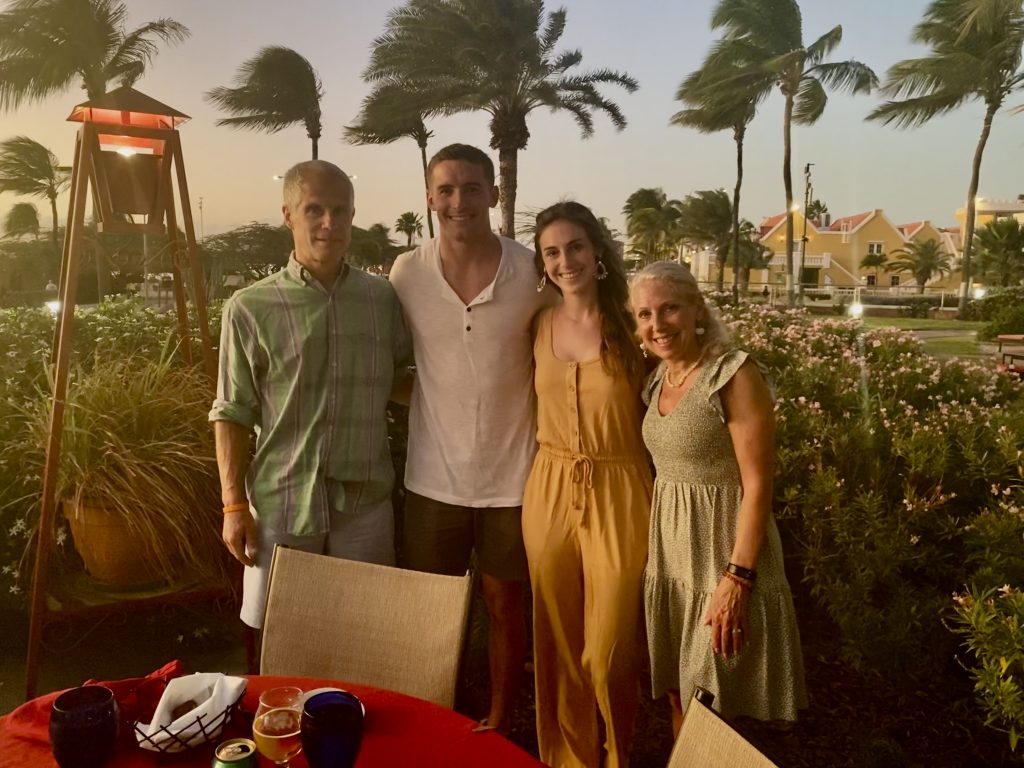 She landed last night at JFK and reported in that she, "her husband, Ted, and her daughter Katie and son-in-law Matt returned from Aruba after a week of sunshine, warmth, swimming, and snorkeling in turquoise water, and consuming lots of great meals and tropical drinks! It's back to work for all on Monday …"
If anybody deserved a week off, it's Ronni. I used to be editor of The West Hartford News when Imprint Newspapers owned it. I thought I put a lot of hours in then but it's nothing to compared with the hours Ronni toils away (especially because I didn't have 24/7 exposure to social media and its demands).
I basically ran We-Ha.com from my desk for the last week, except to venture out for photos at the West Hartford Center Easter Egg Hunt attended by a couple hundred people on Saturday morning. Even in the relative quiet of a school vacation week, there were more events I could have attended (but I do have a full-time job as a senior editor at American Business Media).
One Ronni tradition I did embrace was a meal out but it was on a Friday night. My family headed over to GastroPark to enjoy food from Craft Bird Food Truck and Hot Taco Street Kitchen. The latter provided excellent breakfast burritos and Spanish spuds for dinner (so I could observe the meatless fast of Good Friday), and Craft Bird had some delicious truffle macaroni cheese bites, too.
There's some more news about GastroPark below courtesy of their Facebook page that we discovered after we had left. GastroPark is just a great place to be on a sunny spring evening, particularly if you love children, the overall camaraderie and dogs, especially a couple of eight-week old puppies we got to visit with but somehow managed to avoid adopting.
OK, the good news is by the time you read this Ronni is officially back at the controls. It's been a fun week dipping my toes into community journalism but it's tough to fill Ronni's shoes!
The universal indoor mask mandate was lifted in West Hartford as of Thursday, Feb. 10 (click here for the details) as of today masks will be optional in schools, libraries, and other town buildings (click here for details). Some business owners, however, may still ask that their customers wear masks. And many people will choose to wear masks in a variety of settings. Please have patience with each other and our choices, continue to look out for each other, support our local businesses – and stay safe and healthy (especially as the infection rate appears to be climbing again).
If you have information to share about local businesses, please provide details in the comments or email Ronni Newton at [email protected].
**************************************************
Here's this week's Buzz:
As some of you may have noticed, the former Subway at 932 Farmington Avenue is showing signs of life! It will become a Gong Cha bubble tea location. Sonny Chen will be opening the business, a franchise he describes as the "Starbucks of bubble tea." Permitting is in progress but Chen, who has owned the property since March 2020 along with his family, doesn't expect any delays. "It should be a pretty quick turnaround because there is no change of use," Chen said, with an expectant opening in early summer. Updates to the space are just cosmetic and include new flooring, lighting, new tables, and renovation of the bathroom. The layout will not change. "I'm excited. It's a good spot, and it has plenty of parking," Chen said.
While covering the Easter Egg Hunt with true journalistic training I totally overlooked this tidbit. The "wooden shed" shielding construction at Sparrow on Farmington Avenue at the site of the former Grant's restaurant has been removed and signage is up for Sparrow. The restaurant at 977 Farmington Ave. in the Center is owned by former Barteca (Barcelona and bartaco) executive David Boyajian. Look for more details to come from Ronni as its opening nears.
The Ashley Homestore Outlet Center on New Britain Avenue in Elmwood (formerly the Puritan building) just launched a 'Renovation Sale' that will continue until their showroom inventory is completely gone. From there, they'll be shutting down so the property can undergo the proper environmental remediation needed for future plans and renovations. Once the environmental remediation is underway, more details on the things to come for the property will be provided. Owner Sami Abunasra is working closely with town officials to ensure that the renovations are focused on expanding opportunities for multiple industries and bringing positive redevelopment to the community of Elmwood. In January, the state announced the awarding of grants under the Brownfield Remediation Program, including more than $950,000 to clean up the site on New Britain Avenue currently occupied by Ashley Home Furniture Outlet. Abunsara told We-Ha.com at that time he plans to pursue construction of a $34 million mixed-use residential and commercial development. Preliminary plans are for 131 apartment units, he said, a "good mix, maybe 50-50" of one- and two-bedroom units in what will be a four-story building. While the existing structures, built in the 1950s and 1960s, will be demolished, he intends to reopen Ashley HomeStore on the ground floor, with some other retailers included as well. A restaurant with a rooftop area is being considered, Abunasra said.
GastroPark announced on its Facebook page on Friday that, in addition to the rotating lineup of food trucks, it is now serving its own menu items. The post says, "In addition to the endless options from our food truck family, you can now grab a bomb smash burger or hot dog (with options for our plant-based and GF friends!) Order at the bar 12-7pm any day we are open!"
Connecticut native Traci Halky is getting ready to open her Nothing Bundt Cakes bakery in West Hartford this summer at Corbins Corner. Nothing Bundt Cakes specializes in bundt cakes where guests can choose from 10 flavors plus a seasonally rotating flavor crowned with signature cream cheese frosting. With more than 400 locations across the county, the bakery offers a variety of sizes such as bite-sized Bundtinis, miniature  Bundtlets and 8" and 10" bundt cakes for any size celebration or sweet-tooth craving. Nothing Bundt Cakes will also offer more than 60 unique handcrafted cake decorations themed around holidays and celebrations throughout the year. Many of these decorations can be customized for any occasion, including birthdays, showers, weddings and graduations. And, for that extra touch, the West Hartford bakery will carry a variety of retail items including sustainable party supplies, eco-friendly greeting cards, and unique gifts and housewares, including many from women-owned and socially conscious small businesses.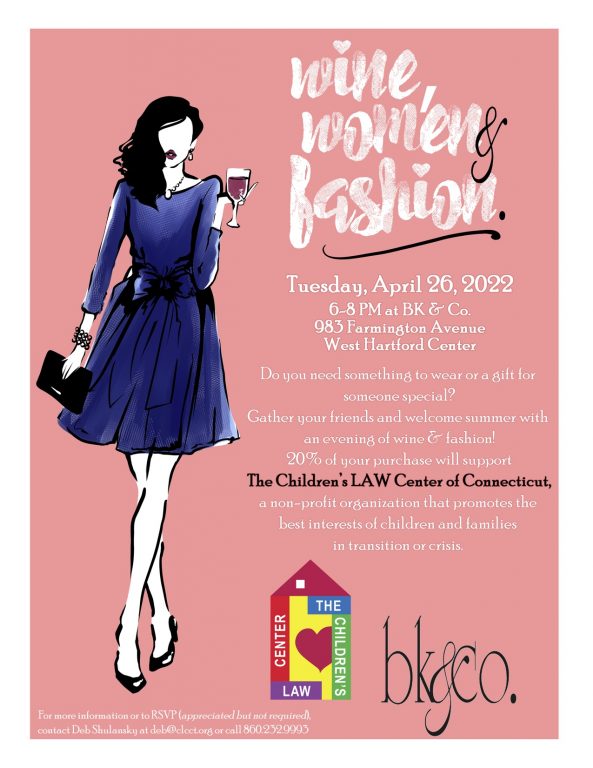 [UPDATE: This item was inadvertently omitted in the original version of this column] BK & Co (983 Farmington Ave.) is hosting an event on Tuesday, April 26. "Wine, Women & Fashion," is a fundraiser for The Children's Law Center (CLC), a statewide nonprofit organization, which, through its programs and services, "strives to create safe, stable environments for children whose parents are in chronic conflict. Our primary goal is to be the voice for children in their parents' family court disputes, where otherwise their interests would be overlooked and they could potentially be in harm's way. We work with parents to create parenting plans that enable and encourage safe, positive and loving relationships between parents and children." Karen Herbert, co-owner of BK & Co. has served on CLC's Gala committee and she and BK & Co have been strong supporters of CLC for many years.
It appears Abercrombie Kids at Westfarms is closing on April 24.
The Hartford Business Journal has selected West Hartford resident Elizabeth "Beth" Alquist, a trial lawyer in the Intellectual Property group at Day Pitney LLP's Hartford office, as a winner for their Top 25 Women in Business Awards 2022. Alquist, also chair of the firm's litigation department, will be honored at the Top 25 Women In Business Awards 2022 dinner on May 4. "Beth is a brilliant advocate for her clients, her team, and for making positive changes at the firm," said Day Pitney's Managing Partner Thomas Goldberg. "She always makes herself available to her colleagues and never backs down when she feels changes are needed, especially when it means fostering the next generation of attorneys." From her days as a Division I Academic All-American Basketball player to becoming a prominent trial attorney, Alquist has long been a standout. She built her practice from scratch in what was a newly formed intellectual property group. She represents diverse clients in patent, trademark, copyright, trade secret, noncompetition and technology-related disputes in federal and state courts, as well as before the International Trade Commission, Patent Trial and Appeal Board, and the Trademark Trial and Appeal Board. Alquist has held a number of leadership positions at Day Pitney, including serving as a member of the firm's eight-person Executive Board and as the first female chair of its Intellectual Property and Technology group. She also co-founded the firm's women's initiative, Women Working Together, and is past chair of both the firm's WWT and Diversity committees. In these roles, Alquist has been an ardent advocate on behalf of women, including helping to shape the firm's parental leave and flextime policies, and ensuring equal pay.
Last week, Business Buzz had news about local winners of the Connecticut Entrepreneur Awards. Our apologies. One winner was left off our list. West Hartford Coworking won first place in Space for Entrepreneurs.
Remember, if you have any business news to share, add it in the comments section below or email Ronni Newton at [email protected].
Like what you see here? Click here to subscribe to We-Ha's newsletter so you'll always be in the know about what's happening in West Hartford! Click the blue button below to become a supporter of We-Ha.com and our efforts to continue producing quality journalism.