A round-up of openings, closings, and other news about West Hartford businesses. 
Business Buzz is sponsored by NBT Bank, and we are very thankful for their support!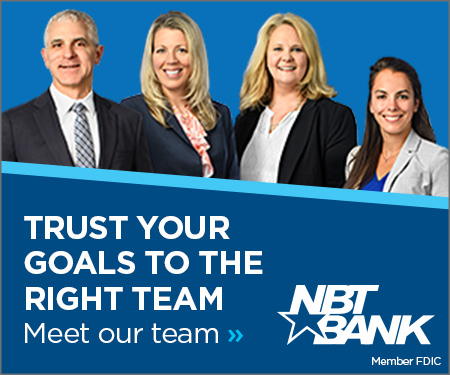 By Ronni Newton
I've stretched "vacation" time out as long as possible, and am starting this column Sunday afternoon on the Nantucket ferry – where unfortunately the Wi-Fi is less-than-adequate so I know there's not a chance it will be completed by the time we dock. Thankfully I can also work in the car (while Ted is driving), using my phone as a mobile hotspot.
We did catch some great views of the Opera House Cup Regatta (all wooden sailboats) as we were leaving the harbor.
Saturday was a beautifully sunny day, and the only day during the past two weeks where I didn't even touch my computer. It was a day that started off with an 8-mile run to Brant Point (my favorite run, which I try to do at least once a summer), a post-run doughnut, and several hours on the beach followed by a cornhole tournament and sunset viewing with family and friends.
Although last week's weather was pretty lousy – other than for Millie, who found it great for seagull chasing – we did have a wonderful chance to visit with family who filled our house. Our kids and their cousins used to spend several weeks together in Nantucket, but this was probably the first time in a decade that they were all in the beach house together.
The reason everyone was together was for the celebration of life for my father-in-law, held on Friday afternoon. It was a special time not only to pay tribute to Ted's dad, but also a touching opportunity for his mom to meet her 3-week-old great grandson.
With all of the comings-and-goings, bad weather, and an infant in the house for a few days, we didn't have a single restaurant meal last week so readers are spared my food photos.
I will, however, include this photo of Millie in the wind!
Summer is definitely waning, and this week is the last full week of vacation for West Hartford Public Schools students and fall sports are already getting underway. After a cloudy and rainy summer, I'm hoping we will get some sunny, warm, and clear weather over the next few weeks.
Today's column is a bit leaner than usual since we are in the final lull before the "return to reality" time of year when many people are either on vacation or transporting kids back to college. There are many new West Hartford businesses planning openings in September, and I'm so excited about the news we will be able to share in this column in the coming weeks.
If you're looking for news about West Hartford in print please note that many stories from We-Ha.com, as well as other local news, is published in the twice-monthly issues of the West Hartford Press.
If you have information to share about local businesses, please provide details in the comments or email Ronni Newton at [email protected].
**************************************************
Here's this week's Buzz:
A few months ago I reported in this column on the very preliminary plans for the redevelopment of 579 New Park Avenue, and there is now much more clarity with a more detailed submission to the Design Review Advisory Committee (DRAC) last week for a second informal study session of plans for The Jayden – a five-story, 70-unit mixed-use development within the town's Transit-Oriented Development Zone. "Since our first meeting with DRAC we have changed our design a bit," Tommy Li, of The Hexagon Group, told me during a phone interview last week. "They took the great feedback that DRAC provided last time," Economic Development Coordinator Kristen Gorski told me, referencing the initial study session held on May 11, 2023. The Hexagon Group has now hired Phase Zero Design as their architect and provided three different options for DRAC to review. While they are very open to feedback, Li said Option 3 (the feature image and the image above – which are just intended to show the building's mass at this point) is the one that he and his partners prefer. "This is the one that fits the site better, fits the neighborhood better. And there is more green space," he said. The number of units is the same with each of the options, with a breakdown of 41 two-bedroom units averaging 1,000 square feet and 29 one-bedroom units averaging 800 square feet, and 14 of the units will be affordable, likely at 80% AMI. "These are large units compared to a lot of the construction that's going up," he said. The plans call for 80 parking spaces, and amenities that include a small dog park, gym, and a library area as well as common area space to accommodate those who work from home. The preliminary plans also include two ground floor commercial spaces, but the tenants haven't been determined at this early stage of the process, Li said. There will also be plenty of space in the development for bike storage. "We've looked at the town's 10-year plan of conservation and development [POCD] and want to create a bike-friendly more transit-oriented development," taking advantage of the roadway updates under design for New Park Avenue that likely include dedicated bike lanes. Li also noted that "this will be the first private transit-oriented development on New Park Avenue" and is right between the two CTFastrak stops. (616 New Park and 540 New Park are both West Hartford Housing Authority properties.) "We're local, we understand West Hartford. We love the potential," said Li, who is a 2007 Conard High School graduate and said his partners are also Conard alumni. "We're moving full force on this. We want to make this project happen as soon as possible." Because it's in the Transit-Oriented Development Zone, a site plan application can receive administrative approval. Asked about the name of the development, Li said it's the name of one of his partners' children. Future developments that they plan for the future will also have a family connection, he said, and unit styles will also have local connections.
I reported last week that CVS is planning to close the store in West Hartford Center as of Sept. 20, and had been told by a store supervisor and the landlord that it was a lease issue. There continued to be media coverage of CVS's plans to close the store in the Center, and I wanted to include here the statement I received from CVS spokesperson Amy Thibault which also confirms the plans to transfer prescriptions automatically to the 150 South Main Street store: "We've made the difficult decision to close our store at 978 Farmington Avenue in West Hartford on September 20. All prescriptions will be transferred to the nearby CVS Pharmacy at 150 South Main Street to ensure that patients continue to have uninterrupted access to pharmacy care. Patients can always choose to fill their prescriptions at any CVS Pharmacy, or the pharmacy of their choice, if another is more convenient. All employees are being offered comparable roles within the company. Maintaining access to pharmacy services in the communities we serve is an important factor we consider when making store closure decisions. Other factors include local market dynamics, population shifts, a community's store density, and ensuring there are other geographic access points to meet the needs of the community. Our teams will continue to provide the community with outstanding service at our six remaining CVS Pharmacy locations in West Hartford. We also offer prescription home delivery service to eligible patients through CVS.com. There have continued to be rumors about other stores closing in town, but Thibault also specifically confirmed to me in an email: "There are no plans to close additional CVS Pharmacy stores in Connecticut at this time."
Gov. Ned Lamont announced last week that Connecticut will hold Sales

Tax

-Free Week from Sunday, Aug. 20, 2023, to Saturday, Aug. 26, 2023. During the week-long sales tax holiday, retail purchases of most items of clothing and footwear priced under $100 will be exempt from sales tax. The exemption applies to each item – not the total purchase. "This

tax

-free

holiday

is scheduled at the perfect time to help families stretch their dollars during the back-to-school season, while also giving businesses an extra boost to their bottom line," the governor said in a news release. "I encourage everyone taking advantage of these savings to shop at some of our state's locally owned retailers and support Connecticut's great small business community." Also. in the news release, Lt. Gov. Susan Bysiewicz said, "Sales

Tax

-Free Week is a great opportunity for Connecticut families to get their back-to-school shopping done and save money at the same time. I encourage residents to take advantage of these savings and shop at their local small businesses, allowing those dollars to be reinvested back into their communities." The lieutenant governor will be at Westfarms on Monday to further promote tax-free week.
These savings last through Dec. 31: Rosa Mexicano in Blue Back Square has announced that kids 10 and under eat free when accompanied by adults purchasing entrees. "

Rosa

Mexicano

has also introduced a new menu, as well! It features brunch favorites daily until 4 p.m., mix and match tacos, and much more. Visit them online to check it out. We can't wait to see you at

Rosa

Mexicano

West Hartford soon!" a company spokesperson said in an email.
CNBC reported last week that 11 of the buybuy Baby stores that recently closed – including the one in The Corbin Collection in West Hartford – will be reopening. "The group that bought Buy Buy Baby's intellectual property at a bankruptcy-run auction in June, the owners of baby goods retailer Dream on Me, plans to reopen 11 stores in the Northeast as soon as this fall, Dream on Me's chief marketing officer, Avish Dahiya, told CNBC," the report states. With a new baby in the family, I'll definitely be keeping on top of this development!
 Congratulations to West Hartford residents Alana Curren and Annie Hildreth, who are among the newly-appointed members of the Hartford Stage Board of Directors. According to a news release, Curran is joining the Governing Board following her tenure as Chair of

Stage

One (

Hartford

Stage

's emerging leaders board). After graduating with a degree in communications and public relations, she took her career to NYC where she spent a decade in agency-based roles, directing media management for some of the world's leading consumer brands. She now uses her skills as an independent brand strategist for mid-

stage

startups and cares for her family. Hildreth is a Managing Director and Market Executive for Bank of America Private Bank in Greater Connecticut. Prior to this position, she led the Northeast Team as Philanthropic Market Executive and was COO for Philanthropic Solutions. In addition to her interest in the arts, she also serves on the board of the Boys and Girls Club of

Hartford.
Sad news that I didn't want to fail to acknowledge. Ed Dunn, the longtime manager of the now-closed Toy Chest in West Hartford, passed away unexpectedly on July 31. Here's the link to the obituary.
ICYMI, DRAC held an initial study session last week on a proposal by Trout Brook Realty Advisors, the development arm of the West Hartford Housing Authority, to transform the vacant Agudas Achim synagogue property at 1244 North Main Street into multifamily housing. Click here for the complete story.
Remember, if you have any business news to share, add it in the comments section below or email Ronni Newton at [email protected].
Like what you see here? Click here to subscribe to We-Ha's newsletter so you'll always be in the know about what's happening in West Hartford! Click the blue button below to become a supporter of We-Ha.com and our efforts to continue producing quality journalism.