A round-up of openings, closings, and other news about West Hartford businesses.
By Ronni Newton
I hate to acknowledge the arrival of winter before the official first day on Dec. 21, but as I write this column on Sunday afternoon winter weather is on our doorstep. I wasn't counting on having to write a parking ban story this morning, but here it is: Bah Humbug, It's Gonna Snow. (Not my actual headline; I'd probably catch some flak for that.)
Speaking of criticism, thanks to the many people who expressed their support for the sometimes-lengthy articles that populate We-Ha.com. Look for another lengthy article since coming up this Tuesday is a Town Council public hearing followed by a meeting with a scheduled vote on the Arapahoe Group LLC proposal for two buildings, with 83 residential units (condos and apartments) as infill development in the Center. We've got a preview article about the proposal on the site now, and look for complete coverage following what I expect – based on the letters to the editor I have already published and many letters already submitted to the Town Council both for and against the project – is going to be a very long night.
I didn't mention it last week because I hadn't yet written my article, but I had the opportunity to be on the set of the filming of "The Skulleton" at the West Hartford Police Department last Sunday afternoon. The film is being produced by a West Hartford native and Hall High School graduate, and you can read all about it here!
I was at Westfarms on Wednesday for the unveiling of the second phase of Dog Walk 2022, which was being emceed by Dennis House of WTNH (see bullet point below for more details about that) and did an impromptu interview with Dennis about "The Skulleton," which was broadcast that night. (Lesson to self: In the future, wear TV-ready makeup when in the vicinity of any news anchor, just in case.)
I have finally started doing some Christmas shopping, and the house is mostly decorated. The Christmas tree has migrated from the driveway into its stand, and Ted put the lights on but it's otherwise still naked. I'm hoping to find time early this week to add the ornaments and complete the rest of the holiday decorating.
I was happy to get into the spirit of the season by donating to several toy drives last week, including one organized by the West Hartford Police Department and another by Friends of Feeney. The police are holding one more "Stuff a Cruiser" event, Friday, Dec. 16 outside Target in Bishops Corner. (Details here)
A friend I have known for most of my life (we were toddlers when our families bought houses on the same street in Stamford too many years ago to count) and her husband visited Saturday night and we had a great dinner at Park Road Pasta Kitchen. She's from a big Italian family that used to adopt me for their family celebrations (I have no first cousins at all, and she has dozens) – that's when I first developed my love for Italian food – and West Hartford's newest Italian restaurant got a thumbs-up from someone I would call an expert. Ted sampled one of the Franklin Ave grinders – and the waiter wasn't kidding when he said it was a "two-day sandwich"! I tried the salmon this time and that was excellent, and we all enjoyed a jug of the house red wine.
There were 58 positive reported cases of COVID-19 in West Hartford over the past seven days (as of Saturday), and a positivity rate of 15.1%, which is a definite increase from last week. It's also the season of respiratory viruses, and this year many more people seem to be sick with a variety of viruses. (Click here for more information from the West Hartford-Bloomfield Health District about the symptoms of various viruses and how to protect yourself.) One day I hope to be able to delete this paragraph completely, but in the meantime, please continue to have patience since not everyone has the same level of comfort, continue to look out for each other, support our local businesses – and stay safe and healthy.
If you're looking for news about West Hartford in print please note that many stories from We-Ha.com, as well as other local news, is published in the twice-monthly issues of the West Hartford Press.
If you have information to share about local businesses, please provide details in the comments or email Ronni Newton at [email protected].
**************************************************
See your business name and ad below. Let us know if you're interested in sponsoring Business Buzz by emailing [email protected]!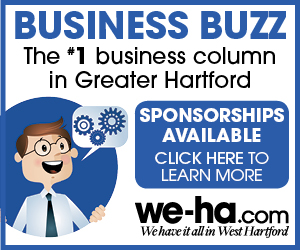 Here's this week's Buzz:
Coffee is one of my favorites things (I may have to drink my coffee out of my Bah Humbug mug on Monday morning), and we have several positive coffee-related news items this week. Perkatory, which has been resident in a small vendor space inside GastroPark since the summer of 2021, will be moving out into its own space early next year. Perkatory has signed a lease (in the space that says "For Lease" in the photo, a former nail salon) just down the street at 625 New Park Ave., right next to G-Monkey. "We're looking to make the move sometime between February and March," owner Joey Perazella told me. "The main reason for the move is we just need more space. GastroPark has been great to us and we love everyone there. We just maxed out what we can do there but feel we have more growth in West Hartford but the lack of space is holding us back." GastroPark owner Tate Norden said he will let me know what the future plans are for the vacated space. "We are very excited that we were able to help Perkatory grow their West Hartford business to enable them to open their own brick and mortar space. Empowering small business has always been one of our primary goals," he said.
The second piece of coffee-related news involves J.René Coffee Roasters and its sister brand, Victus Coffee. Anne Mercer, co-owner of Victus Coffee, sent me an email that thankfully arrived just as I started getting messages from alert readers who noticed the new signage outside the J.René coffee bar connected to Cookshop Plus at 58 LaSalle Road. As of Saturday, Dec. 10, that location is now the official new home of Victus Coffee, a brand founded by José René Martínez, owner and head roaster at J.René Coffee Roasters, in 2015. The coffee is still being roasted by J.René, but what they sell at the LaSalle Road location is all the Victus brand – light, medium, and dark roasts, as well as a medium-roast decaf – barristas Olivia and Serenity told me when I stopped by Saturday to check it out. Martinez founded Victus "out of a love of specialty coffee, a deep-rooted respect for endurance athletes, and a desire to give back," Mercer's email said, and Victus has since expanded from a single coffee blend to a business that uses great coffee to fuel great causes including local nonprofits Open Doors Outdoors, the CT Cycling Advancement Program, Connecticut Foodshare, and the New England Mountain Biking Association (NEMBA) as well as Team Africa Rising and the Adrien Niyonshuti Cycling Academy in Rwanda. Mercer noted that Niyonshuti's story, as chronicled in the documentary "Rising from the Ashes," initially inspired Martínez to start the Victus Coffee movement. "Our Victus Coffee brand has grown tremendously over the years. It was time for the movement to have an official home and our existing coffee bar made perfect sense," Martínez. said. "The LaSalle Road coffee bar is in a prime location near several of our non-profit partners and long-time collaborators. We are ecstatic to finally have an official home for the Victus Coffee brand in West Hartford Center." Marie Engel, co-owner of J.René, noted that Victus has built a loyal following. "It will be fantastic to have a dedicated home for the brand." Mercer said the LaSalle Road coffee bar "has been the unofficial meeting place for Victus Coffee fans, partners, and causes for some time now. We are fortunate to have built a wonderful community of fans and plan to use this location to highlight the causes we support through events and more." In addition to offering  its blends at the LaSalle Road location and at J.René at 320 Park Road, Victus also supplies whole beans to Quarry Coffee Co. in Oxford, Crossroads Coffee in North Haven, Quin Brew Coffee in Watertown, and Green Kettle Coffee in Wallingford. The Victus Coffee Bar, which also has bags of its beans for sale along with Victus merchandise, is open inside Cookshop Plus at 58 LaSalle Road on Monday through Saturday from 8 a.m. until 5 p.m. (that's later than they were previously open) and Sunday from 8 a.m. until 4 p.m. More information on J.René Coffee Roasters can be found at jrenecoffee.com and more about Victus Coffee and its mission can be found at victuscoffee.com.
MORE Italian Pasta Lab is oh-so-close to opening. The space is complete, all the signage has been installed, and they are awaiting the final health department inspection, owner Anna Landi said when I stopped by on Saturday. She is hopeful for an opening before Christmas. She and her husband, Davide Di Pietro, and their young daughter, are relocating from Rome to West Hartford to launch the business, which will feature house-made fresh pasta and more at 54 LaSalle Road. I can't wait to sample the product!
We'll all get to take a little break from a season filled with sweet treats, and that will be perfectly timed for the opening of Crumbl Cookies in the Corbin Collection – likely around February 2023. Permits have been obtained, and build-out is well underway!
Congratulations to the winners of the Connecticut Restaurant Association's CRAzies Awards, celebrated last Monday at Foxwoods. There were a number of West Hartford restaurants and a server nominated, and winners included People's Choice winner Meçha Noodle Bar (which has multiple locations including West Hartford) and West Hartford-based DORO Catering & Events. "Our fourth annual CRAzies Awards Gala was a huge success for our association, for our industry, and for the tens of thousands of Connecticut residents we employ," Connecticut Restaurant Association President & CEO Scott Dolch said in a news release. "The energy and enthusiasm that nearly 1,300 guests brought to this event once again demonstrated that Connecticut's restaurant and hospitality industry continues to be a powerful economic engine, accounting for nearly 10 percent of all jobs in our state. The CRAzies once again showcased the exceptional talents our industry has to offer, and we look forward to building on this success each and every year as we encourage everyone in hospitality to take part in this annual celebration." Jacques Pépin, who I had the pleasure of interviewing years ago at his Madison home for a magazine feature, was presented with a well-deserved lifetime achievement award.
As I was writing this column on Sunday afternoon, I learned some very exciting news from Chef Adam Greenberg. Back Door Kitchen (literally at the back door of Sparrow Pizza Bar) will be launching its first collaboration – with PopUp Bagels! The authentically Brooklyn bagels – which has attracted celebrity investors like Jud Apetow, Paul Rudd, and Michael Strahan, and that are brought to suburban locations in the New York Metro area – will be rolled and boiled at Sparrow Pizza Bar on Saturday, Dec. 17.  Greenberg knows the owner, and said he has been looking to do something in the bagel world. "We're testing this as a one day popup and then, if it goes well, we'll have it every weekend starting in January. It's preorder only, dozen bagels and two schmears, I'm doing a collaboration schmear this one – pepperoni-hot honey cream cheese." Advance orders include a dozen bagels and two artisan schmears and can be made through the PopUp Bagels website where you will choose your pickup slot to assure freshness and "the ultimate bagel experience," the PopUp Bagels website states. More information can be found on the PopUpBagels Instagram (@popupbagels).
The Chamber of Commerce celebrated a ribbon cutting Friday afternoon at Warehouse 635, West Hartford's newest event space. Warehouse 635, which is located in Building 2 of the 635 New Park Avenue industrial park (near GastroPark) is an industrial-style venue that can accommodate up to 150 people. It's owned by Camille Hudson (who is also a realtor with Berkshire Hathaway and a former Aetna executive) and Shaun Chambers, who owns BodyRoc and Smash Ave, right next door. The space opened in May, and Hudson said they have already hosted about 70 events. It has an exposed ceiling (and a very cool balcony) white walls, and adjustable lighting that is essentially a blank slate for any type of event. They have tables and chairs, and linens (for up to 150) which are included in the rental fees, and outside food and drink (including alcohol) can be brought in, or prepared directly in the space's kitchen. Check out the website for more details.
Jason Craig, owner of A Good Find (who hoped to open a brick and mortar location on Farmington Avenue but was unable to due to accessibility issues with that particular space) is offering one-of-a-kind finds including vintage clothing, children's toys and clothes, art from local artists, sport cards and memorabilia, Pokémon cards, classic video game consoles and games, legos, sports gear, home furnishings, collectibles, and more. Pick-up will be coordinated locally via by Craig after ordering. The website is agoodfindweha.com.
LobsterCraft has closed its doors at 981-A Farmington Avenue, slightly more than a year after opening and just a few months after holding a ribbon cutting, but co-owner Michael Harden (aka "Captain Mike") said they will be reopening in the area. "It's not a closing, we're moving the store," he told me in a phone conversation last week. He said the space, which includes a basement, was too much for the operation. "We have a couple of interesting places we are looking to open," Captain Mike said, including a few spaces they are looking at in West Hartford. They cleared out their equipment and plan to use it wherever the new location is. "It's unfortunate, but sometimes it's a decision you have to make," he said. I've heard there is already quite a bit of interest in the Farmington Avenue space, so I would not expect it to be vacant for long.
The Delamar Hotel is hosting a few upcoming events, including Breakfast with Santa on Sunday, Dec. 18, from 9 a.m. until noon. According to a news release, "All ages will enjoy a delicious breakfast buffet, personal meet and greet with Santa, children's activities, s'mores by the firepit, and holiday crafts. A portion of the proceeds will support The Village for Families & Children. The Village's mission is to build a community of strong, healthy families who protect and nurture children.

Delamar

West Hartford & The Village have also partnered on their Holiday Giving Tree program. More families than ever are coming to The Village for help with mental health, parenting support and other crucial needs. As families we serve grapple with high inflation, the Holiday Giving Tree helps ensure children have a special holiday and protects families from having to choose between gifts or basic needs, such as food or rent. To donate to the digital Giving Tree please click here." The Delamar is also holding their first "Luminary of the Peace" gathering to celebrate the holiday season on Sunday, Dec. 18, from 4 to 7 p.m. There is no charge to attend, and activities will include live Christmas music by Kyle O'Connor and a hot cocoa and cider bar. A cash bar will be available, along with S'mores kits and Douglas the Dog plush toys for sale.
Congratulations to Melanie Sinche from West Hartford, the assistant dean for Academic Affairs, director of the Career Development Center and executive director of the Women's Leadership Center at the University of Saint Joseph, who was honored last week by the Girls Scouts of Connecticut at their 26th Annual Breakfast Badge Awards Ceremony, the largest, public fundraising event for the non-profit organization whose mission to build

girls

of courage, confidence and character. "During the dark days of the COVID-19 pandemic, three Connecticut women went beyond the call of duty to brighten the lives of women and

girls

throughout the state. 

Girl 

Scouts

of Connecticut is honoring these 'Women Who Shine,' who are true role models in creating solutions for their communities," an announcement of the event states.
The Bridge Family Center has announced that Maiya Pierre, LCSW was recently promoted to the director of Residential Services. In this role, she will maintain her current clinical duties, as well as oversee all residential programs of the Bridge and the Mosaic Parenting Center. The Bridge has four STAR (Short Term Assessment Respite) homes in Hartford, Harwinton, West Hartford, and Wolcott. The Moving on Project, located in Manchester, is a transitional living apartment program that assists males, ages 16-21, in developing the skills needed to live independently. The Mosaic Parenting Center provides structured support and coaching during family visitation sessions for parents who are working on family reunification after a child has been removed from the home. Pierre joined the Bridge in 2012 and has progressed through several positions. She was selected for the 100 Women of Color Class of 2021. This special honor recognizes Pierre's dedication to giving back to women of color and the impact she has had on the young children in her care. "Maiya's outstanding ability to connect with and encourage our clients, along with her deep understanding of residential services best practices, will be invaluable assets in her new role," said Margaret Hann, executive director of the Bridge. She continued, "Working with the youth in these programs is very challenging and demanding. Our kids have experienced significant trauma and unstable relationships throughout their lives. Maiya has a natural ability to build trust and foster a caring, supportive environment."
James C. Hagan, President and CEO of Westfield Bank, announced in a news release that Indrani Chakraborty has been appointed assistant branch manager and business specialist at the Bank's 977 Farmington Avenue Branch in West Hartford. In her position, Chakraborty will be primarily responsible for small business development, including driving business deposit and loan growth and assisting small business and commercial customers with deposit, credit, and digital banking products. Prior to joining Westfield Bank, Chakraborty spent over a decade as a Senior Universal Banker and Senior Relationship Banker with multiple national and regional banks. She holds a Bachelor's degree with Honorsin Political Science from the University of Calcutta in India and also holds a Small Business Certification.Outside of work, she is a volunteer with the Connecticut Food Bank and a participant with the United Way and other local community events.
Pullman & Comley has announced the hiring of several new associates, including West Hartford resident Gwaina D. Wauldon. She has been named an associate in the education law and labor & employment practices and focuses on education and labor law. Wauldon has significant experience in Title IX and compliance with state and federal anti-discrimination and anti-harassment laws. She was previously an attorney for the State of Connecticut Department of Education's Connecticut Technical High School and Career System. Wauldon received her B.A., magna cum laude, from University at Buffalo, her M.A., summa cum laude, from Buffalo State College, and her J.D. from University of Connecticut School of Law.
The Buena Vista Property Owner's Association held its Annual Holiday Party on Sunday, Dec. 4, with more than 75 neighbors attending the event, which included a collection for the West Hartford Food Pantry and fun activities for people of all ages. Auerfarm provided the animals for petting (a Jersey Cow and miniature horse), and the Big Green Pizza Truck provided all of the pizzas, salads, drinks and desserts and a raffle was held which included handmade winter wear, spirits from the London Shop, and lotions. Sherry Haller, president of the Association, noted, "We are truly blessed to live in a neighborhood as caring as Buena Vista.  We all share in the joy of  getting together to celebrate the holidays and give back to our community."
As noted in the introduction above, Dog Walk 2022 has scampered over to Westfarms, where the dogs will be on display, with the opportunity to donated to the charities they represent, through New Year's Day. I joined Dennis House from WTNH, Westfarms spokesperson Amanda Sirica, several artists and representatives of the sponsors on a tour last week, and you can read more about the dogs here.
Remember, if you have any business news to share, add it in the comments section below or email Ronni Newton at [email protected].
Like what you see here? Click here to subscribe to We-Ha's newsletter so you'll always be in the know about what's happening in West Hartford! Click the blue button below to become a supporter of We-Ha.com and our efforts to continue producing quality journalism.