A round-up of openings, closings, and other news about West Hartford businesses. 
By Ronni Newton
We're in full-fledged holiday mode at our house as the month of December flies by.
Our Christmas tree has made it into the house and is proudly standing in the archway dividing my office from the living room, still completely unadorned. While two small trees in other rooms are decorated, as is the rest of the house, adding lights and ornaments to the main tree has been awaiting a long enough block of time when Ted, Sam, and I will finally all be home at the same time – and is scheduled for tonight.
We've had a lot going on for the past week or so. I was a member of a team participating in The Hartford Marathon Foundation's 12K's of Christmas which meant I was doing much more running (or at least walking) than usual to make sure I was pulling my weight on the team. Ted has been really busy with work, and Sam has had a number of project deadlines as he completes his second-to-last semester of graduate school.
We're also very happy that this year we have also had holiday events to attend! We saw "Miss Bennet: Christmas at Pemberley" last week, and I heartily recommend it! Shows run through Dec. 23, and as Christopher Arnott says in his review in the Hartford Courant, it's a "smart, charming holiday show."
We also went to holiday parties both Friday and Saturday night – kind of a shock to the system! I'm no longer used to standing and talking for an extended period of time, and by Sunday morning I was exhausted! But it was absolutely wonderful to have the opportunity to socialize and celebrate with friends and colleagues.
Because we were at parties we missed our normal weekend dinner out. Since I feel like I can't skip having a food photo in this intro, I took a picture of a fantastic chocolate fountain at Saturday night's party, right before we sampled pretty much everything that could be dipped. Those red velvet cookies didn't need a chocolate coating and were delicious on their own!
Repeating my own goal again as a reminder: I hope to take some deep breaths, and enjoy the sights, sounds, tastes, smells, lights, and spirit of the holiday season. And whatever holidays you celebrate, I hope you can do that, too.
Please continue to support our local businesses, wear your masks indoors if you are not vaccinated – and stay safe and healthy.
If you have information to share about local businesses, please provide details in the comments or email Ronni Newton at [email protected].
**************************************************
Here's this week's Buzz:
It has been a very long journey, but Tribe reopened Saturday at last in their new location at 635 New Park Ave., Building 4A. Owner Janelle Pentlicki said when Tribe had to close their 1001 Farmington Ave. studio due to the pandemic in March 2020, it was a good time to make the move to the new and larger location they had secured, and in late April 2020 they moved all of the equipment out of Farmington Avenue and into storage while the build-out was taking place. It's been many, many frustrating months with myriad delays, but Pentlicki is thrilled to finally be able to #unitethetribe in the new space. Tribe now has 4,200 square feet (more than double the previous 2,000 square foot space), and an expansive cycling studio as well as a separate strength studio where TRX, barre, and other strength and core classes are held. There are 33 bikes (Keiser M3 Plus)  in the cycling studio now, and 14 straps for TRX, but post pandemic even more will be able to be accommodated. There are five showers as well, and two separate HVAC systems as well as ceiling fans to enhance the airflow in the space. Pentlicki – who purchased the Tribe business in 2019 after having been the studio manager since 2014 and still teaches many of the classes – said she feels so lucky that "the same crew is back," and all but one of her instructors have returned (and the one who didn't moved to Maine), and  many of the studio members have reactivated their memberships. "We've gotten new people, too," she said. "I had always wanted to open my own business," Pentlicki said, and she's very happy to be back in business. Classes at Tribe are 50 minutes (45 minutes of intensity plus a  5-minute cool down) and are currently scheduled weekday mornings at 5:45 and 7 a.m., plus 8:45 a.m. on Monday/Wednesday/Friday, and 5:30 p.m. Monday through Thursday, 6:30 p.m. Tuesday and Wednesday. Weekend classes are at 7:30, 8:30, and 9:30 a.m., plus a 10:30 a.m. sculpt class on Sundays. The class schedule will be expanding, and information can be found on the website, and more photos can be found below. Pentlicki said she's also planning an event at GastroPark with Junkpot Studio and some of the other fitness businesses in the complex.
Dog grooming business Monica's Paw has recently had its grand opening at 625 New Park Ave., #F. Services include full and mini grooming sessions, "wash and go," as well as a la carte services such as nail trimming and flea and tick or skunk treatment. They are open Tuesday through Saturday from 9 a.m.-4 p.m., and can be reached by email at 

[email protected]

 or by phone at 860-281-1886. For more information about services and hours, or to book an appointment online, visit the Monica's Paw website.
A martial arts studio was located in the space now occupied by Monica's Paw, but Jukido Jujutsu has not closed but rather moved to 635 New Park Ave., Building 3D. More information about that business can be found on their website jukidojujutsudojo.com.
Playhouse

Theatre Group has acquired a new

scene

shop

for

Playhouse

on Park, and it recently opened at 15C Andover Drive in West Hartford. They have a wish list of items being collected to outfit the scene shop, and that list can be found here.
While I was driving around the New Park Avenue area, I noticed that extensive progress has been made on the Trout Brook Realty Advisors/West Hartford Housing Authority transit-oriented development 540 New Park. The beam-signing for the project was held in late June, and the goal is to have the project completed by the summer of 2022.
Also while in the New Park Avenue area I noticed extensive progress on the build-out of AutoZone's space for a new retail operation in the former Coastal Tool space at 510 New Park Ave. AutoZone has also taken over the space next door, which will be used for parking. The space will serve as a retail operation, and there will be some regional warehouse operations on the site as well.
West Hartford-based Roy & Leroy Government Relations LLC announced last week in a news release that Joy Avallone has joined the firm as a senior lobbyist. Most recently she was general counsel for the Insurance Association of Connecticut, serving as one of the chief lobbyists for Connecticut's insurance and financial services industry, and previously she served as assistant Attorney General for the State of Connecticut providing high level legal counsel to Connecticut state agencies. "Joy has become one of the most respected voices at the state Capitol on a wide range of business issues," said Craig Leroy, a partner and one of the founders of Roy & Leroy. "I am confident she will make an immediate and positive impact as part of our team." The firm has experienced significant growth in the past few years, with new clients in the telecommunications, internet technology, commercial solar, and cannabis industries. Roy & Leroy has also increased its focus on municipal development and public-private partnership (P3) projects, having just recently represented the longtime operator of Tweed New Haven Airport in a landmark deal to develop the airport. In 2020, Dallas Dodge was named Managing Partner of Roy & Leroy. "We pride ourselves on providing individualized attention to a select group of clients with complex issues. Adding Joy to our team will help us maintain that commitment to excellence," said Dodge.
Several West Hartford residents are among the 12 Connecticut Wealth Management team members who recently earned the 2021 Five Star

Wealth

Manager Award from Five Star Professional. Congratulations to Jarrett F. Solomon, Kathleen M. Christensen, and Elizabeth A. DeBassio. According to a news release, a total of 3,191

Connecticut

-area

wealth

managers were considered for the award and only 272 were selected as recipients. "We're honored to have 12 team members representing

Connecticut

Wealth

Management

receive this esteemed award," said Kevin C. Leahy, President and CEO of CTWM. "This recognition exemplifies our continued commitment to both our industry and our clients, who are our number one priority."
The Max Cares Foundation has kicked off its annual fundraiser, which will be supporting House of Bread, and will match total gifts to the campaign up to $25,000. "Everyone wants to celebrate the holidays in some way with family and friends, but not everyone has the ability to do that," Tom Porell, Operations Manager at the Hartford House of Bread (HOB). The Max Cares Foundation's "Roasts for the Holidays" fundraising campaign raises funds to provide "Max-quality" holiday food to shelters and soup kitchens that prepare and serve meals to those experiencing food insecurity in the Greater Hartford, Connecticut, and Greater Springfield, Massachusetts regions. Now through Dec. 31, 2021, diners can support "Roasts for the Holidays" while visiting any Max Restaurant Group location by simply adding a charitable contribution to their check at the end of their meal, or to any take-out order placed via the individual Max Restaurants websites. Max location in West Hartford, including Max's Oyster Bar, Max Burger, and Savoy, are participating. Ina addition, participating Max Restaurants include Max Downtown and Trumbull Kitchen in Hartford, Max-A-Mia in Avon, Max Fish in Glastonbury, CT; Max's Tavern in Springfield, MA; and Max Burger in Longmeadow, MA. "Last year, even with the challenges presented by the COVID-19 pandemic, the 2020

 "

Roasts

for the Holidays" campaign was our most successful, allowing our communities to provide a delicious, nourishing holiday dinner to thousands. We plan to top that this year," said

 

Richard Rosenthal, President of the

Max

Cares Foundation. For more information visit the website.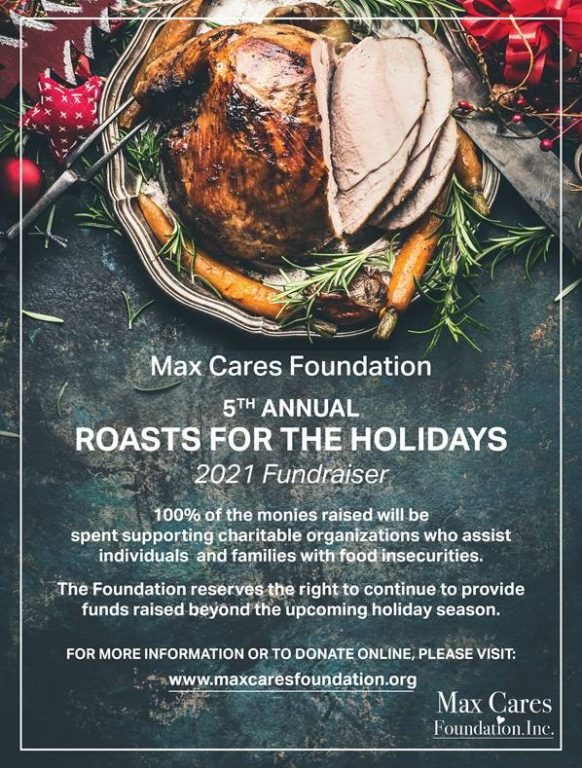 Congratulations to Jessica Rosenworcel, a West Hartford native and 1989 Hall High School graduate who was confirmed last week as head of the Federal Communications Commission. "There is no one better suited for the job of FCC Chair than Jessica

Rosenworcel

, and I was proud to support her confirmation to a third term," said U.S. Sen. Chris Murphy. The bipartisan infrastructure bill includes billions of dollars for expanding wireless, high-speed internet and lowering costs of connectivity. Chair

Rosenworcel

will play a critical role in ensuring this once-in-a-generation investment helps us close the digital divide. I'm proud to see a Connecticut native serving in this position, and look forward to working together," he said.

Rosenworcel, a graduate of Wesleyan University and New York University School of Law,

has served as an FCC commissioner since 2012, and was named acting chair in January of this year. Prior to her time as a commissioner,

Rosenworcel

served as senior communications counsel for the United States Senate Committee on Commerce, Science, and Transportation, and as a senior legal adviser to the FCC. "Jessica

Rosenworcel

will be a dynamic, determined enforcer and advocate for all consumers and underserved Americans," said U.S. Sen. Richard Blumenthal. "As a vigorous consumer champion with deep roots in Connecticut, her confirmation is a historic step forward for both the FCC and our state. I've seen firsthand Chair

Rosenworcel

's commitment to ending the scourge of robocalls and closing the digital divide that plagues far too many disadvantaged communities. As funding from the Bipartisan Infrastructure Deal goes to accessible high-speed internet, the FCC will now have an affordable broadband, net neutrality, and privacy champion leading implementation. I've been proud to advocate for her nomination as a member of the Senate Commerce Committee, and I look forward to welcoming Chair

Rosenworcel

back to Connecticut as she continues her impressive work at the FCC." In a Tweet Tuesday, Rosenworcel said she's ready to get to work.
It's the honor of my lifetime to lead the @FCC and serve as the first permanent female Chair. Thank you to the President and Senate for entrusting me with this responsibility. There's work to do to make sure modern communications reach everyone, everywhere. Now let's get to it.

— Jessica Rosenworcel (@JRosenworcel) December 7, 2021
David McGrath of West Hartford, a partner at Louden, Katz &

McGrath

LLC, one of Connecticut's leading family law firms, has been elected as a Fellow of the American Academy of Matrimonial Lawyers (AAML). Comprised of the top matrimonial attorneys throughout the nation, AAML members are recognized as preeminent family law practitioners with the highest levels of knowledge, skill, and integrity. The Connecticut chapter has 32 members, and David is one of five from the Hartford area. To be elected, each Fellow must successfully complete a rigorous selection process that includes interviews, examinations, and professional and judicial evaluations. "As a past president of the Connecticut chapter of AAML," Bruce Louden, Partner, said in a news release. "I am especially pleased by my partner's well-deserved election. David is the first new Fellow from Greater Hartford in the past fifteen years," he said. "David's dedication to his clients and the law are unparalleled," said Robert Katz, Partner. "He has focused his career exclusively on family law and quickly established a reputation as a skilled and successful divorce lawyer."
West Hartford resident Bette Marafino, president of the Connecticut Alliance for Retired Americans, testified Tuesday before the House Ways & Means Subcommittee, the office of U.S. Rep. John Larson reported. "With so many retirees worried about the high cost of their medications and essentials, an increase in their earned Social Security benefits is critical," Marfino said. "Before Social Security there were poor houses across the country. We don't want to go back to those days. It's time for Congress to recognize this crisis, and pass the Social Security 2100: A Sacred Trust Act now. Retirees can't wait."
ICYMI, congratulations to all of the Town of West Hartford employees who celebrated employment service milestones in 2021. Complete details can be found here.
It looks like Connecticut will have a digital health card, aka a vaccine passport, before the end of 2021. Click here for the details.
Remember, if you have any business news to share, add it in the comments section below or email Ronni Newton at [email protected].
Like what you see here? Click here to subscribe to We-Ha's newsletter so you'll always be in the know about what's happening in West Hartford! Click the blue button below to become a supporter of We-Ha.com and our efforts to continue producing quality journalism.