A round-up of openings, closings, and other news about West Hartford businesses.
By Ronni Newton
A continued Happy Holidays to all who are celebrating one of the major religious holidays that occur at this time of year!
Today is the first day of Chanukah, and look for a story later today about Chabad's fantastic celebration held in Blue Back Square last night.
It was a busy – and very icy – week in West Hartford. We're officially in the winter season as of Saturday, but thankfully it's warmed up a bit and the ice is finally melting a bit on its own.
I enjoyed a great sushi lunch at Koma in Bishops Corner last week. It was my first visit for lunch and course I had to order the "West Hartford sushi roll" (center of photo), although without avocado because sadly I am allergic to it. Everything was excellent!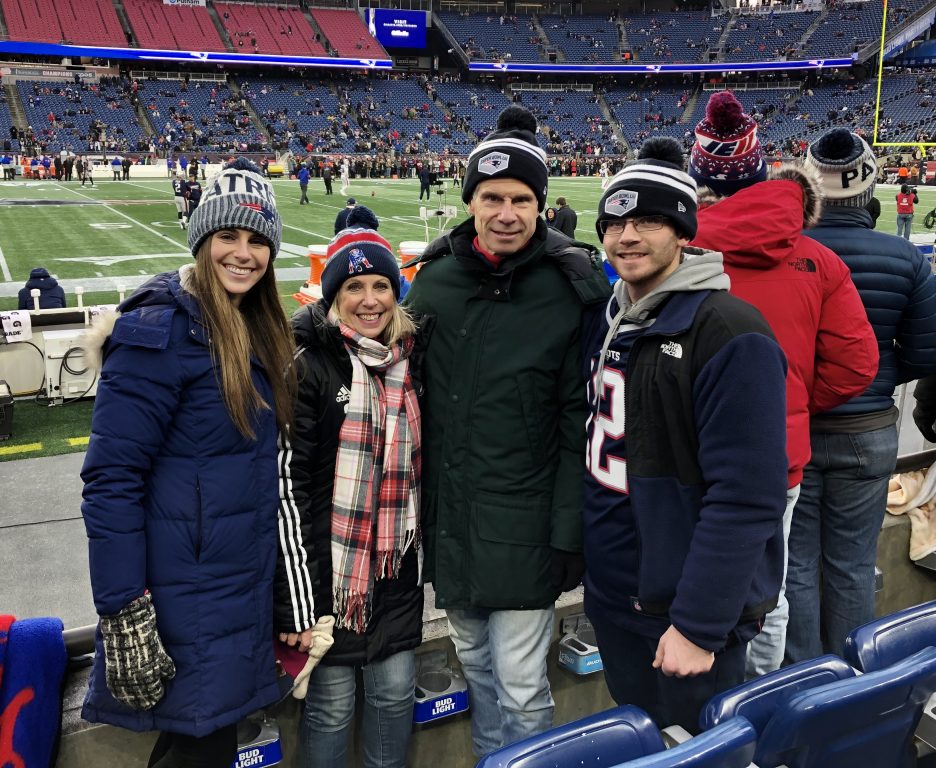 I was pretty thankful it wasn't bitterly cold and windy on Saturday, when I attended my first-ever Patriots game! Of course we were also wearing many, many layers of clothing and had hand and toe warmers.
The tickets were a birthday gift to Ted (my husband) from Katie and her fiancé, Matt, and we had a great time at a very exciting game. We even got to see Mike (Matt's brother, who works for the Patriots) warming up some of the players on the field before the game!
We-Ha.com has been growing in readership – which is a very good thing – and that necessitated moving our content to a new server. Unfortunately the switch caused a few glitches with the site over the past week or two, and we apologize for the growing pains, particularly for those who access We-Ha.com through the Monday/Wednesday/Friday newsletter which has experienced related technical difficulties. We still had a minor issue this morning but are pretty confident that everything will be working smoothly going forward!
We will NOT have a newsletter coming out on Wednesday since it's Christmas Day, so after today the next newsletter will be Friday, Dec. 27. We will also suspend the newsletter on New Year's Day.
Stories will continue to be published, and (while I hope it will be quiet) of course if there is breaking news we will communicate that as quickly as possible. Readers can always access the site directly on the We-Ha.com homepage, and many stories are also shared through Facebook and Twitter.
If you have tips about businesses opening or closing, or doing something worth sharing, please provide that information in the comments or email Ronni Newton at [email protected].
Here's this week's Buzz:
Updated: After a visit to Nashville in October that included dinner at Hattie B's Hot Chicken, I am very excited to report that "hot chicken" is coming to West Hartford – and so is another concept called "tenderwings"! The earlier version of this story indicated that Nashville Hot Chicken would be opening in the former 0 Degree space at 120 Park Rd. (0 Degree closed in November but will reopen at 276 Park Rd. in the spring) but after speaking with co-owner Brandi Morgenthau-Killoran Monday morning, she said that she and her husband, Phil Killoran (a West Hartford native and Conard grad) are actively developing two chicken-related concepts and tenderwings will be the restaurant opening at 120 Park Rd., where plans were just approved by the town Friday and build-out is now underway. The entire property is being renovated and there will be a 1,080 square foot addition on the back (the current space is 1,229 square feet) that will become the kitchen, and the restaurant will seat about 40 people, and hopes are to open in the spring. Morgenthau-Killoran and her husband built and owned six Ben & Jerry's franchises in Connecticut and New York, and briefly left the state for California but are back and ready to launch their two new concepts. She said they are working closely with 120 Park Rd. building owner Soden Tek, who owns Blue Elephant Trail in West Hartford and Avon, on the tenderwings concept which is based on chicken tenders and similar to the chain Raising Cane's. "It will be quick service, fast casual, lower price point, in-and-out – but quality food," Morgenthau-Killoran said. "We will do simple items really well," she said, a streamlined menu and some side dishes. As business owners, they are also very committed and focused on labor, and paying a livable wage. Morgenthau-Killoran and her husband will also be opening Nashville Hot Chicken in West Hartford, and are currently finalizing that lease. She hopes to be able to announce those plans shortly.
Kaliubon Ramen is just weeks away from opening their location in the former INDIA space at 54 Memorial Rd. Co-owner Kevin Xu (a West Hartford resident who also owns 

Ginza Japanese Cuisine in Wethersfield)

 said the equipment has arrived, the tables and chairs are on the way, and the hope is for a mid-January opening. Kaliubon Ramen, which currently has a location in Wethersfield, is also owned by

 Raymond Zheng of Ginza group's 

Feng Asian Bistro and Bill Chen, one of the founders of the Ginza group

. They have developed a great reputation and quite a following for their Japanese style Ramen. The noodles are all house made on a machine the owners have imported from Japan. I recently had a chance to sample several dishes in Wethersfield and everything was delicious.

Float Forty-One (345 North Main St. in Bishops Corner) is getting really, really close to opening, too. They were hoping to have all of their permits finalized by this week and then begin filling the tanks. I stopped by last week and it looks beautiful inside, and look for the announcement of the opening very soon.
Don't forget that WeHa Wheels is available for use to and from the Center and Blue Back. Christmas Eve is already booked by one of the sponsors, and there is no service this coming week on Friday through Sunday, but spaces are available for New Year's Eve, first come first served, between the hours of 6 p.m. and 1 a.m. Book online at wehawheels.com.
The former Pho 206 space at 206 Park Rd. will become a beauty salon, said Kristen Gorski, West Hartford's economic development specialist. The name of the salon has not yet been announced, but permits are in place for renovation of the storefront.
Also on Park Road, the former Williams Shoes space (132 Park Rd.) will become Salon Salud, specializing in manicures and pedicures. No opening date has been announced, but there is a website with some additional information about the business.
ICYMI, this really isn't business, but it's exciting so I am including it anyway: West Hartford's temporary dog park is open at Beachland Park! Click here to read all about the park, and click here to listen to Experience We-Ha's paw'dcast with one of the members and a few excited pups!
Remember, if you have any business news to share, add it in the comments section below or email Ronni Newton at [email protected].
Like what you see here? Click here to subscribe to We-Ha's newsletter so you'll always be in the know about what's happening in West Hartford!