A round-up of openings, closings, and other news about West Hartford businesses. 
By Ronni Newton
It's the last Business Buzz of 2022 … I hope everyone has had wonderful celebrations of Christmas, Hanukkah, Kwanzaa, and/or any combination thereof.
Unfortunately, this has not been a holiday season filled with only good wishes, joy, and happiness. Sadly there has been so much tragedy to report over the past 10 days, and our whole town is reeling from the news of five vehicle-related deaths due to multiple completely unrelated incidents. It's not the type of news anyone wants to hear, or report, at any time of year, and it's even worse during the holiday season when we want to be focused on happy news and optimism.
My heartfelt thoughts are with all of the families and friends who lost loved ones through this week's tragic events, and I know our first responders, as well as our town leaders are also grieving.
Look for updates on actions the town plans to take regarding roadway and pedestrian safety, but please note that this is NOT a West Hartford-only problem. On Tuesday a front-page article in the Hartford Courant reported on a record number of pedestrian deaths in Hartford. The problem is multi-faceted, with speeding, distractions, and road conditions all contributing factors.
On a personal note, I tested positive for COVID (first time ever) and spent last week in isolation at home. I did manage to report on town events by watching WHCi recordings of meetings (I much prefer to attend in person, but am thankful for the virtual option), and thank all who sent me photos and otherwise helped out. I am also very grateful that I had a very mild case, and was able to return to the world (wearing a KN95 mask) in time to finish my Christmas shopping and was able to see family and friends, even though some of the celebrations were delayed. My father-in-law also tested positive for COVID (completely unrelated to my case since I had not seen him in weeks), and while he has not had the same quick recovery we are praying that he continues to improve.
While I have not been out to dinner over the past week, we did have some delicious takeout from Black Bamboo one day last week – exactly what I was craving once I started to get my appetite back.
There were 35 positive reported cases of COVID-19 in West Hartford over the past seven days (as of Tuesday), and a positivity rate of 12.9%, which is nearly the same as last week. It's also the season of respiratory viruses, and this year many more people seem to be sick with a variety of viruses. Last week I thought I just had a cold after two negative COVID tests, but I keep testing daily because I was feeling worse and the third test was positive. I personally only did a home test though, so I know for sure those numbers don't reflect people like me who didn't need any medical intervention and just isolated for the required number of days. (Click here for more information from the West Hartford-Bloomfield Health District about the symptoms of various viruses and how to protect yourself.) Public health officials also suggested wearing masks in crowded indoor spaces while gathering this holiday season. One day I hope to be able to delete this paragraph completely, but in the meantime, please continue to have patience since not everyone has the same level of comfort, continue to look out for each other, support our local businesses – and stay safe and healthy.
If you're looking for news about West Hartford in print please note that many stories from We-Ha.com, as well as other local news, is published in the twice-monthly issues of the West Hartford Press.
If you have information to share about local businesses, please provide details in the comments or email Ronni Newton at [email protected].
**************************************************
See your business name and ad below. Let us know if you're interested in sponsoring Business Buzz by emailing [email protected]!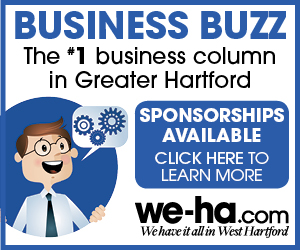 Here's this week's Buzz:
West Hartford resident

Kate Feiner

has launched a business designed to positively influence people's moods – and that to me sounded like the perfect feature for this week as we look ahead to the new year with what I hope is a spirit of optimism.

See Happy

is currently an online shop, offering unique sunglasses in an assortment of colored lenses that Feiner said "offer a dramatic peaceful, calming or, sharping reaction when worn." Feiner said she first became aware of the the dramatic impact of looking at the world through a yellow-tinted lens. "I was immediately struck. They made me feel so much better," she said. "That's when I learned about the complexity of light therapy," she said, and she explored different color lenses, getting feedback from friends as well as she explored the impact of the colors. Ultimately she decided to take the concept of seeing the world through different lenses into a business operating in the novelty space, with this positive mission: "We can all achieve happiness when we look at things differently." Yellow, as well as pink lenses sharpen objects, she said, while blue or violet tints provide a cooling, soothing, and calming feeling. The glasses are available in a unisex style with a clear frame and lenses in the four colors (yellow, pink, blue, and violet). While Feiner said the glasses are about "fun and silliness," they are also sunglasses, with UVA/UVB protection (they are not polarized), but the tint is light enough that they can be worn inside in bright rooms. She has had a few pop-up events, including at the Auerfarm fall festival, and plans to attend more events, but in the meantime the glasses are available online on the website,

www.seehappyglasses.com

. They can be shipped anywhere in the world, but shipping is free in the West Hartford area.  "Our brand is about seeing the world in a happier way by adding color," she said. "We want to expand the happiness."
West Hartford-based residential design firm

Camden Grace Interiors

 (7 South Main Street, Suite 203) annually picks a deserving and inspirational local family in the community and gives them a room makeover, owner

Jeanne Barber

said, and this year, they received a nomination from the Hoffman family of Hoffman Auto Group, nominating one of their employees, Meri Robert. Barber shared the following details about the family chosen for this year's "Merry Makeover": "Meri's husband was crushed in a parking lot collapse while on the job and suffered a brain injury and is not an amputee. Meri has dealt with the aftermath of this accident, as well as her sons' medical challenges with grace and perseverance."

More details about the family can be found here

. Local businesses that donated goods and labor include: Lilejedahl Bros. of West Hartford, which moved furniture, built cabinetry, and painted the entire room; New England Cabinet Co. of New Britain which built and installed a custom TV unit; Olson Backman of Portland which donated window treatments (installing in January); Ikag Co. of Simsbury created a custom coffee table with storage for Legos; Michelle Wolff Photography (Simsbury) and Localer Media (West Hartford) donated their time to take memorable photos and videos. "What was most amazing about this group effort was that there was no arm twisting or begging involved, as soon as they heard Meri's story, they immediately asked how they could help," Barber said.
Luna Pizza West Hartford has announced their expansion with the opening of a second location in Old Wethersfield. Luna, which has always been family-owned – Alex MacDonald took over in 2008 from his uncle, who opened it in 1997 – has been a longtime West Hartford staple and about a year ago Alex and his wife, Stephanie Sullivan, signed a lease to take an available location in the historic district at 181 Main Street in Wethersfield. Chris Flanagan, who has worked at West Hartford Luna and at other local restaurants for more than 15 years, has joined them as a partner. In Wethersfield, Luna shares a location with local staple Old Town Bar, and patrons of the bar can order Luna Pizza's famous crispy crust pizza, wings, and other special bar favorites such as burgers and wraps.  Customers can also place takeout and delivery orders and enjoy patio seating outside in the warmer months. The grand opening will be on Jan. 6, from 5-7 p.m. More details can be found on the Luna Pizza website.
Congratulations to Mike Walker, owner of WeHa Fit, on his official ribbon cutting, celebrated by the West Hartford Chamber of Commerce and Mayor Shari Cantor on Tuesday. WeHa Fit opened in late November at 261 Park Road (former Degras space). Walker's philosophy, as shared on his website, is: "Getting in shape is not meant to be a torturous endeavor. There may be a sore muscle or two along the way, but I believe getting fit should be enjoyed, not dreaded. I get to change lives for a living, which is not only a privilege but incredibly fulfilling and rewarding," He can be reached at 646-384-8332 or follow WeHa Fit on Facebook or Instagram (@mikewalkerfit).
Congratulations to MORE Italian Pasta Lab which had their ribbon cutting on Thursday, just a day after opening their doors. I've been in touch with owner Anna Landi since she and her husband, Davide Di Pietro, made the decision to relocate to West Hartford from Rome, Italy, and leased the former Freshii space at 54 LaSalle Road back in May. The shop features house-made fresh pasta, sauces, and more, and while I could not be there for the ribbon cutting I had an advance taste of the incredibly delicious pasta while samples were being tested. I will be back for more ASAP!
Congratulations to West Hartford native Amy Lynch, who has been promoted to president of Comcast Cable's Northeast Division according to an announcement on Dec. 20. Lynch will be responsible for all Comcast Cable operations in 14 northeastern states from Maine through Virginia and the District of Columbia, serving approximately 8 million customers. "Amy is an exceptional leader with deep operational, financial and management expertise," said Dave Watson, President and Chief Executive Officer, Comcast Cable. "In addition to focusing on driving innovation and growth, Amy is known for building high-performing teams, developing talent and fostering an inclusive and diverse culture. I'm thrilled to have Amy join our leadership team in this role." Lynch will succeed Kevin Casey, who after 17 years of leading the Northeast Division, in addition to time spent in key roles managing the company's network and technical operations, announced his retirement in October 2022. Lynch has more than 25 years of experience in telecommunications, media and technology, including 18 years at Comcast Cable in a variety of functions, including Sales & Marketing, Technical Operations, Engineering & Construction, Care, Customer Experience and Finance. In her most recent position, she served as Comcast West Division Senior Vice President of Customer Experience and Customer Operations. In this role, Amy had responsibility for all aspects of customer experience strategy, care and technical operations, logistics and tools. Previously, Lynch served as Regional Senior Vice President of both the Mountain West and former Washington Regions for the West Division. Lynch has received many honors and recognitions over the years. For the last 10 years, she has been named to Cablefax Magazine's Top 100 Regional Power Players, in addition to being named one of San Francisco Business Times' Most Influential Women as well as one of Seattle's Woman to Watch. She is an active member of her community, serving on several boards and committees including, Girls Inc. of Metro Denver, Colorado's Woman's Foundation and Colorado Community Colleges.
Vinny DiNatale of West Hartford was recently presented a Children's Champion Award by Big Brothers Big Sisters of Connecticut. DiNatale was selected for the honor in recognition of his many years of volunteerism with the organization, and for the annual "Cram the Van" holiday toy drives he's organized for the past ten years to benefit the thousands of state families who participate in Big Brothers Big Sisters of Connecticut programming. Since he began the "Cram the Van" toy drives more than a decade ago, it's estimated that DiNatale has collected approximately $70,000 in hugely appreciated holiday gifts. "It's a big effort for everybody to do it," DiNatale said, "but it's satisfying to know how many deserving people we've been able to help." In addition to being an enterprising collector of winter holiday toys, DiNatale has been a Big Brother (adult mentor) three times to three different boys since he first volunteered for the Big Brothers Big Sisters organization in 2011. He's currently matched with a 9-year-old from Hartford named Josiah. At the award presentation were, from left in photo below, West Hartford resident Andy Fleischmann, President & CEO of Big Brothers Big Sisters of Connecticut; Big Brother Vinny DiNatale, also from West Hartford, and Tara Gill, from Avon, Director of Community Programs at Big Brothers Big Sisters of Connecticut. Learn more about Big Brothers Big Sisters at: www.ctbigs.org.
Last week Stop

&

Shop

presented a donation of $200,000 raised across its Connecticut stores to Connecticut Children's Medical Center. The funds were raised through a register campaign, and at the presentation, held at the 150 New Park Avenue store (just over the Hartford line), local patient ambassadors were also surprised with holiday gifts.
Au Bon Pain has closed its Westfarms location as of Christmas Eve. The only remaining locations in Connecticut are now at the Hospital of Central Connecticut and on the campus of Quinnipiac University. Westfarms does not have any information at this point about what will be taking over the Au Bon Pain space.
ICYMI, the Town Council voted last week to approve the Arapahoe Group's proposal for a development in West Hartford Center. The project will include two buildings – Center Park Place, which will be 58 condominiums, and 75 LaSalle, which will be 25 apartments plus ground floor commercial space – as well as parking, a public park, and other amenities. Click here for complete details.
Remember, if you have any business news to share, add it in the comments section below or email Ronni Newton at [email protected].
Like what you see here? Click here to subscribe to We-Ha's newsletter so you'll always be in the know about what's happening in West Hartford! Click the blue button below to become a supporter of We-Ha.com and our efforts to continue producing quality journalism.