A round-up of openings, closings, and other news about West Hartford businesses. 
By Ronni Newton
I got my skiing in last weekend and while the snow-lovers will likely not agree, I have personally been happy with the balmy weather we have been having this winter. It's been cold enough to wear sweaters, but other than a few days it's been good for running, walking the dog, and enjoying other outdoor activities without shivering. I hope we don't pay for it with blizzards in March and April.
I'm writing this on Super Bowl Sunday which means I'm trying to finish writing by early afternoon so that I will be able to watch the game without worrying about working during or after the game. I'm not really partial to either team but I am excited to be going to an actual Super Bowl party for the first time in several years! I'm also thinking that after the game today – or after Valentine's Day, or a restaurant story I am working on later this week – it's going to be time for another "white out" cleanse, or at least a return to some healthier eating habits. I won't give up eating tacos of course, but I will try to convince myself [maybe] that consuming large quantities of sweet potato fries is not healthy just because they contain the words "sweet potato."
I would also never give up eating pizza (even temporarily), and Friday night Ted and I had some great pizza at Pepe's. I'm not sure why we hadn't been there in a very long time since it's the closest pizza place to our house, but after enjoying the Rustic Mushroom & Sausage pizza on Friday night (with some excellent beers) we won't let too much time pass before we return. Despite the name of my beer, the pizza was not cold!
We did our dining out on Friday rather than Saturday this week because we went to the St. James's Episcopal Church trivia night on Saturday. I am terrible (really awful) at trivia, and while I could probably answer West Hartford-related questions better than most people (I even know the mill rate by heart!) the one West Hartford question that was asked was quite the stumper. Does anyone know which West Hartford school served as the temporary location for St. James's Church in the 1950s?
Thankfully our team included several members who know their music and film trivia (David Owens and Bill Stahl in particular), and our team came in a respectable second place. And even though my contributions were minimal it was lots of fun, and there was great food – mostly of the variety that would not fall into the healthy eating category.
I enjoyed meeting and was honored to be interviewed last week by Hunter Reckert, a seventh-grader at Bristow Middle School, who is working on a podcast about the importance of news for a contest. Thanks for the great interview, Hunter, and good luck with the podcast!
There were 31 positive reported cases of COVID-19 in West Hartford over the past seven days (as of Saturday), and a positivity rate of 11.2%. I was hoping the numbers would continue on a downward trend, but maybe this week was an aberration. The data doesn't take into account the home tests that don't get reported to the state either. Hartford County (along with the rest of Connecticut) remains classified as "medium" risk by the CDC, with mask-wearing recommended for those at high risk of getting very sick or those with household members or people they are regularly in contact with who are vulnerable. We are still in the season of respiratory viruses. (Click here for more information from the West Hartford-Bloomfield Health District about the symptoms of various viruses and how to protect yourself.) I still hope to be able to delete this paragraph that time has not yet come. In the meantime, please continue to have patience since not everyone has the same level of comfort, continue to look out for each other, support our local businesses – and stay safe and healthy.
If you're looking for news about West Hartford in print please note that many stories from We-Ha.com, as well as other local news, is published in the twice-monthly issues of the West Hartford Press.
If you have information to share about local businesses, please provide details in the comments or email Ronni Newton at [email protected].
**************************************************
Here's this week's Buzz:
The space recently vacated by Philip David Jewelers at 968 Farmington Avenue already has paper over the windows in preparation for its transformation into Bohdii Boutique. "West Hartford has always been a place I have enjoyed dining and shopping as a visitor in town," said Bohdii Boutique owner Justice Pellegrino, who said she is super excited to become part of the community. "The energy in town is very inviting – somewhere in between a bustling small city and quant, classic, New England town. I had my sights on the center for a long time and it's truly a dream to be joining the community of small businesses!" Pellegrino grew up in Springfield, MA, and has a degree in psychology and communications from UMass Amherst. She opened her first Bohdii Boutique in East Longmeadow, MA (34 Center Square) in the winter of 2019, launched an e-commerce website shortly thereafter. The online presence helped her during the pandemic, but in the spring of 2021 she also opened a second retail location in South Boston (398 West Broadway) location. "It is truly a dream to be opening a third location in a town that I have always admired," she said. The overall aesthetic at Bohdii Boutiqueis "Boho-Chic," Pellegrino said. The price point is moderate and she they are known for carrying casual, everyday styles, event dresses, athleisure, footwear, jewelry, hats, and much more. "My target demographic ranges from 18 to 45, however I have always said my goal is to have a daughter, mother, and grandmother be able to leave with purchase! I typically find myself telling people that 'There's something for any woman, of any size or age, at Bohdii.'" Pellegrino said she has always had a "passion for fashion" – which is why she was inspired and driven to open the first Bohdii Boutique. "Throughout college and shortly after, I interned for a few small businesses and truly fell in love with the sense of community small businesses create and the love the owners have for their businesses. I started Bohdii in hopes of making the store a special place for women of all ages to feel welcome and comfortable to shop! My original location is in an area of Western Massachusetts where boutiques are scarce, so I took advantage of the opportunity I had and here we are!" The permitting process is underway and Pellegrino said she hopes to be open by early May. "I can't wait to open the doors already and officially join the community in town," she said. For more information about the business, check out their website.
The Town of West Hartford has received a site plan application for a second cannabis retailer to open in town. Associate Planner Brian Pudlik confirmed that an application has been received from a business registered under the name "Sweetspot West Hartford LLC" and the information is currently under zoning review with a statutorily-mandated requirement that the town respond by April 6. The application is for space along the side of the shopping center at 983 New Britain Avenue that has not been a retail operation but rather has been used for storage. There aren't any further details available about the name under which the business is looking to operate, but there is a multi-state cannabis business named Sweetspot Farms which has retail operations in Maine and Rhode Island and indicates on its website that it plans to open in Connecticut in 2023. If this site plan application is approved, West Hartford not be able to permit any other retailers to open in town in the near future under the terms of the town's zoning ordinance regulating cannabis. Pudlik confirmed that "this would be the second and last one prior to June 30, 2024 when the limit sunsets per section 177-16.10 E."
I was looking up the address of the other cannabis retailer that has applied to open in West Hartford, and stumbled across another business that is in the process of build out at that site! I knew that Derrick Gibbs Jr., owner of BUD-R, had submitted a site plan that received administrative approval by the town planner last fall for the retail operation to open at 1037 Boulevard, but knew that the cannabis business would not occupy the entire building. The build-out for that retail operation is underway, and according to the town's website, More than Just Sharkbite New England has recently applied for permits to do renovation in preparation of opening a grab and go restaurant in the building.
The opening of the second location of Zaytoon's (1126 New Britain Avenue) is getting close! I'll have more details forthcoming, but a sign in the window indicates that they are hiring!
Ellie Mental Health has just opened a clinic at 61 South Main Street, Suite 214 in West Hartford. Ellie Mental Health is a a franchise business with a mission of making quality mental health services more accessible and fun for individuals, couples, and families, and states that their brand "is continuing their mission to destigmatize mental health through innovative mental health care services." In an email, Clinic Director Alyssa Desroches said,"We are thrilled to be working with Ellie Mental Health in order to bring this necessary service to West Hartford. Not many people are knowledgeable about mental health care and struggle with their problems in silence. Our team is committed to providing the care that so many need. We hope to make a positive difference in West Hartford and the surrounding communities by providing innovative, fun, and effective therapy."
West Hartford native Timothy Norton, now a New York City-based jazz bassist and composer, will perform at Black-Eyed Sally's in Hartford on Wednesday, March 22. Norton, a graduate of Conard High School and the Greater Hartford Academy of the Arts, as well as Berklee College of Music and Manhattan School of Music, recently released his first album as a bandleader. "Visions of Phaedrus," modeled after an imaginary dialogue between Socrates and Athenian aristocrat Phaedrus, features 8 mostly original instrumental compositions. "After a decade of playing as a sideman with some of the greats, including Ralph Peterson, David Schnitter, Jason Palmer, and John McNeil, I decided to try my hand as a bandleader," Norton said. The record was quickly named debut album of 2022 by The Arts Forum and was listed among the best albums of the year by all music.com. Conceived as a give-and-take conversation between musical friends, the record also showcases some of NYC's top-shelf jazz talent: trumpeter Josh Evans, saxophonist Jerome Sabbagh, guitarist Leandro Pellegrino, pianist Randy Ingram, and drummer Kush Abadey. "What separates this band from the herd is the balance of Modern Jazz and post bop," Norton said. "I try to live through the words of the great Art Blakey when I lead a band: 'Jazz is people music.'" The album is available on Amazon.com and all streaming services. For reservations for the show, call Black-Eyed Sally's at 860-278-7427.
Congratulations to Robert Laraia, founding partner of West Hartford-based Northstar Wealth Partners, who has been re-elected to a second term on the U.S. Chapter Board of the International Association of Registered Financial Consultants (IARFC). Laraia, of Northstar Wealth Partners, LLC. in

West Hartford, CT

has been on the Board since 2020. With over 30 years in financial consulting, his experience and knowledge that he brings to the Board is advantageous when solving issues that confront them, the organization announced in a news release. "This is my way of giving back to a profession that has afforded me a successful career," Laraia said in a statement. "By supporting the IARFC through Board participation, I feel I can help the Board help the members to educate their clients. It is a chain reaction of promoting financial security for generations. This education, I feel is sorely needed in today's society and should be the core of who we are as financial professionals."
Congratulations to the Hon. Linda Allard and attorney James Healy, both West Hartford residents, who have been elected 2023 Fellows of the Connecticut Bar Foundation (CBF) James W. Cooper Fellows Program. Fellows are nominated by their peers based on their outstanding service to the profession and larger community and are elected by the CBF Board of Directors. "We are pleased to recognize our new Fellows for their distinguished services to our legal system and for their commitment to the principles of equal justice and the rule of law," said Timothy Diemand, President of the Connecticut Bar Foundation. According to a news release, the purpose of the James W. Cooper Fellows Program is to promote a better understanding of the legal profession and the judicial system among the citizens of Connecticut, and to explore ways to improve the profession and the administration of justice. Programs developed by the Fellows include several speaker series, symposia, roundtable discussions, mentorships, a high school essay contest, and a Fellowship for recent law school graduates. More information about these and other Fellows programs can be found at www.ctbarfdn.org. Judge Allard is a Superior Court Judge for the State of Connecticut in Hartford, and was previously employed at Greater Hartford Legal Aid. She received a B.S. from Cornell University in 1996 and a J.D. from Cornell Law School in 1999. Judge Allard was admitted to the Connecticut bar in 2000, the Georgia bar in 2005 (inactive status), and the United States District Court for the District of Connecticut in 2011. She is also a member of the George W. Crawford Black Bar Association and a group leader for the Oliver Ellsworth American Inn of Court. She was the President of the Black Law Students Association at Cornell Law School from 1997-1998, the Secretary for American Indian Law Students Association from 1997-1998, and the Student Association Representative for the Minority Industrial and Labor Relations Student Organization at Cornell University. Judge Allard's public service includes membership in the National Association for the Advancement of Colored People. Healy is a partner at Cowdery, Murphy, Dannehy & Healy, LLC in Hartford. He previously served as a law clerk for the Hon. Christopher F. Droney (D. Conn, Sept. 2009-Sept. 2010; Second Circuit, Jan.-Dec. 2012). Attorney Healy received a B.A. from Cornell University in 2006 and a J.D. from Duke University School of Law in 2009. He was admitted to the Connecticut bar in 2009, and is also admitted to the U.S. District Court for the District of Connecticut (2010), the U.S. Court of Appeals for the Second Circuit (2013), and the Supreme Court of the United States (2019). The Chief Justice of the Connecticut Supreme Court appointed Attorney Healy to both the Jury Selection Task Force and the Advisory Committee on Appellate Rules. Attorney Healy also served on the Executive Committee of the Connecticut Bar Association's Federal Practice Section (Co- Chair, 2020-22) and Appellate Advocacy Section, and he is a member of the Connecticut Trial Lawyers Association (Board of Governors; Co-Chair, Amicus Committee). Attorney Healy also serves as Commissioner of the Metropolitan District Commission (2017 to present) and sits on the West Hartford Democratic Town Committee (2015 to present).

The West Hartford-Bloomfield Health District is offering free training on the use of Naloxone to businesses or organizations. The one-hour training is free and Naloxone kits will also be provided to all participants. At least eight people must participate in the training and a venue or space must be provided, a Health District representative said. Tp register to host, email:

[email protected]

. More details can be found on the flyer below.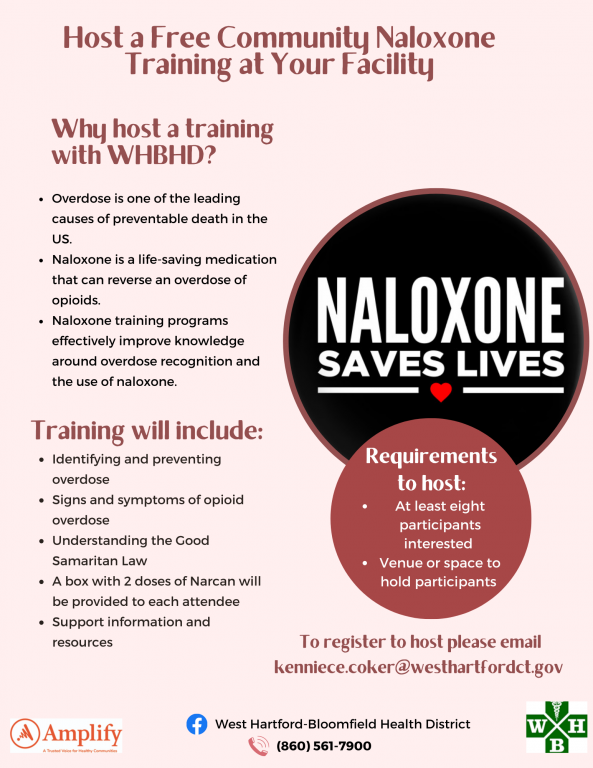 Two Maids of West Hartford has announced that they have partnered with Cleaning for a Reason, a nonprofit serving cancer patients through free house cleaning. Owners Teresa and David White said they are committed to making a difference for families in the community and want to extend their reach to helping cancer patients. Through the program, they clean two houses per month, for two months in a row, free of charge. "Cleaning for a Reason provides free home cleaning to patients battling cancer. When cancer makes life at home difficult, its network of residential cleaners, cleaning industry volunteers, and community volunteers come together to support cancer patients and their families. When cancer treatment makes basic tasks like home cleaning difficult, we provide a sigh of relief to families in our community. We'd like to make you aware of this new partnership and opportunity to support our community members," a company representative said in an email. For more information, visit their website. To learn more about Cleaning for a Reason, visit cleaningforareason.org.
ICYMI, the Community Exchange at Blue Back Square is hosting several upcoming programs in honor of Black History Month. Complete details and registration information can be found here.
The West Hartford Chamber of Commerce's Minority Business Network is hosting a breakfast. program on Feb. 23. Click here for complete information.
Remember, if you have any business news to share, add it in the comments section below or email Ronni Newton at [email protected].
Like what you see here? Click here to subscribe to We-Ha's newsletter so you'll always be in the know about what's happening in West Hartford! Click the blue button below to become a supporter of We-Ha.com and our efforts to continue producing quality journalism.