A round-up of openings, closings, and other news about West Hartford businesses. 
By Ronni Newton
Today is Martin Luther King Day and although it's a federal holiday and many people have the day off, please note that there is no trash/recycling delay this week.
Today the town will host 27th annual town-wide celebration of the life of Dr. Martin Luther King Jr., and after holding virtual programs the past two years, the event is back in person. I'll be there reporting on it and urge anyone who can to attend what is always an inspiring program with a keynote speaker, music, and perspectives shared by students from Conard and Hall. The celebration begins at 10 a.m. at West Hartford Town Hall, and complete details can be found here. West Hartford Community Interactive will also air the event live on Comcast Channel 5, Frontier 6098, and on YouTube.
Ted and I just spent a few days in Baltimore attending the wonderful wedding of Ted's godson, who is the son of some our oldest friends – a couple that we have know for decades. Brent (dad of the groom) was Ted's college roommate (I actually met him before I even met Ted because we had a class together) and he was in our wedding and Ted was in his wedding, and when we lived in the Washington, DC area for 14 years he and his wife, Linda, lived just a few miles away and we saw each other all the time. We met Nick (the groom) when he was probably a day old at most, and they have known our kids since they were babies as well.
I love going to any wedding, but being able to share the joyous occasion with people we have known for so many years makes it all the more special. The bride and groom wrote their own vows, and there was probably not a dry eye in the room – and if there was at that point there definitely wasn't when Nick's brother Alex (an actor who performs in musical theater) sang "Annie's Song." I also particularly enjoy any opportunity to dance for hours, and the wedding was black tie optional, and at a really cool industrial-chic renovated factory (The Winslow at the Parker Metal Building) so that added to the fun.
A few other observations …
Our hotel was right at the Baltimore Inner Harbor, which is a shell of its former self. I understand that the area was really hard hit by the pandemic, and sadly there are many more "for lease" signs than open businesses. I hope it bounces back.
After decades of traveling multiple times a year between Virginia or North Carolina and Connecticut, it's been a few years since we drove the New Jersey Turnpike/I-95 corridor to and from Maryland. EZPass has made a remarkable difference in traffic, but the cost definitely is sticker shock.
I still hate the George Washington Bridge and the inane engineering that makes one cut across multiple lanes of traffic to access the Major Deegan headed northbound.
We found great tacos (as well as ramen and poké) in Baltimore, so of course I had to take photos (see below).
I enjoyed some West Hartford dining experiences early last week, including a working lunch at DORO Marketplace (where I had the mean green salad with rotisserie chicken – which was without a doubt one of the most delicious salads I have ever eaten) and dinner at El Santo with a few friends. I realize I have had tacos (and margaritas) quite a few times in the past few weeks – a trend which I absolutely plan to continue.
I'm going to continue moving around this little ad about sponsoring Business Buzz so it gets a bit more notice. We actively solicited sports sponsors last month, and have been thrilled to get several businesses that have expressed interest. If you have any interest in sponsoring this column (which gets thousands of page views every week), please contact our business manager, Bob Carr ([email protected]) or our sales director, Kaushik Makati ([email protected]).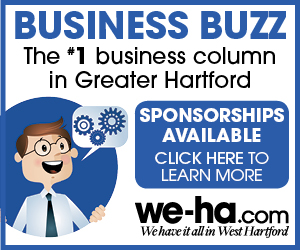 There were 40 positive reported cases of COVID-19 in West Hartford over the past seven days (as of Saturday), and a positivity rate of 12.8% – and after last week's spike the number of cases and positivity rate is back down to where it had been. It still, of course, doesn't take into account the home tests that don't get reported to the state. Hartford County is also now in the CDC's "high" level of transmission, which means that wearing masks indoors is recommended. It's also the season of respiratory viruses, and this year many more people seem to be sick with a variety of viruses. (Click here for more information from the West Hartford-Bloomfield Health District about the symptoms of various viruses and how to protect yourself.) I still hope to be able to delete this paragraph that time has not yet come. In the meantime, please continue to have patience since not everyone has the same level of comfort, continue to look out for each other, support our local businesses – and stay safe and healthy.
If you're looking for news about West Hartford in print please note that many stories from We-Ha.com, as well as other local news, is published in the twice-monthly issues of the West Hartford Press.
If you have information to share about local businesses, please provide details in the comments or email Ronni Newton at [email protected].
**************************************************
Here's this week's Buzz:
Rasham Marketplace opened at 770 Farmington Ave. (former Cosmos International) in West Hartford in late 2021, but just a few weeks ago the kitchen area opened and they now offer a variety of items prepared on site for takeout as well as delivery by DoorDash – or if you order $50 of food and/or groceries and live in the service area (West Hartford, South Windsor, Manchester, Hartford, Farmington, Avon, or Simsbury), you can get free, direct next-day delivery. There's a new awning, and a patio area where seating will be available in warmer months. Rasham Marketplace is owned by the Peracha family, which opened Rasham Restaurant in South Windsor about 18 years ago. Talal Peracha manages the West Hartford location, and said the grocery operation was going so well they waited to open the kitchen until a new hood was installed and the timing was right, guiding their menu – which includes a variety of quick bites like Samoas and tandoori chicken, as well as bowls or naan wraps (chicken or lamb and beef shawarma, tandoori chicken, and falafel are a few of the choices) based on the interests of their customers. The takeout menu also includes mango lassi and chai. The store itself offers fresh Halal beef, chicken, lamb, and goat, fresh produce, and a variety of frozen fish including shrimp and kingfish. Dairy items include a unique selection of yogurts and cheeses, as well as Afghani bread and other breads that you won't find in a regular grocery store. There is food from Israel (including Kosher items), Egypt, Pakistan, Iran, Lebanon, India – really from all of Southeast Asia and the Middle East, as well as from various European countries. In addition, Rasham Marketplace has an extensive catering menu of appetizers, entrees, rice dishes, desserts, and other items that can be ordered for groups of various sizes. For more information, visit their website.
I had heard that Planet Fitness was open at 52 Kane Street, and while that's not quite true, by this time next week they should be open. I stopped by on Sunday and all of the equipment has been installed, and a contractor told me they were awaiting final inspections and likely would be ready to open this week. There are pre-opening memberships for sale, and more details can be found on the Planet Fitness West Hartford Facebook page or website.
Central Rock (being built out in the former Workout World space on Shield Street) is not quite as close to opening as Planet Fitness, but I have been following the progress on Instagram (@centralrockwesthartford) and the construction is coming along!
I took a ride by One Park Road on Sunday, and that construction project also appears to be coming along rapidly now!
The mixed-use transit-oriented development at 540 New Park is very close to completion. I'm eagerly awaiting the ribbon cutting and chance to see the units.
Kilwins is getting very close to opening in Blue Back Square (38 Isham Road, right on the courtyard). They've announced that they are hiring people who would like to work around ice cream, fudge, and other delectable treats.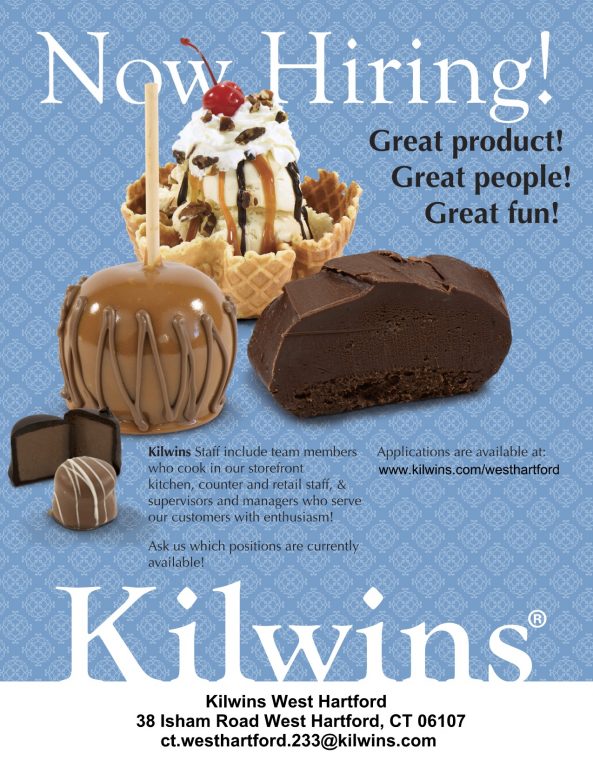 Verogy has been an important part of the West Hartford community for years, but now the company that has designed, installed, and owns the solar arrays on many West Hartford municipal, school, and privately-owned buildings has moved its offices from 150 Trumbull Street to 124 LaSalle Road (above Max Burger) in West Hartford. Welcome!
GYL Financial Synergies, which recently moved its headquarters to an expansive new suite at 75 Isham Road in Blue Back Square, has acquired New York City-based Financial Partners Capital Management, the Hartford Business Journal reported this week.
Longtime West Hartford resident Andy Fleischmann, president and CEO of Big Brothers Big Sisters of Connecticut, recently accepted a large donation in memory of a late mentor. Boehringer Ingelheim of Ridgefield recently donated $10,000 in toys and a large selection of holiday gift baskets to children in the organization's programs  to honor the memory of former North Haven resident Emily E. Dauenhauer, who passed away in 2021. Emily Dauenhauer, a 2002 North Haven High School graduate, was associate director of Payor Solutions Marketing for Boehringer Ingelheim. She was also a Big Sister (adult mentor) with Big Brothers Big Sisters of Connecticut, the statewide youth mentoring organization. Learn more about Big Brothers Big Sisters at: www.ctbigs.org. Pictured below with Fleischmann (from left) are Eric Uderitz, Director of Payor Solutions for Boehringer Ingelheim; and Christine Marsh, Vice President, Market Access for Boehringer Ingelheim.
YHB Investment Advisors, Inc. is excited to announce that Hillary Landen has been promoted to portfolio manager. Since joining the YHB team in January 2022, Landen has immersed herself in the YHB portfolio management process. She arrived at YHB with a foundation in portfolio management and client service and has successfully adapted that knowledge and experience to grow in her role at YHB. Landen graduated from Longwood University with a BA in Finance and has passed the Series 65 exam. Company leadership said they are eager to recognize her accomplishments and to see what the future holds.
Jennifer DiCola Matos announced last week that she has left the Noah Webster House & West Hartford Historical Society, where she has had a major impact on the organization as well as the town in the role of executive director for the past eight years. She has accepted a new challenge at the Connecticut State Library as the administrator of the Raymond E. Baldwin Museum of Connecticut History. Best of luck, Jenn!! Amy Boulton will serve as interim director of the Noah Webster House & West Hartford Historical Society while the board conducts a search.
Now for the closings, and sadly there are a few to mention this week. At Westfarms, the Vera Bradley store closed for good on Saturday – one of 10 Vera Bradley boutiques to close nationwide.
The Things Remembered store at Westfarms has also closed. The Ohio-based national retailer has gone out of business, according to media reports closing all of its locations nationwide as well as the corporate headquarters.
Just over the town line (2074 Park Street, Hartford), I have now confirmed that J's Crab Shack has closed for good. I didn't want to include the sad news in last week's column until I knew for sure that it was true.
ICYMI, George Howell is retiring from the West Hartford Housing Authority and Trout Brook Realty at the end of this month. Click here for the details.
Remember, if you have any business news to share, add it in the comments section below or email Ronni Newton at [email protected].
Like what you see here? Click here to subscribe to We-Ha's newsletter so you'll always be in the know about what's happening in West Hartford! Click the blue button below to become a supporter of We-Ha.com and our efforts to continue producing quality journalism.