A round-up of openings, closings, and other news about West Hartford businesses. 
By Ronni Newton
We have seen more family members over the past few weeks than we have in years – some for happy and some for sad occasions – and this past weekend the gathering was for the burial ceremony for Ted's father.
As he had requested, the ceremony was simple and non-religious – a beautiful tribute held at Cedar Hill Cemetery in Hartford on what turned out to be a surprisingly warm and sunny January day. Ted and I, and his brother and his wife, all gave brief eulogies, all four grandchildren read short passages, and we hosted a lunch at our house afterward. We used to have regular family reunions around the holidays but then everyone's lives got so busy as the kids got older and this was the first time in many years that we were able to really spend quality time with Ted's aunt and his cousins and their wives. Despite the sad reason for the gathering, it ended up being a wonderful opportunity to catch up with family.
Many thanks to Sheehan-Hilborn-Breen Funeral Home for their compassion and professionalism throughout the process. We also appreciated the beautiful flower arrangement created by Jennifer Bugai at Stop & Shop and the delicious lunch food we ordered from DORO Marketplace and Zaytoon's Bistro.
We've got lots of leftover food from Saturday lunch that we will be eating all week, but Ted and I did go out for dinner on Saturday night – venturing slightly out of West Hartford to Fork & Fire in Farmington. The street cauliflower was delicious, as were the southern fried chicken sandwich and burger. (We now also have leftover fries from dinner, which I'm looking forward to re-heating in the air fryer this week!)
There were 34 positive reported cases of COVID-19 in West Hartford over the past seven days (as of Saturday), and a positivity rate of 11.5% – roughly the same as last week. It still, of course, doesn't take into account the home tests that don't get reported to the state. Hartford County has dropped to "medium" risk, with mask-wearing recommended for those at high risk of getting very sick or those with household members or people they are regularly in contact with who are vulnerable. It remains the season of respiratory viruses, and this year many more people seem to be sick with a variety of viruses. (Click here for more information from the West Hartford-Bloomfield Health District about the symptoms of various viruses and how to protect yourself.) I still hope to be able to delete this paragraph that time has not yet come. In the meantime, please continue to have patience since not everyone has the same level of comfort, continue to look out for each other, support our local businesses – and stay safe and healthy.
If you're looking for news about West Hartford in print please note that many stories from We-Ha.com, as well as other local news, is published in the twice-monthly issues of the West Hartford Press.
If you have information to share about local businesses, please provide details in the comments or email Ronni Newton at [email protected].
**************************************************
Here's this week's Buzz:
The space at 179 Park Road has been vacant since the end of October but the "for lease" sign was removed recently and I confirmed last week that a new restaurant – Americana Restaurant & Bar – will soon be opening there. The owner and operator of Americana Restaurant & Bar is an established restaurateur – Enrique Rodriguez – who along with his wife, Julie, owns the MofonGo franchise at Parkville Market in Hartford; Las Tortas MX, Fowl Play, and Burrito Loko at Parkville Market and at the Assembly Room in New Britain; and in June 2022 opened Burrito Loko and MofonGo Express near the CCSU campus. Rodriguez said he's working on getting the roof at 179 Park Road repaired and some improvements made to the parking lot, but other than that there isn't much work to be done and he hopes to open in about six to eight weeks. He said he's ordering new furniture, including for the expansive patio which will be open as soon as the weather warms up. As for the menu, Rodriguez said it will include a little bit of everything, but he very much understands the need to stand out and wants to be "THE" place people want to go to. "Whatever we put on the menu needs to be able to compete with all the restaurants in West Hartford, and there are lots of good ones," he said. The menu will include salads, burgers, pastas, fish, and seafood – and probably mofongo as well. The bar will have great drinks, he said, with affordable prices where people can stop by after work for a drink and apps or a quick dinner without spending a fortune. "We're not trying to break anyone's pocket," he said. In addition to his recent ventures, Rodriguez has other significant local experience including opening the Cheesecake Factory in 2007, where he served as executive chef, and serving as executive chef at Brio at Westfarms.
While this next item is a "Departure Letter," it's not a closing but rather a new beginning so I didn't want to put it at the end. On Tuesday evening, I received the following message from Dan O'Brien of ÜBERDOG: "Over the past 15 years, I have been fortunate enough to watch, what started out as a crazy idea, develop into a remarkable business that has become part of the fabric of West Hartford and its pet community. Our clients, many of which have become friends, have grown with us over the years and continue to trust us with the care of their dogs. That being said, we have some incredibly exciting news to share that will only further solidify ÜBERDOG as Connecticut's premier dog daycare and hotel. Today marks a new milestone in the journey of ÜBERDOG as we announce our partnership with Destination Pet, a Colorado-based company that takes pride in finding and acquiring the very best pet resorts and veterinary facilities across the country. I couldn't be more confident that they have the ability and the resources to take ÜBERDOG to the next level … one that I know it can attain. Destination Pet has a strong reputation in the pet care community for not only providing the highest-level care for their clients … but also for how they treat their employees. With this partnership, our staff will now have a larger, more established team behind them to support daily operations and guide them in their professional development. Everything that our clients have grown to know and love about ÜBERDOG will remain the same. Our incredible staff, our daily operations and our dedication to achieving the highest standard of care will all stay the same. This is something that was vital to me when making this decision. I cannot put into words just how much ÜBERDOG has meant to me and how this community has embraced and supported us as a small business over the past 15 years. My family and I remain part of the West Hartford community and will absolutely continue to bring our Golden Retriever, Dempsey, to ÜBERDOG! I look forward to watching proudly (from the outside!) as ÜBERDOG takes over the dog-world and seeing you all there!" He said the name, the brand, and the staff will remain unchanged. As for O'Brien, he told me he doesn't know what he will do next, but his short-term plans include spending as much time as possible with his wife and three kids.
WeHa Brewing and Roasting will be incorporating art into the mix that already includes great coffee, beer, and casual food at the 141 Shield Street location. "With the growing trend of artificially manufactured images we here at WeHa Brewing and Roasting want to celebrate the creativity and dedication of real working artists in all mediums and styles," owner Cody McCormack said. A different artist will be highlighted each month at "The Gallery at WeHa," which will be a space to support local artists as well as artists with ties to Connecticut It will be a "place to gather, connect, collaborate and celebrate what art brings to the community – bringing together well-crafted art, beer, and coffee," he said. Each month will feature a "First Friday" opening night kick-off of that months show, which will include a meet and greet with the Artis, live music, and a showcase of their work. The inaugural first Friday and grand opening will be Friday, Feb. 3, from 7-10 p.m., featuring the work of Chris Lyons. For information about Lyons, check visit his website or follow him on social media (@lyonkid.art).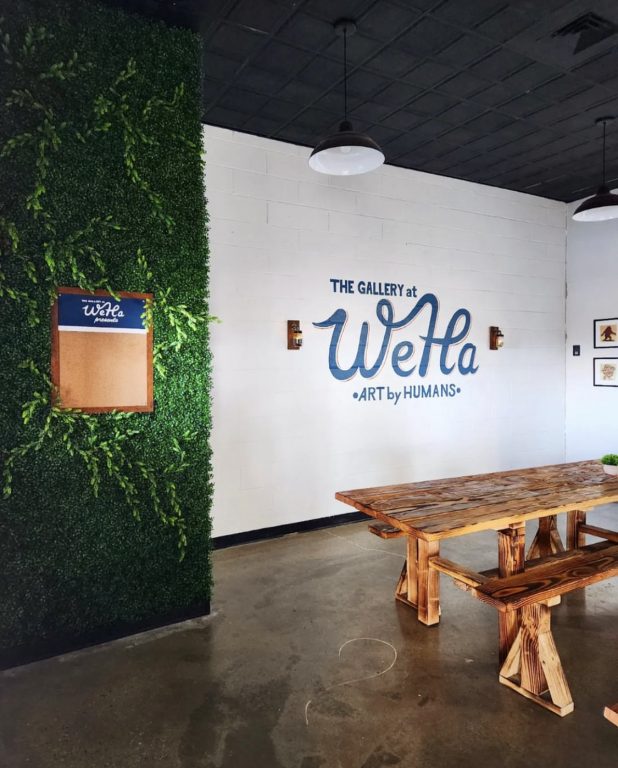 PeoplesBank, which has a location at 102 LaSalle Road in West Hartford Center, set a new annual record of $2.3 million in donations to civic and charitable causes in 2022 – which is $1 million dollars more than last year's record. Since 2011, the

bank

has donated well over $13 million to area causes, a spokesperson for PeoplesBank said in an email. "Supporting the community is essentially what we were set up to do," Tom Senecal, president and CEO of

PeoplesBank, said in a statement. 

"We are a mutual

bank

, chartered to serve our customers and the communities they live in. As a mutual

bank

, we do not have stockholders who would divert profits. Therefore, we are able to significantly support nonprofits and other community causes." Among the local organizations that PeoplesBank has supported are West Hartford Rotary, pictured below, and Celebrate! West Hartford.
Congratulations to Cora Cora, which the James Beard Foundation announced last Wednesday as one of just 20 restaurants nationwide nominated as a semifinalist for "Outstanding Restaurant"! This is the second year in a row that Cora Cora has earned the prestigious nomination. Winners will be celebrated at the James Beard Restaurant and Chef Awards Ceremony on Monday, June 5, 2023, at the Lyric Opera of Chicago, the organization announced on its website. Cora Cora's owners immigrated from Coracora, Peru, and opened their restaurant at 162 Shield Street in West Hartford 12 years ago (in a space that was formerly a McDonalds) developing a loyal customer base with their authentic house-made dishes made from high-quality ingredients, including some imported directly from Peru. Chicken is a perennial favorite, but Cora Cora's menu also includes steaks, seafood, and stir-fried dishes like the Lomo Saltado (strips of tenderloin stir-fried with soy sauce, Aji Amarillo, onions, tomatoes, and cilantro, served over hand-cut fingerling potatoes with a side of white rice). The Tallarin Saltado (chicken tenderloin, linguine pasta, red onion, tomato, and Aji Amarillo strips, sautéed and flambéed with soy sauce) is also a customer favorite. Head chef Macarena Ludena, who is part of the next generation running the restaurant which was started by her parents, was a James Beard semifinalist for "Best Chef: Northeast" last year. According to the announcement: "The James Beard Foundation's Restaurant and Chef Awards – established in 1990 and first awarded in 1991 – are one of five separate recognition programs of the Awards. The 2023 Restaurant and Chef Semifinalists are recognized across 23 categories, including the new Award for Outstanding Bakery. James Beard Awards policies and procedures can be viewed here."
Congratulations to Louise Albin, owner of Café Louise! This month marks the 30th anniversary of their opening at 1156 New Britain Avenue in Elmwood. Thirty years in the food business – or in any business for that matter – is quite a milestone accomplishment. I have procured as well as sampled Café Louise's delicious menu items at countless events over the years, and wish her and her staff continued success! For more information, including the "meals-to-go" menu, visit their website.
West Hartford's 

Second Chance Shop celebrated its fourth anniversary this month at 175 Park Road, at an event attended by community partners, dedicated volunteers, and friends who have been instrumental in the shop's success. "Since opening in 2019, the volunteer-run shop has raised more than $160,000 to benefit children, adults and families served by The Village by selling quality, gently used clothing, accessories and housewares at affordable prices," a spokesperson for the Village said. I can say personally that I have discovered some great treasures there, and have also donated. The shop continuously seeks donations of gently used clothing and housewares, as well as new volunteers. Learn more at thevillage.org/shops.
West Hartford Leisure Services has just released their spring and summer catalogue, and in addition to signing up for programs, manager Marc Blanchard wants the community to know that they are hiring camp staff, aquatic staff, and maintenance staff, with salaries starting at $15 per hour. These are great jobs for high school and college students, and they often are filled very early. Visit www.westhartfordct.gov/leisureservices to fill out and submit an application.
I didn't have a chance to drive by and check this out, but a very reliable source has advised me that the former CT Beverage Mart space just over the West Hartford line (I think the space is technically in New Britain, but it's where West Hartford, Farmington, Newington, and New Britain all intersect) just past Westfarms is under construction with Goodwill planning to open in the space!
Congratulations to Marc and Sheryl Green of Lux Bond and Green, who have retired after 50 and 47 years respectively.
After nearly 50 years, Marc and Sheryl Green have retired from Lux Bond & Green.

Read more here: https://t.co/MAQCjbvUSx pic.twitter.com/XKl8hDGsGU

— Lux Bond & Green (@LuxBondGreen) January 17, 2023
According to a post on the Lux Bond and Green LinkedIn page: "We will continue our legacy of offering truly extraordinary diamonds, jewelry, watches, and gifts for the home with our CEO John Green and his wife Norma Jean at the helm. This year, we are celebrating 125 years as one of the longest continuously operated, singularly family-owned jewelers in the country."
Ball 4 a Cure

 is a nonprofit started by seven guys who have been friends since elementary school and started a fundraiser for pediatric cancer in 2015, while they were still students at Conard High School. The 

"Year in Review" video

they have created (click on link or see below) recaps five signature events the organization hosted in 2022 which raised $75,000 for their Family Support Fund at Connecticut Children's Medical Center. "The video is a great way to understand our organization and the overwhelming support this community has shown us! It also depicts how our community organization, that is completely volunteer run, has grown from our time at Duffy elementary school," said Luke Reynolds, co-founder and director of Community Engagement & Philanthropic Mission. According to Reynolds, Ball 4 a Cure plans to not only grown the events they hosted last year, but they are also partnering with Connecticut Children's to host the first ever SuperHero Day at Bushnell Park on Sunday, April 30. More to come about that event, but the fundraising page is now live and

details can be found here

.
Remember, if you have any business news to share, add it in the comments section below or email Ronni Newton at [email protected].
Like what you see here? Click here to subscribe to We-Ha's newsletter so you'll always be in the know about what's happening in West Hartford! Click the blue button below to become a supporter of We-Ha.com and our efforts to continue producing quality journalism.