A round-up of openings, closings, and other news about West Hartford businesses. 
Business Buzz is sponsored by NBT Bank, and we are very thankful for their support!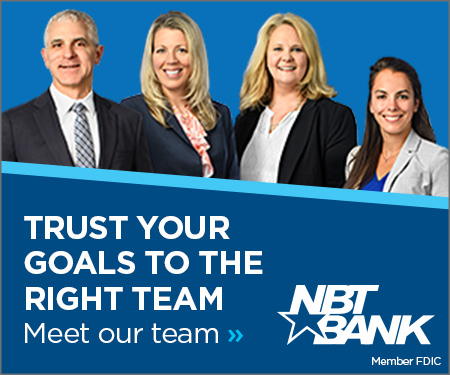 By Ronni Newton
My kids are all out of school but I am still looking forward to the end of the school year and a bit of a slowdown in the activity that seems to have been crammed into the past few weeks.
And on top of a full work schedule (that included attending a nearly-five-hour Board of Education meeting last Tuesday), Ted and I have spent several hours each day clearing out our attic because we are getting central air conditioning installed next week and they need to run the ducts through our attic. It's amazing how much one household can amass in 25 years … and how much dust accumulates over time. I had actually forgotten how large our attic is (it's the same size as the second floor of our house and has a full staircase and full-height ceiling for a good part of it) and we found some nooks and crannies that I don't think I ever knew were there! Thankfully we didn't find any creatures living up there.
In addition to the dust I have been inhaling during attic cleaning, the smokey conditions last week were other-worldly, and I can't imagine what it was like in New York or Philadelphia – or Canada – where it was even worse. I am so glad it cleared up in time for the weekend.
Instead of my usual habit of writing this column on Sunday, I tried to do most of it on Friday afternoon anticipating that I  would be spending virtually the entire weekend working at Info Booth No. 2 at Celebrate! West Hartford.
I've been a member of the Celebrate! West Hartford Committee for the past nine or so years, and always volunteer for Info Booth No. 2 because it's really at the center of the event activity and a great way to see most everyone who attends and an excellent vantage point for people-watching, too. Thank you to all who stopped by to visit!
Thanks also to event coordinator Linda Geisler and committee co-chairs Marsha Jacobskind and Elina Tannenbaum, and the committee, and town staff, and all of the volunteers for making Celebrate! so successful. For a write-up and lots of photos, click here. We also have a separate photo gallery and details about the FUNd RUNS (thanks to Bridget Bronsdon and Craig Rosenberg), which you can find here.
Instead of going out to dinner on Saturday night, Ted and I had our traditional pre-race pasta dinner at home in advance of Sunday's 5K, but I did enjoy a great lunch at Sparrow on Friday with my friend Kristen Fritz of Eat IN Connecticut – who is about to relocate to her home state of Arizona. It was great to spend some time together, and lunch was delicious!
As I mentioned last week, there are no more COVID-19 updates here because the state phased out reporting as of June 1. Going forward, the state's plan is to report on COVID-19 seasonally, like the reporting of influenza.
If you're looking for news about West Hartford in print please note that many stories from We-Ha.com, as well as other local news, is published in the twice-monthly issues of the West Hartford Press.
If you have information to share about local businesses, please provide details in the comments or email Ronni Newton at [email protected].
**************************************************
Here's this week's Buzz:
There is certainly a wide variety of gyms and boutique fitness studios in West Hartford and the surrounding area, and it can be tough to make a commitment – financially as well was mentally and physically – to the type of regimen that will work for you. It can also be challenging for fitness instructors to find their perfect niche and build a following. Studio 310 – which operates as a co-working space for fitness professionals – has created a unique opportunity for both instructors and clients to test the waters and also receive support for the business side of their operations. Located at 310 Newington Road (the last time I had been there was when it was the headquarters for roofing company JP Carroll, and there is a still a painted racetrack in the parking lot as a nod to Jim Carroll's car racing hobby), Pranav Dave has carved out a beautiful fitness facility that shares space with his other business, M&G Landscaping. "I like small businesses, ad my goal is to help the small businesses," he said, many of which are continuing to struggle with a post-COVID comeback. At Studio 310, he said, each instructor gets materials with their own brand and logo. Alexa Miguel, a Zumba instructor who has been teaching at Studio 310, appreciates the business services and marketing help as she looks to build her own brand – something she would not have if she was just teaching somewhere else. Kate Acker is certified in trauma yoga, and still fairly new to the area. She said West Hartford is already fairly saturated with yoga studios and instructors, but locating her practice at Studio 310 allows her to develop her own niche. "This way I get to build my brand and reach my clientele in a focused and intentional way," she said. Billie Burgess is a personal trainer who recently moved to West Hartford from New York – and doesn't have a car. She lives walking distance from Studio 310's Elmwood location, so that was definitely a plus, but she also said she didn't want to go back to "working the floor" at a large gym because she already has the education and experience, and feels she is ready to be building her own business and brand – which Studio 310 can help her do. Joseph Hacia, also a personal trainer with experience, chose to work at Studio 310 for many of the same reasons. "I didn't want to work the ground floor," he said. "When starting out personal training, you get what you give out," he said, and Studio 310 is providing the marketing support and connection with other businesses as well, including the Chamber of Commerce. "You sign up with your trainer," said Sara Kennedy, who manages Studio 310 and handles the marketing. For the consumer, she said, they can find their trainer or the class they like, and test out a variety of experiences. Some need or want one-on-one guidance, while others prefer a group exercise class. You're not committing to a gym membership, but rather each fitness professional sets their own package and pricing. Sign-ups are done online, where you can also see the profiles of the various instructors. One of the major benefits, Dave said, is that the gym will never be crowded. There are nine trainers now, and at most they will contract with 12, who use the facility at various times. There will be a maximum of 12-16 people in the GroupX classes, while for personal training there will generally be no more than six to 10 people in the gym. While the gym is essentially a "middleman," Dave said, Kennedy noted that the goal is for it to be the fitness equivalent of a "tech incubator." There are already two instructors teaching Pound – an energetic, full-body cardio workout based on drumming – and they are already collaborating. There is also a great synergy, for example, between yoga and other exercise programs. Studio 310 had a soft opening in early May, and will have an open house on June 24, from 10 a.m. until 4 p.m., with the Disco Forno pizza truck onsite (as well as some sweet treats) and the ability to test out a variety of classes. Currently (through July 31) there are 50% discounts on select class and session packs, and for booking classes there is also a custom app that can be downloaded from the Apple Store or the Google Play store. "We want to make the health journey as easy as possible," said Kennedy. For more information, visit the Studio 310 website.
Speaking of working out, Westfarms is launching a "Summer Sweat Series." The first free class is Sunday, June 25 at 9:30 a.m. in Center Court. The 45-minute class will be taught up by West Hartford-based Knockout Fitness, and the first 40 participants will get a Westfarms swag bag and be invited to an Aerie Offline after party with exclusive offers before the store opens to the public. Click here for more information or to register.
Just outside of West Hartford on Park Street, Parkville Market has announced the addition of four new vendors! Taiwan Night Market and Taste of Portugal are currently open, and the market will soon welcome KOJI2GO and Flor do Mar, Parkville Market announced in a news release. The new eateries represent significant growth for Parkville Market, which now has 21 food businesses. "We're absolutely thrilled to welcome these really great new businesses to Parkville Market," said Carlos Mouta, owner and CEO of Parkville Management. "These four new vendors add even more variety to our already diverse cuisine offerings, and I am personally excited to see – and enjoy – the delicious dishes these talented chefs will bring to the table." Descriptions Parkville Market provided are … Taiwan Night Market is "inspired by the nocturnal street markets of Taiwan, which regularly draw thousands of people interested in the innovative menu options at hundreds of food stalls, this eatery specializes in homemade steamed rice noodle rolls, shaved ice, and small bites. The noodle rolls, or Cheong Fun, are made with milled rice and water which is steamed and stuffed with savory fillings, then garnished with toppings like fried shallots or sweet rice noodle sauce. The shaved ice, or Tsua-Bing, features layers artistically carved from frozen flavored blocks of ice, which are then covered with syrups and toppings. The small bites menu includes options like pork dumplings, rangoons, and chicken poppers. Taiwan Night Market is the 10th brick-and-mortar location launched by The Blackfin Collective over the past 10 years, but the first for this type of cuisine and original menu. Two other brands of The Blackfin Collective — Hartford Poke Company and Okinawa Boba Company — were previously introduced at Parkville Market."…  TOP'S, or Taste of Portugal Sandwiches, "is the latest venture from Chef Rui Correia, who ran a popular Portuguese restaurant in Greenwich for more than a decade. TOP'S serves traditional Portuguese sandwiches and appetizers. Some of the featured options include beefina (slow-cooked pork shoulder served on a toasted Portuguese roll with pickled onion and a garlic lemon wine rub) and prego (a steak sandwich with thin-sliced sirloin on a roll with sauteed peppers and onions). Correia owned the Portuguese restaurant Douro in Greenwich between 2009 and 2022, and Mouta was one of his customers. Correia says he enjoyed the communal atmosphere of Parkville Market and the way it encourages people to try different types of food." … KOJI2GO "specializes in fried sushi rolls. These are prepared by cooking sushi rolls, deep frying them in tempura batter, and then slicing them and dressing them with sauces. Classic rolls will also be available, including the signature 'K.F.C.' or Koji Fried Chicken which features bite-sized boneless chicken lightly battered and fried in tempura flour and served with spicy mayo, and the Parkville Market Roll with tempura shrimp, chicken, avocado, cucumbers, spicy mayo, and sweet chili brown sauce. The Trans previously ran the nightlife spot, Koji, in downtown Hartford for 13 years. This spot closed in 2018 when they decided to shift to a more food-based model. They also ran COji Kitchen in Southington which opened in January 2020." … Adeilton Carvalho "is opening his third location at Parkville Market, with a focus on paella and seafood dishes. Flor do Mar will debut at the market in early June. Carvalho was running a food truck, Brazilian Gula Grill, when Mouta persuaded him to become a vendor at Parkville Market. He now has an eatery by the same name in the market, and the truck is also stationed there. Carvalho says he will use primarily gluten-free methods to prepare the dishes at Flor do Mar." For more information, visit parkvillemarket.com.
West Hartford resident and renowned headshot photographer Cara Paiuk, owner of Face Forward Headshots, has announced that she is opening a third location. She already has studios at 805 Farmington Ave. in West Hartford and 36 Putnam Avenue in Greenwich, and is opening another studio at 169 East Street, Studio One, New Haven, CT 06511. "Our expansion into New Haven marks an excitng milestone for Face Forward Headshots," Paiuk. "We are delighted to bring our industry-leading expertise in headshot photography to the vibrant community of New Haven and provide individuals and businesses with the opportunity to showcase their personal and professional brands," she said. "In today's competitive landscape, standing out is more important than ever, and our expert team at Face Forward Headshots is committed to helping clients make a lasting impression." Personalized sessions at all three locations – that include expression coaching, customized lighting, and wardrobe changes – are available by booking appointments online through the Face Forward website.
From June through Labor Day the West Hartford United Methodist Church (aka the "Pumpkin Church" at 1358 New Britain Avenue, near Corbin's Corner and Westfarms) is holding a food drive to support the West Hartford Food Pantry. "While many of us will be planning our summer vacations, hunger never takes a vacation," the church administrator said in an email. Non-perishable, unexpired, and unopened donations (expired and opened items cannot be accepted) can be dropped off in the bin by the front door of the church at any time of the day. Popular and much-needed items include pasta and pasta sauce, peanut butter (16-18 oz. jars) canned fruit, applesauce, rice (1-2 lb. packages), and soups.
Congratulations to state Rep. Kate Farrar of West Hartford who was one of 25 elected officials presented with the Children's Champion Award by the Connecticut Early Childhood Alliance earlier this month for her hard work and dedication to improve the lives of young children in our state, according to a news release. "We are particularly pleased to recognize Representative Farrar for her membership in the Early Childhood Caucus and her tireless support for additional funding to support early care and education," said Merrill Gay, executive director of the Connecticut Early Childhood Alliance. "It is an honor to receive the Children's Champion Award from the Connecticut Early Childhood Alliance. I firmly believe that investing in our kids' early learning must be one of our state's top priorities." said Farrar. "Affordable and high-quality early childhood education is essential not just for our kids' future but for our entire economy to thrive."

West Hartford Center-based YHB Investment Advisors, Inc. has announced that Anne Space, CFA, has been promoted to Vice President and will become a member of the Board of Directors. Space's background in investments and her management experience will allow her to continue to make significant contributions to the success of YHB. In addition, Matt Manning will assume the role of Chief Operating Officer. Manning's investment, portfolio analysis and corporate finance talents and contributions, along with this new role, will allow him to work more broadly with operations, systems' effectiveness and efficiencies. "YHB continues to be a committed member of the West Hartford and Greater Hartford communities. The entire YHB team values the trust their clients place in them. These recent promotions reflect our focus on serving our clients to the best of our abilities," the company said in a news release.
Congratulations to Duncaster – the Continuing Care Retirement Community (CCRC)just over the town line in Bloomfield and the home to many former West Hartford residents – which been chosen by U.S. News and World Report as the winner of two senior living awards, for Best Independent Living and Best CCRC. U.S. News and World Report based these awards on analyzing resident surveys to determine what sets Duncaster apart from others. "These awards are a testament to the exceptional culture and high-quality services provided to residents," Duncaster President and CEO Kelly Papa said.  "They also reflect the dedication and hard work of the Duncaster employees, residents and our Board of Directors. We strive on a daily basis to provide a home for our residents that enhances their quality of life, honors the lives they have led and respects the life they want to continue to live; this recognition is gratifying because it shows we are indeed living into our mission on a daily basis. Congratulations to our entire team for this well-earned recognition." Residents were given surveys in October 2022 by U.S. News and World Report and asked to comment on the quality of life and level of service provided by Duncaster. Here is a sampling of comments from those residents shared in a news release: "Duncaster is a community that delivers an excellent living experience and safeguards my future. … Duncaster is unique in the way residents live here and share their life experiences, help one another when needed. The support system all around is superb, and the feeling of not having to attend to the daily tasks of living 'out in the world' is a great relief. We feel we are being taken care of, no matter what. This sense of security boosts mental health and lengthens life. … I made the right decision at the right time to move here! I downsized my space and upsized my life!!! … As I said before, Duncaster gives me peace of mind for my next phase. I can move in when I'm ready and my kids don't have to worry. … My husband and I are so grateful that we moved to Duncaster just over six years ago, and our families regularly express their gratitude that we are safe and so very happy in this stimulating, enjoyable environment. Our moving here was a gift to both ourselves and to our families."

The Connecticut Historical Society (CHS) elected three new Trustees during the 2023 Annual Members' Meeting on May 22, including West Hartford resident David McCary who has been elected to a three-year term along with Harry Arora and Jay Malcynsky. In addition, the CHS Board of Trustees appointed Justice Andrew McDonald and Caroline Simmons to fill two vacancies. McDonald and Simmons will be formally elected by the membership at the next annual meeting. All have a strong commitment to the history of Connecticut and public service. McCary graduated from Middlebury College with a BA in economics and Dartmouth's Tuck Business School with an MBA in finance. Over the last 40 years he has gone on to be an institutional investment advisor for clients including Aetna Realty Investors, JP Morgan, Citi Group Alternative Assets, Greenwich Capital and Allied Capital. He is also an entrepreneur starting four businesses in finance including his current company McCary Anheuser Wealth Management, LLC serving ultra-high net worth families nationwide. He also currently sits on four other Boards of Directors and their Investment Committees helping them oversee $100+ million in investments: The University of Hartford Art School Endowment, The Connecticut Episcopal Bishops Fund, The Colt Family Bequest, and St. John's Episcopal Church. McCary is married with three adult children and two grandsons. He is also a part-time professional ski instructor and fine art nature photographer.
This week's sad news is the planned closing of the SockStarz retail store on LaSalle Road at the end of the month. I received the following details in an email a few days ago from Harc President and CEO Russell Coleman: "We regret to inform you of the closure of SockStarz, our cherished social enterprise that has served as a symbol of inclusion and employment for individuals with Intellectual and Developmental Disabilities (IDD). After careful consideration, we made the difficult decision and will be closing our physical store on Lasalle Road in West Hartford on June 30, 2023, due to financial challenges, the impact of the pandemic, and rising inflation. However, we want to assure you that SockStarz will continue to thrive as an online and pop-up store. Over the past years, SockStarz has provided valuable job training and employment opportunities for individuals with IDD. The unwavering support from this community has been truly heartwarming, and we are immensely grateful for the impact we have made together. While bidding farewell to our physical store is undoubtedly a sad moment, we are excited to embark on this new chapter of SockStarz. Our online platform will continue to offer a wide selection of novelty socks, allowing us to continue supporting our mission of inclusivity and empowerment. We want to express our sincere appreciation to our employees, whose dedication and enthusiasm have made SockStarz a vibrant and inspiring place. Your contributions have been invaluable, and we are grateful for the opportunity to have worked with such incredible individuals. As we transition, we are excited to announce our shift toward online operations while maintaining a strong presence in the community. We invite you to visit our website, where you can effortlessly peruse our collection and directly contribute to the meaningful work of individuals with IDD. Additionally, we will actively participate in pop-up events across Connecticut, which will provide invaluable opportunities for you to engage with SockStarz, meet our remarkable employees, and gain deeper insights into our mission. Together, let's unite in supporting individuals with IDD and making a positive impact. Though we face this necessary change, our commitment to advocating for employment opportunities for individuals with IDD remains strong. We are determined to find innovative ways to make a difference and create a more inclusive society. We extend our heartfelt thanks to the community for your unwavering support and belief in our mission. Together, we have made a lasting impact, and we look forward to your continued support as we embark on this new phase of SockStarz."
Remember, if you have any business news to share, add it in the comments section below or email Ronni Newton at [email protected].
Like what you see here? Click here to subscribe to We-Ha's newsletter so you'll always be in the know about what's happening in West Hartford! Click the blue button below to become a supporter of We-Ha.com and our efforts to continue producing quality journalism.