A round-up of openings, closings, and other news about West Hartford businesses. 
Business Buzz is sponsored by NBT Bank, and we are very thankful for their support!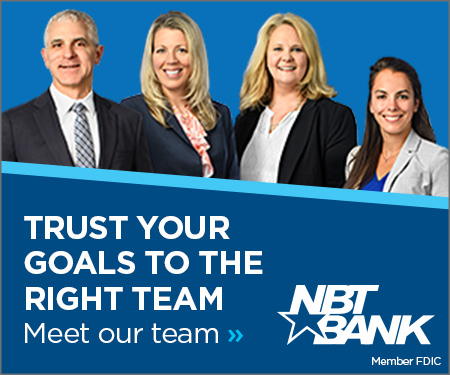 By Ronni Newton
Happy Father's Day to all the dads and father figures out there – and of course also to father-to-be (and my son-in-law) Matt Redman! I hope you had a wonderful day on Sunday!
Happy Juneteenth! Town Hall and other town offices are closed today, and it's also a bank and stock market holiday. Trash and recycling collection will be according to the regular schedule this week.
And a happy early summer, too. The astronomical first day of summer this year begins at 10:58 a.m. on Wednesday, June 21. I of course have considered it summer since June 1 – even though we haven't had too many summery-feeling days.
The central air conditioning we have been talking about having installed in our house for many years is now completely in place and operational as of Thursday, which probably means we will continue to have below normal temperatures.
I feel like every week I write about what a whirlwind it's been, but there were a few major things that happened last week.
On Tuesday, the We-Ha.com team provided complete coverage of commencement ceremonies at both Conard and Hall High Schools. We've got stories, lots of photos, and lists of all of the graduates. Thanks to Paul Palmer and Craig Rosenberg for coverage of Hall (click here for the story), and to Bridget Bronsdon for writing the story and taking some of the photos at Conard (click here)!
My own week was personally complicated by an injury sustained while running on Wednesday morning. I was on Westminster, in front of Duffy Elementary School, and about to pass by a man walking on the sidewalk with a dog that was  on a leash but trailing a bit behind him. I noticed that the dog was about to get tangled in one of those signs from a lawn care company indicating that some sort of chemical had been applied and was opening my mouth to warn the owner – and suddenly I was face first on the ground. The dog, which was on a retractable leash, had lunged at me (I was on the shoulder of the road) and gotten tangled in my legs, and sent me flying into the roadway. I was initially most upset that one of my brand new running shoes had gotten shredded (I really wasn't concerned about the blood running from the cut on my knee), but when I tried to stand up I could not put weight on my left foot.
I thought for sure I had broken at least one bone in my foot, but thankfully it's a tendon injury which is painful but hopefully involves a shorter recovery time. I'm still hobbling, but don't feel the need to rely on crutches like I did for the first few post-injury days.
Many, many thanks to Chris Connolly, a third-grade teacher at Duffy, who saw the whole thing happen and stopped to help. She kindly drove me home – which was incredibly nice – but sweeter still was that she dropped off a bouquet of flowers at my house on Thursday morning with a note that said she had been worried about me.
The dog owner did apologize, and I do hope he considers not using a retractable leash in the future, at least not in that environment. When this happened it was shortly before the start of school, and there were many other people walking in the area as well.
The other excitement last week was President Joe Biden coming to town! A team from We-Ha.com covered the Safer Communities Summit at the University of Hartford, which included the president as keynote speaker. This was my second time covering a president in West Hartford (I was in the press corps when President Obama spoke at UHart in 2013) so I knew it would be a long day with security protocols to even get inside the door – which of course were more difficult to navigate on crutches. Thanks to Bridget Bronsdon for being a major part of our coverage team on Friday – and to John Lyons who handled our social media for the day! You can read the full story here.
Saturday was Ted's and my wedding anniversary, and we celebrated this year at Union Kitchen. (Thanks to General Manager Vish Badami for the champagne toast!) Dinner – which included octopus al pastor tacos, sea bass topped with sauce véronique with polenta and spinach, short rib with smashed peas, pecorino, new potato, and violet mustard, and warm chocolate brownie for dessert – was fabulous!
If you're looking for news about West Hartford in print please note that many stories from We-Ha.com, as well as other local news, is published in the twice-monthly issues of the West Hartford Press.
If you have information to share about local businesses, please provide details in the comments or email Ronni Newton at [email protected].
**************************************************
Here's this week's Buzz:
I'm probably going to personally be a bit cranky until I can recover from my foot injury and get back to my regular workout regimen and also try out some of the businesses that are featured in today's column. And I definitely want to sample a workout from GYMGUYZ as soon as I can! Christian Silva (who says he is not as fierce as he looks in the photo!) launched the GYMGUYZ West Hartford franchise this spring. The company was formed in 2008, and started franchising in 2014, Silva said, and their business model is in-home training that they bring to wherever their clients want to work out – which could be at home, work, in a park, etc. Silva, who has a master's in exercise science and has owned fitness equipment stores in Avon and Manchester, said he has personally been doing in-home training on and off since 2006 in West Hartford and throughout the Farmington Valley. He was working in the corporate fitness industry when COVID hit, and no one was going to their offices. Eventually he found GYMGUYZ. "I love the company," he said, and he bought the franchise in January and began operating in April. "It's like DoorDash for workouts, for exercise," Silva said. Everyone starts off with a free assessment, and although they can use their own equipment, GYMGUYZ trainers bring everything needed in their signature big red van. Equipment includes hand weights, barbells, kettlebells, bands, ladders, boxes, benches that convert to steps, medicine balls, hurdles, and more. As for the clientele, they range from youths to seniors. "A little bit of everything," Silva said. He also noted that they do adaptive assessments and work with those who have either physical or intellectual limitations – which is something very close to his own heart. And the "GUYZ" part of the company name should not be interpreted to mean this is a male-oriented business. Silva said he has more female trainers than male trainers, and the clients are a mix as well. The company name is an acronym, that stands for: Get Yourself Motivated. Goals Uniquely Yours. Zero excuses. Details are being finalized the GYMGUYZ West Hartford grand opening, which will be hosted by the West Hartford Chamber of Commerce sometime in July. At the grand opening there will be 30-minute classes for a fee of $20, all of which will be donated to Make-A-Wish, Silva said. For more details, visit the GYMGUYZ website.
Sensei Robert E. Robert, the owner and chief instructor of the Jukido Jujutsu Dojo located at 635 New Park Avenue, said that in the time since they moved into their new location (mentioned in this column on Dec. 13, 2021), enrollment has increased exponentially forcing an expansion of the dojo (a hall or place for immersive learning, experiential learning or meditation). "The expansion has just been completed a few weeks ago. Our space now occupies units 3D-1 and 3D-2. Classes for adults and children are offered numerous times weekly and on the weekends," Robert said. As for what happens at the Jukido Jujutsu Dojo, Robert said, "Our structured curriculum is designed to provide a no-nonsense approach to succeed in self-defense and foster life-skills development." For more information, visit their website.
Congratulations to Dillon Mailing & Printing, which was honored as 2023 Employer of the Year by Futures Inc. on June 8. The award was presented to Operations Manager, Amy Kennedy by Kristine Leahy, Career Development Specialist at the 2023 Futures Inc. graduation ceremony. Futures Inc. advocates for personalized opportunity and inclusion for people with disabilities through individualized school, employment, and day programs so each can live an inclusive life within their community. Since 1931, Dillon Mailing & Printing, a full-service direct mail and print company located in West Hartford, partners with nonprofit organizations and businesses to achieve their marketing and fundraising goals.
West Hartford resident Karen Myrick, DNP, APRN, FNP-BC, ONP-BC, FAAN, has just. been hired as the medical director of Imagine Float, located at 290 West Main Street in Avon. "Her role will focus on assisting

Imagine

Float

to elevate their existing wellness therapies and experiences they provide to their clients in their recovery process and strive towards improving their healthspan," the company announced in a news release. "Additionally, the wellness center is also launching a cutting-edge new service: The EMSCULPT NEO, a state-of-the-art body contouring treatment that is the first non-invasive treatment on the market, that eliminates fat and builds muscle simultaneously by combining two therapies into a single treatment. Through the power of radiofrequency and HIFEM+ (high intensity focused electromagnetic field) it is the only non-invasive technology in the world that builds more muscle by 25% and reduces fat by 30% on average." Myrick has more than 20 years of professional experience with a specialty in orthopedics, and as medical director will be responsible for the direction, administration and quality of the EMSCLUPT NEO treatment provided to

Imagine

Float

's clients. Myrick will conduct an in-person medical consultation with each and every client before the EMSCULPT NEO treatment. She will also personally administer the use of the EMSCULPT NEO or oversee the administration and protocols with a registered nurse employed/ contracted with

Imagine

Float

. "As a client and daily member of

Imagine

Float

since 2020, Karen brings her personal experience and professional experience in anatomy, physiology, orthopedics, and sports medicine to our center, and will offer consults to

Imagine

Float

when medical related questions arise," said Michele Beaule,

Imagine

Float

Owner. "It is an honor to welcome Karen to our team and we are excited for her to share her expertise to guide our center and clients how using proper forms of recovery and rehabilitation can contribute to maximizing a body's performance." Myrick said, "I am thrilled  to  join the

Imagine

Float

team. I love helping people to reach their full potential of health and well-being. All of the service modalities at

Imagine

Float

are excellent, but in particular having worked with the EMSCULPT NEO myself I have noticed my running form improve tremendously, I feel stronger, and my posture is better. I'm happy to be able to offer this service to the

Imagine

Float

community so they too can feel the power of the results!" For more information, call

Imagine

Float

at 860-255-7771 or visit the website.
West Hartford resident Jessica Zachs was featured on MSNBC's "Know Your Value" website on June 6. Zachs is the founder of the nonprofit Dignity Grows, now a national leader in fighting gender inequity by addressing "period poverty" – the fact that 20% of women cannot basic menstruation and other hygiene products. Click here for the segment.
A series of free entertainment events in Blue Back Square related to the Travelers Championship will be taking place this week while the golf tournament is being held locally a the TPC in Cromwell, culminating with an outdoor, public watch party in the Square on Sunday, June 25 from 3-6 p.m. Large TV screens will be set up on the stage for a traditional watch party and live coverage will be streamed throughout the afternoon. There will also be free kids entertainment, golf activities,  and take-out specials from a variety of Blue Back Square restaurants. "We are thrilled to be bringing all the action of the Travelers right to Blue Back Square for people to enjoy in a family-friendly environment," said Kate Terricciano, spokesperson for Blue Back. "Our goal is to provide a variety of entertainment throughout the entire summer season and the Travelers activities this week are only just the beginning! Entertainment this week includes the following: Tuesday, June 20, 10-11:30 a.m. – Camp Blue Back, a fun kids series featuring various activities each week including balloon art, face painting, story time, arts and crafts, and more; Wednesday, June 21, 6-8 p.m. – Outdoor concert series featuring Latanya Farrell  (rain date Thursday); Friday, June 23, 6-8 p.m. – Dr. Violin performance; Saturday, June 24, 6-9 p.m.: Cars & Cocktails – VIP Kickoff to Concorso Ferrari and Friends (cost to attend); Sunday, June 25, 3-6 p.m. – Travelers Watch Party in the Square .
Congrats to West Hartford residents Jimmy Altman and Rachel Frank of FOX61 News, who both won Emmy Awards from the Boston/New England chapter of the National Academy of Television Arts and Sciences (NATAS) honoring outstanding achievement in the television industry. The seven awards for achievement in 2022 are the most won by any Connecticut television station. Frank, the station's chief meteorologist, received an Emmy in the category of "Anchor-Weather" for "Beyond the Forecast." Reporter Jim Altman won five Emmy Awards, sharing three with videographer Sean McKeever, who also won an individual award for news editing. The NATAS Boston/New England Chapter presented its awards at its 46th Boston/New England Emmy Awards Ceremony in Boston on Saturday, June 10, 2023. "This is an exceptionally proud day for everyone at Connecticut's News Station," said FOX61/CW20 President and General Manager Humberto Hormaza in a news release. "I congratulate Rachel, Jim and Sean on their Emmys and all our nominees for their outstanding work. These awards represent the best of our industry and FOX61's commitment to serve the greater good of our communities."
Now for the closings … Park Road Pasta Kitchen is officially closed, and the space is for lease. Tony Camilleri, who revamped what was previously a Mexican restaurant at 14-16 Oakwood Avenue. last November to have an Italian concept, confirmed that the business has closed for good. One of his partners has had to step away from the business for personal reasons, and that left Camilleri pretty much running three restaurants by himself which is nearly impossible. He plans to continue to focus on the two Mexican concept restaurants (Mexican Street Food on Raymond Road and Toro Loco in Farmington) and he has sold the assets of the business to the building owner, Gary Dinowitz, who said the space is for lease and he can be contacted at 860-306-6338 for any further information.
Also closed, and I don't know the details or when it officially closed, is the Songbirds Vape shop at 1111 New Britain Avenue. The sign has been taken down and the space is completely empty. Thanks to an alert reader for letting me know.
One final closing to report is EbLens at Westfarms, which opened in December 2021. The retailer, which specializes in streetwear and sneakers, will be closing all of its stores across the country by the end of the summer, NBC Connecticut reported last week.
Remember, if you have any business news to share, add it in the comments section below or email Ronni Newton at [email protected].
Like what you see here? Click here to subscribe to We-Ha's newsletter so you'll always be in the know about what's happening in West Hartford! Click the blue button below to become a supporter of We-Ha.com and our efforts to continue producing quality journalism.