A round-up of openings, closings, and other news about West Hartford businesses.
By Ronni Newton
Meteorological summer began on June 1, but even though we've had some toasty warm days what I am really craving is the lazy days of summer and the chance to enjoy the weather a bit. There was so much activity packed into the past few weeks, and next few weeks, until the end of the school year, are also going to be jam-packed.
Before getting to the Buzz, I want to give a congratulatory shout-out to my son, Sam, who has just accepted his first career job – as an economist in the Boston office of HDR, an engineering, architecture, environmental, and construction services firm, working on projects involving transportation sustainability. It's good to know that all of the dinner table conversations we've had about transit-oriented development (which is the subject of a Town Council. public hearing on June 14 at 7 p.m.) actually made a difference in his career trajectory! We are very proud, and also about to become empty nesters again!
I reported on the opening of Tavern in the Square last week, and after sampling some of the food I photographed our whole family went there for a celebratory dinner on Friday night. I just got a new iPhone 13 Pro (that day) and enjoyed playing around with portrait mode, which is quite an upgrade from my previous iPhone 8. I need a bit more practice, but I love knowing that I will have such a great camera in my pocket at all times.
Saturday night we sat on our patio and enjoyed the beautiful weather, but since none of us had gone grocery shopping all week we had no food in the house for dinner, so it was takeout from Pokéworks to the rescue!
There's no good segue to mention that I reported on an awful incident last Friday, a fatal motor vehicle crash involving a pedestrian. I appreciate all who informed me that something had happened, and I got to the scene as soon as I could. When reporting on a tragic incident like that, there is always a fine line between providing the public with the information they need to know (like that the intersection was closed) and want to know (if people were injured, or worse, or if charges were filed) – and maintaining the privacy of those involved. I did take some photos, but since the names of those involved have not been released, and at the time I took the photos the police had not even provided the ages or sexes of those involved, I was careful not to publish any photos that were too disturbing. Once the investigation is completed, I will provide any available updates.
West Hartford is still in the COVID-19 red zone, but the case counts are continuing to decrease in town after at least six or seven weeks of increases. Recently, the West Hartford-Bloomfield Health District issued a warning urging the community to take precautions and to utilize available resources to avoid contracting the virus. Please have patience with each other and our choices, continue to look out for each other, support our local businesses – and stay safe and healthy.
If you have information to share about local businesses, please provide details in the comments or email Ronni Newton at [email protected].
**************************************************
Here's this week's Buzz:
The project that will bring 48 new luxury apartments to West Hartford Center is about to get underway, and the existing outdated buildings (in the feature photo at the top of this column) at 920 and 924 Farmington Ave. are likely to be demolished by the end of June, Brian Zelman, one of the principals of the development partnership Farmington Avenue Acquisitions said. "Construction will start immediately after demolition with expected completion in Q3 of 2023," Zelman said. The project was unanimously approved by the Town Council in late January, and was met with excitement by Council members, including Mayor Shari Cantor who praised it as a great example of "new urbanism" with a location that is a gateway to the Center, encourages walking to amenities, and is right next to the Trout Brook Trail. At the time of approval Zelman said the branding, including the name of the building, was being finalized, and he said that the name chosen is "The Byline" – a nod to Noah Webster and a name complementary to the nearby Blue Back Square development. Zelman shared the following statement about the name: "A byline is defined as the beginning line of a story, article or good that addresses the writer's name. West Hartford has an incredibly rich history of writing, publishing, and industrial advancement. Its most famous resident, Noah Webster, is known as the 'Father of American Scholarship and Education' and inventor of the first dictionary. Through its publication, Webster standardized the spelling of a lot of American vocabulary, revolutionizing the system in which we learn, communicate, and express ourselves. His 'Blue-backed Speller' books also taught five generations of American children how to read and spell. Blue Back Square, named after Webster's Speller, epitomizes the evolution of West Hartford's journey from colonial parish to thriving urban suburbia. Its story represents American's shifting life styles, growing diversity, and our definition of home and place. The name 'The Byline' pays homage to West Hartford's roots and the sentiment of new chapters, new stories, and new beginnings and makes a perfect addition to the West Hartford community." The project – Gove stories in total with four stories of residential above ground floor commercial occupancy – will include two workforce units reserved for those who earn no more than 80% of the Area Mean Income (AMI), with a 20-year deed restriction, and is estimated to generate $300,000 of annual tax revenue to the town, as compared to the roughly $60,000 the existing property has been generating. Currently it is anticipated that market rate units will lease for $3,000 to $4,000 per month, Zelman said.
LaSalle Road Partners LLC put its remaining West Hartford Center properties, purchased from Sinatro Brothers in 2015, up for sale last fall, and at the time Dan Joseph, one of the principals with Corridor Ventures (which partnered with Rockport Investments and Tecca Ventures to form LaSalle Road Partners LLC), said they were just trying to "see what our options are" and listed the properties without a sale price. Last week, Joseph confirmed a $25.5 million transaction that closed last month and creates a new 50/50 partnership, LaSalle Road Partners II LLC, with the original owners retaining a 50% share and Laz-Lex West Hartford LLC now owning the other 50%. "It's the best of both worlds," Joseph told me in a phone interview last week. "We have had a relationship with Alan Lazowski [of LAZ Parking, the "Laz" in the partnership; Marty Kenny of Lexington Partners is the "Lex"] for a long time," he said, noting that Hagan Brown, one of the other principals, was even a valet for LAZ Parking as his first job. "We've created a ton of value," Joseph said, through the original partnership, and he said they were intrigued by the potential for further development, adaptive reuse, and the creation of additional value that could be achieved through the new partnership. "We're really excited," said Joseph, noting that over the past seven years Rockport Investments (principals Keith Guerraz and Gary Fogg) have done a "tremendous job" as asset managers securing new tenants for the properties, and Tecca Ventures (David Raisner and Rob Webber) have likewise done a great job spearheading the upgrades to the properties, which specifically include 52 LaSalle Road (where Cookshop Plus is located) as well as 76-84 LaSalle, the strip to the south that ends with Restaurant Bricco, and 977 Farmington Ave. (where Westfield Bank at the soon-to-open Sparrow are located). LaSalle Road Partners purchased all of the former Sinatro buildings for $17.6 million, and previously sold 991 Farmington Ave. for $6.7 million in February 2020. "We're thrilled by what it's become and excited about what it will become," Joseph said. "Laz-Lex West Hartford, LLC is excited to join with our friends and partners, Corridor Ventures, to partner on these critical properties on both LaSalle Road and Farmington Avenue which we feel are the gold standard locations in the vital West Hartford Center area," managing partner Alan Lazowski told We-Ha.com in a statement about the new partnership. "When we combine Laz parking expertise, with my longtime partner Marty Kenny's development expertise we think there are some significant opportunities with Corridor to even better position these landmark properties," he said.
Corridor Ventures is also 50/50 partners with Lex-Laz LLC (also Marty Kenny and Alan Lazowski) for the One Park Road apartment development project now underway at the corner of Park Road and Prospect Avenue. "We're fully committed to the success of that project. It's a great location. … We're very excited about what the future holds there," Joseph said, previously about the "really transformative" $70 million redevelopment of the Sisters of Saint Joseph of Chambéry property that will ultimately result in 292 units, a mix of one-bedroom, two-bedroom, and studio apartments, at least 10% of which will be designated as affordable housing for at least 20 years, for residents who earn less than 80% of the area median income. Financing on that project closed last year, and construction is well underway.
The Elmwood Business Association had a very productive meeting on Friday morning, with numerous updates about business developments in the Elmwood neighborhood. While many of them have already been reported in this column, I did learn that the building at 1049 New Britain Ave. was sold in April to JACSAR Partners LLC,  owner of other properties in Elmwood as well as in the Park Road Area. The business that had occupied the 966 square foot space, Estate Buys of West Hartford, has closed. According to the minutes of the Elmwood Business Association, Fitness with Jonathan, that was originally on New Park Avenue, will be one of the new tenants in the building.
Marc's Appliance Warehouse will be having a ribbon cutting this week with the Chamber of Commerce at their new location at 80 South Street, and on Saturday will have a grand opening celebration that includes food and drink, as well as give-aways.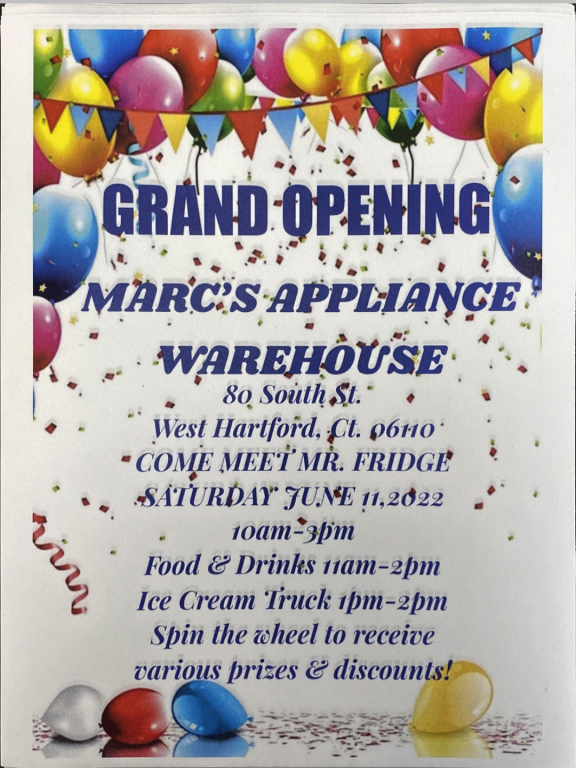 Which is your favorite ArtBarrier mural? The West Hartford Art League will award a $200 cash prize to the people's choice award winner. Stroll through the Center and Blue Back Square, choose your favorite (it's tough to decide), and cast your vote by 5 p.m.  on June 12. Click here to vote.
I had a chance to speak with Jeanne Barber of Camden Grace Interiors, for the story on the Junior League of Hartford's 2022 Designer Show House, and she told me that she is "so happy" to have just gotten the keys to her new studio in West Hartford. She is relocating the business from Hartford to 7 South Main Street, a second floor space above Blue Elephant Trail.
Speaking of the Junior League of Hartford's 2022 Designer Show House, the West Hartford Chamber of Commerce held a ribbon cutting at the 51 Brookside Boulevard home on Friday afternoon, celebrating the opening of the fundraising event which will run through late June. Honorary chair Anthony Baratta had the privilege of cutting the ribbon. Click here for all of the details about the Show House.
The Connecticut Historical Society elected three new trustees at its May meeting, and "continues its commitment to growing a diverse and prestigious Board of Trustees" the organization stated in a news release. Congratulations to Tammy Exum of West Hartford, a deputy majority leader of the state House of Representatives, who was named a trustee along with Secretary of the State Denise Merrill, and JoAnn Price, each elected to a three-year term. Exum, who has a bachelor's degree in early childhood education from the University of North Carolina at Greensboro, was formerly an elementary school teacher who then earned an MBA from Clark Atlanta University and moved to West Hartford in 1999 to work for the Otis Elevator company.  She is also former vice chair of the

West

Hartford

Board of Education, a founding member, former president, and executive board member of the

West

Hartford

Special Education PTA, and the former

West

Hartford

coordinator for the Parent Leadership Training Institute. Lawrence Mowell, formerly of West Hartford and now a resident of California, was elected as a lifetime honorary trustee at the May 2022 Annual Meeting.
Following a national search, Janice Hamilton-Crawford, who has been headquartered in West Hartford with an office in Saint Mary Home, will succeed Steve Kastner, who is retiring, as president of Trinity Health Senior Communities as of June 6, the first Black woman to be named CEO of a Trinity Health national division, the organization said in a news release. "Jan's results-driven record combined with her character makes her the perfect fit to expertly lead Trinity Health Senior Communities," said John Capasso, executive vice president, Trinity Health and president of Continuing Care, in a release. "Her strategic thinking and natural servant leadership style will grow Senior Communities' rich legacy of resident-centered care." In her new role, Hamilton-Crawford will lead more than 40 independent living, assisted living, memory care, skilled nursing, and subsidized senior housing communities across the United States, including Saint Mary Home and The McAuley in West Hartford. Hamilton-Crawford has more than 20 years of experience in health care.  She joined Trinity Health in 2018 as the first president for Senior Communities, New England Region. In the position, she built a regional network of independent living, assisted living, skilled nursing, and rest home communities in Connecticut, Massachusetts, and Maine. She has been instrumental in solidifying and building partnerships, including close collaborations with the Sisters of Mercy and the Sisters of Providence as well as with state and local elected officials. "Jan has keen insight into operational efficiencies and excellence without losing sight of reverence for our residents, religious communities, and colleagues," said outgoing president Steve Kastner. Hamilton-Crawford holds both an MBA in healthcare management and a BS in business administration from Our Lady of the Lake University in San Antonio, TX. She completed the Women's Leadership Program through Yale University's School of Management. She serves on the boards of Genesis Women's Shelter and Support in Dallas and LeadingAge Connecticut. She is a member of Catholic Health Association's Eldercare Advisory Council, Delta Sigma Theta Sorority, Inc., North Central Texas Alumnae Chapter, and an Unstoppable Cultures Fellow.
Remember, if you have any business news to share, add it in the comments section below or email Ronni Newton at [email protected].
Like what you see here? Click here to subscribe to We-Ha's newsletter so you'll always be in the know about what's happening in West Hartford! Click the blue button below to become a supporter of We-Ha.com and our efforts to continue producing quality journalism.