A round-up of openings, closings, and other news about West Hartford businesses. 
Business Buzz is sponsored by NBT Bank, and we are very thankful for their support!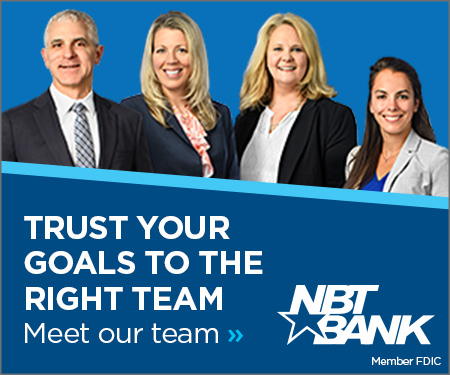 By Ronni Newton
Winter is definitely not giving up, but I hope somehow the forecast of heavy snow and wind is completely wrong.
This weekend marks 25 years since I moved to West Hartford from the Washington, DC area. Ted started his new job in January 1998 and had been living with his parents for two months while I was winding down things at my job and selling our house in Falls Church, VA. Katie turned 3 the weekend we moved into the house we still live in, and at the time I was 7 months pregnant with Sam. I do remember that it snowed about 8 inches the weekend after we moved in, and all we had was one little snow shovel that was completely inadequate for our very long driveway – but thankfully we learned quickly that our very kind neighbors all owned snowblowers and very willingly helped us out.
This weekend also brings back memories of the final moments of pre-pandemic "normalcy" in 2020. I already know that in my Facebook memories tomorrow there will be a photo of me in Big Y trying to stock up for what we thought would be a two-week shut down, and photos of empty shelves where toilet paper should have been. Ted went to work at his office in Springfield on March 12, 2020, and did not return for more than 2 years after that – and while he still rarely goes there – but otherwise life, for the most part, is back to the way it was prior to March 2020.
We're celebrating both Katie's and my sister's birthdays on Sunday evening – and also eagerly watching selection Sunday. It was a pretty good end to the regular basketball season with two of my three favorite teams (UConn women and Duke men) winning their conference championships. Sam and his friends were at the Big East tournament on Friday night, but sadly didn't see the UConn men win. I have my fingers crossed that UConn and Duke men both do well in the tournament, and that they don't have to play each other.
My sister and I celebrated her birthday at Tavern in the Square on Friday night – where every single one of the TVs (there must be at least 20 or 30 of them) was turned to the UConn vs. Marquette game. There was lots of cheering, until there wasn't … but the food was great.
Ted and I went to Taste of India on Saturday night. We've ordered takeout but had not eaten inside that restaurant since before the pandemic. Dinner was delicious, and we have at least another entire meal left over!
There were just 13 positive reported cases of COVID-19 in West Hartford over the past seven days (as of Sunday) and a positivity rate of 6.3% – exactly the same as last week. While the data doesn't take into account the home tests that don't get reported to the state, it's good to see those numbers continue to remain low. Hartford County remains among those counties in Connecticut considered  "low" risk according to the CDC, and just like last week, only Litchfield, Middlesex, and New Haven counties remaining at "medium" risk. Maybe I will soon be able to delete this paragraph – and I sure hope so! In the meantime, please continue to have patience since not everyone has the same level of comfort, continue to look out for each other, support our local businesses – and stay safe and healthy.
If you're looking for news about West Hartford in print please note that many stories from We-Ha.com, as well as other local news, is published in the twice-monthly issues of the West Hartford Press.
If you have information to share about local businesses, please provide details in the comments or email Ronni Newton at [email protected].
**************************************************
Here's this week's Buzz:
There have been numerous ribbon cuttings recently, and many more openings are coming up in the next few weeks. On Monday, the Chamber of Commerce hosted a ribbon cutting for Perkatory Coffee Roasters, which has just moved being a vendor at GastroPark, where they opened in the summer of 2021, into its own space at 625 New Park Avenue. Perkatory's first location, and the largest at 2,500 square feet as well as where the roasting is done, is in Middletown, and West Hartford is now their fourth location. "GastroPark has a great following, and a lot of customers," said Johanna Perazella, who owns Perkatory with her husband, Joey. She said it was a "scary move" branching out on their own, but they were looking to grow, and to add food and merchandise, and hope to maintain a relationship with GastroPark in the future. The new shop has coffee and coffee-related products for sale, and also bagels and other baked goods with a variety of savory and sweet options. There are monthly themed specials that feature two or three different lattes – and March celebrates St. Patrick's Day. "It keeps things fresh and interesting," Johanna said. When asked about his favorite drink, Joey, who is the overall head roaster  for Perkatory (there are two other roasters, and he is training a third), said, "I'm a black coffee drinker." That's how I drink my coffee, too – and I've become a big fan of Perkatory. For those who don't like their coffee black, there are oat milk and almond milk options along with dairy additions. Joey said they are in early talks with G-Monkey – which is right next door – about how the businesses can collaborate. For more information about Perkatory, visit their website.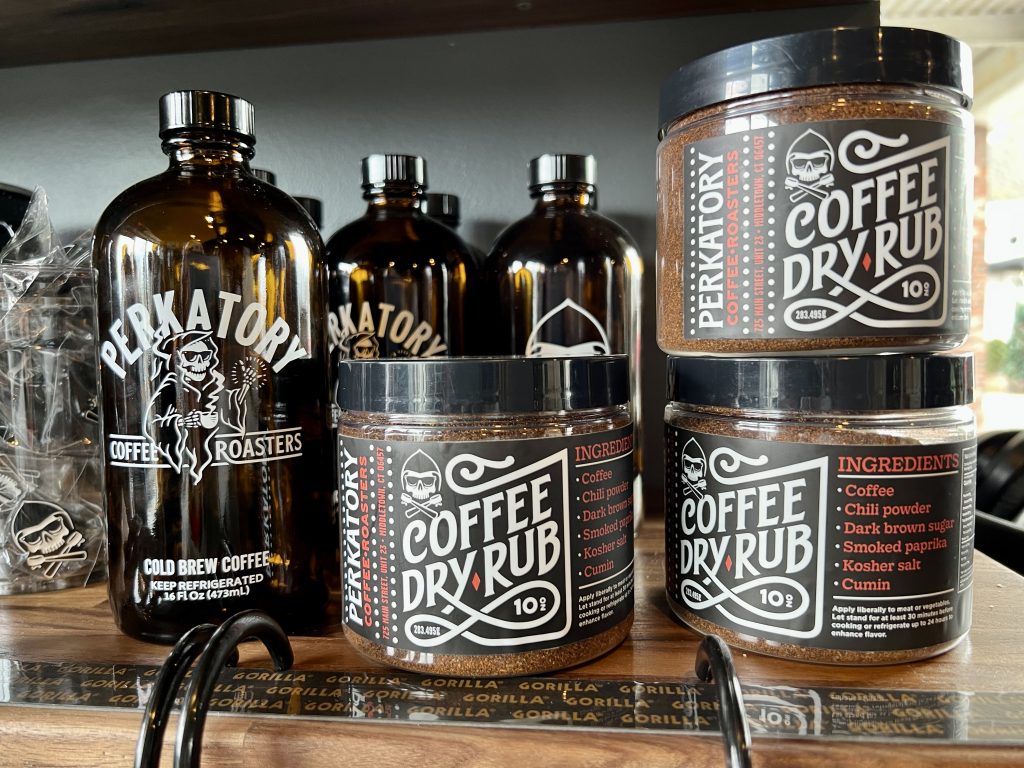 Another business that had a ribbon cutting last week was Planet Fitness, which opened a few weeks ago at 52 Kane Street in Prospect Plaza. They took over the former Hibachi space (Hibachi closed for good) as well as the Prospect Pizza space (Prospect Pizza moved a few doors down) and the gym is spacious, with plenty of weights and cardio equipment, available personal training, and has reasonable membership rates. More details can be found on the Planet Fitness West Hartford Facebook page or website.
Another fitness business coming soon to West Hartford is Central Rock! Their Instagram feed (@centralrockwesthartford) has been filled with images of the space coming together, and they are saying in response to questions on social media that they will be open by the end of the month. I did stop by on Sunday (and peeked in the window) and from what I could see the space looks about ready to go. More to come once they open!
Relax the Back, which announced plans to move earlier this year, will complete its relocation from 982 Farmington Avenue diagonally across the street to the former Toy Chest space (973 Farmington Avenue) and open in the new store on March 15, according to a sign on the door. The store is expanding from a retail space of roughly 800 square feet to 3,000 square feet plus basement storage. Relax the Back sells massage chairs, recliners, lift chairs, office chairs, and other ergonomic equipment, as well as mattresses and pillows. "Live wellness" is their motto, and the businesses pillars are: "healthy sleep, healthy mind, healthy body, and healthy work."
I don't know how West Hartford's Design Review and Advisory Committee reacted to the plans because the minutes aren't posted yet, but the agenda indicates that DRAC had a first look at a proposal to amend the Special Development District at 245 Prospect Avenue (Prospect Plaza) to add a free-standing building with a Chipotle that has a drive-through! The proposed building would be in the southeast corner of the parking lot, close to both Prospect Avenue and Kane Street. I'll provide an update as soon as I can get more information.
Arethusa Farm Dairy – which has a location that remains open on Farmington Avenue – said in a news release this past week that they are "proud to announce that our Europa Cheese has been named the 'Best in Show' in the U.S. Championship Cheese Contest. It was evaluated by a team of 42 elite cheese judges in Green Bay, Wisconsin, based on technical merits including texture, flavor, appearance, and taste. The selection was made from over 2,200 entries, across 35 states, with a final score of 98.739. Our Europa is an aged, traditional style Gouda, hand-made by a dedicated team who cares for over 5,000 wheels in our cheese aging caves. We are incredibly thankful for our Head Cheesemaker, Eric Schmid, and our entire Cheese Team for their outstanding work. We also want to thank all our local Connecticut Dairies for their wonderful milk. It goes without saying that quality cheese always starts with quality milk. This is an achievement that is not only significant to us, but also to the Connecticut Dairy Industry itself. It has been an enormous team effort to realize the vision for Arethusa that was conceived by Anthony Yurgaitis and George Malkemus. We're sad that George is not here to see this, but we received the award on his birthday, Feb. 23, and we know he is still with us. It can't be overstated how proud he would be of everything we have accomplished, and we're grateful to be a part of the amazing legacy that George and Tony have created. To find out more about The U.S. Championship Cheese Contest, visit USChampionCheese.org. For more information on Arethusa Farm Dairy, please follow our Instagram or visit our website at www.arethusafarm.com."

Congratulations to Robert Shea, Jr. of West Hartford, who was nominated by Gov. Ned Lamont to serve as claims commissioner, to finish the remainder of the four-year term expiring June 30, 2025,, and formerly occupied by Christy L. Scott who resigned to pursue a new professional opportunity. "The claims commissioner provides an important service to the people of Connecticut, and it should be filled by someone who can provide a high-level of competence, fairness, and ethics to all of its functions," Lamont said. "Bob Shea's professionalism and experience will be a benefit to this office and to our state, and I appreciate him for agreeing to fill this role." Shea has been serving as assistant attorney general for the Office of Attorney General William Tong, where he is responsible for issues pertaining to eDiscovery in legal proceedings, such as litigation and government investigations, and assists the office in responding to freedom of information requests. Prior to joining that office, he worked in private practice as a compliance and government relations attorney. He earned a BA in economics from the College of the Holy Cross, and a JD from Northeastern University School of Law. "I am overwhelmed with gratitude that Governor Lamont and his team have asked me to serve in this very important role as the claims commissioner," Shea said. "I will work very hard to do this important responsibility."

Congratulations to Jim Loree (left) and Rebecca Corbin Loree (center) in the photo below, who were presented with the Visionary Leader Award by Big Brothers Big Sisters of Connecticut at the statewide youth mentoring organization's Expanding Potential Gala, held recently at The Society Room of Hartford. Jim Loree, now retired, led Stanley Black & Decker through July of 2022 – for six years as CEO, seven years as President and COO, and ten years as CFO. Rebecca Corbin Loree is the founder and CEO of Farmington-based Corbin Advisors, a research and advisory firm that works with public companies to create value. The Visionary Leader Award was presented by longtime West Hartford resident Andy Fleischmann (right) president and CEO of Big Brothers Big Sisters of Connecticut. He said, "Rebecca and Jim Loree have been great advisors, supporters, and counselors to Big Brothers Big Sisters for many years. They've done everything from helping our organization navigate the challenges brought on by COVID-19, to sponsoring several of our 'Littles' and their families during many holiday seasons, to leveraging the Corbin team's expertise in support of our marketing and design efforts, including for tonight's gala. We are proud to honor Jim and Rebecca in recognition of all they've done to help under-resourced children reach their potential." To learn more about Big Brothers Big Sisters of Connecticut, please visit: www.ctbigs.org.
Mark your calendar for "Rock Your Socks," World Down Syndrome Day, which is March 21. It's a day where people are encouraged to wear brightly-colored mismatched socks to raise awareness of Down Syndrome. And if you need some appropriate socks, local business SockStarz (18 LaSalle Road) is a social enterprise, novelty sock business developed by Harc to create meaningful employment opportunities for adults with Intellectual Disabilities. Proceeds from the sales help to create more jobs as well as lifetime educational and enrichment programs.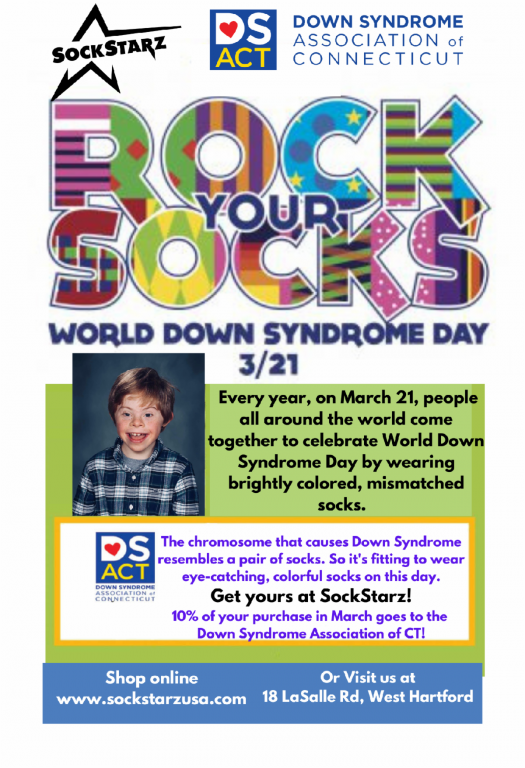 ICYMI, Bunnyville is now open at Westfarms, with a pint-sized village for children to explore and the Easter Bunny available for photos. Special events include a day when pets are welcome for photos, and a sensory-free experience held in conjunction with AutismSpeaks. Click here for details.
The West Hartford Greater Together Community Fund has opened the application process for new grant cycle. Complete information can be found here.
Remember, if you have any business news to share, add it in the comments section below or email Ronni Newton at [email protected].
Like what you see here? Click here to subscribe to We-Ha's newsletter so you'll always be in the know about what's happening in West Hartford! Click the blue button below to become a supporter of We-Ha.com and our efforts to continue producing quality journalism.