A round-up of openings, closings, and other news about West Hartford businesses. 
Business Buzz is sponsored by NBT Bank, and we are very thankful for their support!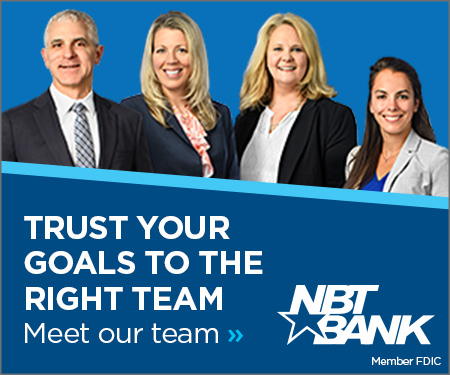 By Ronni Newton
Spring arrives today!! The official arrival is at 5:24 p.m.
My daffodils were really popping up in January when we had such nice mild weather and I thought they would be in full bloom early, but the February cold seems to have stunted them. My Facebook memories show my daffodils blooming at this time of year in the past, and I hope they will be blooming soon now that it's actually spring and there is some warmer weather forecast for this week.
I made a rather last minute decision to run the O'Hartford 5K on Sunday afternoon – lured by friends, and the promise of Hooker Brewery beer and a Bear's Mac Attack at the end, along with a cool Hartford Athletic scarf as the swag. I am definitely not in racing form and haven't been running much over the past few months, and also it wasn't very nice running weather Sunday at 1 p.m. with temps still in the 30s and 16mph wind. I am glad I did it, however, because even though I felt like I was slogging along and wanted to keel over in the third mile, I did manage to run faster than I have been going, and it will be a good motivator to continue to pick up the pace, and coming in fifth place in my age group without any training isn't too bad.
Last Wednesday I spoke to this year's Parent Leadership Training Institute (PLTI) cohort about the "Power of the Media."
There are some amazing project ideas under development by this year's group, and I hope to publish some more details to not only highlight their work but also to invite collaboration from other members of the community. I answered some tough questions, too, and got some great suggestions about possible updates to the structure and organization of the We-Ha.com site.
I've watched hours and hours of college basketball over the past few days – mostly some great games with the exception of the Duke vs. Tennessee game. I know I don't get much sympathy in these parts, but Duke's loss destroyed my bracket. And I had been doing well because I had picked Furman to win that first game. At least I won't have to fear a UConn vs. Duke matchup, and the Huskies (men and women) had some great wins over the weekend.
Ted and I ate at Park Road Pasta Kitchen Saturday night, within sight of the TVs over the bar, so we got to see Princeton's upset win over Missouri – and had a delicious dinner!
There were just 10 positive reported cases of COVID-19 in West Hartford over the past seven days (as of Sunday) and a positivity rate of 5.5% – trending in a good direction. While the data doesn't take into account the home tests that don't get reported to the state, it's good to see those numbers continue to remain low. Maybe I will soon be able to delete this paragraph – and I sure hope so! In the meantime, please continue to have patience since not everyone has the same level of comfort, continue to look out for each other, support our local businesses – and stay safe and healthy.
If you're looking for news about West Hartford in print please note that many stories from We-Ha.com, as well as other local news, is published in the twice-monthly issues of the West Hartford Press.
If you have information to share about local businesses, please provide details in the comments or email Ronni Newton at [email protected].
**************************************************
Here's this week's Buzz:
A project that has been under discussion for more than a decade is reaching completion! I had a chance to have a hardhat tour of One Park last week – the 292-unit development of the former Sisters of Saint Joseph of Chambery property, which is the largest residential development in recent West Hartford history. Pre-leasing for the first phase started about two weeks ago, Nakita Norton, property manager for Lexington Property Management told me, and units are scheduled to be ready for occupancy in April. When Lex-Laz, LLC and Corridor Ventures closed on the financing for the project at the corner of Park Road and Prospect Avenue in the summer of 2021, they estimated completion in the summer of 2023, and that's right on schedule. The first phase will be 92 units (studio, one-bedroom, and two-bedroom residences) in the portion of the property that is being renovated. The remaining 200 units are new construction (which will include some three-bedroom residences as well) are scheduled to be completed this summer. "We were able to keep a lot of the architecture," Norton said of the property which has been occupied by the Sisters (who retain their own newly-renovated space in condos located in the west wing of the property) since 1898. The original marble stairs remain in the entryway, and other historical details that remain include some of the doors and woodwork. The shapes of the windows remain intact – including the Palladian and bay windows – although the windows themselves are new and energy efficient. An old smokestack and a small outbuilding have been incorporated into the pool house, and the chapel remains as amenity space, and will have the state-of-the-art fitness center in the basement with large garage-type doors that open into what will be a courtyard area. The chapel's rose window is the inspiration for the One Park logo. Unit sizes range from 436 square feet for the smallest studio to 1,361 square feet for the largest two-bedroom, with rents ranging from $1,675 to $3,415. I wasn't able to peek at any of the top floor units because there is too much heavy construction still underway, but those units have lofts accessible via spiral staircases. All units have the same finishes, including stainless steel appliances and blue subway tile in the kitchens, in-unit washers and dryers, walk-in showers with rain shower heads and LED mirrors in the bathrooms, and plenty of closet space. The two-bedroom units have two full bathrooms, one of which has a tub, and all of the bathroom fixtures are a modern black finish. The model (see photos of the furnished unit above, below, and more at the bottom of the column) is a one-bedroom, but I also toured a few of the two-bedroom units as well as a studio. One of the two-bedroom units has a patio where an exterior stairwell was formerly located, and they kept the original door as well as some exposed brick. There will be a rooftop lounge, and garage parking on either end of phase 2. The project will include a total of 30 deed-restricted affordable units (studios, one- and two-bedroom) for those with incomes at 80% of the area median income (AMI). As an example, to qualify for a one-bedroom affordable unit at One Park a single person must have an income between $44,,370 and $63,120, and the monthly rent will be capped at $1,479. Ten of the affordable units will be in the first phase, with the remaining 20 in the second phase. "We do allow pets, up to 75 pounds," Norton said, with a max of two pets. There will be a dog park on the property as well. Norton said that more than 300 people have expressed interest in the property since the closing nearly two years ago, and she and the developers are excited to see it reaching the leasing phase. More information about the property, including floor plans and details about amenities, can be found on the One Park website, LiveWestHartford.com.
Taki Tanaka left his position as manager of The Place 2 Be in West Hartford's Blue Back Square in November 2022 to follow his coffee passion at J.René Coffee Roasters (320 Park Road) and I caught up with him last week to find out more details. "J.René had always been my favorite coffee shop ever since it opened. I became one of those daily, habitual visitors at the shop early on. What drew me to them was their absolute focus on quality and the respect for the long standing traditions of coffee production and service, which was evident in the countless cups I enjoyed," he said. "As I operated the conveyor belt sushi restaurant [Umi Sushi] in Blue Back Square, laboring to express and pass on the traditions of my native Japanese sushi to the local public from the bottom up, I felt a connection and developed an enormous amount of respect for J.René's insistence on offering the specialty coffee at its true, purist form. René, Marie and I had discussed the pleasures and challenges in our respective businesses, and had a mutual respect and love for what we were about. Over the years, while I had some excellent opportunities to advance my career in restaurant management, René and Marie kept at specialty coffee and had asked me to join their team on several occasions … and this time, we finally made it happen," Tanaka said. "Since joining, I have been immersed in learning all there is to know about specialty coffee, from barista skills to operation logistics, under René's tutelage. As with all J.René Coffee Roasters baristas, I am a steward of coffee excellence and participating in all sensory training and quality control opportunities such as cupping to advance my knowledge and craft. It's a pleasure for me to be a constant presence at the shop being there six days a week now, hopefully improving what was already excellent hospitality provided to all our guests. We are about the constant pursuit of exceptional quality coffee. Our recent re-introduction of artisanal coffee service (which took a break during the pandemic years)  including single origin coffees brewed via pour-over, siphon pot methods or into espresso, represents that spirit. We are constantly adding newest technologies and equipment, referring to the most updated knowledge base on just how to produce the tastiest coffee." Tanaka said he is really excited, and hopes to  "contribute a sense of excellence and joy into the daily lives of our local community and make it my mission the rest of the way." There are plans to eventually expand operations to include a wine bar in the J.René space, making use of a liquor license they obtained last spring.
After I met with Taki, I went to get my car's emissions inspection done (at Lyons' Auto Service in Elmwood) and while waiting I ran into Mike Werle, executive director of The Children's Museum. He said things have been going "better than good" at the temporary location at Emanuel Synagogue, with more visitors than they expected. The preschool has really been thriving as well, he said. As for plans for a permanent home, he said, "We are closer today than we've been in a long time." Werle said he hopes to be able to make an announcement in the next couple of weeks.
Chopt Creative Salad Company (333 North Main Street) in Bishops Corner is indeed substantially complete as a contractor told me several weeks ago it would be by now. The sign is up, and the interior build-out (I did step inside for a few moments to speak to the contractors but didn't take any inside photos) appears nearly complete and there's a "now hiring" sign in the window. I'm eagerly awaiting the opening news!
NBT Bank Connecticut Regional President Andreas Kapetanopoulos (center in photo below) presents $5,000 to Kelly Clark (left) and Laura Moran (right) of Johnny's Jog. Johnny's Jog for Charity is an annual St. Patrick's Day themed 5K run benefiting local nonprofit children's organizations. This year's event will be held on March 26 in West Hartford and you can find out more here as well as by visiting the website www.johnnysjog.com.
I finally had a chance to visit WeHa Fit last Thursday evening for the Chamber of Commerce monthly after hours which was co-hosted by the Park Road Neighborhood Association. WeHa Fit which opened late last year in the former Degras space at 261 Park Road. (I missed attending the ribbon cutting because I had COVID.) Owner Mike Walker said things have been going really well, and I plan to return to try out a workout one day soon.
West Hartford resident and retired U.S. Court of Appeals for the Second Circuit judge Christopher Droney has left Day Pitney to start his own firm, Droney Law, in West Hartford, the Connecticut Law Tribune reported in an article shared by the Capitol Report. Droney told the Law Tribune that he wanted to "dedicate more time to mock trials, moot court, arbitration, mediations and investigations at his new firm." A former mayor of West Hartford, Droney served on the Second Circuit from 2011 to 2019, and before that was a district judge and U.S. attorney for Connecticut.
Tavern in the Square is going "Mad[ness] for Youth Sports Programs" they announced in a news release last week. According to the release, "from March 14 through April 3, Tavern in the Square [TSQ] will be offering a charity cocktail that will raise money for 13 local sports organizations. Tavern in the Square has partnered with Absolut to craft the Bracket Buster cocktail. The cocktail is $13 and made using Absolut Vodka, Aperol, mango-infused syrup, lemon, and soda float. Guests get to take home the koozie it comes in as well. For each cocktail purchased, TSQ will donate $1 to local youth sports programs. Being proudly independent is one of Tavern in the Square's core brand pillars, and takes pride in building each Tavern to reflect its community. For this promotion, each location has selected a sports program from their neighborhood to support through the Bracket Buster cocktail. 'We are always excited to combine two of our favorite things cocktails and community. We're hoping for 'Absolut Madness' in all 13 of our participating locations and aiming to make The Bracket Buster our most successful charity cocktail yet!'" said Bethany Rioux, marketing manager of Broadway Hospitality Group. The West Hartford location is in the Corbin Collection, and their designated beneficiary is the Southington Youth Basketball Team.
Remember, if you have any business news to share, add it in the comments section below or email Ronni Newton at [email protected].
Like what you see here? Click here to subscribe to We-Ha's newsletter so you'll always be in the know about what's happening in West Hartford! Click the blue button below to become a supporter of We-Ha.com and our efforts to continue producing quality journalism.