A round-up of openings, closings, and other news about West Hartford businesses. 
By Ronni Newton
It's the last week of February, but as I said I feared last week – winter isn't about to give up completely.
Saturday was downright wintery and cold, and I managed to stay inside most of the day with another basketball marathon to watch, and happily it was another day for wins by both UConn men and women, and my Duke Blue Devil men. The Duke game didn't start until 8 p.m., and Ted and I did go out for a delicious dinner at Zaytoon's. The lamb shank was a perfect meal for a cold winter night – and I also got some updates on the opening of their new location in Elmwood but you'll have to wait for next week's column to read about that so I can get a few more details.
We had quite a few sports stories last week with the basketball seasons heading into tournament play, and look for some more coverage this coming week as hockey also enters the post season and indoor track and field athletes compete at the New England regionals.
I don't often go out to dinner during the week unless it's work-related, but we finally found a good date (that worked for all) for a long-planned dinner with John and Jessica Lyons and Rocky and Sandy Holland, and had a fabulous (and fun) dinner at Treva on Thursday night. A sampling of what we ate can be seen below. I had the scallops for dinner (and lunch the next day, and I can't wait to order them again), and although I wasn't able to get photos or names for everything we had, will say that John was pretty excited about his Affogato for dessert.
Before food photos, one housekeeping note of the week: Please send press releases by email to [email protected]. It's the best way to reach me if you have a story idea or are submitting something for publication, and I'm best able to keep track of information when it's sent by email. I get messages on my personal Facebook page, the We-Ha.com Facebook page, Twitter, Instagram, and sometimes even my personal email – and through the "contact" portal at the bottom of the site – and while I don't ignore any of those sources, there's no way of setting reminders to ensure that I respond.
There were just 17 positive reported cases of COVID-19 in West Hartford over the past seven days (as of Saturday) – about half of what there were a week ago and a positivity rate of 7.9% – also dramatically lower than last week. While the data doesn't take into account the home tests that don't get reported to the state, it's good to see those numbers dropping. Fairfield and New London counties remain "low" risk according to the CDC, and while Hartford and the other counties remain classified as "medium" risk (with mask-wearing recommended for those at high risk of getting very sick or those with household members or people they are regularly in contact with who are vulnerable). While some people I know have recently suffered with a stomach bug, other respiratory viruses seem to be waning as well. I still hope to be able to delete this paragraph that time has not yet come. In the meantime, please continue to have patience since not everyone has the same level of comfort, continue to look out for each other, support our local businesses – and stay safe and healthy.
If you're looking for news about West Hartford in print please note that many stories from We-Ha.com, as well as other local news, is published in the twice-monthly issues of the West Hartford Press.
If you have information to share about local businesses, please provide details in the comments or email Ronni Newton at [email protected].
**************************************************
Here's this week's Buzz:
Crumbl Cookies is ready to open – and pending a few final inspections and approvals by the town should be ready to supply all sorts of cookie cravings sometime in March. "We are most excited about this one," said Tucker Bartone, owner of the local franchise along with partners Aaron Lawrie and Troy van Belle. They are also owners of Crumbl location in Manchester and Milford, and will be opening three more later this year. It's taken longer than they hoped to open, but Bartone said he loves the visibility of the Corbin Collection (they are between REI and World Market) space from the highway, the and how closes it is to both Westfarms and West Hartford Center. What makes Crumbl special? "The rotating menu, the size of the cookies, the brand presence, the experience," was Bartone's response. "They're made from scratch, right in front of you," he said, and are known for their freshness and quality. The chocolate chip cookie is Crumbl isn't permitted to sell any cookies that were baked more than two hours earlier, and while they try not to create excess inventory, they are generous with donating what's not able to be sold to first responders, food banks, hospitals, etc. In fact, they would love to be connected with any organization that can pick up leftovers after closing so they don't have to be thrown out. As for the proximity to Club Pilates, which is also about to open (I'm trying to get a date, but wasn't able to reach anyone over the weekend): "It's temptation next door," Barton said. In Milford, Crumbl is in the same shopping center as an Orangetheory and Whole Foods, and he said the target demographic for the brands is similar. The week that Crumbl is ready to open it will be announced on a Monday, Bartone said, with the soft opening on that Thursday and then a grand opening on Friday. Hours will be 8 a.m.-10 p.m., Monday through Thursday, 8 a.m.-midnight on Friday and Saturday. All Crumbl stores are closed on Sundays. Crumbl is a family-owned franchise business dedicated to the perfect cookie and featuring a rotating weekly menu of deliciousness served in an iconic pink box, was founded in Utah in 2017, now has more than 300 locations in 36 states, according to the website.
I like coffee with my cookies (I like coffee with most things) so that's a good segue into the next piece of news. Alvarium will be taking over the coffee vendor space at GastroPark! I didn't realize that Alvarium, in addition to making great beer and operating a tap room in New Britain, also has a robust coffee cafe operation, which will be coming to West Hartford later this month, following Perkatory's departure to their own space this week. There will be a short period of time without coffee, but the "lapse in service" will be very brief, GastroPark owner Tate Norden said. Mike Larson, operations manager for Alvarium, told me the company is looking to expand the roasting side of the business, which was founded in 2022. According to their website, the coffee side follows "the ideals and beliefs of its sister company, Alvarium Beer Company. We look to make the world a better place through phenomenal coffee, hard work, and creating an inviting space for the community to work or decompress." Apiary is the house blend, and the beans are all ethically sourced and hand roasted, he said, with lots of care going into each coffee drink. The syrups are house-made as well. In fact the main reason they will not be open right away is that they ordered a special espresso machine that's being shipped from Australia and it hasn't arrived yet, Larson said. Once summer comes, they will be adding more ice coffee drinks, and slushies, he said, and will also be working with GastroPark on other specials. "It's a partnership," he said, and there will be some more Alvarium beers offered at GastroPark as part of the new relationship. As a company, Larson said Alvarium is "revolutionizing their brand to craft beverages," and already have a line of hard seltzers, are adding a 0% alcohol "hop water," and may branch out into distilled spirits in the future. Kayla Brown, one of the baristas at the cafe in New Britain, will be managing the GastroPark cafe full-time, Larson said. I'll be there to test it out as soon as I get the word that they are open! More details about Alvarium can be found on their website.
I mentioned last week that Ignite Med Spa & Wellness will be taking over the Spa Soli space at 945 Farmington Avenue and last week I met with owner Jessica Fett. The transition is taking place on March 1, said Fett, who is an APRN and will be adding medical services to the offerings that have been previously provided by Spa Soli. "It's a perfect marriage of the traditional spa and the med spa," said Fett, who is also the medical director. Medical grade cosmetic services will include Botox, Versa Lips, dermal fillers, laser hair removal and skincare, tattoo removal, and spider vein removal, as well as massage, Reiki, reflexology, body wraps,, salt cave sessions (halotherapy), sauna treatments, and more. Fett grew up in Michigan but has lived in Connecticut for the past 20 years (her master's in nursing is from Duke, which of course made me smile). She will be bringing in an aesthetician, and will also be offering IV therapy, and will host special events and makeup lessons as well. The space has had a few updates and new paint, and includes locker rooms for men and women with private showers, a two-person sauna, and the Himalayan salt cave. I hadn't been in the cave for a few years, but even just stepping through the entrance I was immediately relaxed. The walls, ceiling, and floor are covered with medical grade Himalayan salt, which is also infused into the air through a very fine mist. Spending time in the salt cave in the zero gravity chairs not only relaxing but it's good for the respiratory system and has other health benefits as well. Fett said there will be Reiki session as well as sound healing and meditation held in the salt cave as well. Ignite also has an infrared sauna that can accommodate two people, a body treatment room that can also accommodate two people at the same time for services that include scrubs, wraps, or both. There is a Vichy shower for rain therapy (multiple heads pulse at different strengths) and a jacuzzi tub. Most of the services are offered standalone or as part of a package. The grand opening – with raffles, gifts, and more – will be Wednesday, March 8, from 4-7 p.m. You can also call 860-231-1004 for more details.
A sure sign of spring, even if it's going to snow later today: Rita's Italian Ice and Frozen Custard reopened their Elmwood location (1134 New Britain Avenue) for the season on Friday! Follow them on Facebook for updates, offers, and photos of treats that look way too good to resist.
Studio 310 will be opening in April at 310R Newington Road, and according to a news release, will offer" personalized and intimate training programs as well as a collection of unique group classes. Located in West Hartford, we provide an alternative to commercial gyms and their 'one-size-fits-all' approach to fitness." A variety of fitness specialists will share the space as independent contractors, and guests will be able to book appointments with their favorite coaches to suit their training styles and needs – either on a one-on-one basis or in groups of up to four people. Training programs will include: Powerlifting, strength and endurance, general conditioning, mobility, dance cardio, yoga, and equipment is available for cardio, weight training, TRX, battle ropes, and more. "Our Group Class zone offers space for 12 guests to comfortably train, which makes it easy for our visitors to cancel out the noise and focus on their wellness. We've also partnered with local instructors to offer 4–6-week workshop series that invite attendees to deeply explore fitness concepts, gain hands-on training, and practical application," the news release states. Service packs are now available for purchase in advance of the opening, and details can be found on studio310ct.com. You can also follow Studio 310 on Facebook and Instagram @Studio310CT. I went by to take a photo on Sunday afternoon, and I may or may not have driven down someone's private driveway – or else the fence was up because it was Sunday and the facility is not yet open. When it gets closer to opening, I'll provide better details about proper access!

Able Made and Athletic Brewing Company – two brands that chose to turn their profits into support of causes – will be partnering for an event Tuesday night, from 6-8 p.m., presented by the Connecticut Art Directors Club at the Able Made store at Westfarms. There will be a conversation about how and why these businesses have chosen a mission-based model as the foundation of their brands, and ticket sales ($25) will help fund CADC programming and Able Made nonprofit partner, Ucal McKenzie Breakaway Foundation. Athletic Brewing Company will provide complimentary non-alcoholic beverages. Able Made is located at Center Court of Westfarms. Click here for tickets and more information. Proceeds from sales of Able Made products online or in the store help fund the Hartford and Boston soccer camps for our award-winning nonprofit Ucal McKenzie Breakaway Foundation. For information about registration for the camps, click here.
We-Ha.com, along with West Hartford Magazine and the Southern New England Jewish Ledger, is media sponsor of the Rotary Club of West Hartford's Vines of March, on March 4, 2023 at 7 p.m. at Town Hall. The 11th Annual Vines of March includes a beer, wine, and spirits tasting from local and regional vendors, as well a live and silent auction. A ticket also includes unlimited sampling of food provided by many outstanding local restaurants. We will also have many great silent and live auction items to bid on. We-Ha.com and 2020 Media are giving away six pairs of tickets, and you can enter to win by clicking here! Winners will be notified by email on March 1.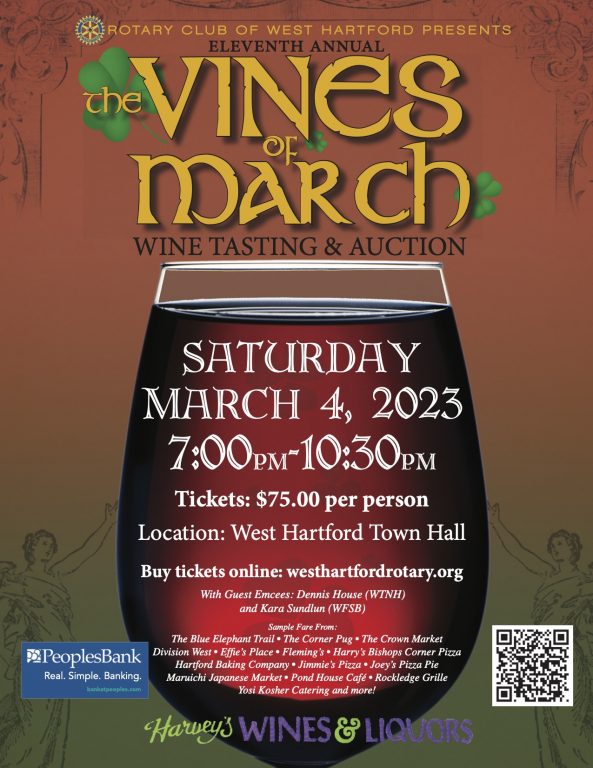 We-Ha.com has also been given the opportunity to offer two tickets to the

Ballet Theatre Company's

event "

Up

Close

: Spring

" which will be held next weekend in BTC's West Hartford studio. First to email me (

[email protected]

, and please indicate "Up Close" in the subject line) requesting tickets will be the winner. Please indicate which performance you would like to attend: Saturday, March 4 at 7 p.m. or Sunday, March 5, at 2 p.m.
The 38-bed behavioral health hospital that is part of Hebrew Senior Care has changed its name to Connecticut Behavioral Health Hospital to reflect its state-wide reach. The facility, at 1 Abrahms Boulevard, West Hartford, has been treating older adults with acute mental health challenges since 2005. "Our free-standing mental health hospital admits patients from throughout the entire State of Connecticut. It only made sense for our name to reflect our state-wide reach and the significant role Connecticut Behavioral Health Hospital plays in the treatment and care of seniors who are coping with mental health challenges. Our dedicated team of psychiatrists, medical professionals, social workers, case manager, and occupational therapists who specialize in working with older adults make all the difference in quality care," Denise Peterson, president and CEO of Hebrew Senior Care, said in a statement. According to the news release, patients are managed by a psychiatrist and geriatrician. Dr. Martin Cooper, Chief- Psychiatrist, who has specialized in the care of seniors for more than 35-years and was honored as the National Clinician of the Year from the American Association for Geriatric Psychiatry. Dr. Ava Pannullo, Chief Medical Officer and Geriatrician has been devoted to senior care for more than 35 years.
ICYMI, a West Hartford resident has been named "Big Brother of the Year" by Big Brothers Big Sisters of Connecticut. Details can be found here.
The University of Hartford will begin the search for a new president following the announcement Friday that Gregory Woodward will be retiring. Click here for the full story.
Remember, if you have any business news to share, add it in the comments section below or email Ronni Newton at [email protected].
Like what you see here? Click here to subscribe to We-Ha's newsletter so you'll always be in the know about what's happening in West Hartford! Click the blue button below to become a supporter of We-Ha.com and our efforts to continue producing quality journalism.